Ozark Trail 9' x 8' Dome Tent

The 9' x 8' Dome Tent has been discontinued. If you're looking for something new, check out the best three-season tents for 2021.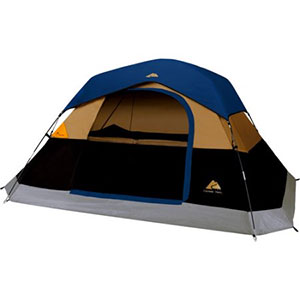 Specs
| | |
| --- | --- |
| Price | Reviewers Paid: $20.00-$65.00 |
Reviews
25

reviews

5-star:

9

4-star:

5

3-star:

1

2-star:

3

1-star:

7
Pros
It remains a cherrished possession and was a fine product. I think I will set it up tomorrow and sleep in the forested part of my backyard and listen to the owls and coyotes.
Cons
I moved to an SUV and now have so much stuff.
I don't remember when I purchased it. I have used it for walk-ins to primitive sites, so never used it for backpacking. I don't think it would be good for backpacking. because its size encourages you to bring too much other stuff which leads to too heavy of a pack.
I always liked this tent and have used it for many years. Even the bag that it came in remains useful and the zipper still works. I never experienced the reported splintering of the poles. The only replacement parts I purchased were tent stakes—I have many, since they disappear and reappear.
In recent years I have been in it in rain and snow, and because I am protecting much equipment as I travel I tend to install a tarp over it for added rain protection. Its greatest feature was I could put a queen-sized air mattress—about a foot in thickness inflated—through the door.
I would also install a tarp under the tent and a cushioned exercise floor in it. There was room for more than the queen-sized bed. I had room for four sterilite bins , clean/dirty clothes bags, boots, etc.
I had many happy times with this tent. I might add that friends with me have been entertained by my joy with this tent and are intrigued by my use of my 1975 Coleman lantern and stove. I have modern equipment, but it doesn't make me any happier in the forest.
Experience
I used it for many years—probably since the 1990s. I had a canvas tent before that.
Source: bought it new
Price Paid: No idea anymore.

I have had this tent for almost 4 years now. Awesome tent!! I first had tested the tent on a couple overnight trips before I decided to take it on a few major week long salmon fishing trips in northern British Columbia and pike fishing in Northern Alberta. So far this tent, which I had paid 20 bucks for on sale, has survived 4 week-long expeditions which all contained weather events.

The salmon trips were rainy and windy but didn't last very long before the sun came back out. The pike trips were very wet!!! A week of crazy rain that didn't stop! The tent did awesome on all trips and even outperformed many tents that cost hundreds of dollars!
Pros
Keeps you and your gear dry!
Big enough for a person to put a cot in!
Cons
They don't sell it anymore!
I wish they still sold this tent!!! I need a backup for when this one eventually wears out. I did spray this tent with water sealer before the trip! You would be dumb not too, this is a 20 dollar tent! But it's a performer!! 
Source: bought it new
Price Paid: $20

Used it over 25 times, still perfect.
Pros
Holds up in wind and rain
Good airflow for summer nights
Quick to set up
Everyone here is complaining about the poles, but I've had this tent for years and have never had an issue with them. Slept comfortably in 30 degree wet conditions and on the beach in over 105 degrees, also in rainy and super windy conditions and haven't had an issue. No leaks or holes and plan on using it more. I'm going to be careful with the poles now after reading all these, but I've never even babied them...
Overall great tent.
Source: received it as a personal gift

Very large and comfortable tent. It is best for camping in dry flat places. I would recommend it if you were camping at the beach.
Pros
Large and comfortable
Perfect for beach camping
Lots of space for children and camping gear
Cons
It wears out quite quickly.
It is very hard to set up if it's rainy or windy.
I think this would be best suited for families with little camping experience. It is good for perfect conditions and it is not very good on hills or non-flat areas.
Source: received it as a personal gift

My husband and I used this tent for a cross-country trip stopping at state parks from Louisiana to he Grand Canyon and back. This included using it for a 7 day rim-to-rim-to-rim hiking trip throughout the Grand Canyon.
We tested it out beforehand and I sealed the seams. We could fit a queen size airmattress inside comfortably for car camping, but it was very light for hiking. It held up very well through high winds with it staked out. We did have a problem with it leaking during a monsoon (thanks west Texas!), but a $5 can of waterproofing fixed that for the following rainy trip.
I have noticed some minor splintering at the ends of the poles, but duct tape seems to be controlling it. I am very sad that Walmart stopped carrying this tent, as I was planning on buying a backup for further down the trail. 
Price Paid: under $30 when it was on sale

Okay... I have had this tent for approximately six years now. It has been used for family camping, boy scouts, venture crew, and girl scout camping. My son, along with other scouts have used the tent countless number of times.
Yes, about 3 months ago, one of the tent poles split and just last weekend another one split. However, for the price... it is well worth the money I paid. I am looking at the price to replace the tent poles.
The tent itself is wonderful! We made the mistake of putting up the tent in a rain path and not only did the tent hold up we stayed dry! Of course I wouldn't recommend setting up any tent in the flow of water.
For the price I would buy the tent again. In fact, I just may depending on the price of the tent poles. A Happy Camper!!!!
Price Paid: $40

I couldn't wait to return from my camping trip to complain about this tent. It was advertised as 'complete weatherproofing and "everdry"'. Ha!
As luck would have it, it rained all through my campout. But I expected to at least be dry in my new tent. But it leaked like a sieve. First it started dripping through the seams and then through the fabric. I spent the night bracing the tent with my arm so drops wouldn't fall on my pillow. I was exhausted on the last day and had an 8 hour drive ahead of me.
Same day I bought the tent I also bought Ozark's 'matchless single mantle lantern'. It worked once - when I tested it before leaving home - and never worked again.
I also bought on Ozark Trail wind resistant fire lighter but could not produce a flame with it. It had gas and sparked but would not flame.
I'm now going to the Walmart's to return all three items. I thought Ozark Trail was supposed to be a good camping equipment manufacturer. I will make a point of staying away from Ozark stuff in future.
Tried to contact them through their website but could find no 'contact' link. Perhaps understandably.
Design: dome
Sleeps: 4
Ease of Setup: easy
Price Paid: $32

The tent is fine. I have not been able to test its dryness.
My only complaint is the tent poles. The fiberglass sections have splinted twice after the original set arrived in the tent bag already broken. Use the same design concept but build the poles out of aluminum.
Because of the poles I cannot recommend this tent.
Design: 8x9
Sleeps: 3
Price Paid: $40

I just come back from camping with this tent. Two nights, rain a lot, but it seams the tent was good. Anyway, it was our first time use. The poles are still there but after reading review, I am a little worried about the poles, although the poles are not broken yet by now.
Abso-f-inglutely HORRIBLE buy. I bought the tent for $38, for a camping trip with a few friends. As soon as I took the tent out of the package, FOR THE FIRST TIME, I began to set it up, only to realize that the poles were broken BEFORE the tent was ever used.
Design: Ozark Trail 9x8 ft. sport dome tent
Sleeps: 4
Ease of Setup: never got one chance to set up tent
Price Paid: $38

The Ozark 9x8 Sport Dome tent has a very dry haven from the Oregon rains and is comfortable housing 3 people (can fit 4 but it's tight) but from the get go, one of the poles had shattered and there's enough duct tape on it to construct a tent in its self.
I know the price is right but they need to invest some of the cost into the durability of the poles. My problem is that I can't find any information on how to get replacements and I'm running out of tape!
Design: 9x8 Sport Dome Tent
Sleeps: 4
Ease of Setup: One person can easily set it up
Weight: 5 lbs.?
Price Paid: $35

I have read the reviews on this tent. I was concerned AFTER I bought it. But I have now used the tent twice in the last month. All I can say is FANTASTIC.
I have not had the poles break, but I have not tried to tie them in a pretzel and was careful in setting it up. Which takes me 10 minutes by myself.
As far as the leaks, this weekend, I was in the tent during a MASSIVE thunderstorm. It ripped my friend's rain fly, took out one of our shelters and poured BUCKETS of rain at a time. Not one drop inside.
I will buy another anytime.
Sleeps: 2
Ease of Setup: 10 minutes
Price Paid: $34.88

just bought this tent and went to put it up as I have 5 tents i put up on a camp site and i bought this for my kid and went to put it up and the pole broke. Walmart told me that i would have to call to order new poles that it was mishandled screw, wont buy another one.
Design: 9x8 sport dome tent
Sleeps: 3
Ease of Setup: yes if u can keep the poles from breaking
Weight: have no clue
Price Paid: $33

I have slept in this tent and another one that is about 13 x 10 ft without no issues. The tent and my friends including myself went through 20F nights, 50 mph winds, and summer/winter storms without no issues besides the cold. It does block off the wind and prevents moisture from coming in very well. I rather spend 1/5th than what I really have to pay to get the same results.
Sleeps: 3
Ease of Setup: Easy
Weight: Light
Price Paid: $20

This is a GREAT tent. It's lightweight, brightly colored, and totally waterproof. I use the campdry as a precaution and have never had probs. If you TOUCH the sides of ANY tent, it will leak, so I have not had any issues so long as I stay away from the walls.
Replaced poles cuz I lost them, and they were less than $7 at Wal-mart, where I originally purchased. I heard some people paid $15 for one pole, not sure how you got ripped off, but you did get ripped off. Replacement parts that cost more than half the cost of the whole tent, not worth it.
Overall, great tent, and now several of my friends own the same tent.

Sleeps: 4
Ease of Setup: VERY easy, 5 minutes in the day, 10 at night
Price Paid: $32

I had an experience like many others. The poles just are no good. We used the tent 1 weekend. I know we didn't pay a lot for it at Wal-mart but I thought we would get more than one time use. It also has no air flow if you use the fly. It's not worth the 30 bucks.
Design: 9 x 8 Sport Dome Tent
Sleeps: 4
Ease of Setup: set up was easy
Weight: light weight.
Price Paid: $30

Affordable tent, easy to set up, but the poles are very cheap and do not last. They shatter leaving the tent worthless.
Awesome tent, perfect for the family. Good size, spacious, easy to put up and great screen views-feels like you are sleeping outside!! I love it!!
But my poles broke after the 2nd use. It's useless. I fixed twice with duct tape, but the plastic continues to shatter. Higher quality poles please!!! Thanks
Design: dome with extension cubbies
Sleeps: 3
Ease of Setup: super easy
Weight: light
Price Paid: 35$

Overall we like the tent. My son and I use it Cub Scouting. However a pole was broken over last weekend when a Cub fell onto the tent.
I just called to replace one pole, the cost was $15, which is about half the cost of the tent. A complete set of poles was $45, which is more then a new one.
Design: Sport dome
Sleeps: 2
Ease of Setup: easy
Weight: about 5 Lbs.
Price Paid: $35

I love the tent, but the poles broke, where can I find 9' 8' replacement poles. There has to be a website just for replacement poles I would think. They have one for everything else!
Ease of Setup: easy setup
Weight: light
Price Paid: $65+

A great tent that you can pick up for around $30 at Walmart. It can hold 3-4 (3 comfortably). Set-up is easy, taking 1-2 people. After the first set up I could do it myself without instructions. The poles are still going fine after 4 trips in 6 months and no water in rain with light wind.
Design: Three Season Sports Dome
Sleeps: 4
Price Paid: $30

The only thing I don't like about this tent is the poles did not hold up. I started to duct tape the poles the second time we used it. I can't use this tent no more until I fined replacement poles. I liked everything else about the tent.
Price Paid: don't remember

I have used the tent 5 times ever since I got it as a birthday present the 12th of June. It is amazing!!!! It was sooo fast to put up and take down, not one problem, it rained 1 time and I didn't get one drop on me everything was dry. The poles were fine they are still fine. I love it.
Design: Red, Square, and 4ft tall
Sleeps: 4
Ease of Setup: Easy
Weight: 5 Lbs.
Price Paid: $29.98

Received this tent as a birthday gift! After a night out, girlfriend and I were going to move on to another campsite and found one of the poles was already starting to shatter! making it useless to go out again.
I've done a lot of camping and seen some cheap tents, but when the poles start to give way on only one use, that is just irresponsible from the company. Never again with the name Ozark will I purchase a product.
Sleeps: 3
Ease of Setup: Easy
Price Paid: Gift

Two of my Boy Scouts bought new Ozark Trail tents and have had pole problems from the 1st camp out. The poles are so cheap they shatter during the first time up. I have been camping with Scouts for 37 years and have not experienced such a poor tent yet. This tent is so affordable that it deceives the buyer and is totally worthless.
Design: Sports Dome Tent
Sleeps: 5
Ease of Setup: high risk pole damage
Price Paid: $35

You May Like
Recently on Trailspace