Ozark Trail Bandy Hiker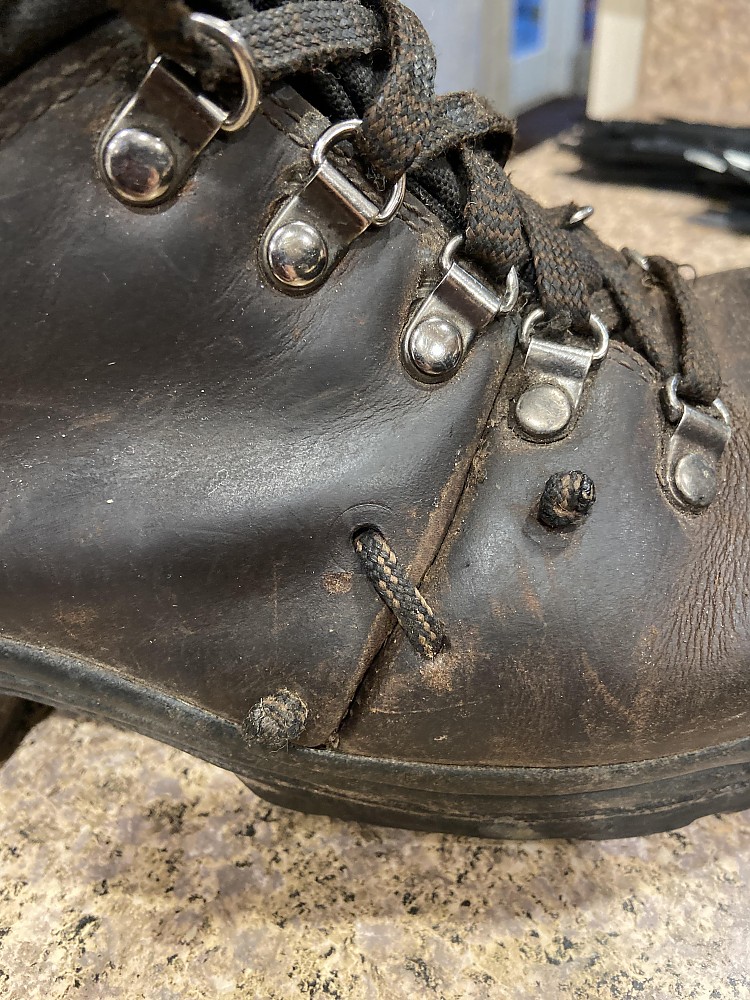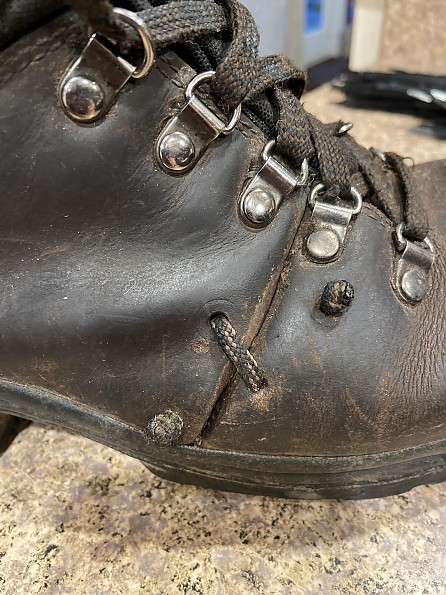 I "was lucky" to buy these at a Salvation Army Thrift Store for $6.99 for hiking in Tennessee Smoky Mountains.
Seams were the problem as mentioned. I am a retired Navy Seabee, whose motto is Can Do. Drilled small holes on each side of the seam and ran camping cord through them, tightened up with a knot at each end.
Been hiking in them for several years now, and yard work jobs. One man's waste is another man's prize. 
Source: bought it used

I bought a pair of these three years ago at the beginning of winter and use them at work in a furniture manufacturing facility in Ohio. Made it all the way to the middle of spring before the seams started to go.
Pros
Soles far outlast the uppers
I bought a pair of these three years ago at the beginning of winter and used them at work in a furniture manufacturing facility in Ohio as a maintenance technician (salting parking lot and sidewalk, snow removal). Made it all the way to the middle of spring before the seams started to go.
As I said I work for a furniture manufacturing facility, so I took them to the upholstery shop where they restitched the seams with high quality thread meant for leather work and resealed the seam. Only wore them in fall thru early spring but I got three good years out of them before the soles finely separated from the uppers today.
I am DEFINITELY getting another pair and yes, I will take them to the upholstery shop for seam reinforcement first thing. VERY comfortable especially for someone with psoriatic arthritis in their feet.
Source: bought it new
Price Paid: I do not recall.

I can't say enough good things about these shoes. They have become my main sport shoe or exercise shoe.
If you have wide feet like I do and problems with pain due tight shoelaces on the top of your arch (Metatarsalgia) will cause pain in the ball area by the outer toes. Due to the double depth and box style wide shoe area of these mped style shoes it greatly helps. 
I would suggest using Dr.Scholls work memory foam insoles to help with further comfort. Not all of Propet offer double depth so be careful. The soles have a 1000mile guarantee and believe me they very good soles. The several pairs I have owned I have had to sew and repair the top seams of the shoes before the soles wore out.  
My feet are 11.5 inches and I wear a Length 10 Width 5E in Propet Mped 1. From what I noticed when you start wearing wide width shoes the sizing is different depending on the brand. I settled into Propet, Drew, PW Minor,  New Balance and Dunham. New Balance and Dunham are fairly true to size it is the others that are different.
When ordering online I would suggest making sure the site you order from has a free return policy no matter what. Order several sizes around your foot size then send back what does not fit. As long as you wear them in the house on carpet you can return them if they are clean and it washes out on your credit card.
I have purchased and will continue to purchase these shoes.
Price Paid: $60 to $80 depends on where you purchase

Given the negative responses and seeing for myself about the outside seams splitting. I decided to buy a pair for myself.
After I brought them home, the first thing I did after inspecting the boots was to waterproof the the seams. After doing so I left on a ten mile hike and made sure I got them wet to see if they held up and which they did.
I was satisfied with the comfort (do not skimp on quality hiking socks ). After I got them home I reinspected and found no damage to the seams. After a year and a half I still use them as my primary (local hiking and backpacking) shoes.
People have to understand that you get what you pay for. I guess maintenance is the key word here. I regulary brush them and waterproof especially the seams. I wear a size 12.
Price Paid: $25

I rate this boot a negative 10 on the scale of 1 to 10. I have purchased this boot twice and on both pair the seams have come a part.
It is a comfortable boot but that's out the door if you can't wear them because of its defect. I WILL NOT BUY ANOTHER PAIR OR ANYTHING THAT THIS COMPANY MAKES!!!
Oh and don't try to return them to Wal-Mart...that's a joke!! "SEAMS" nobody stands behind their product any more! But I can use them to cut the grass now....Lol
Price Paid: $29-$32

I do landscaping and lawn work. I have two pairs of these boots at all times. They are soaking wet at the end of my work day (from sweat) so I rotate the two pair to allow one to dry.
They are without question the best boots I have ever had for the price. If anyone knows where I can find them, let me know. I would buy six pair today if I could find them.
Price Paid: $30-$35

Have purchased 6 pairs of these, all have the same problem, seam for attaching front part of boot to the back part comes apart. When Earth Shoe sold the Bandy II the seam did not come apart and the boot cost was higher. Still like the boot, just wish they would sew the seam better.
Materials: Leather and man made upper
Use: 90% indoor hard surface
Break-in Period: feel great right out of the box
Price Paid: $29.99

I, like the others, have experienced the same seam blow out. I almost bought another pair today, then I noticed the tag that said "satisfaction guaranteed"... by whom is the guarantee good with.
I must admit, I love the style and color and have bought these boots 3 times now. They don't last that long, but I keep hoping they have been improved, but from the looks of things they haven't been and I am glad I did not spend the money on boots that just don't last.
But I am very interested the the guarantee, and would like them replaced, as per the promise on the tag.

Price Paid: $29

As others have said, the seam thread fails on these boots. This happened on two different pair of Bandy II boots I bought. There won't be a third time I assure you.
I didn't expect them to last for 5 years, but I did spend my money on them to last more than 36 days before tearing. 36 days is just unacceptable. This is a complete disregard for producing something that remotely resembles a usable product.
These boots are useless unless you sit down all day long. Don't buy them thinking they will get you by with normal use because they simply wont. If the thread used was upgraded to something stronger the boots might be worth buying, but we all know that probably wont happen.
More useless than the boots is Wal-Mart when you try and return them. They should be ashamed of themselves for hawking useless goods and turning their backs on their customers when they have the gall to expect some customer service for the cash they spend.
Materials: leather sewn together with CHEAP thread
Use: flagging for road construction
Break-in Period: not long enough
Weight: does it really matter?
Price Paid: $30-$40

I have bought 2 pair now-the problem is they don't double stitch around where the front part of the boot attaches to the main part of the boot(on either side of the laces). they seem to split after 3 months. I don't use them in construction or hiking. I showed them to Walmart-the shoes don't looked used hardly.
I want to find the website for these boots but have been unsuccessful. Any help from anyone? Much appreciated.
Materials: leather
Use: Realtor/office
Break-in Period: 1 day or 2
Price Paid: $34

For years I purchased expensive "waterproof" boots you find in army/navy type stores. I went on a camping trip recently and found these just for a short duration trip.
the first night we got soaked. things were muddy and lots of leaves etc.
Shoes performed extremely well. I really can't think of any negatives for this boot. Maybe could be slightly taller?
Not snow tested but my foot was dry other than sweat, did creek walking and still dry.
Materials: leather +waterproofing
Use: rigorous hiking with heavy pack
Break-in Period: ready to wear
Weight: I am 5'8 230 monster
Price Paid: 34 USD

I bought these boots as a cheap reserve pair for a trip to Africa. I have worn the same pair of boots for two trips to Africa and when working my cattle for the past two years. They are getting run down, as you would expect, but are still waterproof.
I do not wear a wide size shoe. This shoe is cut narrower than most. If you have a narrow to medium foot you should have no trouble with seam splittage. I had bought another pair of the same boot and my 17 year old son has taken my new pair before I can start to use them. He loves them.
There are I am sure, better boots but not for the money spent.
Price Paid: $29

I bought a pair of Ozark Trail hiking boots at Walmart and on the 11th day of having them, they started falling apart. I have never had a pair of footwear that has fall apart so fast. I tried to return them to Wal-mart where I bought them and they told me there was nothing that they could do. So they told me to try and find out who makes them.
I really think someone should refund me my money, because shoes should last longer then 11 days. They started to fall apart at the left front shoe. I do hope someone can help me with this problem.
Materials: Leather
Use: Just everyday walking
Price Paid: $31.50

I have had these boots for a month now and have had 0 problems with them. They are my day-to-day and hiking shoes. Having worn them for 8+ hrs/day and a dozen or so long hikes, they are no worse than when I first bought them.
Price (20$) is unbeatable. When they do eventually wear out I will definitely purchase again.
Use: every day, work, long trail/mountain hikes w/ pack
Weight: 80kg
Price Paid: 20$

You will read a lot of reviews about this boot telling you that the seams fall apart at the ball of your foot, ruining the waterproof characteristics of this boot, but I have had a pair of these boots for over a year now, and they still treat me great.
I bought them for weekend-long backpacking trips, where I would hike 45+ miles with fifty pounds. I was skeptical at first, because of the price, but I'm a graduate student so $200 boots aren't an option. After a short break-in period the leather became very soft and comfortable. The first trip gave me a few blisters, but now I could take these bad boys through anything and be fine.
On a fall camping/fishing trip in Canada I was lucky enough to fall overboard into the lake, and the only part of me that was dry was my boots because I had tied them tight enough around my socks. I am convinced that a $5 can of boot protector was all it took to seal the seams well enough to last this long, because I certainly haven't been babying these bad boys. The leather around the seam is wrinkled to smithereens, but they are still waterproof up to the ankle. I predict I will wear through the rubber soles first.
I bought them for weekend hiking and now wear them every day (they aren't ugly like some higher-quality hiking boots).
My one complaint is that the inside material doesn't dry as fast as some higher-quality boots I have worn. I don't know what kind of fabric it is, but if you do some serious sweating into these boots they will not be dry by the morning unless you keep them near the fire (serious no-no, I know) or place them in the sun for a few hours (no an option most of the time).
Bottom line: If you want extreme comfort and years of use, go buy some KEENs. If you want a $30 boot that treats you well if you return the favor, I hope you have as much fun as I did wearing these boots. I would pay twice as much for another pair like these if I was sure they wouldn't fall apart like everyone else is saying.
Materials: leather
Use: rough trail w/ heavy pack
Break-in Period: 30+ miles
Weight: < 2 lbs. per boot, slightly more than a higher-quality boot
Price Paid: $25

Upon my initial purchase of these shoes, I was quite impressed for the price of $29. I purchased these shoes during February of 2008 and by July of 2008 both shoes split both of the their side seams on each shoe. When you consider the fact that the shoes are basically only worn on Saturdays, this does not constitute quality or even come close to it.
One good thing about the shoes is the sole. Both soles are like new, but then again...what good is a shoe without the sides? This is another example of a low price being the most expensive over the long run!
Price Paid: $29

I guess after careful deliberation I would classify myself as one of those guys who "happily hump 50-pound loads to ensure you have your creature comforts", however, these comforts usually consist of more ammo, more food, and more security, in the form of a grand first aid kit.
So what does this have to do with the boots? THEY PUT UP WITH ME!
I'm from Washington State and got these boots real cheaply at Wal-Mart to satisfy me for a 4 day backpacking trek while my others were being fixed. Well somehow these things survived all the hiking, water, mud and motorcycling I could put on em for a year now and still holding strong. I sprayed them pretty heavily with silicone as soon as I got them, just to be safe, and they still wash clean to this day.
As far as the seam splitting issues are concerned, this seems to be attributed to people with large, wide feat. Make sure you do get a boot that fits you properly. If your foot goes into the boot and expands the boot out at the edges far beyond the sole, this is not the boot for you. But if you have narrow, or just "normal" proportional feet, these should work well for ya.
For right around thirty bucks, who cares if they don't out last the rest of your gear. But mine are kickn great, VERY comfortable (especially if you throw a dr scholls insole in em) and haven't ripped a seam yet. A great buy. Would get another pair.
Materials: leather
Use: shooting, 3-4 day hikes (heavy pack), $h!7 kickers, motorcycling in hills and street.
Break-in Period: dependent on foot size and ammount of sweat. nice after 2 days for me
Price Paid: $29.92

I've bought 2 pairs of these boots in the last 6 months. Like the others said, the darn seams blow out, making non-waterproof. I love the boots and they're within my price range because I'm disabled and on a limited income. I can't afford $150 boots to walk around in.
Use: everyday wear
Break-in Period: less than a month, broke out
Weight: 170 lbs.
Price Paid: $29.99 +tax

I like this boot a lot. I think they are very comfortable. I have purchased 3 pairs in the past year, and after only a few months the seam splits open making them no longer waterproof. Why do you put the seam across the metatarsol area? Do you sell this boot in a wide size?
I like this boot but if you cannot fix this problem I will find a new boot.
Materials: Leather
Break-in Period: walking at work Meter reader.
Weight: 225lbs
Price Paid: $29

My husband bought these boots and after 1 week the seam blew out of them. It never fails, every time we buy Ozark Trail boots they blow out in the seams or the sole comes off within a couple weeks. THEY SUCK!!!
Materials: waterproof leather w/hydroguard waterproofing and antmicrobial treatment
Use: work
Break-in Period: 3 - 4 weeks
Price Paid: $29.92 plus tax

Your Review
You May Like
Specs
Price
MSRP: $39.87
Reviewers Paid: $20.00-$35.00

Recently on Trailspace