Ozark Trail Camping Pad

Top 25 in Closed-Cell Foam Sleeping Pads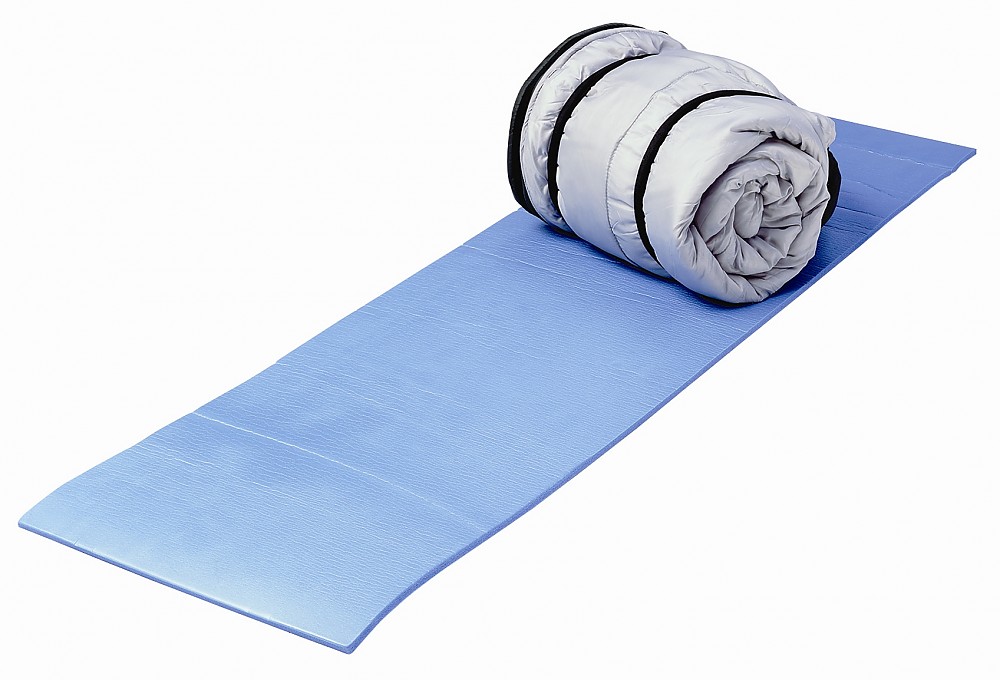 Specs
Price
MSRP: $7.47
Reviewers Paid: $5.00-$7.00

Reviews
8

reviews

5-star:

4

4-star:

2

3-star:

1

2-star:

1

1-star:

0
Just a simple pad.
Cons
Does not compress and takes up a lot of space.
 Does a fair job on a cot and I use it for this purpose. I don't plan on hiking with it. 
Experience
Spent 11 days on it and it is no comfort queen but did keep me insulated from the cold.

For backpacking I will continue to use my Therm-a-Rest pad.
Source: borrowed it

It's light, like 14 ounces or something. It's not too compact. It gives me insulation and it's fair on comfort for the price. It was 7$ or something.
It's 14 ounces.
It gives me insulation.
Source: bought it new
Price Paid: 7$

This pad is good for kids. It's inexpensive and keeps them off the floor and off of the moisture.
Unfortunately it is too thin for adults and is not cut to the measurements shown on the labeling. I intended to use a couple of these stacked as a pad for a homemade bench. I needed 71", the label says 72", in actuality it is cut to only 70".
Price Paid: $6

I purchased this pad as a last minute temporary piece of gear for backpacking and am still using it after 2 years. Cut off 18 inches for 3/4 length at 9 ounces. Does the job and light weight, can't be beat for the price.
Price Paid: $6

Not only is this pad sufficient as a sleeping surface, it is also extremely useful for crafts. It bonds to itself and to other surfaces using Super 90, Super 70, and Weldworth DAP contact cement. It cuts easily and can absorb large amounts of force. For this reason it is internationally used as an essential ingredient in imitation weapon construction.
With this in mind, I would always purchase this foam pad because after I use it camping there is no need to store it. Almost always it is used in some project or another.
Price Paid: $5.88

This should be new. I use the Ozark Trail Closed Cell Camping Pad to insulate a Chevrolet Panel Van that I use as a "stealth RV". The material cuts easily, and is easy to shape.
Be forewarned that the only adhesive that really works with bonding a polyiso material to steel is 3M Super 90 adhesive.
I have placed two layers of the foam in between the ribs of the van and they have worked wonders in terms of insulation, both thermal and sound absorbtion. The closed cell nature makes the foam ideal because it can not absorb water, or odors, or bacterial anythings.
It has worked out better than any of the other solutions that I have seen. This stuff really has as many applications as your imagination can come up with
Thanks
Price Paid: 6 dollars

This is the blue closed cell foam sleeping pad from Wal-Mart. It provides some level of cushioning but more importantly it insulates your sleeping bag from the ground.
The pad rolls easily and compactly. It is very lightweight and waterproof. You can cut it up to make repairs to your shoulder straps or hip belts if necessary.
Don't waste your money on other expensive pads. This one works for only $5.
Price Paid: $5

You May Like
Recently on Trailspace