Ozark Trail Shoe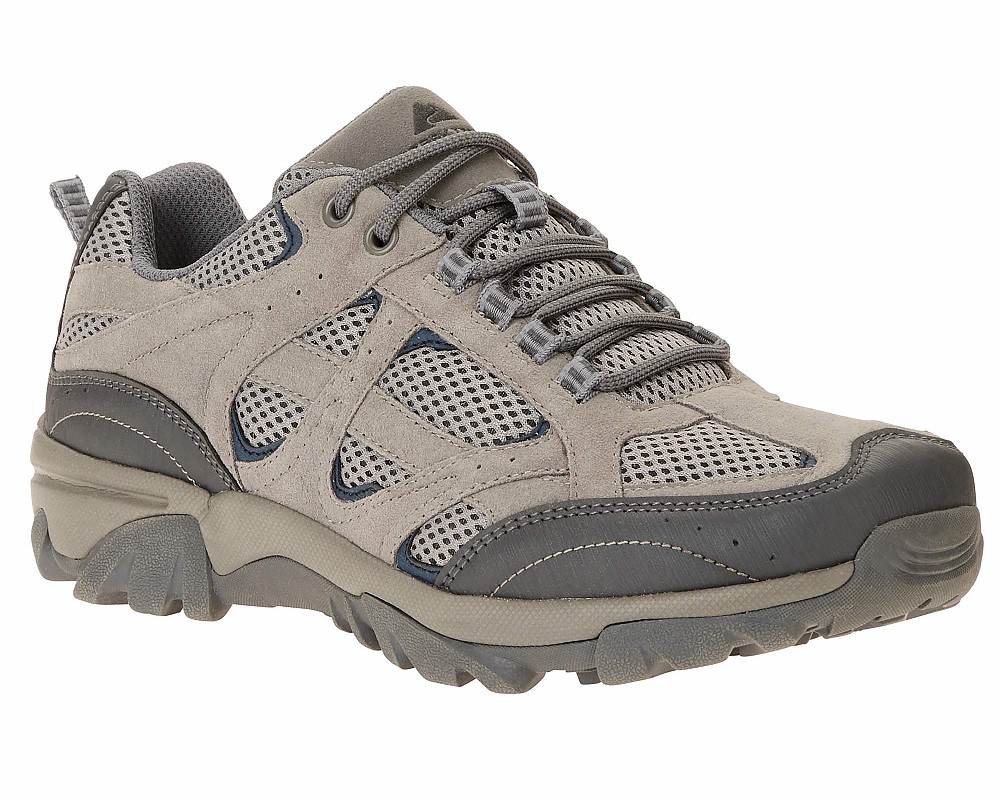 Ozark Trail men's hikers are junk!! Less than two months old and they fell apart! Shoe coming loose from soles!
Cons
Cheap made, do not last, 2 months old and falling apart!
Junk shoes from Wal-Mart! Will not give money back! They own Ozark Trail! Ripped off again by Wal-Mart!
Source: bought it new
Price Paid: $30

Love these shoes, and glad they came back to Walmart. Awesome traction, and they look really nice. Amazing for the price.
Pros
Traction—best traction of any shoe I ever owned.
Cons
Shoe laces come undone easily. Bit of a pain.
Back of heel inside is starting to wear a bit, but I do that to most of my shoes due to my heel being quite pointed.
Best hiking shoes I have owned. I owned a pair years ago when Walmart carried them. They didn't for years and I kept searching. Traction is amazing on these. 
This spring they were back in stock at Walmart and I picked up a new pair. Just as great. Great fit and comfort. Hiked a lot in Colorado in August and can't tell any wear. And the new ones have the same great traction; my friend was slipping in his high-end hikers and I ended up having to anchor him several times when climbing with my shoes.
I am reviewing the one pictured, not any other model. I plan to buy again so I will have replacements when my current pair wear out. I walk 10 miles daily and sole wear is minimal. 
Experience
Had these shoes back in the late '90s, then Walmart quit carrying them. Now they are back and just as good as then.
Source: bought it new
Price Paid: $21.98

Cons
Cheap wife got me a pair. Wore for a couple days. Now my feet hurt so much it's hard to walk. Don't buy these shoes. Trust me.
These are as cheap as they get, and you get what you pay for. Save your feet.
Experience
I do a lot of walking.
Source: bought it new
Price Paid: 30 dollars

I bought these six months ago. The sole has a hole clear through! Bought at Walmart and they are JUNK!
Cons
Poor construction! Of course they were manufactured in CHINA!
These shoes are horrible! I want to contact the manufacturer, but I can't find out where they are of who manufactured them. For the price of 40 dollars I expect at least three to four years of wear. I don't wear them every day. This is what I don't understand!!!!!
Source: bought it new
Price Paid: $35

Cons
Poor product
Cheaply made
I have used these shoes before with no problems. They lasted 2 to 3 years, but two months ago I bought two pairs, put one away for when the first wear out in case I couldn't find them anymore. Bad mistake. In two months both pair's soles came off.
I won't buy these anymore and I also got them at Walmart. TOTAL TRASH.
Source: bought it new
Price Paid: $40

This has to be the worst pair of shoes I ever purchased. I had them for about two months and had to glue the soles several times. I feel Walmart should replace them with a shoe similar to them. I wish I could find a phone number or email address for them to lodge a complaint with. I will never buy anything like these again.

Worst pair of shoes I ever purchased.
Source: bought it new
Price Paid: $25

I got mine back in July for my birthday. My wife and kids paid 40 at Walmart. And one month later they came apart. Walmart would not reimburse the money. This is bu..t
Cons
The whole bottom of both boots came off
The poorest pair of boots I ever got or bought.
Source: received it as a personal gift
Price Paid: 40 dollars

Perhaps the most NON-durable shoe I've ever purchased.
Pros
"Inexpensive" if you don't mind wasting money
Cons
Incredibly poor materials that do NOT hold up at all
Didn't realize that such poor and UN-durable quality shoes would be sold at a "reputable" store like Wal-Mart.  I bought them some time back but have hardly used them and the waffle like cushion under the heel totally deteriorated and the sole of the heel split. The uppers look like new but the material used is so sub-standard.  It will be my last pair of Ozark shoes as well.
Source: bought it new
Price Paid: cash

Total junk.
Cons
Cheaply made
Lasts a month or two at most
Poor rubber quality for soles
They last about 2 months if you're lucky and then the heels split and wear through and the soles crack. I have owned multiple pairs and they never last more than a few months. I'll NEVER buy this brand again....EVER.
Do yourself a favor and steer clear of this brand, unless you like buying shoes every few months.
Source: bought it new
Price Paid: $30

Owned my shoes for 9 years. Wear them every day. Best and most comfortable pair of shoes I've ever owned.
Pros
Very comfortable
Long lasting
Reasonable price
Have owned my Ozark Trail slip on shoes for at least 9 years, yeah they have finally worn out. On here looking for another pair and saw these reviews, guess I just got a good pair. I have been completely happy with mine and couldn't have ask for anything better, especially for the price.
Wore my shoes everyday while I was at home, sitting around or working around the house. Sure hope I can find another pair just like them.
Source: bought it new
Price Paid: $20

The metal string guides continue to fray strings causing them to break. Eyelets would have been a great alternative. Otherwise, shoes are terrific, good fit, water proof and long lasting.
Pros
Comfort
Waterproof
Good support
Cons
Metal shoestring guides fray strings and cause them to break
Source: bought it new

I bought my boots 4 weeks ago from Walmart, and they split along the bottom on the side. Tried finding reciept and couldn't, Walmart refused to do anything for me. I paid 40 dollars for these boots and might as well just threw my money out the window.
Cracked along the bottom and support fell out only after 4 weeks. Walmart refuses to do anything to replace them.
Source: bought it new
Price Paid: $40

They are the worst shoes I have ever bought. WalMart should be ashamed of themselves for ever selling them.
Cons
everything. shoes are junk.
Please don't buy these shoes. They are a joke.
A $50 price tag and an easy return policy doesn't do you any good in the middle of the White Mountains. The pair of Ozark Trail boots I bought at Walmart are worse than useless. I wouldn't get another pair if they paid me.
Pros
Quick break-in
Lace loops are solid
Cons
Sole might as well been made of styrofoam
After only one month of occasional wear, and one pass over a mountain, the sole separated from the toe. Also, the sole split and the arch supports fell out. If the hostel I stopped at didn't have used shoes for the taking, I would have had to get a ride 25 miles into town for another pair.
If you're looking for something reliable, I wouldn't recommend getting anything from Walmart. If you want to buy a pair of shoes and trade them in every two weeks, then I would recommend Walmart. However my impression of the quality of products at Walmart and from Ozark Trail has been tainted.
Source: bought it new
Price Paid: $50

I bought these shoes for $48 thinking they would get me at least a year's worth of hiking, but found out they would only last me 5 days. Both shoes were cracked down the middle.
Cons
expensive in price but cheap in quality.
I don't recommend these shoes to anyone! For the same price I have gotten army hiking boots which have lasted me over a year since.
Source: bought it new
Price Paid: $48

I bought a pair of these shoes for $20 and one week the cardboard insole sunk and they hurt my feet. Please do not waste your money on this garbage.
Price Paid: $20

I used to rave about Ozark Trail's products but sence I bought the last pair of boot's that I will
ever buy from Ozark Trail . I didn't have these boots 10dy's when Ihad to glue the sole of the
left boot back on, and in less then 1mo. later that same sole the rubber has worn off.
Now  I wouldn't mind so much but I am not the only one getting ripped off . If I were a rich man
I'd be buying the best, but I'm not. This is why I shop at stores that I can afford to shop.
Living on Social Security disablity it is hard to just go pay top quality prises for top of the line
products . I can't say for sure what the problem is, but I remember that Ozark Trail at one time
was a top of the line product with affordable pricing, now it seems that it has gotten like
everything else in this country, they want more money for a cheeper quality product.
Just so you know I am not the only one having problems with this product.
Price Paid: $32.00

Not even worth rating this product. No quality to rate.
I purchased a pair of Ozark men's water shoes July 3, 2011 from their exclusive marketeer, WAL-MART. Wore them three times and then the whole shoe fell apart resulting in me taking a fall to the ground. Could hardly walk the next day from the pain and discomfort.
Contacted WAL-MART customer service this morning, did a little fishing first and was informed that I am not the first to report a total failure of Ozark shoes sold exclusively at WAL-MART.
Cannot believe that a real business would continue to sell these poor quality products after what appears to be numerous issues with failure over many years.
Anyone listening at WAL-MART?
Austin, Texas
Price Paid: $12 + tax

I bought these shoes while on vacation. At the time they looked great, but now I realize they are a complete piece of sh*t. I had these pieces of sh*t for two weeks before they broke! They broke where the material meets the sole.
These screwed me over. Worst shoe ever, I will never buy these crappy shoes again. Don't buy this piece of crap! $12 gone to waste. I can only imagine Jesus' review.
Price Paid: $12.99

This is my husband's 2nd pair of Ozark's. We are very dissatisfied with the product as both pairs have split apart.
The 1st pair broke apart after 3 weeks and the 2nd pair have lasted just about 2 weeks. Soles are splitting in half.
Do not buy this product. Wal-mart needs to find a better product to promote.
Price Paid: $30 (1st time), $20 (2nd time)

I hardly used the shoes for a month or so and the sole is coming off. Don't buy these shoes.
Price Paid: about $20

I fully understand the complaints, My husband and I both bought a pair I started wearing mine first in the first week I could feel then bottom of the shoe, in the next 2 weeks the sole on the bottom and the heal began to split. I though it was just one bad pair his did the same thing.
I will never buy not only the Ozark Trail shoes but any shoe from Walmart period. As far as I am concerned they can sell their China crap in China.
Price Paid: $20 each

Gee, Folks
I bought my Ozark Trail slip-on "hikers" about 6 years ago, and only now are the soles wearing-through, with slight separation from the suede upper on one shoe. During duty time I do, of course, wear combat boots, but my Ozarks are my only "civie" pair of shoes, and they have been exposed to some pretty harsh environments ranging from Alaska to Iraq, though I do try to avoid getting them wet.
I cannot recall which "model" of shoe these Ozarks are (most of the tags and labels have worn unreadable, except "Made In China"), but I thought I'd look for another pair to replace these. After reading all the current reviews, maybe not ...
Price Paid: $50 ?

Brought these boots from Walmart just over a month ago and you would think I've had them for 2 years! The back sole is ripped half off, the inside sole you can see right through. Use to buying boots once a year not once a month! Now thanks to this miserable boot I must wear these unprotected boots until I can save up some extra money. I'm not rich, hope I don't get hurt at work.
Price Paid: $30

I got a pair of these at WalMart. Looked solid, waterproof, etc. They didn't last through 20 days of wear! Crappy cardboard layer between inside lining and sole of the shoe crumbled, and the shoe's rubber sole cracked in multiple locations! Thankfully, WalMart did refund my money! These were not subjected to heavy wear, and I'm a skinny guy so my weight wasn't a problem. They are just pure JUNK!
Materials: Who knows what!
Use: Every day light work
Price Paid: $18

These are the worst shoes ever made. Not even good for yard work, that's how bad they are. Stay away from this brand or you will lose your money just as that.
Materials: cheap material
Use: used one time only
Break-in Period: yeah the break reall fast
Weight: 2lbs
Price Paid: $21.98

Wish I had looked at the reviews before paying fore this boot, guess Ozark gear and Wal-mart think that the consumer don't matter. If this is the quality of Ozark gear they will be out of business soon.
The boot did not last thirty days before the side split open from becoming wet. If this is the type of products they sell it will not be long before they go out of business. You can count on me not buying another product with their name on it.
DL Wiggins
Price Paid: too much

I bought these shoes 2 weeks before Halloween and buy this time the soul on the left shoe has starting to come off and the inner soul under the heal has collapsed and the padding under the heal has sunk onto the voids in the heal.
I would not recommend this shoe for anything. P.O.S.
Materials: man made materails from china
Use: every day wearing
Break-in Period: was none
Weight: does it matter
Price Paid: $25

Materials: skin
Use: outdoor
Break-in Period: 10-11
Weight: 1,2
Price Paid: $100

Complete junk and should never have been placed on the market. Trash like this is making you (Ozark Trail) look bad. Wal-mart won't even take em back. Sending them back to (Ozark Trail) costs more than they are worth. Even if they sent me a new pair they would only last 2 weeks if I was lucky, then I'd be disappointed again.
Materials: Junk
Use: Mail box n back, very short
Break-in Period: broken within 8 days, feet gettn wet since
Weight: 170
Price Paid: $20

Okay, the shoe at first looked tempting to buy. It was comfortable for the first 3 months I had it, and I use it for everything, outdoor hiking, going on trips. I even wore them to the beach. But ALREADY, the shoe bottom is worn down to nothing and peeling off! Yeah, WAL-MART would sell these for sure.
Materials: Cheapest manmade materials ever
Use: supposedly for outdoor use
Break-in Period: 30 mins. of wearing it
Weight: was maybe 3lbs, now 2 since it's FALLING APART

Had the shoe for 1 month and the sides blew out at the sole on both shoes, will never buy this product, it was a wast of money.
Use: daily walking
Weight: 200
Price Paid: $15

I bought these shoes about a week ago and the right shoe the sole is completely ripped open. These shoes are SH*T!!!! What a waste of money.
Price Paid: about 20 bucks

Your Review
Where to Buy
Help support this site by making your next gear purchase through one of the links above. Click a link, buy what you need, and the seller will contribute a portion of the purchase price to support Trailspace's independent gear reviews.
You May Like
Specs
| | |
| --- | --- |
| Price | Reviewers Paid: $12.00-$100.00 |
Recently on Trailspace