Ozark Trail Titanium-Coated Knife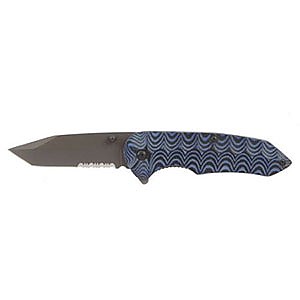 Of the several hundred knives I currently have (and have had in the past), I can count the number of "made in China" knives I've owned on one hand. I never buy cheap knives. But this $3 knife from Walmart looked nice so I bought one. After admiring it for a while, I purchased a second one to run through a torture test of cutting, stabbing, beating, batoning, burying in salty mud, placing in a vice and bending, and intentional destruction.

Amazingly, it held up. Razor sharp from the package and tight in construction, I wrecked this thing but still managed to restore it to usefulness when I was done. It held an edge, did not break or crack, did not corrode, and although the blade loosened, it still locked open. All I had to do was tighten the hinge screw to restore tightness.

For a cheap, "disposable" knife, it cannot be beat. Well, it can be beat, but it will hold up. A nice feature that sometimes goes unnoticed but is greatly appreciated, especially on a cheap folder, is that the blade slightly "springs" into a closed position thanks to a small ball and detent configuration on the tang. It even worked after the torture test.
Pros
Affordable
Replaceable
Practical
Durable
Available everywhere at your local Walmart
Cons
Models change often and it's likely that the quality of fit and steel will change, too
Made in China
Textured (scallopped) grips have a little slip as they are polished and smooth.
This China-made knife was razor sharp from the package. I personally purchased the knife in order to subject it to a comprehensive torture test. I began by swiping at a free hanging 5/16" sisal rope; the tanto-shaped half serrated blade sliced the rope into with ease. I doubled the rope and it still was easily sliced into with one swipe.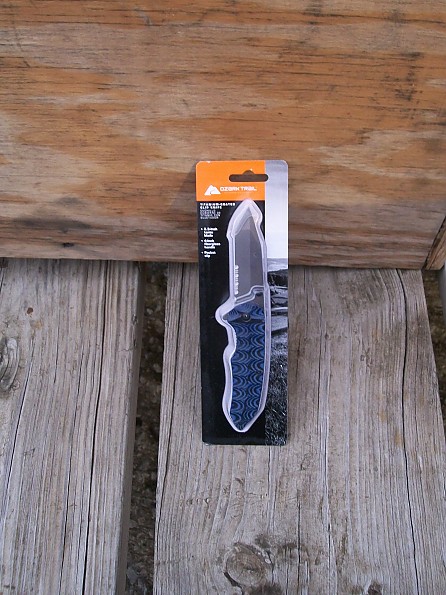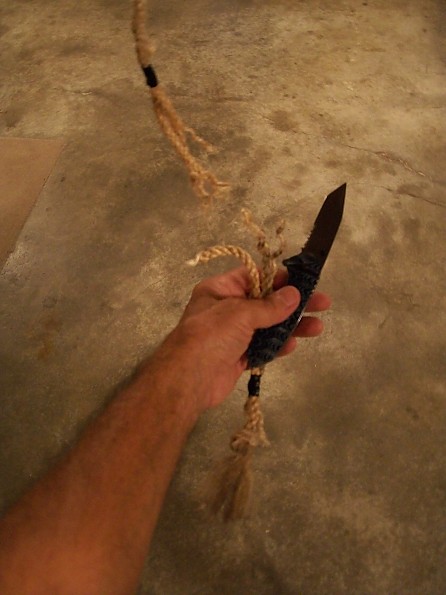 I next cut 50+ slivers off the same rope using a sawing motion so I could affect the entire length of the blade.  After the swiping and sawing test, the blade edge showed no signs of damage and shaved my arm hair effortlessly.
After the rope tests, I found an old pizza pan, laid it on the ground, and stabbed the pan with the knife, all the way through in the ground.  There was no noticeable damage to the blade but the edge lost its sharpness.  A few licks on a ceramic sharpener brought it back to some level of usefulness as it could slice cardboard without ripping it.
Next, I stabbed it into a piece of hard pine 2x4 and popped it side-ways 25 times. It finally began to show bending in the tip (blade design was tanto shaped). I then used it to baton the edge into concrete plugs until I broke the concrete into many pieces. The edge clearly looked dinged up but the blade's spine was undamaged.
I clamped the knife in a vice about half way up the blade and with a fair amount of effort, bent it about 25 degrees. The joint loosened but it did not break nor did the blade show a bend. I next clamped about 1/2" of the tip and bent it.  It stayed in the bent position (I was able to later re-bend it straight when I "restored" the knife).
I then placed it on a board and whacked the handles five times each side with a hammer. No noticeable damage was evident. The blade, now loosened, was still deployable and lockable, if not somewhat useful.
I buried the knife for one week in mud that was mixed with salt. It rained everyday that week and by the time I retrieved the knife, it was totally encased in mud. I hosed it off and found absolutely no signs of corrosion on any of the knife's components. I cleaned it up the best I could and discovered that by simply tightening the hinge screw, the blade returned back to a nice, tight setting that locked into place with ease.
After all of this, I reshaped the blade on a grinder (I had to remove the serrations as they were totally ruined chopping into concrete) and sharpened it.  While not as good as new, it is very serviceable.  The edge sharpened easily with no edge "rollover" like that which occurs on cheaper types of stainless.  While I can't say for sure what kind of steel it is, it acts very much like an AUS series.  I have a lot of experience with AUS8A and the Ozark Trail shows similar characteristics.
Although I have better knives (most very high quality, American made, as well as from other countries), there's not many I would want to subject to even a tenth of what I put this knife through.  I've bought a few more for family, friends, and bartering.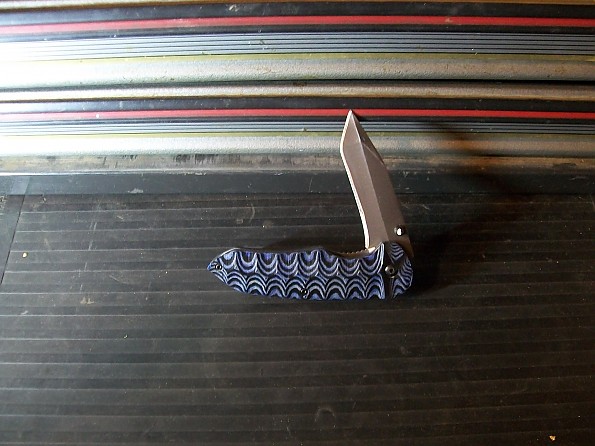 Source: bought it new
Price Paid: $2.75 +tax

Your Review
Where to Buy
Help support this site by making your next gear purchase through one of the links above. Click a link, buy what you need, and the seller will contribute a portion of the purchase price to support Trailspace's independent gear reviews.
You May Like
Specs
Price
MSRP: $3.87
Reviewers Paid: $2.75