Oztent RV-5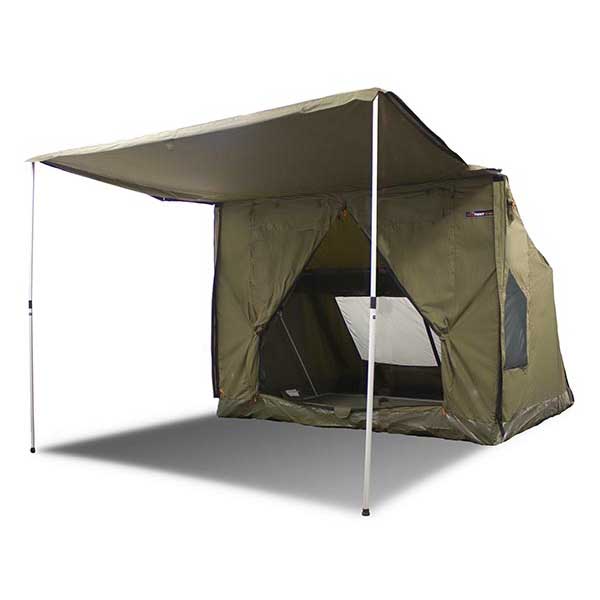 Reviews
1

review

5-star:

0

4-star:

0

3-star:

0

2-star:

0

1-star:

1
Pros
Very fast to put up
Very stable when guyed out properly
Cons
Not at all breathable
Not suitable for use with large stretchers of for people over 6'3" tall
Reading the list of warranty exclusions on the website seems to indicate to me that the tent is actually not fit for purpose.
Very poor stitching and webbing etc. is not hot cut or edge sealed
The fabric is not breathable at all; the original Oz-Tent made from Australian woven poly/cotton Coredux canvas was very breathable and therefore comfortable in most weathers.
It retails for a premium price and it is certainly quite expensive for the quality of the manufacture.
As manufactured it is missing what I have come to expect as normal features in a premium product.
1/. The fabric used has no exterior DWR treatment and water does not bead and flow off easily
2/. The guy ropes are cheap and nasty with poor quality plastic adjusters that simply will not grip wet rope
3/. The guy ropes have no DWR treatment or anti slip treatment and will not hold tension when they get wet and while a bright orange colour in daylight they have no retroreflective weave and they become invisible and therefore a trip hazard after dark
4/. Most importantly for a tent sold  and supposedly able to be used all over the country it is totally waterproof by use of a polyurethane coating and simply does not breathe at all.
This is the antithesis of a good touring tent where being comfortable needs the fabric of the tent body to enable moisture transmission through the tent fabric as quickly and readily as possible while still being highly water resistant.
5/. The attachment of the fly to the tent body is not secure enough and in a wind the zipper comes undone and the fly separates from the tent when the guys are tensioned to resist flapping in the wind.
6/. The tent bag is too small to take the tent with fly attached and uses a very light weight zipper that does not have the reserve capacity to resist degradation with daily use on even a short touring trip
There are no provisions for LED light strips or lightweight clothes hanging hooks/loops inside the tent.
There are not enough gear pockets in the tent and those that are there are very low to the ground
The quality of the sewing on the tent bag in particular is substandard: loose threads, handles not adequately secured with flag tacks, very poorly secured stitching, cut edges of handles not heat sealed. Parts of the bag were so poorly sewn that only one side of the fabric was caught; resulting in a large hole (I could have sewn a better, stronger bag myself.)
The AC outlet hole leaks badly in wet weather. It is unclear whether this is due to poor sewing or faulty design.
The Velcro attachment of the fly to the tent fails at the opening end when tensioned.
The twist locks on some poles are not secure enough. In heavy wind there was some collapsing—poles were adequately tightened.
Very disappointed actually. The tent fabric isn't canvas but polyurethane coated synthetic blend and doesn't breath at all. Condensation was a real problem on our first use over a long weekend of drizzle and mild wind. Stitching is very poor quality with lots of loose threads and missed seams especially in the tent bag.
Reading the list of warranty exclusions is like telling people that the product really isn't fit for purpose. It is an expensive tent made very  cheaply with inappropriate materials for touring in mixed weather conditions. We are certainly telling our friends to buy something else.
Only giving it one star because there is no negative rating possible.
However if the tent was made with a breathable canvas it would work very, very well, especially if used in conjunction with the separate optional fly
The frames and easy setup works very well, but the fabric lets the fine design down badly as does poor quality control at the factory. Customer service handling our complaint has been very good, however. Possible we are the first customers to complain about the QC at the factory and the use of an inappropriate fabric
Source: bought it new
Price Paid: 999 AUD

You May Like
Recently on Trailspace