Pacific Trail Pac Tech Terrain Jacket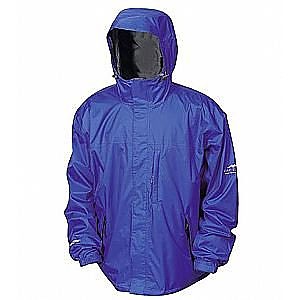 Best outdoor jacket I have ever owned. I need another one!
Pros
Best durability
Best water resistance
Best wind protection
Lots of pocket space (inside and out)
Adjustable straps
Comfortable to wear
For all levels of cold, wet, windy weather
Cons
Pacific Trail doesn't make it anymore
This jacket is very comfortable and can be adjusted to fit almost anyone. It has excellent water and wind resistance and in colder weather, I would layer it on top of anything else I was wearing and it would still fit great.
It did an excellent job of blocking wind and moisture of almost any level, from severe rain and snow storms. It did a fantastic job of keeping in body heat, and was rugged enough to wear for nearly any outdoor event or activity. It had tons of pocket space with two side pockets and one external chest pocket, plus it had a large internal chest pocket as well.
It was perfect for traveling, too, because it could be folded or rolled up to squeeze the air out, and fit anywhere. Definitely the best jacket I have ever owned (mine was a dark green), and I would love to own another one.
Background
This is hands down the best jacket I have ever owned, and mine lasted for at least a dozen years. I have literally worn this in blizzards and hurricanes, both here in the states and abroad. However, I somehow managed to tear a seam in it on one trip (still don't know how), and now I need another one, but I cannot find it at a retailer anywhere. If anyone knows anywhere I can still get one, please let me know. I need another one ASAP even if it is a color I don't like! Thanks.
Source: bought it new
Price Paid: Don't remember, but I'm guessing around $30

I live in the panhandle of Florida. While vacationing in Gatlinburg, TN, I purchased the Pacific Trail Pac Tech Jacket to use as a lightweight wind breaker and rain jacket. They only had it in Men's but I went ahead and purchased it.
It has been the best and most versatile jacket I have ever owned. It has great packability, wrinkles fall right out once unfolded, it packs compactly with a self packing feature (folds back into its own pocket as a pouch). It is great for both wind and rain! I enjoy hiking and horseback riding hear in FL as well as other regions of the US and this jacket is always with me.
I have contacted pacifictrail dot com to see if they have bibs or pants in this same style. I am cold natured and this jacket keeps me dry and toasty. A very comfortable fit. Style# 053600
Fabric: HydroVent
Price Paid: don't recall

Greatest outdoor jacket I've ever owned. Whether I'm driving my jeep, w/ the top down and doors off on a breezy nite or walking out in 2 the surf for a little fishing— this jacket is awsome!
Pros
water/wind proof
not 2 light, not 2 heavy
very comfortable
looks great!
variety of colors
Cons
i only bought :(
they're no longer availible.
I love my Pac Tech rain jacket! I bought it new, several years ago at Sunny Surplus. I'm trying despretly to find another one. The one I have is still in great condition, but I would love 2 have a backup. I could kick myself, for not buying every color they had.
Hopefully these reviews will reach the eyes and ears of the designers/owners of the brand, and maybe this awsome jacket will make a comeback. Until then, I'll just keep searching.
Source: bought it new
Price Paid: $60

So what happened, as with all good thing, do they have to die young, help.  So for those of you that follow these thing please email me a comprehensive list of like products. I want my "Pacific Trail Performance outerwear waterproof beathable est 1945" jacket put back in the marketplace. 
This jacket paddled a lot of streams in Missouri and Colorado without getting wet or cold once. email addressskipfoto@yahoo.com.  Now I want a new one to protect me from plying the coastal water aboard a sailboat.  pants too.  What is wrong with these people?
Update 4/5/2011
just bought a "Pacific Trail Rain Jacket yellow size xxl from a website called QuesTackle, 99.95 cheaper than my last purchase but that was 10 years ago, at least I hope it is the same jacket, it sounded like what I purchased many many putins and takeouts ago. 
Hope this helps someone besides me.  I have been looking to replace the one that went in the dryer by mistake.  She is now my "X"....also in a beatiful blue color.
Price paid: 114.95 including shipping
Price Paid: $125

Best all-around jacket I've ever owned.
Pros
Whole jacket packs into the inside pocket.
Inside pocket easily holds good size water bottle
Lightweight, but suitable for a wide range of conditions with appropriate layers
Hood not huge (like most jackets), and top cord keeps it from coming down over my eyes.
Cons
Can't think of any. I beat it up pretty good and it's still holding strong.
Lived in Colorado Springs for six months in 2018, and was hiking the hills every weekend. This jacket was pretty much all I ever wore for every type weather I saw, only mixing up under layers to match the conditions, including the incline and on up to the peak at about 20 deg. The inside pocket is the largest I've come across and can easily hold a good size water bottle.
My wife's a teacher and some kid left this in the classroom at the end of the year. Who says teaching doesn't pay! Would happily pay $100 for a new replacement.
Background
Hiking the Rockies and the hills of Virginia
Source: Some kid will one day remember it as the best coat he ever had and wonder what ever happened to it.

The best rain jacket I've ever owned. Better than anything I can find nowadays.
Pros
Waterproof
Breathable
Lightweight
Lots of pockets
Packable
It did all of those things well.
Cons
It spoiled me for rain jackets and now it's no longer available. Waaaa
Like many other reviewers I've found that this is the best rain jacket I've ever owned. I bought it many years ago for around $70 which seemed expensive at the time... I'd pay double now without thinking twice if they made them again.
Mine is no longer waterproof and the zipper broke.  :-(   Columbia Sportswear bought Pacific Trail and I've emailed them but don't hold out much hope. I just can't bring myself to buy the heavy, clunky, ill designed stuff I've seen on the racks these days.
Background
Used it for years hiking, kayaking, etc.
Source: bought it new
Price Paid: ~$70

Found one for $6 at a Village thrift in Chicago. Did not see the washing instructions. Looking for a 'brand new one'. It's worth it!
Pros
Great for Chicago's changing climate
Cons
READ the cleaning instructions
I had an XL, which was excellent for wearing with sweats. The adjustable cuffs and other restrainers were good for maintaining ventilation during activity. 
In my cool-down period, the cords helped to maintain warmth until I'm indoors. In the wet snows and rains in Chicago, the water resistance is great for those gale like winds that will blow circles around you.
One of the features that I really appreciated were the pockets that zipped upward, and rear pouch. They provided less opportunity for loss while working out.
Ronald C. Davis
Source: bought it used
Price Paid: $6

Ditto to all of the other reviewers. This waterproof Pac Tech packable shell is the best purchase I have ever made in terms of outerwear! I have even used it over a sport coat!  Dress it up or dress it down...it is fantastic! 
I paid sixty some bucks for it at Gander Mountain in Wisconsin. . .if I could find another one I would pay twice that much for another one. Where can I get another one!!!  
I don't like bulky coats and this lightweight coat is my main winter wear...warm and extremely ergonomic...love everything about it. None of the alternatives listed come close to this one, especially at the price point.
Price Paid: $65 approximately

I bought this jacket maybe 10 years ago or longer.  I got caught in a storm, ran into a store and got what they had.  With tech gear I never buy on impulse so this was rare. 
I've used it every winter. I love it. I would love to buy another but found out the company was bought out by Columbia. Mine has started to loose the white inner lining in the hood.
I'm from California, but am currently in Tbilisi Georgia (next to Russia) where it rains a lot. I wear it for sports activites and over a suit coat.  Works great. I am asked often as to where people can get one. 
Price Paid: $30-40?

Perfect jacket.
Pros
Great length
Light weight
Lots of pockets
Absolutely love this jacket, which has been downgraded to my neighborhood walking coat. I've bought many to replace it, but none have worked as well.
Source: bought it new

I bought this jacket about six years ago. It was one of the best purchases I ever made. It is lightweight but warm and breathable and looks good.
It is especially useful when traveling. It weighs very little and takes up little space but is comfortable in a wide range of temperatures and climatic conditions.
Price Paid: Don't Remember

Pros
Strengths are it does everything it was made to do. It does them well. Extremely durable.
Cons
It's no longer available.
I love that this jacket is still in great shape after several years of rough treatment and it continues to function like it did when new. I'm sad they are no longer available.
Source: received it as a personal gift

I wear this jacket on duty as a Police Officer during the cold and rainy season. This jacket is lightweight and breathable. Pac Tech jackets by Pacific Trail keep the wind, rain, and other elements away from your body and keeps me warmer than any heavy jacket available. Great product...a must buy.
Fabric: Gore-tex
Fill: none
Price Paid: $60

Great jacket. Mine is still like new and is several years old. I just wish I could find one for my wife so she would leave mine alone ;). I bought mine from Sports Authority years ago.
Price Paid: Approximately $119 8 years ago

Just found a brand new one with the tags at the thrift store for $7.95, did I get a good deal?
Price Paid: $7.95

Your Review
Where to Buy
Help support this site by making your next gear purchase through one of the links above. Click a link, buy what you need, and the seller will contribute a portion of the purchase price to support Trailspace's independent gear reviews.
You May Like
Specs
Men's
Price
Reviewers Paid: $6.00-$125.00

Kids'
Price
Historic Range: $49.95