PackTowl Nano

#7 in Towels
The Nano has been discontinued. It was replaced by the PackTowl UltraLite.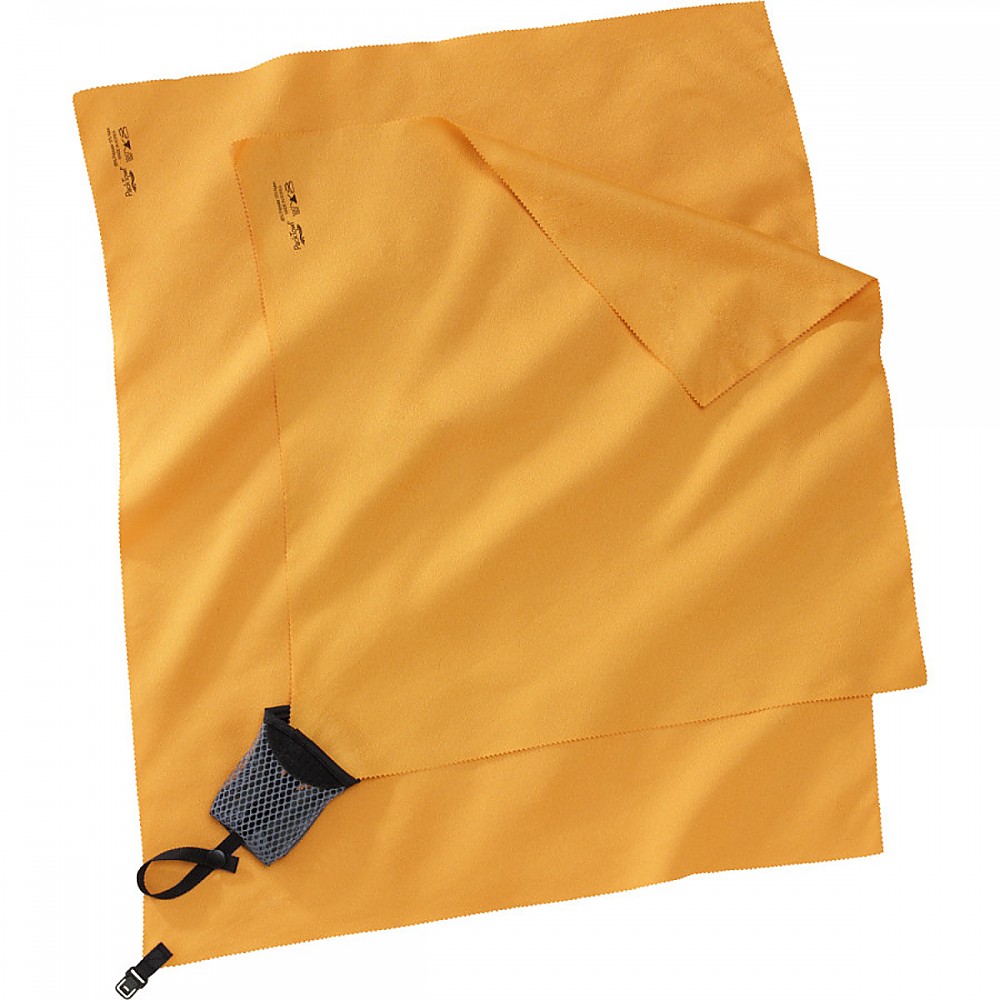 An airy 24g/.84 oz to boost personal hygiene or to wipe condensation off your single-wall shelter in the morning. Well-designed mini towel delivers good results despite its minuscule size and weight. Not luxuriously soft, but imminently practical.
Pros
Lightweight
Well-conceived, useful design
Absorbent, tough fabric
Wringing out restores usefulness
Cons
Not exactly Egyptian cotton comfort
Cool temp drying takes awhile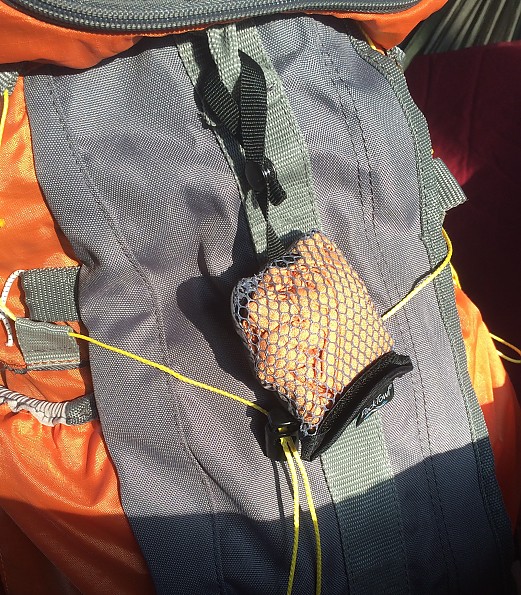 Cascade Designs' Nano PackTowl is a light wisp of cloth—85% polyester, 15% nylon—that offers trekkers or other travelers an option to make their backcountry hygiene a tad easier. It packs into its own mesh carrying pouch, unfolding into a 16-inch by 17-inch rectangle of smooth cloth that is intended to serve as a towel (pictured below with .5L water bottle for scale), washcloth, wipe, or whatever clever use one can conceive for it (pre-filtering water, perhaps). Cascade Designs boast of its smooth texture and antimicrobial qualities, claiming that the Nano can absorb twice its weight in water.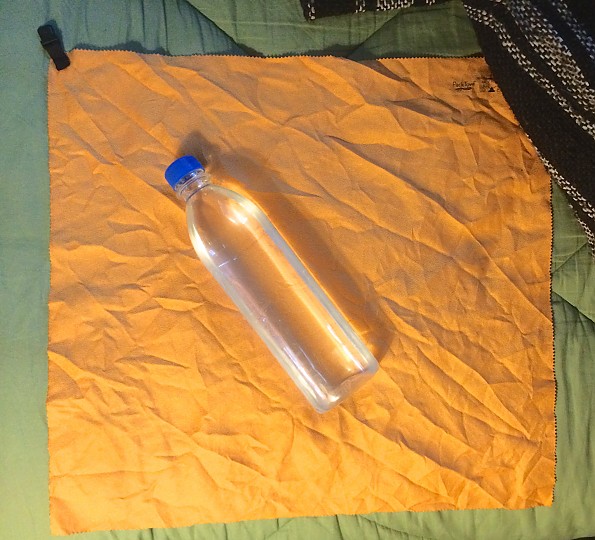 I was favorably impressed with the compact design when I first looked at the Nano. The color (sunrise) was not my favorite (a sort of sun-bleached orange), but it was the least expensive, and frankly I don't really worry about matching towels in wilderness surroundings. A strap fastened as a loop by a snap serves to attach the Nano PackTowl to your pack, where it can be readily used and easily dried.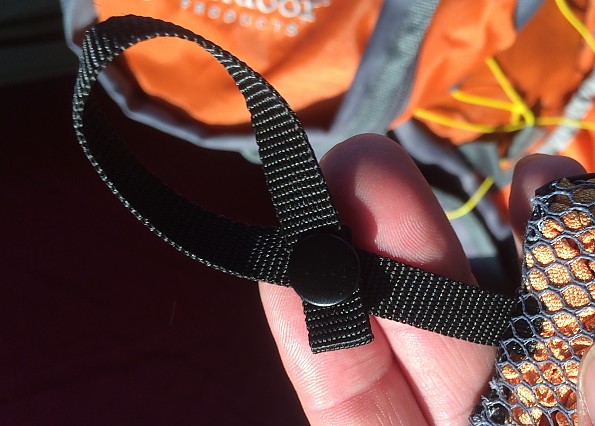 An interior quick-release buckle secures the towel to the inside of the mesh pouch, and thus one can detach the towel for use, reattaching it for either storage or drying. The stitching here looked a little suspect, but it has held up fine so far, and were it to loosen, a few quick stitches with the needle from my backpacking repair kit would keep it in place for life.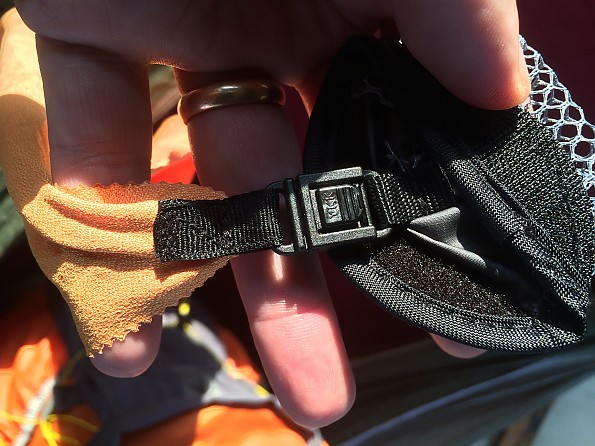 I like this design feature: obviously, using the towel without the pouch attached is helpful; having a pouch, though, especially one that attaches to the towel, permits one to hang the towel for drying and then subsequently store it once it is dried. Indeed, once dried, it simply stuffs back into the pouch, where a hook-and-loop closure seals it within the pouch until its next use. This is a very well-conceived design.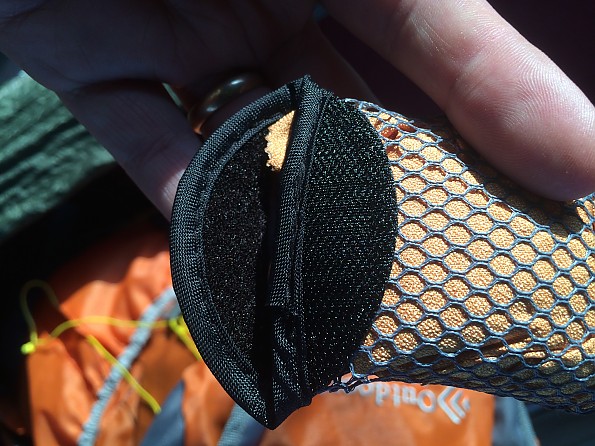 To test the Nano, I put it through the tasks I foresee using it for. I splashed water on my face, washing it, and then reached blindly for the Nano PackTowl to dry myself. The towel performed well, readily soaking up the moisture that had remained on my face. My day-old beard was bristly, but this fabric is obviously durable and resistant to snagging: no pulls were evident after my vigorous facial drying. The material was not exactly luxurious: no soft, cottony embrace was this, but rather an acceptably comfortable fabric. Smoothly textured, not velvety soft.
To simulate wiping a sodden tarp dry of condensation, I then soaked it in water, squeezing it out by hand before hanging it from my hammock suspension on a cool, windless night. Dear Reader, your fearless tester then lay down in the hammock to monitor the drying process. Unfortunately, the soft lulling movement of my hammock put me to sleep, and the towel was dry when I awoke. I suppose that this was a  beneficial test, though: it is my habit with other towels, leaving them to dry overnight.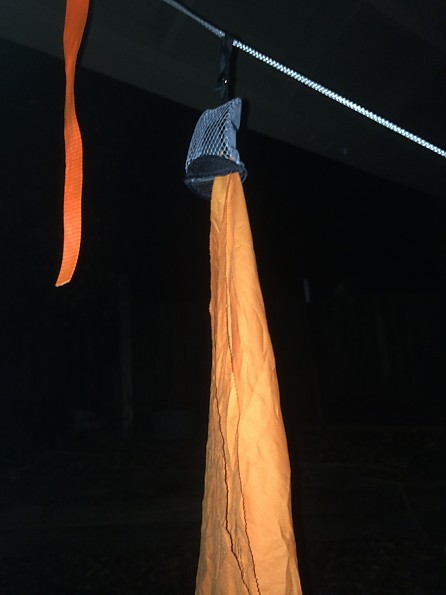 But I tested it again, soaking it, wringing it, hanging it up to dry, this time during a morning in the 50s with an occasional breeze. Its hanging spot started in the shade, but had indirect sun by the the time it dried an hour later. I was a bit surprised and a little disappointed by the amount of time it took to dry, but then again—cool conditions mostly out of the sun are not optimal for drying a product that holds twice its weight in water. I felt certain that warmer temperatures and direct sun would speed the drying time considerably.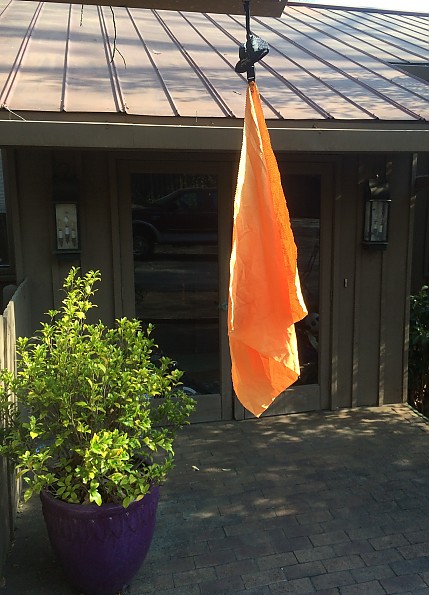 That, of course, meant another test.
Soaking, wringing, hanging up: 30 minutes to dry in 60˚F weather with full sun and a moderate breeze. And another one--soaking, wringing, hanging up: 20 minutes to dry in 70˚F weather with full sun and a moderate breeze. I think it is safe to say that summer conditions will dry the Nano quickly. It occurred to me that the mesh nature of the bag is designed to accommodate a damp or not wholly dry Nano, too, permitting it to air out a bit even if it has to be scrunched into its pouch before wholly dry.
Overall, I am pleased with the Nano PackTowl. I really like its design features, and it fits my kit and my habits well. Sure, I would have liked to see a quicker drying time in cool conditions, but I am not sure that is a reasonable desire.
This is a good product that does compromise a measure of softness for practicality: a softer material would have been nice, but it would likely have been less durable and have taken longer to dry, too. I am content with the Nano as is. Face feel is by no means unpleasant, drying time (after a number of tests) seems acceptable, and this durable fabric seems likely to endure what I will throw at it in the coming years.
Source: bought it new
Price Paid: $6.36

Your Review
You May Like
Specs
Price
MSRP: $9.95
Historic Range: $3.95-$9.99
Reviewers Paid: $6.36

Recently on Trailspace