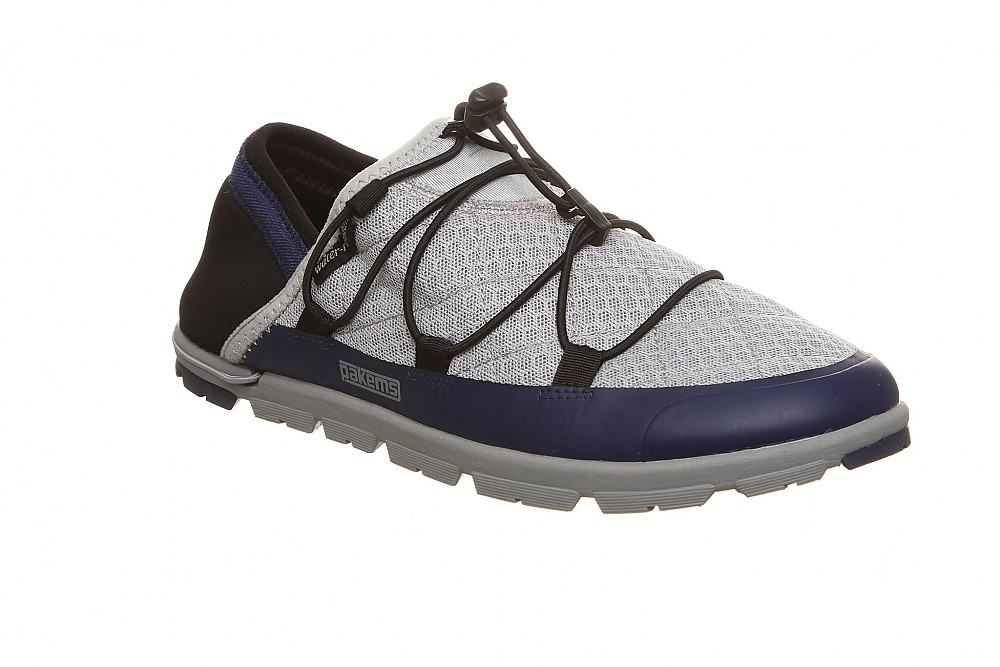 Reviews
1

review

5-star:

0

4-star:

1

3-star:

0

2-star:

0

1-star:

0
Chamonix mesh style shoes from Pakems are great water or camp shoes for backpacking. The mesh drains water easily, but the firm, solid sole is contoured to provide good traction. In a pinch, I could hike in them if my hiking shoes failed.

Pakems provide a secure platform on slippery rocks and fold flat so they are compact in the pack. They are comfortable to wear in camp. They also make a good travel shoe.
Pros
The shoes fold flat and are compact
They have an embedded elastic cord that allows them to be lashed together
They are comfortable to wear
They are secure underfoot
The mesh model has lots of ventilation
Cons
The sole feels firm and doesn't have much arch support.
They won't win many style points.
Pakems are a packable "real" shoe with a sole and sturdy fabric, but with a clever design that allows the back of the heel to fold down. They are lightweight and comfortable, too.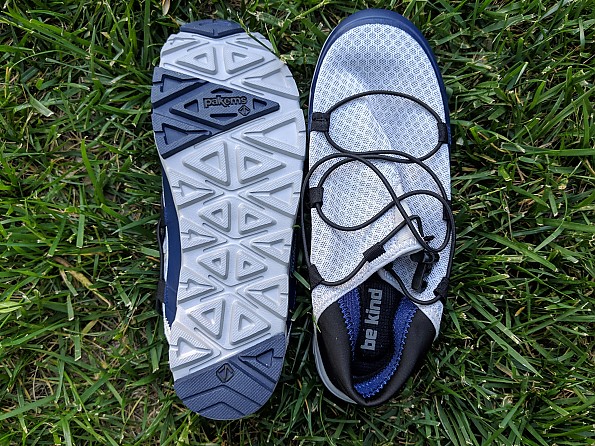 Mesh vs Regular Chamonix Model
The Chamonix shoe comes in two different models, mesh and regular. I tested both, using the mesh version for backpacking and the regular version for traveling. The mesh shoes appealed to me as a combination water shoe for stream crossings and camp shoe in the evening for backpacking.
The regular model was the ideal choice for travel, but either could substitute in both settings. A third setting that I wasn't able to test but wish I could was for hut-to-hut hiking. I've hiked the Tour of Mont Blanc and Alta Via 1 in the Alps and most hut owners request/require that muddy hiking boots be removed before entering the main hut. The packable Chamonix shoe is a great alternative to flip-flops or bulky shoes in the huts or when going out to dinner in town.
Both shoes are made of EVA outsoles that are contoured to provide good traction on uneven surfaces. They have an elastic quick-draw lacing system.
A clever feature is the elastic band that is embedded in a groove around each heel. Place the shoes together front to back and you can quickly lash the shoes to each other to make a compact block of shoes in a suitcase. The width of the two shoes together is around three inches in the middle and two inches near the ends.
The regular model weighs 13 ¾ oz while the mesh model weighs 13 3/8 oz. The regular model is waterproof.
Other styles are available, including mid-calf and ankle-high models.
Field Test: Chamonix Mesh Shoe for Backpacking
Every few years in the mountains of the Sierra, we get huge snow years such as 2017 and 2019. In these years, I leave my flip-flops behind in favor of a safer choice for stream crossings, meaning a shoe with a better sole and a heel to keep it on my feet. The mesh Chamonix shoe is a good choice for this setting. The mesh allows the water to drain. The firm, solid sole provides a secure surface for crossing slippery, rocky surfaces in high water and won't collect pebbles as there are no holes in the bottom. The neoprene heel stays snug against the skin and won't slip off.  
I tested the Chamonix on a spring backpacking trip where I encountered one stream. It was in Hood Regional Park in Sonoma and provided a good test in easy conditions before tackling the higher water of the Sierra. I slipped the slim shoes into a long mesh pocket on my backpack so they would be easily accessible. When I reached the stream, I was able to remove my hiking shoes and socks easily and slip on the Pakems quickly. It was a bonus that I didn't have to waste time lacing. I just gave the cord a quick tug to secure the laces.
I walked across the creek easily, the shoes treading securely across the rocks. I shook off the shoes on the other side. They were easy to clip to my pack with a carabiner slipped through the elastic cord laces and felt light. Because of their slim profile, they didn't bounce around annoyingly. I placed them in the sun when we got to camp and they dried in a few hours. Next time, I would remove the insoles before crossing so they'd stay dry. That way, even if the shoes were still damp, I'd have dry insoles.
The Pakems are light, but not quite as light as my inexpensive A Leader water shoes (7 ¾ oz). However, they are more versatile for a few reasons. First, the solid sole prevents the shoe from picking up endless little pebbles due to the lack of drainage holes. Second, they are more comfortable and sturdier to hike in if a hiking shoe fell apart and was unusable.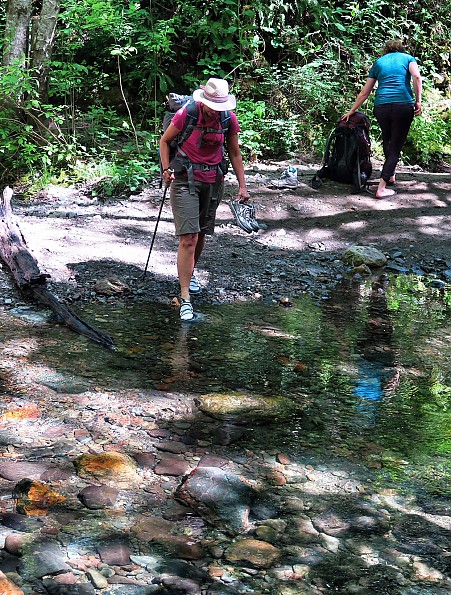 Field Test: Chamonix Regular Shoe for Travel
I tested the regular Chamonix shoe for travel on a trip from San Francisco to Manhattan in June. At first, I put my old shoes in, then remembered the Pakems. When I swapped them out, I smiled because I had so much more room in my suitcase due to the slim, compact design.
Temperatures were still a little cool so I was glad I had the solid quilted fabric on the top of the Pakems instead of mesh. I tried to go to our national chain gym but it was closed. Since I had my gym bag, I just switched my street shoes for the Pakems and walked all over Midtown for my exercise. It worked great. I had black pants on and although the Pakems won't top the style chart, they blended in just fine.
Most shoes seem to have so much squishy foam these days that, at first, the Pakems felt too firm underfoot. It didn't seem to bother my feet and after an hour of walking, my feet and legs felt great. They don't have pronounced arch support but the removable insole means that you could replace it with an insole that provides more arch support.
I realized that with my large handbag, I could carry the Pakems around all day and switch back and forth between stylish flats and Pakems if I had long distances to walk. We stayed in an airport hotel on the last night and worked out at the gym. The Pakems were perfect for the treadmill and elliptical machines. I was very happy with the usefulness of the Pakems on this trip.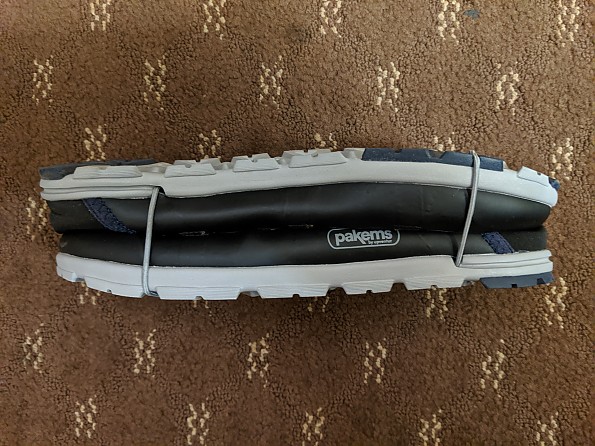 Summary
Pakems are a versatile backcountry and travel shoe that have some ideal use cases. Here's where I would be most likely to use them.
1. Backpacking, especially as a water/camp shoe. They feel wonderful after being in hiking boots all day. The mesh model drains water and dries in sunlight within a few hours. They have a good tread so they work well on uneven surfaces as long as it's not too extreme, so they are a good emergency hiking shoe if a boot comes apart.
2. Hut-to-hut hiking, such as the Tour of Month Blanc or other hikes in the Alps or other locations. The compact shape and comfort makes an ideal choice for an evening shoe in the huts after hiking all day. If you have an overnight in a town or village, Pakems look nicer than muddy hiking boots for an evening out on the town, though they are still more casual than the average European would wear.
3. Travel, especially urban, multi-purpose or multi-city trips. Pakems are perfect for sightseeing walks on city sidewalks, gyms, and hiking paths.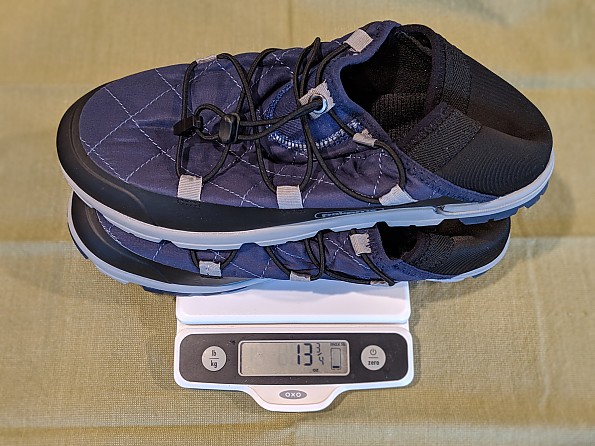 Experience
I've had the shoes for several months. I've used water/camp shoes for many years. I usually use flip-flops or A Leader water shoes, but am always looking for the perfect water shoe. I find Crocs to be too big and bulky and many water shoes are too heavy. A bonus is if a water shoe could potentially be used to hike out if a hiking shoe falls apart on the trail.
Source: tested or reviewed it for the manufacturer (Kept it)

Disclosure: The author of this review received a sample of the product from the brand or its representative in exchange for a review.
You May Like
Recently on Trailspace