Paramo Fuera Windproof Smock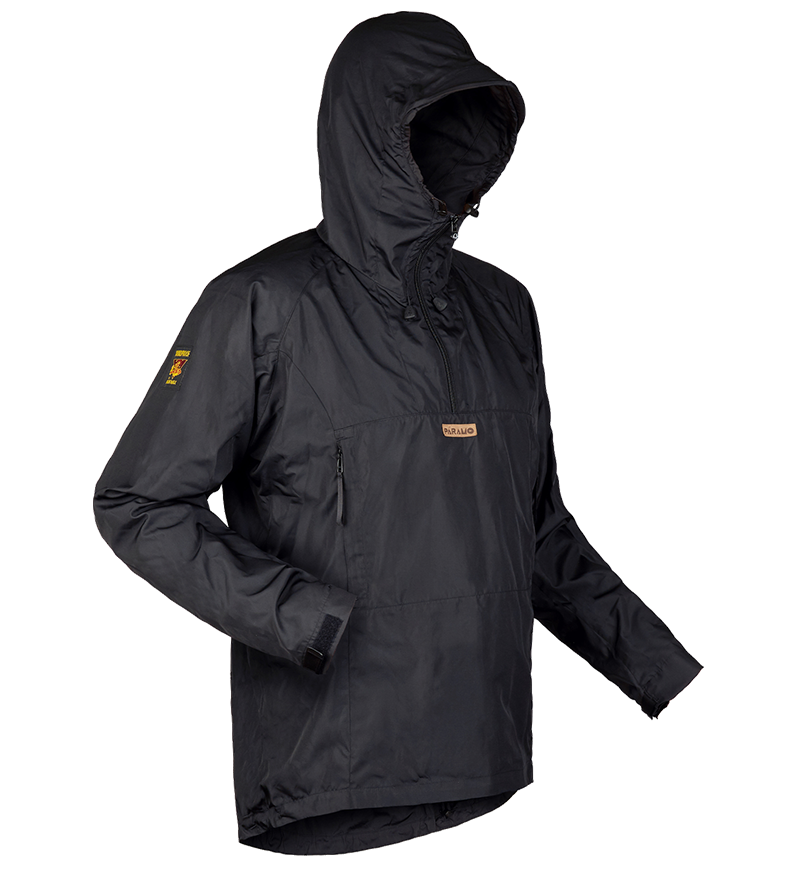 Great windshell for variable alpine conditions and snow.
Pros
Excellent wire peaked hood
Perfect garment for layering
Robust
Quiet and soft
Windproof
Snowproof
Quick drying
Ethically made
Cons
Relatively expensive unless compared to patagucci/arc'teryx.
Relatively heavy for a pure wind shell
Water resistant only (standard for this type of clothing)
Boxy fit, drab colours
Introduction
Paramo is a British company that offers an alternative to traditional waterproof textiles. Instead of relying on a membrane to confer waterproofness, the Paramo system relies on the properties of pile fibres to move water using the heat of the body (like animal fur). The shell of their garments is proofed with Nikwax which assists with preventing the pile from becoming saturated.  This  is not pseudoscience but those interested in the system can easily search for the technical details. I mention this because the Fuera shell has some of the properties of this system—a lightweight polyester version of the shell that is proofed with Nikwax DWR instead of fluorocarbons.
The "ethical" choice of Paramo is by virtue of this wax-based system and that the garments are made in South America reputedly supporting local women at risk. Make of this what you will.

Why choose this garment?

I use this garment for aerobic and static activities in variable alpine conditions from freezing to mid-teens Celsius.

This garment excels in the snow for x-country skiing and snowshoeing where physical output is very high.
I choose this jacket when I might need to layer (as my "athletically" cut windshells are too binding for layering) when I want a shell that is windproof (0 cfm) and quick-drying when I am out for a couple of nights  and where I might be subject to variable cold/damp conditions.
Features
Fabric: The garment is made of windproof polyester which gives it a soft rustle-free hand that feels silky next to the skin. 
Being polyester, the fabric is quick drying—this is important to me as I am a heavy sweater and invariably these types of garments get damp with precip in variable conditions where you want to delay putting on a hardshell. My nylon windshells/softshells can be slower drying.
The fabric is windproof—I choose this garment when I am going into alpine conditions and my high cfm windshells don't cut it. That said, it seems pretty breathable and the fit means it's easy to ventilate.
Cut/fit: This is a smock so it comfortably fits under a pack without zips or pockets pushing against the hipbelt.
There is a two-way pocket at the chest which is voluminous and easily fits goggles, gloves, hats, or whatever.
The hood is outstanding. The British know their hoods. It is very adjustable, moves with the head, is quiet and has a wired peak that keeps windblown snow from the eyes. The hood is designed by someone who has hiked in the mountains.
The fit is boxy which seems unappealing but it means that it can be layered very easily. I can walk with a base and midlayer without binding and for camp/static duties an insulation layer fits as well. This is aided by the slippery fabric which drapes well with no binding.
The smock has the potential to be "flappy" in strong wind but it hasn't been an issue. It wouldn't be my first choice for cycling however.
The arms and front are cut relatively short so long limbed people should try on first. It fits me well. For reference, I have a medium sized smock and am 173 cm with broad shoulders. British jackets tend to be undersized compared to American fit, but this is pretty true to size, if a little short in the trunk and arms.
Water resistance: This is not a hardshell, but it is snow-proof and water-resistant for hours in that mizzly, drizzly alpine weather. It wets out in showers, but if squally it quickly dries. In sustained rain you need a hardshell although, supposedly, you can wear the Paramo pile jacket underneath to increase water resistance. I have reproofed the jacket with non-fluorocarbon Nikwax, a wax-based DWR. It is long lasting.
Warmth: For reference, I run hot and wear this over a silkweight polyester base layer a little below freezing in highly aerobic activities (e.g. snowshoeing) but add a grid fleece midlayer for hiking in below freezing windy or above freezing drizzly conditions.
Where was it tested?
Backpacking, skiing, and snowshoeing in Alpine temperate Australia in snow, drizzle, and windy conditions. Daywalking in cool windy conditions. Temps from below freezing to high teens Celsius.

Downsides
Boxy fit and drab colours give it a unique aesthetic...it looks very old fashioned but it's so practical I don't mind and the backcountry isn't a fashion parade. I believe that the 2020 version has a more athletic fit.

Weight: My medium is 290g. This is heavy unless you're going to be wearing it day in and day out. I would consider a lightweight shell for "on-off" conditions.
Slipperiness: This can be a downside. I thought that my hipbelt needs more adjustment than normal as if doesn't "grab" onto the fabric.
Low cfm: It is windproof. This could be a downside if you want a shell to double as a "shirt" in warm conditions for bug/sun resistance. I haven't tried it in warm to hot conditions as I think that it would be clammy. I choose a more air permeable nylon spandex shell for those conditions.
Cost: It's great value if you get the use out of it especially compared to featherweight high-end garments, but it isn't cheap.
Summary
Almost perfect, weather-resistant shell for wearing all day hiking in cool to cold conditions with a chance of snow and drizzle. 
Used by many users as a multisport shell, but not my choice for running or cycling.
Not a jacket to show your outdoor credentials—would look ridiculous with jeans unless you're going for a retro explorer vibe, in which case add a pipe and flat cap.
Background
I have used various windshells i.e. Mountain Hardwear Kor Preshell, Pertex, and nylon softshells.
Source: bought it new
Price Paid: $AUD100 with postage from UK.

Tough, lightweight, fast-drying, windproof smock suitable for layering and year round use. Water repellency can be added by treatment with Nikwax TX direct.
Pros
Looks good
Fast drying
Lightweight but not flimsy
Reasonably affordable
Good ventilation
Cons
Cheap feeling plastic bits on hood
Fit and comfort: The overall fit works well for me (size large, 5'10 and 1/2, 200 lbs). It's big enough to fit over a fleece comfortably, but will not flap excessively in the wind as some smock designs can. It fits very comfortably and there is no friction or tightness at any point.
Adjustability: There is a good amount of adjustability by velcro on cuffs, cinch cords on hood.
Water resistance: This is not a waterproof garment, but can be treated with NikWax TX direct to become waterproof. It is a windproof garment that is very fast drying.
Breathability: The breathability is very good, it did not take me long to dry off after a great deal of exertion.
Moisture: The material appears to wick sweat away from the skin adequately, and works particularly well paired with the Paramo Explorer pull on which features directional fabric to wick sweat away.
Warmth: This is very thin so it does not provide much warmth, but by virtue of being a windproof it does keep some warm air in as you work.
Layering: This is excellent for layering with fleeces or just about any other mid layer.
Abrasion: So far so good. The fabric appears to be reasonably hardwearing, and there are no signs of abrasion from backpacks or hip belts.
Function: The design is nice with a deep chest zip for ventilation and a large chest pocket which fits right between a hip belt and a neck clip of a rucksack. All the design features of this garment are very functional and well thought out.
Ease of use: As a smock it is extremely easy to use.
Features: Made of Nikwax windproof fabric which is lightweight, windproof and rapid drying.
Construction and Durability: The construction is excellent, and to date the durability has proven to be so as well as there are no signs of wear.
Conditions: Hiking in Northern England and Wales in the spring time on high, and very windy plateaus, with a bit of scrambling required to reach them.
The only thing keeping this from being a perfect 5/5 is some very minor finishing touches. Paramo could do with some nicer toggles on the zipper and the hood instead of the cheap looking ribbon and plastic bits they use.
Arguably it's what keeps the price down, but for a minor increase in price this garment could compete with much more expensive items both visually and in performance (in which it easily matches and sometimes outperforms).
Source: bought it new
Price Paid: 45 pounds/65 dollars

Your Review
Where to Buy
Help support this site by making your next gear purchase through one of the links above. Click a link, buy what you need, and the seller will contribute a portion of the purchase price to support Trailspace's independent gear reviews.
You May Like