Patagonia Capilene Air Bottoms

The Patagonia Capilene Air Bottoms are Patagonia's newest base layer design which utilizes a unique seamless knit construction that is composed of 51 percent merino wool and 49 percent Capilene recycled polyester. This results in a very stretchy insulation layer that is both light and warm. The knit construction provides a nice thickness that works extremely well inside of waders for long days fishing in cold streams. Overall this is a great base layer, especially for colder conditions.
Pros
Very warm
Not itchy for wool
Seamless design adds to comfort – very flat transitions
Doesn't hold odors
Nice comfortable waistband
Responsibly sourced wool and recycled polyester
Cons
Lack of a fly opening
Might be too warm for many activities
Some shrinkage in the pant leg length
Pills pretty easily
Overview
The Patagonia Capilene Air Bottoms are Patagonia's newest base layer design that follows Patagonia's long tradition of developing new fabrics with improved performance while also trying to find ways to minimize the impact on the environment. The Capilene Air Bottom fabric is a unique a 3-D seamless knit construction that utilize fibers made from 51 percent responsibly sourced merino wool and 49% Capilene recycled polyester.  The resulting bottoms are light, warm and very comfortable to wear.
Patagonia also makes a hoody and a crew top utilizing this unique material and construction method.  I also did a review of the Capilene Air Hoody here at this link.
Here is a video from Patagonia that touches on several of the unique features of the material and with the seamless method of construction.
Performance and Fit
From a performance perspective the Patagonia Capilene Air Bottoms are a very warm baselayer for the weight and might be a little too warm when worn during more strenuous activities, especially if you are in a location where the winters are mild like here in the northwest.  For longer hikes that have significant elevation gain I probably wouldn't wear the Capilene Air Bottoms as my primary base layer and would generally use these bottoms for during colder periods or more sedentary activities.
The bottoms do breathe very well, so if you have good ventilation it's not to difficult to keep the Capilene Air Bottoms from becoming to warm. Because the material breathes so well it really doesn't have any capability with respect to wind resistance if it happen to ever be worn as an outer layer.
The Patagonia Capilene Air Bottoms performed well with respect to wicking moisture as I never sensed the bottoms becoming clammy even during strenuous activities.  Patagonia also clams the the fabric "dries in a flash" and while I'm not sure of the official time definition of "flash", the fabric does dry very quickly.  As a quick and dirty test I soaked the Patagonia Capilene Air Hoody made from the same fabric in a sink full of water to see how much water it would absorb.  When fully soaked the fabric of the hoody still had most of its initial loft and it was very easy to wring out the majority of the moisture to where it felt only slightly damp, but wearable.  After about forty minutes hanging on a rack inside my house, I weighed the hoody and it was still about seven ounces heavier then when it was completely dry.  Overall I would say the fabric used in the Patagonia Capilene Air Bottoms has about the same drying characteristics as other synthetic baselayers.
On the Patagonia web site they indicate that the Capilene Air Bottoms are a slim fit.  While I would love to be considered slim, I'm not, but due to the very stretchy nature of the knit material used that Patagonia refers to as their lofted wool innovation fabric, the large size fit me great and never seemed tight or constricting and I feel the bottoms run true to size. Due to the nature of the material it is very accommodating to a variety of body types.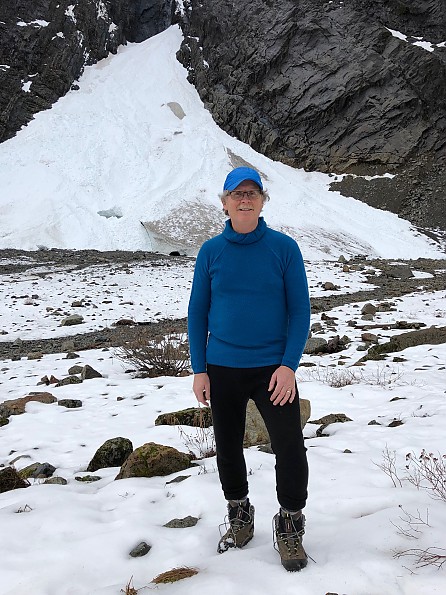 Me wearing Capilene Air Hoody and Bottoms
The pant legs were nice and long and still fit fine even after experiencing a little shrinkage over a couple months of use.  I did notice that do to the length of the legs that I had some bunching when wearing taller boots which I didn't find as an issue, but this might be something to consider if you are particular about that sort of thing.
The area in the seat of the pants seemed roomy and I never had any issues with movement of the waistband while bending over or doing any other activities.  The waistband is nice and wide and is attached with a very flat seam, so it is nice and comfortable. The waistband has also held up well so far through repeated washings and hasn't degraded in anyway or started to roll over while wearing the bottoms.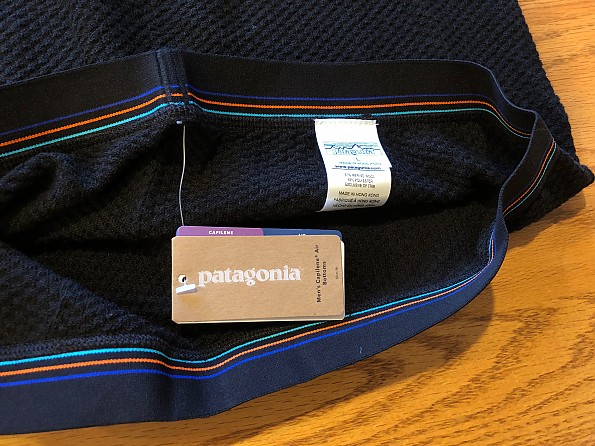 Waistband on Capilene Air Bottoms
One controversial feature or really lack of a feature is that the Patagonia Capilene Air Bottoms do not have any fly access on the front of the pants.  While the lack of a fly is similar to what you might find with a women baselayer, the design of the mens bottoms still provides the needed "room" and I didn't feel the fit was any different then other bottom baselayers I own that have a fly feature.  I think the lack of a fly was driven by the unique manufacturing process used to make the Bottoms which results in a seamless garment.  This may be a deal breaker for some, but I didn't find it an issue and now that I have used a baselayer without a fly, I wouldn't hold off buying a baselayer in the future that didn't have frontal access.
Due to the way the bottoms are manufactured there are no sewn seams anywhere on the garment which is pretty unique and also made for a very comfortable fit.
With the knit being such a stretchy material I was a little worried that it might get stretched out and become baggy, but the material has held up well and doesn't seem to have stretched out beyond its original size.  The cuffs on each pant leg fit well and never felt constricting and didn't stretch out during the time I have been using them.  
The material used for the Patagonia Capilene Air Bottoms does a good job at not holding odors and I could not detect any permanent odors being retained within the garment after each time it was washed.
Since the Patagonia Capilene Air Bottoms are 51% merino wool I had some concerns that I wouldn't like the fabric, as my skin doesn't generally get along well with wool. While I could tell I was wearing wool, it wasn't uncomfortable against my skin and I think the merino wool combined with the Capilene recycled polyester works well in creating a very wearable garment. I also found the Capilene Air Bottoms were great for just lounging around the house.
One activity where I found I really liked using the Capilene Air Bottoms the most was inside my waders during a late winter fly-fishing trip I was on recently.  The bulk of the knit construction really performed well keeping me warm while standing in a cold stream for an extended period of time. This will be my go to baselayer for wearing in my waders on colder days.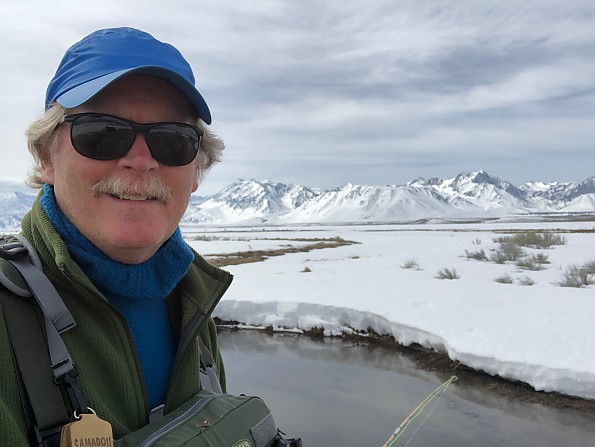 Fly-fishing on the Upper Owens River in California
Weight & Bulk
The Capilene Air Bottoms are a nice warm baselayer and correspondingly it is a little more bulky and heavier then the typical baselayer I would wear here in the Northwest in the winter.  My large size Capilene Air Bottoms weighed in at 6.9 ounces.  I couldn't find a published weight for the large size bottoms at Patagonia's website, but they do indicate that a medium should weigh 5.9 ounces, so the large size being 1.0 ounce heavier seems in the ballpark of what it should be.
From a volume or bulkiness perspective the Capilene Air Bottoms are a bit bigger then the typical polypro type of baselayer I would wear as shown in the picture below.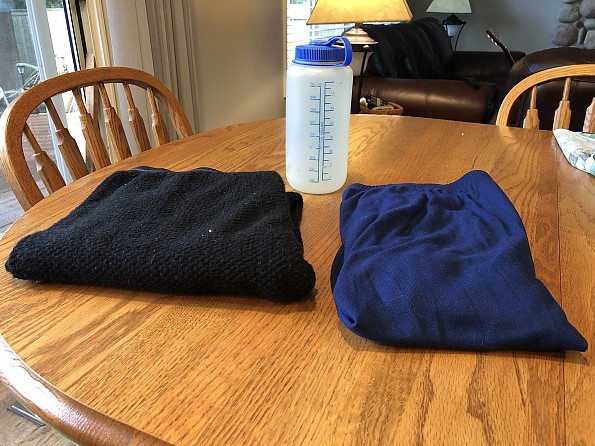 Shrinkage and Durability
I was curious if the material used in the Patagonia Capilene Air Bottoms would change over time with repeated use and washings, so when I first received the bottoms I laid them out and recorded several measurements as a baseline.  After about four months of use and well over ten times through the wash I repeated those same measurements. When the bottoms were washed I followed what was indicated on the label sewn to the bottoms, which based on my interpretation of the symbols on the label, was wash in cold water and dry using medium heat.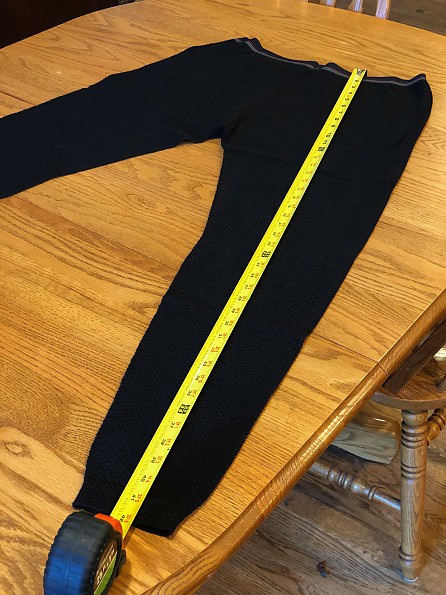 Example of one of the measurements I took
The end result was I did see some shrinkage mostly in the length of the legs and the crotch that ranged from approximately 2 to 7 percent.  The following table has the before and after measurements I made along with any shrinkage observed (noted as % change). 

With respect to durability, I didn't experience any issues with the bottoms from a quality or manufacturing perspective.  I did experience some pilling that seem to progress as I used the garment and I assume it will continue.  If someone does buy the Patagonia Capilene Air Bottoms they should expect that these will pill over the life of the garment and if worn alone, the knit material may have more of a tendency to snag or catch on branches or other rough surfaces in use.
Price
The list price of the Patagonia Capilene Air Bottoms is $129.00.  While this is probably one of the most expensive baselayer pants bottoms available, I think the pricing reflects Patagonia's efforts to provide a state of the art baselayer that utilizes a very lightweight seamless 3-D knit structure with unique high loft yarn constructed with responsibility sourced merino wool from New Zealand and Capilene recycled polyester. Patagonia has always been the leader when it comes to the development of fabrics for outdoor clothing while also being a company that really walks the talk with their efforts to minimize their impact on the environment.  I think that most people are willing to pay a premium for Patagonia products like the Capilene Air Bottoms so that Patagonia will continue to develop new and innovative products while also demonstrating how a company can be both successful and environmentally responsible at the same time.
To truly understand how unique Patagonia is, I have included the link below to an interview done with its founder Yvon Chouinard that I feel is one of the most worthwhile ways to spend an hour of your time. The interview is a bit long and Yvon isn't the most eloquent speaker, but the substance of what he shares is second to none and helps explain why Patagonia is so unique.  Video Link
Summary and Recommendation
I found the Patagonia Capilene Air Bottoms to be a very warm lightweight baselayer and they are an excellent choice for an insulation layer in fishing waders. I generally don't get cold easily and would not wear the bottoms if I was hiking and carrying a pack unless it was in the low 20's or colder, but for more sedentary activities like fishing, this would be one of my go to insulation layer.  I think for a baselayer the Patagonia Capilene Air Bottoms are expensive, but for someone looking to get the latest in fabric technology and willing to pay a premium to support Patagonia's efforts to develop state of the art outdoor clothing while also setting the standard for how a corporation can be environmentally responsible, then the cost is justifiable.  If your only concern is getting a functional warm baselayer then there are lower cost alternatives available.
Many thanks to both Trailspace and Patagonia for the opportunity to evaluate the Capilene Air Bottoms for the Trailspace Gear Review Corps!
Background
I have been using the Patagonia Capilene Air Hoody for over the last four months during all of my weekly winter outings (hiking, snow shoeing, and fishing). I have been active in the outdoors since the mid '70s and have experience with most of the synthetic baselayers available since that time.
Source: received for testing via the Trailspace Review Corps (Sample for testing and review provided by Patagonia)

Your Review
Where to Buy
Help support this site by making your next gear purchase through one of the links above. Click a link, buy what you need, and the seller will contribute a portion of the purchase price to support Trailspace's independent gear reviews.
You May Like
Specs
Men's
Price
Current Retail: $129.00-$139.00
Historic Range: $53.72-$139.00

Women's
Price
Current Retail: $79.00-$139.00
Historic Range: $79.00-$139.00

Recently on Trailspace