Patagonia Capilene Cool Trail Shirt

Patagonia's Capilene Cool Trail Shirt is a great T-shirt for backpacking, hiking, and running in warmer seasons, and even in shoulder seasons for folks with a high metabolism. It is very comfortable, dries quickly, and doesn't stink after a few days. In addition, this Patagonia Capilene fabric shirt is Fair Trade Certified and meets Bluesign sustainability criteria, and is now on the top of my T-shirt pile for hiking and other activities. The lightweight construction may wear faster than heavier t-shirts, and the trim fit means take care with the sizing.
Pros
Comfortable—feels more like cotton
Dries quicker than my other T's
Feels dry even when damp
Seams are comfortable
No odor noticeable after "stink test"
Fair Trade certified
Bluesign criteria
Cons
Very lightweight—not for cool temps
Long-term wear questionable
No pocket (if you like that)
Size is just about right, but trim fit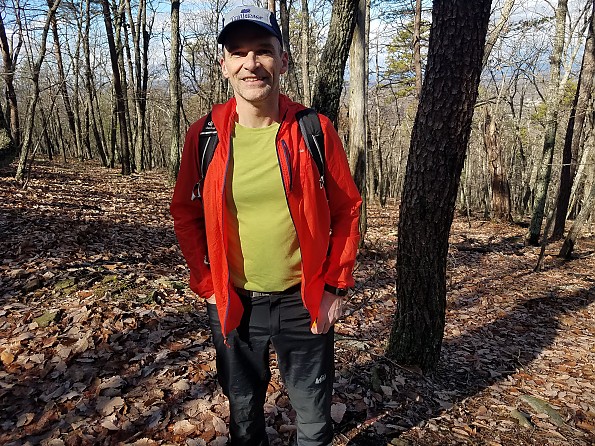 I like to wear T-shirts most of the year until it really dips consistently below freezing. For me they are a good base layer top for everything but deep winter, as I generate heat really quickly and prefer only my torso to have full layers leaving the arms with less layers for additional venting. The Patagonia Capilene Cool Trail Shirt is now one of my go-to's after several months of use.
The Patagonia sizing chart was quite accurate. They call this a "Regular" fit. Their Large size fit me (6'0"/183 cm, 170 lbs/77 kg) perfectly. The Cool Trail Shirt is available in five colors for men and women, and sizes XS to XXL for men and XS to XL for women. There's also a Long-Sleeved Capilene Cool Trail Shirt version.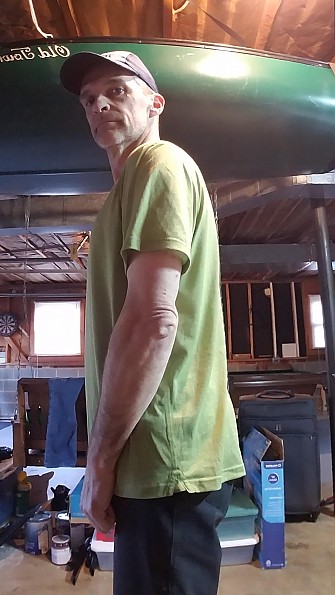 The Cool Trail Shirt torso length is enough to tuck in easily or keep loose.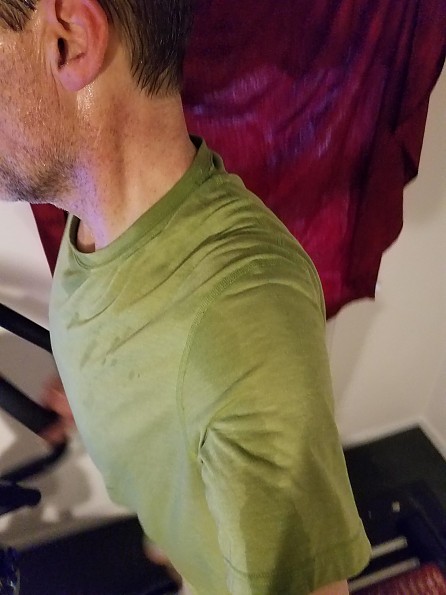 Sleeve length is good for me—just long enough, but not flopping loosely around.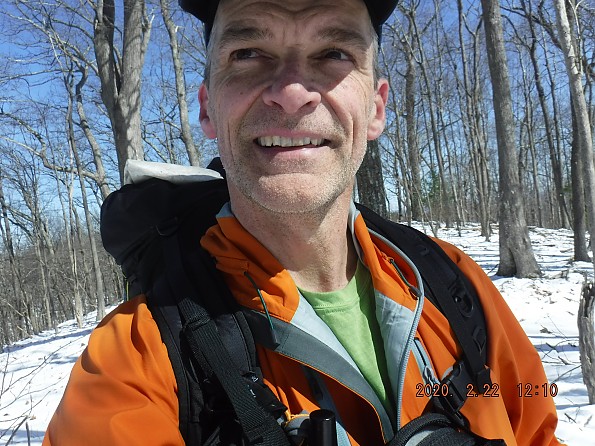 The collar is fine—not noticeable and wears well under other layers. So far it hasn't loosened from stretching etc.
Comfort:
The Cool Trail Shirt is very comfortable. Patagonia states this is "our softest performance knit," and I don't disagree.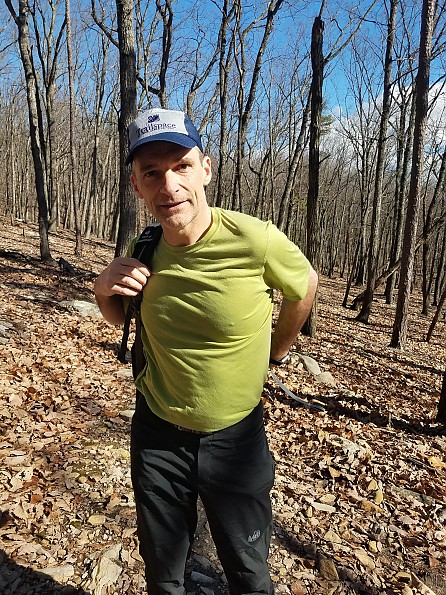 Its fit is trim but allows room to move, and it almost feels as soft as cotton. The Capilene Cool Trail Shirt has a way better feel for me than most polyester type shirts, which I really don't like although I use all the time. I like the feel of this shirt as much as my Merino wool T—the two are about the most comfortable tees I own, except for cotton, which of course never goes out on the trail with me.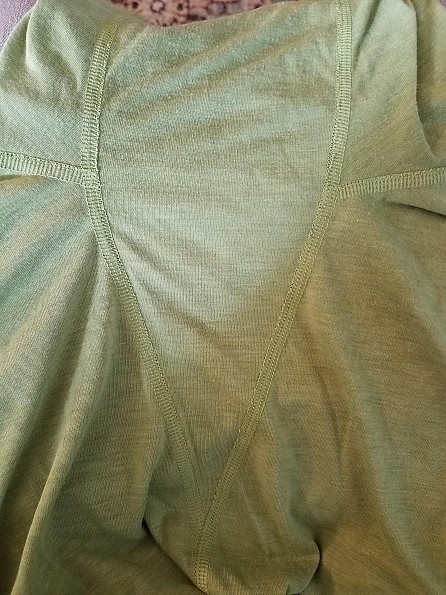 The sewing arrangement leaves room for stretching. Above is a shot of the underarm. I have had no chafing or irritation under pack friction areas or anywhere else.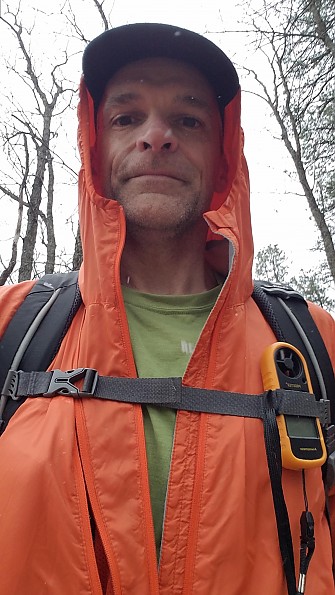 This shirt is so light it can layer under anything and is almost unnoticed. I guess the best thing you can say about a T-shirt's comfort is that I barely noticed wearing it and it never got in the way.
Breathability/Moisture Management:
The Capilene Cool Trail Shirt breathes very well. So far, I've worn it for hiking and backpacking in temperatures from 20 to 85 degrees F (-6 to 30 deg C).


I can dampen it easily with my high metabolism, either on a hike up my favorite local hill (1500-foot climb) or on the elliptical keeping fit between hikes.
In either case, and many more, the Capilene Cool Trail Shirt dried quickly and did not feel like moisture was sticking to me. See below for time-lapse photos of it drying: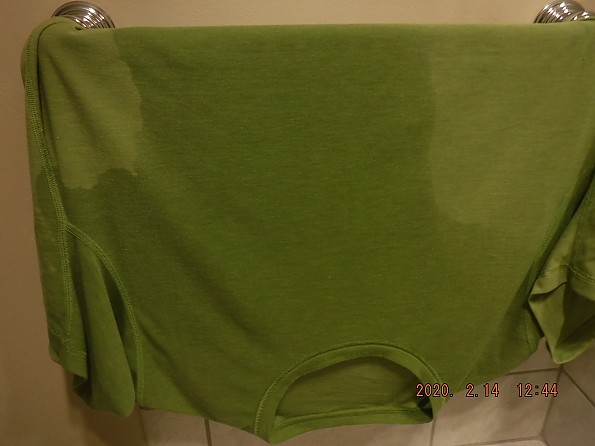 Fresh off an hour on the elliptical and...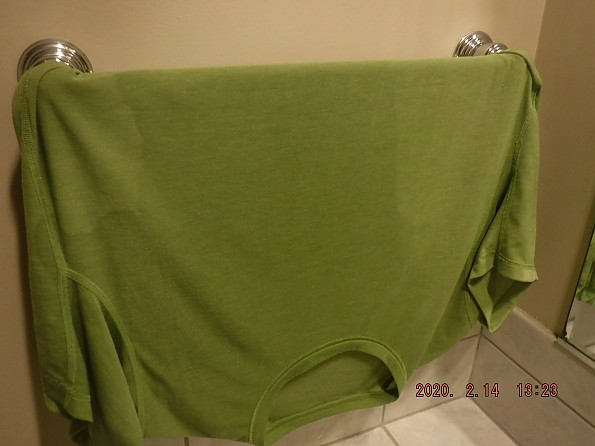 45 minutes later...still see dampness but it doesn't feel damp much at all. 
When wearing it after a soaking, it feels dry within just a few minutes although you can still see the dampness. After about 4,000 feet of climbing and a close to 18-mile day, I still wore it around camp the other week as it felt fine and the wind wasn't blowing too hard...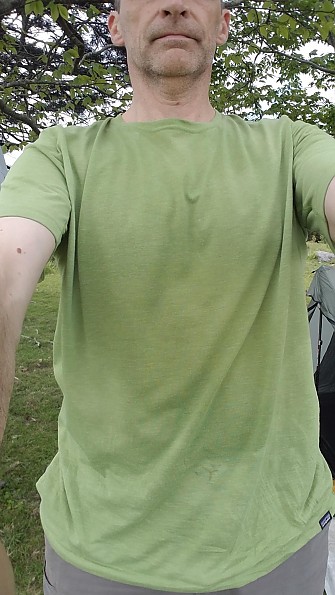 Here's an example from a hot day of field work the other week...not sure if you can tell but the front of the shirt and sleeves are soaked in sweat.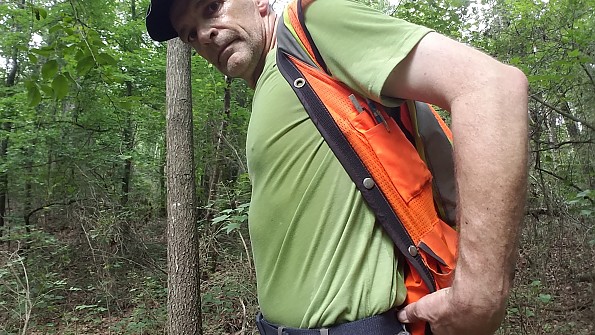 However, after 15 minutes in the car at the end of the day I felt dry (please note I snapped this shot while sitting still at a gas station sipping a coffee and not on the road)...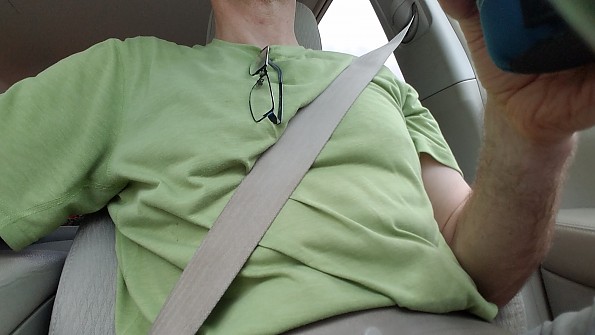 I really feel like the Capilene Cool Trail Shirt dries faster than my other regular hiking choices (an older polyester T-shirt and a Merino wool shirt bought to reduce stench). But that meant I had to "science" it up a bit...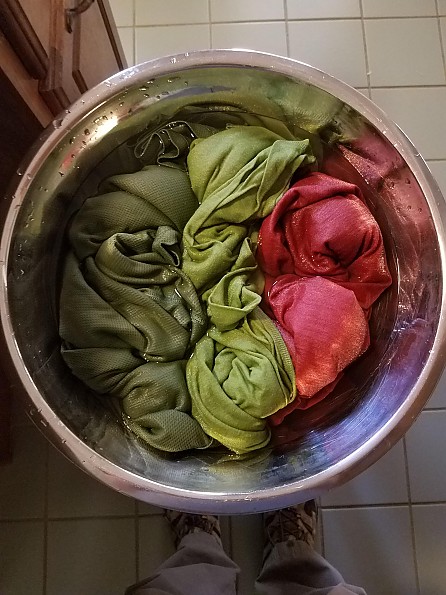 I soaked all three shirts (Capilene Cool Trail Shirt, merino wool, and old favorite Coolmax poly) until they were all saturated.  Each was wrung out so almost no drips (three solid wringings each).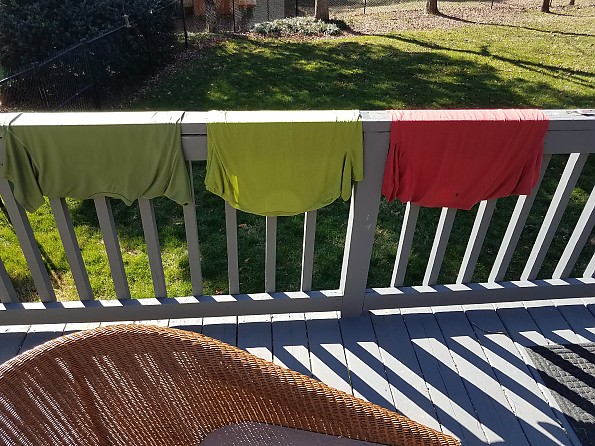 I then laid them out to dry in the sun (on a 40-degree F day with light wind) and weighed them every ten minutes. (Older poly on left, Capilene Cool Trail Shirt in the middle, Smartwool on right.)
Here you go, proud backpacking nerds...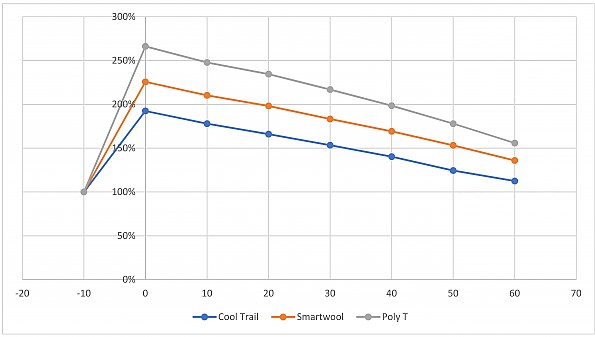 Apologies for the lack of labels...X axis is minutes, Y is percent of dry shirt weight. Note that the Capilene Cool Trail Shirt initially held less water than the other two, so started at a disadvantage with less moisture to lose (although that would be an advantage on the trail). They all steadily declined, but the Cool Trail Shirt reached almost dry conditions (both in weight and feel) within the hour, while the other two, although pretty good, still showed some extra weight and more importantly felt damp to me while the Cool Trail T felt dry.
Features:
The Capilene Cool Trail Shirt has no real features—it's a simple tee, which is perfect. No pockets or gimmicks to get in the way—just function.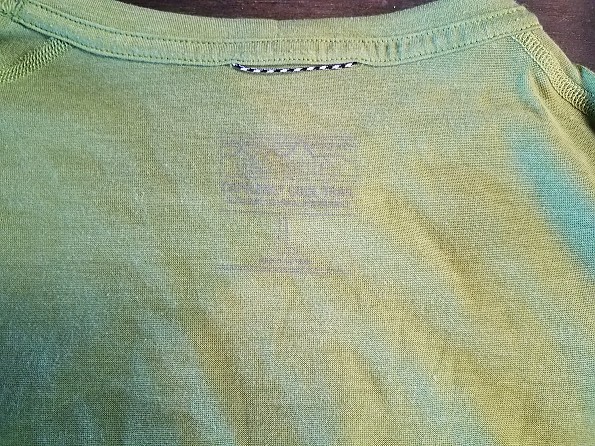 The lack of collar tag is really nice, just a simple hook you don't even notice. There has been no chafing or other irritation from wearing this shirt.
Patagonia put its logo in a minimal place at the bottom of the T-shirt.
I guess one negative is that the shirt does not have UV protection, but if I am in a sunny clime I will be in a long sleeve shirt and my sun hat (I prefer those to sunscreen). This shirt is so light you can throw on a long sleeve shirt in sunny areas and not even notice.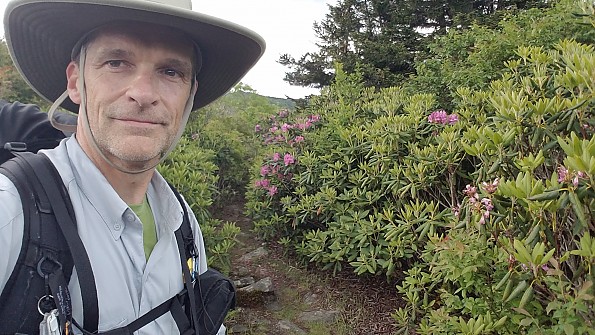 Sustainability is emphasized from materials through construction, which I really appreciate. The Capilene Cool Trail Shirt is made from 50 to 100 percent recycled content (100% for solid colors and 50% for heathered), is Fair Trade certified, and meets Bluesign criteria. I will not go into extensive detail on these, so feel free to go to the respective websites for the details on what this means.
Style:
As usual this is my weakest category. It's a T-shirt. Looks fine to me on its own or layered under a fleece or jacket.
The Capilene Cool Trail Shirt comes in a variety of colors (five each for men and women), so if you really like you could have one for every day of the week...almost.
Weight:
This tee is listed at 5.3 ounces (150g) and my scale says 159 grams, so very close. Maybe the large is 9 grams heavier.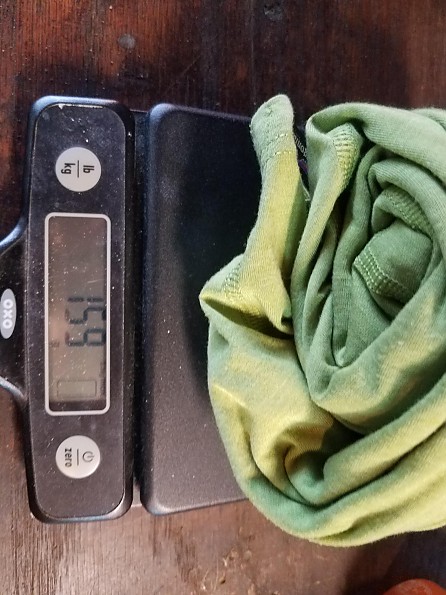 Stink Factor:
I have tried my best to make the Capilene Cool Trail Shirt smell and test the "HeiQ Fresh Durable Odor Control" which is said to be harmless to skin and last the lifetime of the shirt. Numerous hikes and even exercising on the elliptical for seven straight days without washing it...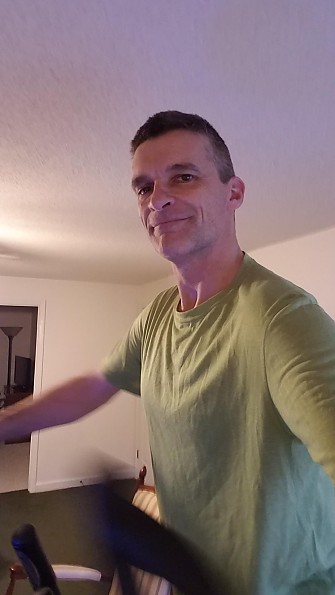 after that it passed the smell test with my wife just fine. 
No other shirt I own could do that after that many days!
I have worn it as my hiking (not camp) shirt on multiple backpacking trips, including a recent warm weather (70s F for highs) backpacking trip that included a long day of climbing hills. I had no problem putting the shirt back on on Day 3 and driving back to see my wife.  
Construction and Durability:
The construction seems solid.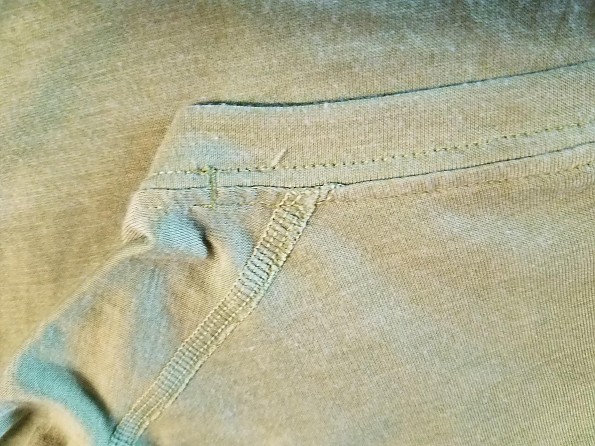 The limited seams are well stitched and well placed with only one visible loose thread and no other issues. 
After a few months of heavy use, I don't see much difference in the same spot on the shoulder for the threading (see below about general wear)...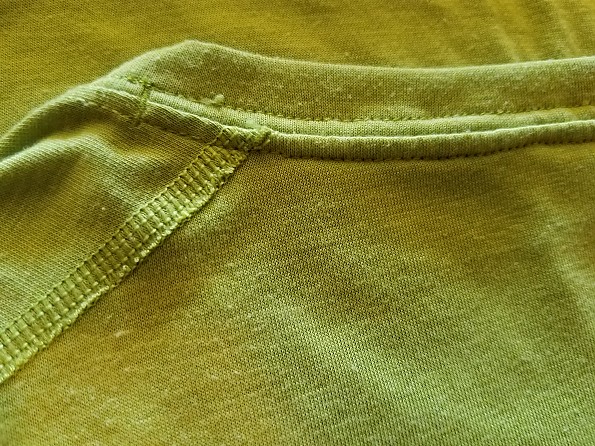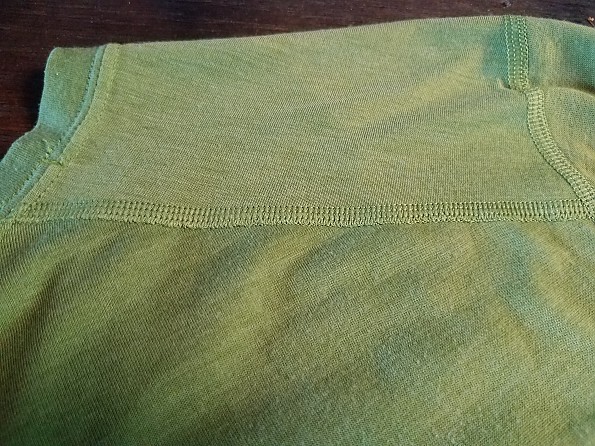 I worried in the initial review that the lightweight approach will mean it will wear faster, but if that is the case it is a sacrifice I would be willing to make to avoid that slick feel of a poly shirt.  I still feel that way, but the Cool Trail T definitely shows some pilling and wear in general...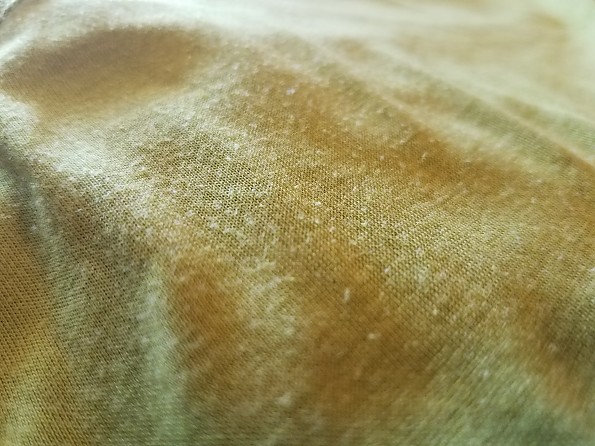 I have now worn it on its own on at least one backpacking trip including off-trail scrambles through the forest and, more important for a wear test, on work sites where I have to scramble through scrub and vines on a regular basis...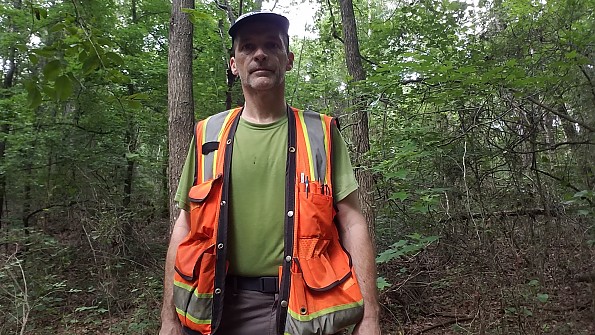 In the photo above, I had just finished transecting a site through the understory behind me...a good test!  It hasn't got any nicks or holes despite my best efforts.  So in general I give it a thumbs up for sturdiness and wear, with a caveat about how long it will last given how thin and light it is.


Care and Maintenance:
Washing is simple...no fabric softeners. I just throw it in with my regular laundry and there has been no change to the shirt or shrinking. I have line-dried it as well as thrown it in the drier on a light cycle with the rest of my outdoor clothes. No changes have been noticed. Patagonia's tag allows for washing, drying, and ironing (really? iron your outdoor wear?). 
Conditions:
I have used this T-shirt when possible from January to June 2020. This includes as a base layer in temperatures from the 20s to 50s degrees F (weather ranged from sunny and 50s, rainy 40s, and snow and wind down to the 20s).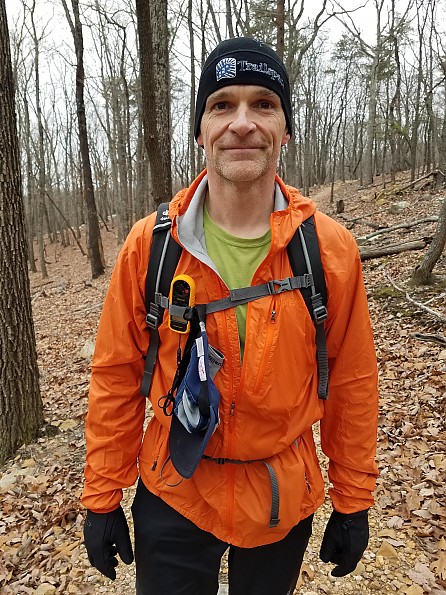 For the last couple of warmer months temperatures, while not sweltering hot for the Southeast US, have ranged into the 80s and include backpacking trips in the 70s.
Best For:
Patagonia's Capilene Cool Trail Shirt is good for anyone who wants a light, comfortable tee, that doesn't stink over time and dries pretty quickly. It's a pretty good base for folks like me who heat up quickly and don't wear full base layers in the colder months as well. It excels in drying, and feeling comfortable and dry, in the warmer months. I recommend it for backpacking, hiking, running, and any other activity when a simple tee is your clothing of choice. There's a long-sleeved option too for cooler weather!
Experience
I have worn T-shirts since I was a child! Seriously, a short-sleeved shirt is standard for me until deeper winter weather as I prefer it over a full base layer. I have historically used poly shirts but got tired of the feel, and am also using a Merino wool T as an alternate—both have their pluses and minuses.

I have taken the Capilene Cool Trail Shirt on multiple weekend backpacking trips, numerous day hikes and local walks, as well as exercising almost every day on the elliptical.

Source: received for testing via the Trailspace Review Corps (Sample for testing and review provided by Patagonia)

Your Review
Where to Buy
Help support this site by making your next gear purchase through one of the links above. Click a link, buy what you need, and the seller will contribute a portion of the purchase price to support Trailspace's independent gear reviews.
You May Like
Specs
Men's
Price
MSRP: $39.00
Current Retail: $26.99-$45.00
Historic Range: $6.75-$45.00

Weight
150 g / 5.3 oz

Material
Solids: 4.4-oz 100% recycled polyester spun jersey with HeiQ Fresh durable odor control / Heathers: 4.4-oz 100% polyester (50% recycled) spun jersey with HeiQ Fresh durable odor control

Attributes
Fair Trade Certified sewn, bluesign approved

Women's
Price
MSRP: $39.00
Current Retail: $22.50-$45.00
Historic Range: $19.50-$45.00

Weight
119 g / 4.2 oz

Material
Solids: 4.4-oz 100% recycled polyester spun jersey with HeiQ Fresh durable odor control / Heathers: 4.4-oz 100% polyester (50% recycled) spun jersey with HeiQ Fresh durable odor control

Fair Trade Certified sewn, bluesign approved