Patagonia Dimension Jacket

The Dimension Jacket has been discontinued. If you're looking for something new, check out the best soft shell jackets for 2023.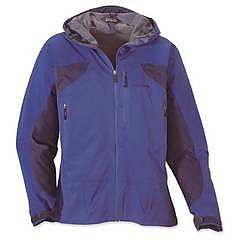 First the jacket gets a high rating because it does a very good job for what it was designed to do. It is a full-on softshell that offers a high level of protection. It has a hood, adjustable cuffs, and a longer cut. Along with a softshell fabric that is burly with reinforcements, the jacket is overall closer to the hardshell range than the fast and light range.
Always the fabric has to work so about the softshell qualities. There is an inner mesh face that slides smooth over a Primaloft jacket and slides fairly well against a fleece, but not as good as a smooth faced inner fabric. The mesh does its job of wicking moisture out of the jacket and for such a heavy fabric it breathes well. How much really depends on how much you sweat, but it is a softshell kind of moisture management. The face is not completely smooth but has a great textured and soft draping feel that does not make the noise typical of nylon. It is heavy and drapes over the body rather than having the stiff cardboard feel of say some Windstopper fabrics. So it has a soft hand even though it is a thicker fabric.
There are reinforcements to further its durability and should hold up to skis over the shoulder or a pack. The hem at the waist is long enough to keep out the drafts and has a draw cord. The cuffs are longer on the backs to cover your hands and the strap is of a soft rubber synthetic with perforations which work so much nicer than fabric. This adds to the weathertight design of the jacket. The face area of the jacket fits nicely, for me anyway and the hood comes around the face without a helmet nicely, but everyone is different here i guess.
One thing that I don't like is the lack of sufficient fleece backing around the face. The area is a bit small so I did get annoyed some by the rubbing of fabric around cheeks. I also didn't like the shock cords to adjust the hood opening. They are routed through the inside of the jacket and into the pockets. When the wind starts howling you need to take your gloves off and open both pockets to tighten the cords. Once it's adjusted the fit is fine but the setup is a bit annoying.
I still say this jacket is great for its intended uses. I would like to mention that I had to return the jacket to Patagonia for repair and they could not repair it due to the fact that they cannot repair welded jackets like they can stitched seam construction. They sent me a gift card to replace the jacket so I hope that they come back with this jacket because they are not making it this season. Note that it is almost identical to the White Smoke which has skier features like powder skirt and sleeve pocket. Every company makes good gear and bad gear depending on the situation and the person, but Patagonia stands behind their gear unlike Lowe Alpine and that says a lot about Patagonia. So bring back this jacket, Patagonia please.
Fabric: Pertex?

I've been wearing the Dimension jacket for about three months now; and I love it. I also own a Cloudveil Serendipity Jacket and it has been an outstanding piece as well. I thought it might be useful to compare/contrast the two; since they are both very similar -- and very different.
Patagonia Dimension: Longer cut covers your butt, but isn't so long that it gets in the way -- great for skiing. Hood is nice to have except that it isn't big enough to go over a helmet; and, rolling it down into a collar isn't really very clean. Front of the collar chafes my chin a bit (no fleece chin protector). Overall fabric is a bit stiffer (and louder) than Cloudveil's. Fabric seems to be a bit more water repellent than Cloudveil's. Handwarmer pockets work well with harness, and the vertical stash pocket is helpful.
Cloudveil Serendipity: Shorter cut works better for me in some situations -- especially when climbing. Fleece lined collar is really comfortable and you can snuggle your chin down into it. I don't miss not having a hood since I'm usually wearing a helmet. Fabric is soft and comfy yet has proven amazingly abrasion and abuse resistant; it looks like new after two years of hard use. Fabric repels water a bit; but if it really starts to rain you'll want to get the Gore-Tex out of your pack (put it on right over the Cloudveil -- it works fine as a layering piece). No 'handwarmer' pockets; just two large vertical pockets (one on either side of the main zip).
Patagonia has made a great jacket with the Dimension. Very tough and rugged (much better abrasion resistance than nylon shells), fully windproof, water resistant, much more breathable than Gore-Tex (key!!), and also with some very useful stretch in the fabric.
Note that it is not water 'proof' -- but water 'resistant.' You'll still need a Gore-Tex shell for full-on rainy conditions. However, I'll take these new 'soft' shells for 95 percent of my time outdoors!
Faced with this embarassment of riches (owning both of these great jackets), I've found that I use the Cloudveil primarily for climbing; and, the Patagonia more for hiking and skiing. Either will do either job exceedingly well. But the short length and the sleeve design (very narrow cut at the wrists -- no extra bulk there) on the Cloudveil just work so well for me while climbing that it has become my trusted companion. The fact that there is no hood means that it is more comfortable for me while wearing a climbing helmet. On alpine trips, if nasty weather moves in, I just slip my Gore-Tex shell right over the cloudveil. It works better as an underneath layer than the Patagonia.
You just can't go wrong with either of these two jackets. They are truly awesome pieces. If you are interested in soft shells -- also check out the ArcTeryx Gamma SV jacket. However, note that this is much more of a stretchy soft-shelled fleece jacket. It is quite warm. The Patagonia Dimension and Cloudveil Serendipity are uninsulated shells that you can wear alone or with fleece layered underneath. Much more versatile for year-round use.
Fabric: Stretch-woven 'soft' shell
Price Paid: $229

This jacket is lightweight, fits well, and I think looks great. After many years of ownership, I'm amazed to see water still beading on the surface. However, my infatuation ends there.

The seams leak immediately and after just a minute or so of water contact, the shoulder panels leak. I definitely don't look forward to being caught in the rain in this jacket, and so would never take this jacket climbing. The hood fits well, but does not turn with the head (understandable since there is no excess fabric on this trim jacket).

For me this has become more of a city jacket. I might grab it for a short day hike.
Price Paid: $129.88

I was lucky enough to have this jacket issued to me for my work. Overall, it is a great jacket, but as a previous reviewer mentioned, it's closer to a hardshell than a fast and light softshell.
I've used it snowboarding in Aomori Prefecture, Japan, and it held up wonderfully. It kept me perfectly comfortable while shedding wind and snow. While I'm glad to have it, its use will be limited to winter sports. I will grab my lighter softshell or my lightweight rainshells for 3-season pursuits.
The best jacket I own (out of almost a dozen in my closet). Sheds snow effortlessly and breathes like it's made of mesh (ok...a bit of an exageration but...). I've rolled in the snow and worn it in light rain without a drop of moisture collecting. If you're going to the backcountry and don't expect a monsoon...grab this jacket.
I do.
Fabric: Encapsil
Price Paid: $150

Your Review
You May Like
Specs
(no Gender)
Price
Reviewers Paid: $229.00

Men's
Price
Historic Range: $90.00-$260.00
Reviewers Paid: $129.88-$150.00

Women's
Price
Historic Range: $58.88-$260.00

Recently on Trailspace