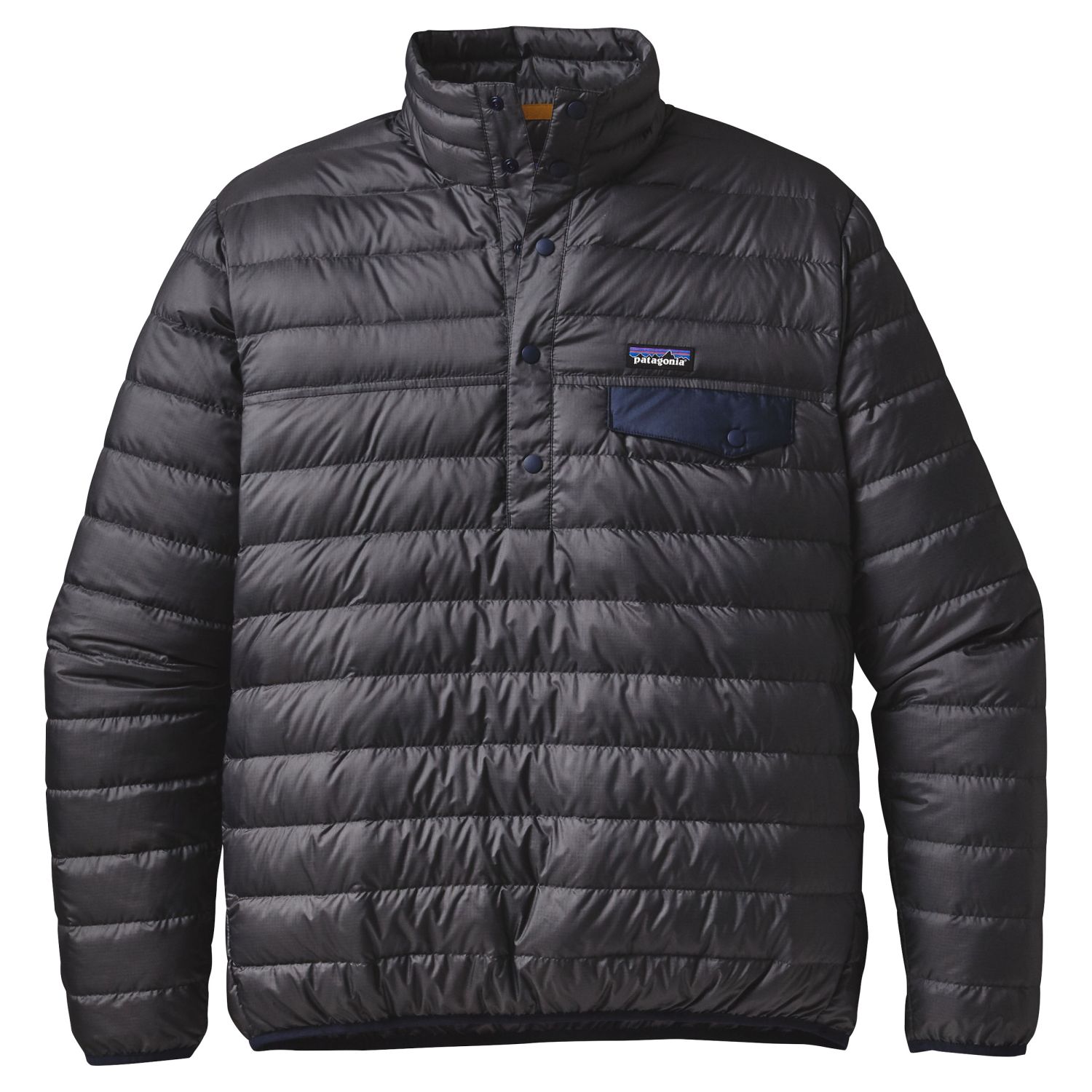 Specs
Men's
Price
Historic Range: $98.83-$199.00

Women's
Price
Historic Range: $98.83-$199.00

Reviews
1

review

5-star:

0

4-star:

1

3-star:

0

2-star:

0

1-star:

0
This 600 fill power duck down Down Snap-T Pullover gives you lightweight warmth in a no-nonsense package. The anorak style feels a little warmer than full-zip down sweaters. Hand warmer pockets are great; other pockets are few and small.

I see this as a great warm layer for outdoor pursuits—hiking, running, skiing—when you want a warm, light layer that's easy to put on and stuff away without fiddling with a zipper.
Pros
Lightweight
Warmer than most down sweaters
Simple
Great handwarmer/kangaroo pocket
Solid DWR for damp days
Less expensive than Patagonia's full zip down sweater
Cons
Zip and snap pockets are small
600 fill duck down - could be a shade lighter with higher quality down
Relatively expensive at full list price
Introduction
Very light down jackets have been very popular the last few years; a down pullover that's light and functional is a new twist. If you like the simplicity of the pullover style, crave a down sweater that's warmer than most, and are willing to pay a premium for a quality down jacket, this is definitely worth a look.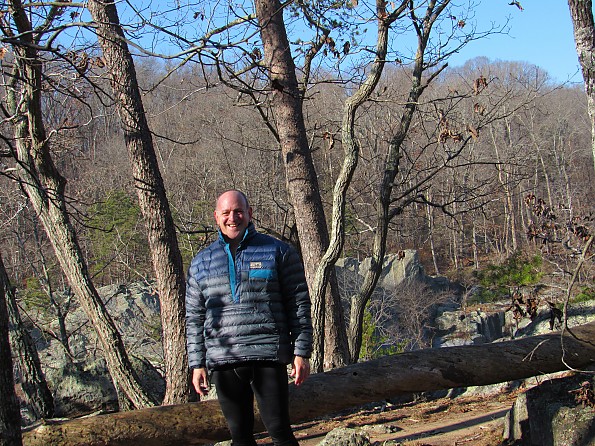 Testing Conditions:

The jacket went into my pack on every day hike I took over the last couple of months when the temperature dropped below 50 degrees, and I put it on when I stopped. We haven't yet seen snow in the Mid-Atlantic, but we have had enough brisk evenings and mornings where the mercury dipped below 30  to get a good sense of this jacket's capabilities.  
We have decent trails a few miles from the house, so I day hike most weekends. Here, I'm taking a break on a hike along the Potomac River—temps in the low 30s, I took a break and put the jacket on over a long sleeved wool base layer so I wouldn't get chilled.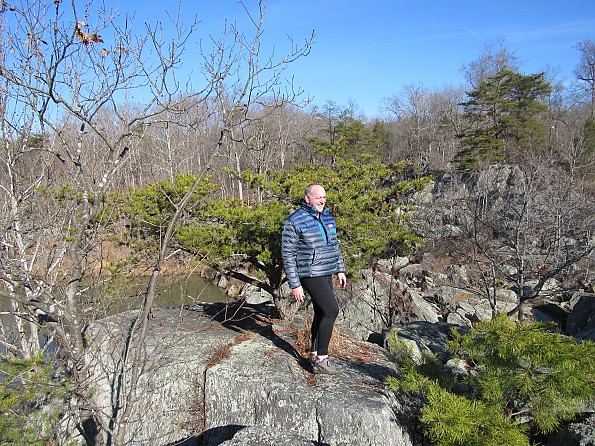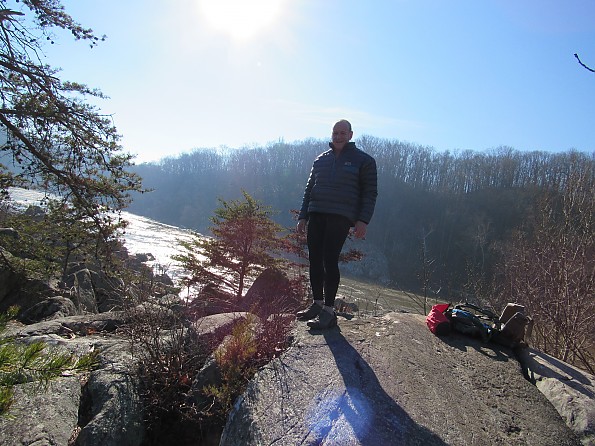 I also wore the jacket before and after a very chilly Thanksgiving day 5K an hour west of Boston—29 degrees at the start. Right before the gun, I stripped off the down jacket and stuffed it into a small pack. I also wore the jacket around town, on short walks with the dog on days where the temps were below 45 degrees, and during some cool weather football and soccer games.  
Though I wouldn't normally wear down in the rain, I took the jacket and put it on during a couple of hikes in light rain. I was on trails, so I didn't get a sense of how this would do with tree limbs grabbing, but its lightweight nylon shell probably isn't great for bushwhacking. 
My approximate temperature range for this jacket is 25 to 50 degrees. With a relatively heavy base layer or light fleece underneath, 25 is the lower limit; it's a little warm over a t-shirt at 50 degrees, but if you're hiking in 50 degree weather and get chilled during a stop, this is great.
For me, someone who runs relatively warm, this jacket is too warm to hike or run in at any pace. It's really great to be able to pull it on when I stop in colder weather. I could see using it as a light mid-layer in much colder weather where I don't want to put on a massive down jacket and where not having to fool around with a zipper in gloved hands would be nice. I really liked the hand warmer front pocket.  
Fit/Features
This jacket merges Patagonia's venerable snap-T fleece design with the advantages of a light down jacket, and the result is very appealing. Retailing for $199, the jacket is a warm, lightweight, well thought-out down pullover. In size XL, it weighed 13 ounces on an electronic hand scale.  
It is filled with 600 fill power duck down in a quilted/sewn through design, similar to most if not all very light down sweaters/jackets. It's moderately expensive; Patagonia's zip-front Down Sweater with 800 fill goose down retails for $229, but is readily available on sale.  
This size XL jacket fits me well; I wear a 46 jacket. It basically fits true to size, though like Patagonia's down sweaters, it has a slightly roomy/boxy fit that allows for a little layering. Like any pullover, it's not as easy to put on as a full front zip jacket. It's roomy enough to wear over a medium weight fleece or base layer. As some of the photos show, the sleeves are average length or perhaps a touch long.  
I don't know if there is any big difference between duck and goose down in terms of weight or warmth, but I thought this jacket felt warmer than down sweaters I have worn recently. Part of that is due to the loft, and part is due to the fact it isn't a full zip, that it instead puts an extra layer of down in front of your torso where the hand warmer pocket is.  
For the sake of comparison, I sized up the loft of this jacket next to Mountain Hardwear's super-light Ghost Whisperer Down Jacket (800 fill power goose down, weighs only 9 ounces in the hoody style) and a very puffy Feathered Friends down vest loaded with 850 fill power goose down.
The Ghost Whisperer is on the left. The Patagonia is clearly the loftier jacket.  
On the other hand, the Feathered Friends vest (on the right, a paltry 5 ounces) lofts quite a bit higher.
This jacket has some things you tend to expect in a down jacket, like an elastic hem and cuffs. There is no pull-tight hem; it's elastic. The hem is tight enough to keep all but the strongest wind out; one afternoon with 30 mile per hour gusts, it felt a little drafty, but it was otherwise very good.  
This shows the elastic running all the way along the hem.  
Patagonia's elastic cuffs are soft so they won't rough up your hands, and my experience with some of their other jackets leads me to think it will be quite durable.
The jacket has three pockets—a small snap pocket at the chest, a small zipper pocket in the middle of the front, and a handwarmer/kangaroo pocket (no zippers or snaps) in the front.
Here, I'm holding the chest pocket open. It closes with a single snap. It could hold your keys plus smaller energy food; it's a little tight for my kind of large Samsung smartphone. The snap/flap does keep things from easily falling out, but it's not as safe as a zippered pocket.  
This zippered pocket in the middle of the front is larger than the chest, but not by much. It can swallow light gloves and a light beanie. The jacket has no interior pockets.  
The kangaroo pocket, on the other hand, is really roomy. Great for keeping your hands warm, down in front and in back.  you could drop some things into that pocket, but there is no zipper or snap closure, so stuff could fall out when you're active.  
The snap front does a very good job keeping wind out but also snaps down pretty far—leaving a larger opening that helps ventilate if you get warm.  eep in mind, though, that the half-snap front doesn't zip all the way down, so you can't adapt to quite as wide a range of temperatures. Snapped all the way up over a zip-front base layer, it did a great job keeping my neck warm, and breezy wind really didn't make any inroads. There is no fuzzy fabric on the inside of the collar, but I didn't find that to be an issue.  
Patagonia has been doing a nice job with hang loops lately—thin, very strong.
Dealing With Wind and Water

Two questions I always ask with insulated jackets like this are, how well does it stop the wind, and how well does it deal with moisture?
I had a few opportunities to put this jacket on when I made stops during breezy, cool (30-40 degree) hikes in Maryland, as well as one very windy late afternoon hike where we had northeast winds gusting into the 30s.
This jacket performed about the same as other down sweaters I have tried. The two layers of polyester that hold the down do very well at stopping wind. I felt like the elastic hem was letting some cold air in when things were really blowing.  
Though I usually do not wear down jackets in the rain, I'm game to try them for testing purposes. In addition to the photo above, here is a closeup of how the shell deals with a little rainfall:
Really effective water repellant treatment beading up the raindrops. Worth noting that I stuffed the wet jacket into my backpack eventually, and when I pulled it out at home, the down hadn't collapsed or gotten wet. Had I continued to wear the jacket in the rain, I expect 30-45 minutes of it would have started penetrating, in my experience.
Conclusion/Takeaways:

if the pullover Patagonia snap fleece jackets appeal to you, you will really like the Down Snap-T Pullover. The same is true for minimalists who like the simplicity and warmth you get from the snap front style. It's a great alternative take on down sweaters, which are tremendously useful for cool and cold weather activities.
Consistent with many Patagonia products, this is well-executed, fits well, has nice features, and is made to wear outside in lousy weather, not just around town or campus.  
Source: received for testing via the Trailspace Review Corps (Samples provided by Patagonia for testing and review)

You May Like
Recently on Trailspace