Patagonia Houdini Jacket

The Patagonia Houdini Jacket is a classic. An excellent, all-around, windproof, water-resistant, lightweight shell, it performs in a wide range of outdoor scenarios. I've had mine for more than six years and use it primarily running, hiking, and skiing, but have also taken it biking, paddling, traveling, and more. It conveniently stuffs into its own pocket as a just-in-case layer, and at less than 4 ounces there's no excuse not to bring it along.
Pros
Lightweight (women's 3.6 oz / men's 3.7 oz)
Blocks wind
Sheds light rain and snow
Full length zipper
Helmet-compatible hood
Packs away
Current models made with 100% recycled nylon ripstop
Cons
Water resistant, not water proof
Use some caution with thin material
You could find a cheaper windbreaker...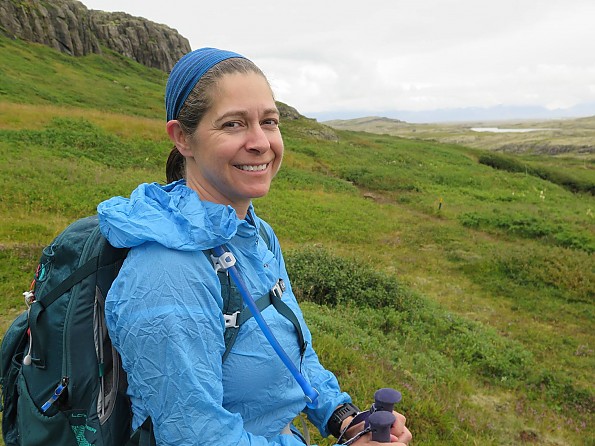 Use
I've had my Patagonia Houdini Jacket for six years and regularly wear it running in the rain or snow, hiking, cross-country skiing, and more. It's a basic, lightweight, nylon windbreaker with full-length zipper and hood and is extremely versatile and well made and durable. It fits and moves well, whatever your outdoor activity.
My husband, Dave, also has a Houdini and uses his regularly as well. Both stay in rotation in our mudroom year-round.
Materials & Weather Resistance
Current versions of the Houdini are made with 1.2-oz 100-percent recycled nylon ripstop with a DWR (durable water repellent) finish and are Fair Trade Certified sewn. My older Houdini isn't made from recycled nylon, but otherwise is the same nylon jacket.
The DWR sheds light rain and snow. I wear mine running when it is raining and cold or snowing. If you wear it in steady precipitation it will wet out, but as a water resistant layer, particularly during highly aerobic activities, it is more than adequate. I have, and use, waterproof shells when needed. 
For anyone who wants more weather resistant, Patagonia offers the Houdini Air Jacket, "inhabiting a space between our Houdini and Airshed," and "made for longer missions when breathability and a bit of weather resistance are essential." Note that despite the use of "Air" in its name, the Houdini Air Jacket (men's 116 g / 4.1 oz and women's 102 g / 3.6 oz) is heavier than this original Houdini (men's 105 g / 3.7 oz and women's 96 g / 3.4 oz).
While I wouldn't take a thin, lightweight shell bushwhacking, I don't take extra care with my Houdini and it is still in excellent shape after six years of use.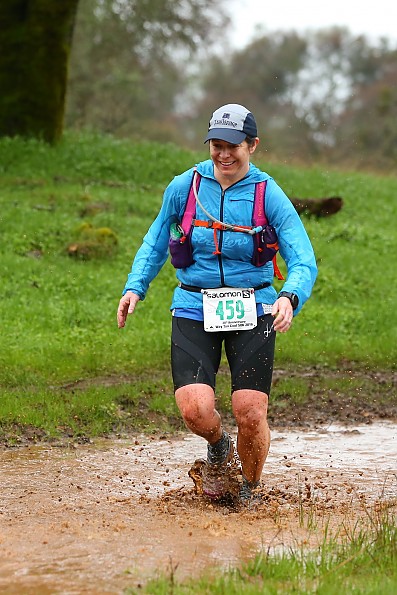 Fit
The Houdini is available in men's and women's sizing. Patagonia calls it a slim fit with drop tail for improved fit while moving. The hood is adjustable from the back and the waist also cinches down. Otherwise, those are all the adjustments available.
While somewhat fitted, I find my medium true to size and not restrictive. I can easily layer it over base layers for running. I can also wear it with a midweight fitted top, like a fleece shirt, when needed in colder weather. It's not designed to be worn with lots of big, bulky layers though, so be aware of that with sizing. Still, it has a good range of use with various layers for different activities year-round.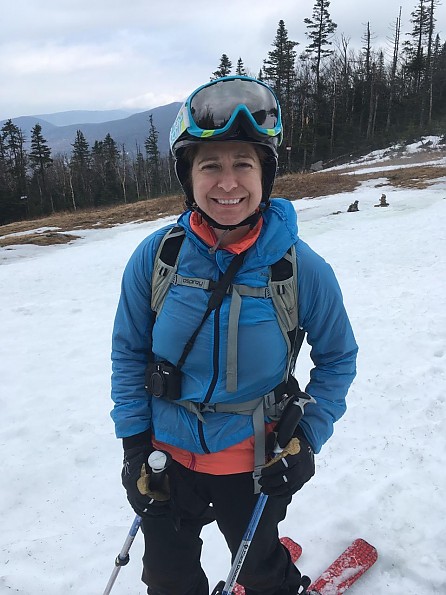 Features
The Houdini is quite simple—nylon shell with a full zipper, hood, and small chest pocket. You can find other wind shirts that have more features, greater water resistance, and so on, but I find the Houdini's simplicity and technical performance to be wide ranging and appealing.
Full-length zipper—good for venting

Helmet-compatible hood–can be adjusted at the back with a pull

DWR coating—makes it water resistant, not waterproof, which is why this is a wind shirt. I find it sufficient to shed light rain or snow if necessary.

Zippered chest pocket—can stuff the jacket into itself for packability, includes a small loop top to attach the bundled jacket to a clip
Recommendation
Whether you might run, ski, hike, climb, paddle, or whatever, the Patagonia Houdini Jacket is a solid, dependable wind shirt for a wide variety of outdoor activities. I always bring my Houdini when traveling, because it's such a simple, lightweight, useful, dependable piece of gear to throw in a pack or bag. 
There are loads of wind shirt options available, but I recommend the Houdini as an all-around, everyday option for anyone who likes to go outdoors and do different activities. If I ever lose my Houdini, I'll likely go out and immediately buy another. And, bonus, at $99 the Houdini actually costs less now than when I bought mine six years ago!
Lastly, while looking for pictures of my Houdini in use over the years, I found the following two pictures, taken years apart, of Dave and I both wearing our Houdinis while skinning and skiing in spring with our kids. This jacket just keeps showing up and going outdoors.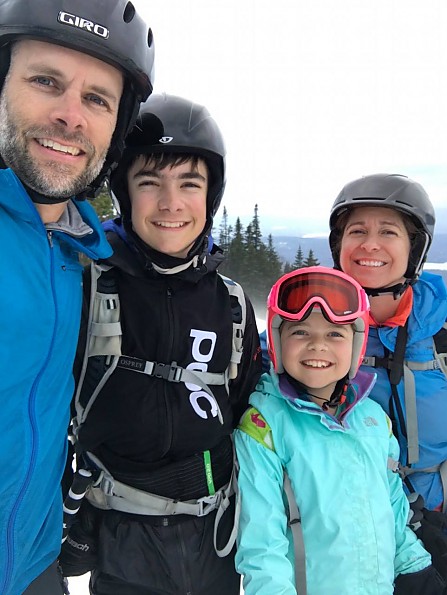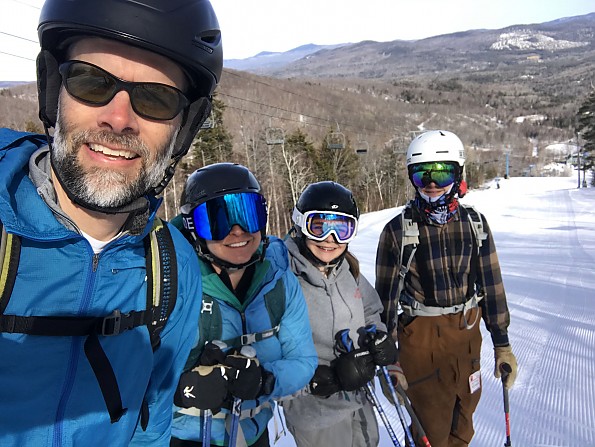 Source: bought it new
Price Paid: $120

The Patagonia Houdini is a very light wind shell that has served me well in cold windy conditions and light drizzle. It well deserves the 5-star rating I gave it. Conditions like those in the photo are perfect for windshirts. Windshirts can be worn over fleece, softshells, sweaters, and other clothing to block wind while still providing lots of breathability. They often provide some water repellency adequate for a light drizzle and dry rapidly. They are usually very light and can be stuffed readily in a pocket (including their own pocket).

The photo below was taken during our annual New Years Day hike. In this case, we hiked up Black Mountain with a temperature of 27°F and a gentle wind of 18-23 knots, measured with the Kestrel 4500 I am holding in the photo. There were some small patches of snow under the trees remaining from the snowfall of the night before.
Pros
Very light, even compared to other windshirts
Windproof up to 30 knot winds during testing
Very breathable without windchill
Full zip front allows good ventilation control
Stuffs into its own pocket, very compactly
Pocket zipper has tabs inside and out for easy opening and closing when stuffed
Patagonia's proprietary DWR provides some water repellency
Hood fits over helmet
Cons
Lacks handwarmer pockets
Thin fabric can be snagged in dense brush
Sleeves have sewn-in elastic, which is likely to lose elasticity with time, especially in very cold weather.
Over the years, I had fallen into the habit of using my Goretex and eVent expedition parkas as the do-all outer shells. I found, as many others have, that even the best "waterproof/breathable" fabrics are not very breathable when carrying a full expedition pack, even with the pit zips fully open.
When I was in Antarctica in 2006, my friend Damien Gildea (the 6ft7in tall fellow to my right in the photo below) pointed out to me that in places like Antarctica where the temperature is so low that you do not have liquid precipitation, you don't need the waterproof qualities. A light windshell is all that is needed. Damien is wearing the half-zip pullover version. Mt. Vinson is the peak in the background. I was wearing a GTX outer shell in the photo.
Details
Patagonia is a company which has been around for many years. They are based in Ventura, California, although much of their clothing is manufactured in Asia. The company, founded and still run by the famous climber, Yvon Chouinard, is very environmentally conscious. They are also one of the leaders in vetting their off-shore suppliers.
I have owned and heavily used a number of their items on Denali in Alaska, Kilimanjaro in Africa, several Andean peaks in South America, and Mt. Vinson in Antarctica, as well as winter snowshoe and backcountry ski trips. I have found their gear to be well made and durable, plus their sizes fit me pretty well. Their gear has become so popular, due to its wide-spread use among climbers, that many non-climbers who want to look "outdoorsy" buy it, leading to the name being twisted into "Patagucci".
When I returned from Antarctica, I went to my local Patagonia store, but found that they were out of stock of the Houdini, one of their more popular items. A few months later, while in Salt Lake at the Outdoor Retailer Show, I stopped into the SLC Patagonia Outlet store, and discovered they had a Houdini in my size, plus were having one of their annual 40% off sales. Just what I wanted.
The Houdini is not waterproof, but that is not what I was looking for. They use a proprietary DWR that has worked very well in practice in drizzles and in snowy conditions (including fairly wet Sierra snowstorms). The regular Patagonia prices are quite high. But the frequent sales in their outlet stores are large enough markdowns, combined with the quality of most of their gear plus environmental consciousness that I have acquired a number of their items (last month I found a Micro Puff jacket in their Reno Outlet with combined markdowns of 40% +30%  - be forewarned, though, the Outlets usually have only XS, XL, and XXL sizes unless you luck out as I did).
Details of testing
I wore the Houdini during many outings, including month-long expeditions like my return to the Andes this year, winter camping during cold but dry spells in the Sierra, Cascades, and Wasatch, as well as bicycling during the winter months. I did encounter some spells of drizzle, despite trying to stay with dry spells, and encountered lots of cold winds with measured windchill factors well into the subzero range. I did several ice climbs in which I needed my helmet, with the hood up in the wind when belaying.
The sewn-on hood fits over the helmet, though not as completely as my wpb shells. There is an elastic drawcord to tighten the fit around the helmet or your head when not wearing a helmet. As is common for windshirts, there is no storage pocket for the hood. Only one of my windshirts, an ancient REI one, has a place to stash the hood. But it is easy enough to just tuck the hood into the back of the neck area.
The jacket can be stuffed into the chest pocket. The zipper on the pocket has pulls on both sides, making it easy to close and open the pocket when the jacket is stuffed into it. Next to the zipper when the Houdini is stuffed into its pocket is a loop which can be used to clip the Houdini with a small carabiner/clip to your belt or pack strap.
There is also a drawcord elastic in the skirt of the jacket, which helps keep the cold wind from blowing in. The sleeves, on the other hand, have sewn-in elastic, which I suspect will lose its elasticity with time. 
Conclusions
The Patagonia Houdini windshell performed as advertised. It kept the wind at bay, but breathed well enough during spells of heavy exercise carrying a full expedition pack, as well as climbing steep hills on my bicycle or in cool weather.
Many people try to lighten their packs by making a gtx shell serve multiple functions. However, at just over 4 ounces, the Houdini is more comfortable than a gtx shell when getting warm from exertion on steep hills and heavy pack, even with the pit zips of the gtx, for a tiny cost in weight. Plus the wind shell can serve as an emergency backup. My only real quibble (aside from the exorbitant retail price, which is obviated by the frequent Outlet Store sales) is that the thin fabric potentially might not stand up to heavy bushwhacking.
Source: bought it new
Price Paid: $60 (on sale)

This shell is ridiculously light and packable. If the weather is staying above 50 degrees, then this is my shell. If it gets colder than that, I'd prefer something more substantial like the Marmot Precip.
Pros
Lightweight
Packability
Stops wind and light rain
Hood fit
Cinch for hood and hem
Cons
No pockets
Too light as a cold weather shell
No pit zips
This is my go-to shell for not only backpacking, but I keep it in the car everywhere I go. I'm 6 feet tall and 185 lbs. The large is a perfect fit for me. To be sure, this is the full zip version, not the pullover. The hood fits great, and the cinch in the back of the hood stays comfortably out of the way. And, when you cinch the hood, it doesn't obscure my vision at all (I think I have an averaged sized head, even if my ego is overstated). 
The jacket is so light, it is remarkably comfortable. You hardly notice it is there. The fabric, even when wet, doesn't stick to your skin like other jackets can do. So, moving around in the Houdini is magical (Yes, I went there). 
Although I reflexively want to put my hands in the pockets it doesn't have, Patagonia was right in adding the cinch to the hem and hood. The jacket keeps out the water and rain for as long as you should need to find better shelter. I wouldn't want to stand around in the rain for hours in this jacket, but I wouldn't want to stand around in the rain for hours in any jacket. 
This jacket isn't going to keep you warm on its own. But, for those chilly nights between 45 and 50 degrees F, this jacket makes a great shell over your fleece or even a base layer to keep you warm and cozy. I suppose you could even put it over your down puff as well for temps down to 30 degrees F. But for me, I'd probably go with a heavier shell like a Marmot Precip for temps that cold. 
As for durability, this is a thin jacket. It may stand up to the occasional abrasion, but I wouldn't bushwhack in it. It isn't meant for that anyway. It is made to be a lightweight shell. It might take a scrape against a tree or rock, but repeated abuse is likely going to rip this thing open. 
It packs quickly into its own pocket and is the the size of a coke can. It comes out of the pocket in three seconds. 
This is one of my prized possessions for backpacking the AT and as a convenient shell to keep in the car yearround. 
Source: bought it new
Price Paid: $50 (on clearance)

Light, packable, and all so versatile, the Patagonia Houdini is an excellent wind jacket and perhaps a little bit more.
Pros
Versatile
Packable
Ultralight weight
I use the jacket as it was intended, as a wind jacket. But it is one of those go anywhere pieces of gear because it is so packable and weighs only 3.6 ounces. It folds into its own pocket and ends up being smaller than a can of soda.
The fit is a slim athletic fit. The hood is adjustable and the cuffs have elastic to ensure a snug fit. The jacket does a decent job of remaining breathable during heavy exertion. I've sprayed a bit of DWR stray on mine to increase its water repellency. I'll use it as a rain jacket in light rain. The material is a thin light ripstop nylon with a DWR finish.
I find that the jacket does add some thermal protection, perhaps 10 degrees of comfort. I thought at first that the thin material might be prone to damage, but I've found that the ripstop nylon is actually pretty abrasion resistant.
The only downside of this jacket that I can think of is that it does not have hand pockets. The exclusion of pockets allows for a lower weight. I don't really miss pockets, because I usually wear pants or shorts with pockets. I picked mine up on sale, I've been using this jacket for over a year and have perhaps 60 days of outdoor use with it.
I really love this jacket.
Source: bought it new
Price Paid: $79

less truly can be more; this might be the perfect wind shirt.  it weighs next to nothing, about four ounces.  It stops moderate wind, it breathes as well as any nylon shell i have owned, and it repels light rain and mist via a good dwr coating.  the sizing is loose without being baggy - you can wear a base layer and light fleece underneath.  
the operative word is "simple."  it has a full length zipper.  the hood adjusts easily and very well via one toggle behind your head, and the shock-corded hem adjusts via another single toggle.  it has one small zippered chest pocket that converts to storage - the entire jacket fits in a pocket the size of a softball.  
the super lightweight fabric has a subtle grid pattern that is surprisingly tough.  if you care, it has a small nylon loop that you can use to attach the jacket, stuffed into its own pocket, to your pack with a carabiner.   
don't expect this jacket to keep you dry in a sustained hard rain, and don't expect it to stop really strong winds - that's why we have gore tex, eVent, or similar waterproof/breathable shells.  i wouldn't choose this jacket for bushwhacking, but i think it's surprisingly durable. also, the price is kind of steep for a wind shell.  
on the other hand, this jacket may be more versatile than any other shell you can get for three-season use, and you may find yourself using it more than any other shell you own.   
Price Paid: $125

Best backpacking jacket I've ever owned. I am trying to go lighter and this one fits the bill. It is super light, compressible. It is everything it says it is in the description. It folds into nothing in its own built-in pocket. It repels rain, but is not completely waterproof; if you wear layers though, which most packers usually do, this is no problem.
It dries REALLY fast. I would say that for 20 minutes of moderate rain you will feel no water. And I mean 20 minutes of moderate rain with a driving wind!! I tried it. A downpour would require the second layer of wicking material to help with water dispersal and warmth.
If you can believe it, the hood is actually spacious! It is extra long at the back so water doesn't follow your pack down to your butt. There are drawstrings in the hood and at your waist, which are built so as to stay out of your way. I am so impressed with this critter, that I'm going to buy another one this year in case they are gone one day.
Which brings me to my one and only criticism of the product: Patagonia items such as this are hard to get in Canada!! I had to special order this one. I encounter a lot of rain and snow where I go packing, and I would still consider this jacket a viable lightweight alternative to the usually sweaty, bulky, stiff and unenjoyable rain jackets out there.
Price Paid: $120

A must carry item, whether it has an intended purpose on your trip or it is just a backup.
Pros
Lightweight
Packable
Effective wind stopper
Cons
Tight fit stuffed into chest pocket
I purchased the Houdini with mountain fishing in mind. Almost every time I'm out in my packraft on a mountain lake there is some form of wind or sun that is inescapable due to being out in the open. Even on a sunny day, the wind can send you back to shore because it can bring a real chill factor.
The first time that I used the Houdini it made a significant difference in blocking out the cold wind and also the constant beating sun. The jacket is light enough to wear even on warmer days and stands up to the challenge of heavier winds and light precipitation.
I found that my wife would steal it out of my pack whenever we arrived at a lake, so I had to get her one too. The adjustable hood is another big advantage over other wind shirts with a generic hood.
I highly recommend this jacket.
Source: bought it new
Price Paid: $100 (on sale)

Ultra lightweight, packable, minimalist jacket.
Pros
Lightweight
Packability
Windproof
Slightly water resistant
Hood fits over a helmet
Cons
Lack of usable pockets, not very durable.
I bought this jacket to throw in a small pack, along with an ultralight thermal layer (Mountain Hardwear Ghost Whisperer Down Jacket) for long rock climbing routes. The two together add a lot of warmth in a tiny package for a combined weight of 10 oz.
I find that I am likely to throw it my pack or pocket whenever I am unsure of the wind or temperatures I will encounter—you don't even know you are carrying it. But the single horizontal chest pocket is too small to actually carry hardly anything useful. (Note: the newest models have a vertical pocket. It may be larger but I haven't seen it close up.) 
I found the fit a bit snug, but some consider that a plus in a wind shell. I recommend that one consider what other garments will be under it when choosing the size. I found the jacket adequately breathable, but I don't run or cycle in it.
The jacket is emphasizes lightweight over durability. 
Source: bought it used

The end all of windbreakers.
Patagonia may not have invented the windbreaker, but they have perfected it. This is one of the products in my mind that define the standard for their category. It packs up incredibly small, and is very light. I use this as my go-to jacket for windy, chilly (40-55) days when I am pushing a stroller, carrying a pack, or otherwise being active and healthy.  
This jacket packs about the size of a can of soda, mine is a size L. It blocks wind very well, the hood is perfect, and it breathes very well. All of this and style is to be expected of Patagonia, and this jacket does not disappoint. Best for drizzly days backpacking, foggy walks, windy ridges in the spring and fall, and brisk walks in the early morning.  
I have many jackets, but this is in the "if I only had five jackets" section of my heart.  
Source: bought it new
Price Paid: $47

Well constructed, lightweight, and does keep the wind out. Not so good if it gets very wet but in light mist or rain it works fine.
Well constructed, very light and easily packable. Runs true to size. I'm about 5'11" 190lbs and the large is just right. Seems very reistant for overall wear. All in all a good light jacket.
Source: received it as a personal gift

My go-to jacket for any outdoor endeavor. Pound for pound the warmest piece of gear out there.
Pros
Versatile, works well in different conditions
Durable as hell. Used mine everywhere from Himalayas to slot canyons for over 6 years now
Super light
This is my favourite jacket ever, and one I never leave behind regardless of what outdoor pursuit I might be on. 
Source: bought it new
Price Paid: $100

Your Review
Where to Buy
Help support this site by making your next gear purchase through one of the links above. Click a link, buy what you need, and the seller will contribute a portion of the purchase price to support Trailspace's independent gear reviews.
You May Like
Specs
Men's
Price
MSRP: $100.00
Current Retail: $109.00
Historic Range: $44.20-$136.00
Reviewers Paid: $47.00-$125.00

Weight
105 g / 3.7 oz

Fit
Slim fit

Material
1.2-oz 100% recycled nylon ripstop with a DWR (durable water repellent) finish / Fair Trade Certified sewn

Women's
Price
MSRP: $100.00
Current Retail: $54.50-$109.00
Historic Range: $42.49-$199.00
Reviewers Paid: $120.00

Weight
96 g / 3.4 oz

Fit
Slim fit

Material
1.2-oz 100% recycled nylon ripstop with a DWR (durable water repellent) finish / Fair Trade Certified sewn

Recently on Trailspace