Patagonia Iron Forge Hemp Canvas Double Knee Pants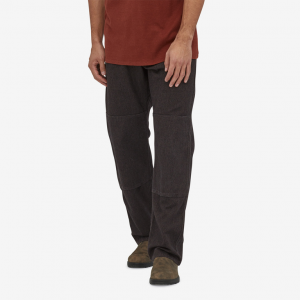 The Patagonia Iron Forge Hemp Canvas Double Knee Pant is a heavy, well-constructed work pant with numerous features specifically for working outside with tools. The durable material (a mix of industrial hemp, recycled polyester, and organic cotton) is on the heavy side, but the cut of the pant redeems the bulkiness so your movements aren't restricted. Plus, the pants include recycled and organic materials and are covered by Patagonia's Worn Wear guarantee for many years of use.

If you're looking for a strong work pant for trail building or other outdoor work, and you don't plan to hike too much in them, these are a strong, sturdy option. Just consider whether you want to size down.
Pros
Strong, quality fabric
Comfortable and useful construction
Durable, especially at the double knees and seat
Generous cut for good range of movement
Deep pockets and belt loops keep tools handy
Made from industrial hemp, recycled polyester, and organic cotton
Covered by Patagonia's Worn Wear repair program
Cons
VERY heavy (men's 34.5 oz / women's 30.4 oz)
Not recommended for hot weather or hiking
Not water resistant
Generous cut (you may want to size down)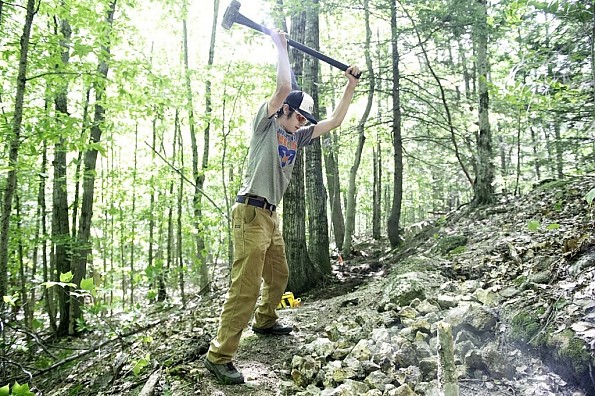 Use
I wore the Patagonia Iron Forge Hemp Canvas Double Knee Pants while working building mountain bike trails in Maine this past summer. I've also used them throughout the fall doing personal trail builds and recently this winter started wearing them for a blacksmithing class. Their versatility in what weather they can be used in makes them great for fall days when it can fluctuate between low high 30s and low 70s over the course of a day. They were one of two pairs of work pants I used at least four days a week over the summer months, so they got a lot of use while I dug dirt, crushed rocks, and got myself dirty. 

The Iron Forge Hemp Canvas Double Knee Pants are good, sturdy work-specific pants, allow for a full range of movement, and don't show any signs of wear after months of use. They do have a few downsides though.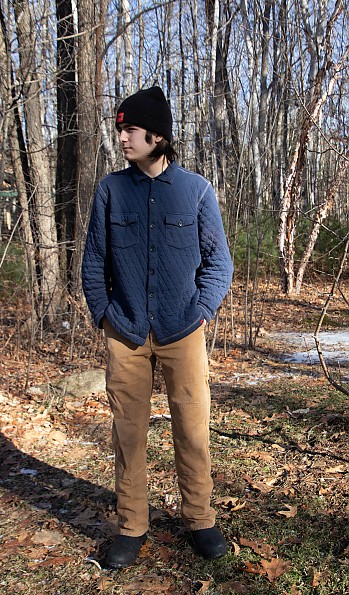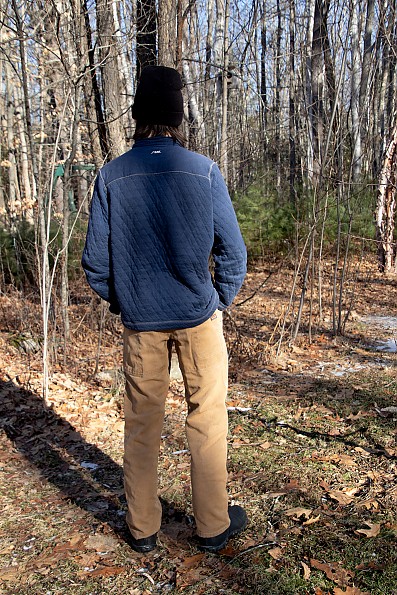 Fit
The Iron Forge Hemp Canvas Double Knee Pants come in men's and women's sizing in short, regular, and long lengths. The men's sizes are 28 to 44 inches, and the women's sizes are 0 to 18.
Patagonia says that the pants have a "relaxed fit" and mentions their "generous cut." So, be warned that these pants are on the larger size, both in length and at the waist. You may want to size down from your regular Patagonia sizing.
Patagonia Notes:

To accommodate a wide range of movement and layering, our Workwear styles have a generous cut. The pants fit true to waist size but are roomy through the legs. The jackets are bigger than most of our styles—especially around the shoulders and back. Folks who have a leaner build or don't wear multiple layers might want to order one size smaller than usual.
For comparison sake, I got my regular size for pants and for Patagonia, a 32-inch waist men's in regular length (32-inch inseam). The inseam feels slightly longer than some other pants I have that are also 32s, but that isn't much of a problem when put over a boot. (Patagonia's size chart lists individual inseam lengths for each size.)
The longer length definitely helps keep the ticks away (a big concern here in Maine). However, the length can be annoying at times, even being baggy when cuffed and wearing boots. The wider pant legs makes them easy to fit over boots though.
The waist is more true to size, though still slightly large, especially in comparison to other Patagonia items I've worn. I had to wear a belt pretty tight to keep the pants on, although that could be a symptom of the pant's weight. Compare that to my 32-inch Patagonia mountain bike shorts which fit perfectly. I'm definitely on the leaner side, but these pants are larger than expected, and haven't shrunk when washed, like some do. So, the size is what it is.

Features
The Iron Forge Hemp Canvas Double Knee Pants are clearly designed for heavy-duty, outdoor work. These pants are not for show.
The pockets on the Iron Forge Pants are excellent for working outside. Two front pockets are the right size and shape to hold your personal items (phone, wallet, keys, etc.) and deep enough to hold hand tools. I'm able to fit my phone, wallet, keys, and some Clif bars in the pockets without issue and have room to spare. The gussets also let you carry a knife, tape measure, or anything with a clip on them.

The two rear pockets are large, deep, and correctly shaped to put tools into. I usually keep my Silky Pocketboy Saw in one of my rear pockets while working for easy access. The saw is about 7 by 2 by 1 inches when folded and fits in my rear pocket with plenty of room to spare. The double back pockets also add more durability for sitting.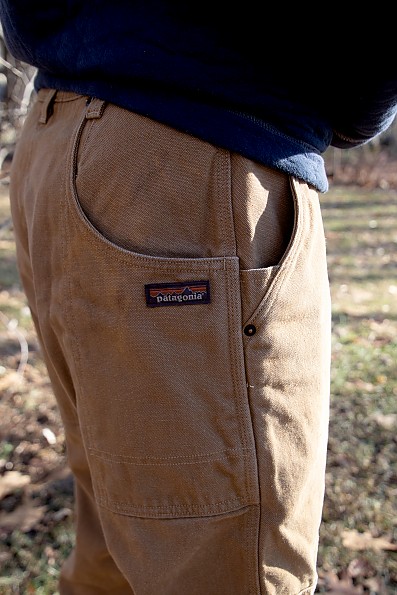 The gusset panels on the knees are a nice touch by Patagonia. The knees are made with double material for durability. They also have openings at the bottom to fit knee pads, though I've never used knee pads while working.
Hemp Compared to Cotton
Patagonia's 12.9-oz Iron Forge Hemp canvas is an excellent, durable, abrasion-resistant material. It's made from 55 percent industrial hemp, 27 percent recycled polyester, and 18 percent organic cotton canvas. Hemp needs far less water, grows faster, and is stronger than cotton and is considered a more environmental choice than traditional cotton. You can learn more about Patagonia's use of industrial hemp here.
These pants are durable. Patagonia says its Iron Forge Hemp is 25 percent more scuff-resistant than cotton. I haven't noticed any wear at all after my months of use of the Iron Forge Pants compared to significant scuffage on another pair of cotton canvas pants. Plus, Patagonia's Worn Wear program means they'll repair them if something happens.
The hemp canvas is also much more flexible than my cotton canvas work pants and makes motions like squatting and kneeling while working easier.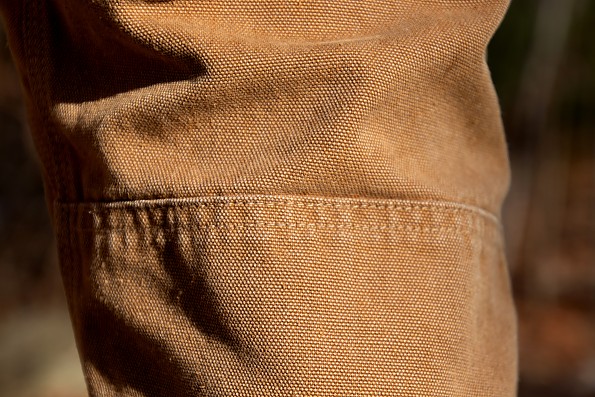 Tradeoffs and Considerations
All those features come with some tradeoffs, though.
Weight—The Iron Forge Hemp Canvas Double Knee Pants feel incredibly heavy (hence their durability). The men's weigh 978 g (34.5 oz) and the women's 862 g (30.4 oz). If that's too much for your use or conditions, you could drop a few ounces with the Iron Forge Hemp Canvas Cargo Pants (men's 938 g / 33.1 oz) or the Iron Forge Hemp Canvas 5-Pocket Pants (men's 873 g / 30.8 oz). 
If you don't need as much durability and/or will be working in hot temps you may want to consider Patagonia's All Seasons Hemp Canvas Double Knee Pants instead. They're made from a lighter 9.6-oz canvas (also 55% industrial hemp, 27% recycled polyester, 18% organic cotton canvas) and weigh significantly less—men's 777 g / 27.4 oz and women's 777 g / 27.4 oz.
Breathability—Even though Patagonia advertises the Iron Forge Hemp as "Hardworking yet Easy-wearing and Breathable Fabric" these pants are nowhere near as breathable as my all-cotton work pants. They make hot days feel even hotter and end up being uncomfortable in temps above 75/80 degrees F (although that may vary depending on how tolerant you are to humidity and temperature).

I've found that the Iron Forge Hemp Canvas Double Knee Pants perform best in temps in the 40-60°F range, but allow for some room to adjust on either side of that range. 

Water-Resistance—It's probably no surprise, but the hemp canvas does a horrible job repelling water. It actually absorbs water better than most fabrics, even more so than some cotton canvas pants I have used, with even small drops soaking clean through. I'd avoid using them in rain or other wet conditions.
Shards—On a few occasions when I was crushing rock, shards would penetrate the canvas. My guess as to why this happens is that the hemp weave is a fatter weave than cotton, and the shards of rock sometimes got in between strands of material.
However, if your priority is work pants with loads of durability for cool and cold weather, excellent features for tools, and if you get the right size, the Iron Forge Hemp Canvas Double Knee Pants are excellent for working outdoors. 
Patagonia offers its Iron Forge Hemp and All Seasons Hemp workwear in many versions—pants, overalls (regular and insulated), jackets, cargo shorts, and more—so there are lots of options depending on what you're working on outside and where.
Best Use/Recommendation
Overall the Patagonia Iron Forge Hemp Pants are great outdoor work pants. They are my favorite of my work pants because they are extremely durable and have held up well to heavy trail-building use. They seem durable enough to help protect against most blades short of a Sawzall (do NOT test this!). Since ending my summer trail work I've continued to use them for other projects, including blacksmithing, and they have performed quite well at protecting me from burns.
I would not recommend hiking in the Iron Forge Hemp Pants or using them on hot days. If you need a lighter weight option for warm weather, consider Patagonia's All Seasons Hemp. Also, I recommend trying these on in-person for the best sizing.
However, the Iron Forge Hemp Pants are durable and comfortable, allowing for heavy work and protecting against most hazards without being bulky to the point of discomfort like super heavy duty pants or chaps can be. Their warmth is also a positive if you do trail work or other activities during the cooler months. 
Experience
I primarily used these pants while building mountain bike trails in Maine for three months over the summer. I've used a few other comparable pants and these are probably my favorite because of how durable they feel. I've worn them while moving rocks, breaking rocks, and hauling trees and have been impressed by the strength of them. Since summer I've also used them for some fall trail building and in a blacksmithing class.
Source: received for testing via the Trailspace Review Corps (Sample for testing and review provided by Patagonia)

Your Review
Where to Buy
Help support this site by making your next gear purchase through one of the links above. Click a link, buy what you need, and the seller will contribute a portion of the purchase price to support Trailspace's independent gear reviews.
You May Like
Specs
Men's
Price
MSRP: $79.00
Current Retail: $89.00
Historic Range: $79.00-$89.00

Fit
Relaxed

Weight
978 g / 34.5 oz

Materials
12.9-oz Iron Forge Hemp canvas—55% industrial hemp/27% recycled polyester/18% organic cotton

Footprint
Fair Trade Certified sewn

Women's
Price
MSRP: $79.00
Current Retail: $89.00
Historic Range: $38.99-$89.00

Fit
Regular

Weight
862 g / 30.4 oz

Materials
12.9-oz Iron Forge Hemp canvas—55% industrial hemp/27% recycled polyester/18% organic cotton

Footprint
Fair Trade Certified sewn