Patagonia Knifeblade Pants
Reviews
The Patagonia Knifeblade pants are referred to as…
Rating:


Source: received for testing via the Trailspace Review Corps (Sample provided by Patagonia for testing and review)

Summary
The Patagonia Knifeblade pants are referred to as filling the gap between traditional softshells and hardshells. However, as with the Knifeblade Jacket, it is more softshell than hardshell — fairly wind-resistant and water repellent in light drizzle, though it wets out and leaks in a heavy shower.

It is well-suited to use in dry snow conditions someplace like the higher altitudes in the Andes or Alaska Range, Antarctica, or the light fluffy powder in the Wasatch, Colorado Rockies, or Tetons. But the pant falls short of the water and wind proofness of a true hard shell, while breathing significantly better.
Pros
Breathes well, while being fairly wind resistant
Allows a lot of freedom of movement for skiing and for climbing
Water resistant to light rain or snow
Pocket placement allows access while wearing a climbing harness
Cons
Lacks full side zips on pants (cannot put on or take off while wearing skis, crampons or heavy boots)
Wets out and leaks water in heavy rain
No seam sealing
Weight: 15.5 oz/441 gm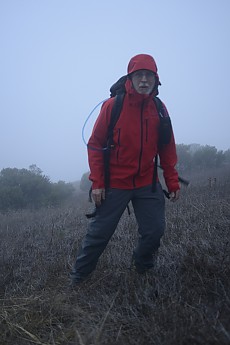 Fog in the Santa Cruz mountains carries lots of drippy moisture. My clothes were completely dry under the Knifeblade jacket and pants, with not even sweat condensation

Background: Clothing for climbing (especially alpine climbing and mountaineering) and skiing (particularly backcountry skiing) has a number of demands that are quite specialized. These include a wide range of temperatures and changeable conditions (sometimes rapid changes). The approach may involve hiking with a pack full of rock gear along with ice tools and crampons, followed by scrambling up more or less technical rock pitches (which can be as abrasive on the clothing as sandstone or large-crystal granitic rocks), along with glacier travel and water ice passages. Sometimes bushwhacking through vegetation that tries to snag and rip the garments is involved.
It may involve skinning long distances with a heavy pack for the climbing sections up steep slopes, then descending steep gullies on the skis. Ski edges and crampon points can cut through the garment. Because some parts of the ascent require a lot of effort, and hence heating, while other sections of the same climb may be at very cold temperatures with windchills, clothing layers often have to be changed during the course of the day.
The challenge is having the clothing simultaneously offer wind resistance, breathability, and water resistance, conflicting requirements that also dictate layering.
A ski run at Alta down a moderate slope in 9°F temperatures

Much discussion and advertising recently has centered on having soft shells that breathe, yet are wind and water resistant, versus hard shells which are waterproof and windproof, yet breathe sufficiently to keep the climber or skier cool. Testing the Knifeblade Jacket and Pants gave me a chance to evaluate the progress toward bridging the softshell-hardshell gap.
Details: Patagonia is a company which has been around for many years. They are based in Ventura, California, although much of their clothing is manufactured in Asia. The company, founded and still run by the famous climber, Yvon Chouinard, is very environmentally conscious. They are also one of the leaders in vetting their off-shore suppliers. I have owned and heavily used a number of their items on Denali in Alaska, Kilimanjaro in Africa, several Andean peaks in South America, and Mt. Vinson in Antarctica, as well as winter snowshoe and backcountry ski trips in the Sierra, Wasatch, and Cascades, and hikes and climbs in Europe. I recently wrote review of their Houdini wind shirt.
I have found their gear to be well made and durable, plus their sizes fit me pretty well. Their gear has become so popular, due to its wide-spread use among climbers that many non-climbers who want to look "outdoorsy" buy it, leading to the name being twisted into "Patagucci".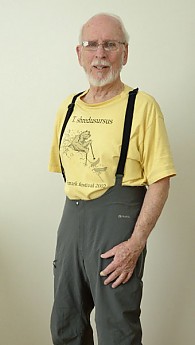 The Knifeblade Pant is a salopette style.

Initial examination: Patagonia describes the Knifeblade as being "a breakthrough in soft-shell technology - fills the gap between traditional soft and hard shells".
The fabric is Polartec's Powershield Pro fabric. The "made of" tag says that it is 89% polyester and 11% Spandex. It does indeed have a small amount of stretch, though nothing like the Spandex clothing worn by climbers in the 1970s. It is supposed to combine "storm-level protection with optimal breathability". Unlike hard shells, like Goretex or eVent, the fabric is fairly quiet. It is made in Vietnam.
When Seth, the Chief of the Gear Review Corps, assigned me the Patagonia Knifeblade pants, I specified size Medium. The Knifeblade pant is a salopette style. That is, it is a coverall with built-in suspenders. For hiking and climbing in snow conditions, as well as skiing, I prefer a bib or salopette to a belted pant. The Knifeblade has a single zipper pocket on the right, placed a little low so that it will fall below the leg loops of your climbing harness.
The pants were just right to be worn over layers up through my Marmot stretch suit, although my thighs are large for my 30-inch waist size, due to the years of competitive bicycling, skiing,  and continued training and hiking hills. Adding a pair of down pants would result in their being compressed, although in conditions where down pants would be needed are generally cold enough to be dry.
But in such cold and dry conditions, I usually wear down pants on the outside, just as you would an expedition-weight down parka. The pants have a drop seat, plus a front zippered fly (2-way zipper, as is found on many of Patagonia's climbing and skiing pants for men) for those calls of Nature.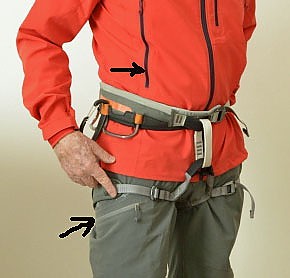 The single pocket on the pants is placed so that it is accessible when wearing a climbing harness

However, the Knifeblade Pants lack any zippers on the legs, notably no full side zippers. This means you cannot put on or take off the pants while wearing skis, crampons, or even boots. While this is acceptable for resort skiing or for many other situations, it can be problematic for warmer weather or other situations where you might want to put the pants on after getting out of the tent with your boots on, or remove them during the warm part of the day.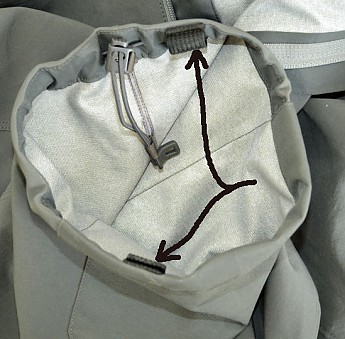 Cuff on the leg bottom, showing the loops for attaching a keeper cord,as well as the adjustable elastic for keeping snow out of the boots.

The lower leg is wide enough to fit over the top of a boot, with an adjustable elastic to tighten around the boot top. In addition, there are two loops at the cuff for attaching a cord to go under the heel. A reinforcement patch on the inside of the pant leg bottom provides some protection against cutting by a wayward ski edge or crampon point, as is usual with mountaineering and skiing overpants. This obviates the need for gaiters, although the ski edge/crampon shield is not as heavy duty as some of my other overpants, and thus seems a bit vulnerable to damage. I personally use gaiters when wearing crampons or when skiing, even with some other bibs that have sturdier shields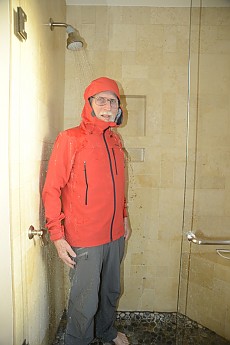 The shower test in lieu of our missing rainstorms in this year of severe drought in California (less than 0.1 inch accumulated rather than the normal 8-10 inches by now)


Details of field testing: I did a preliminary, fairly harsh waterproofness test by putting on the pants and jacket (which I was testing at the same time), stepping into the shower, and turning it on to high flow rate (temperature setting at 65°F). I turned around so that the jacket and pants were pelted from all sides, but taking care not to let the water in through the face hole of the hood.
After 10 minutes, I could tell that, even though the water had seemed to bead up at first, it was wetting out and passing water to the inside, both through the fabric directly and through the zippers. This test is equivalent to a torrential downpour, and not the weather that is the likely use of the Knifeblade pants and jacket.
Snow, unless it was the very wet snow we often get in the Sierra, would not pass through, certainly not the light powder we see in the Wasatch or that I would see in Antarctica or on the upper parts of Denali. It might be a problem at lower elevations in the Andes, where in the valleys you can get torrential downpours, though when you get above 5000 meters, you would be getting cold dry snow.
The area that wet out most rapidly was the seat when not covered by the jacket. Since I had worn the Knifeblade during several days of yoyo skiing and had carried a pack during other parts of the testing, this is what I would expect for a water-resistant garment. If you look at the ads that are now appearing on the web on the Patagonia website and in the Patagonia "Mountain" catalog, you see that the depicted usage is mountaineering, not summer thunderstorms in the Rockies. Still, the pants beaded up quite well with only a slight amount of the shower water getting through. (Comments on the jacket in a separate review).
I wore the pants during many outings, including during my hikes up Mission Peak when testing the Pelican 2750 headlamp, walking to the local pizza and ice cream joints in drizzle and fog, and, more to the point, skiing, snowshoeing and ice climbing in the Wasatch (no snow in California, so I had to go to Utah for snow and ice).
During one of the Mission Peak hikes, I had dense fog with lots of condensation. Inside the Knifeblade pants, my clothing remained dry, thanks both to the condensation beading up on the surface of the pant fabric and the breathability that allowed my perspiration to pass through.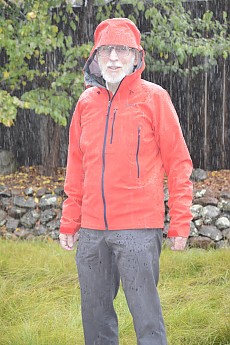 The only significant precipitation so far this "rainy season" - it just beaded up and ran off the Knifeblade pants and jacket

During the light sprinkle we had in early December (only rain we had in the SFBay Area by late January) the droplets just beaded up with no wetting through.
During my week of skiing in the Wasatch, I encountered temperatures from 9°F up to 30°F. During traverses along the ridges, I measured winds up to 24 knots, which carried blowing snow. The Knifeblade pants (and jacket) provided sufficient protection, though I did have to pull my merino Buff up over my face to cut the sting of the snow crystals at times.

Conclusions: The Patagonia Knifeblade pant performed as advertised. However, the claim that Polartec's Powershield Pro fabric "bridges the gap" between soft and hard shell materials is a bit strong, especially since the "soft shell" designation covers a very wide range of very different pants and jackets. The Knifeblade pant (and jacket) does extend the range of conditions from most of the soft shell jackets and pants that I have toward the hardshells.
The pant performed very well in light rain and in snow, far better than soft shell pants I have. It breathes much better than the hard shell bibs I have (and the dedicated rain pants I have as well).  The Knifeblade pants and jacket will certainly have a place on my future expeditions for the American Climber Science Program.
Where to Buy
sponsored links
Help support this site by making your next gear purchase through one of the links above. Click a link, buy what you need, and the seller will contribute a portion of the purchase price to support Trailspace's independent gear reviews.
previously retailed for:
$149.00 - $299.00

The Patagonia Knifeblade Pants is not available from the stores we monitor. It was last seen October 2, 2015 at Patagonia.com.