Patagonia Macro Puff Hoody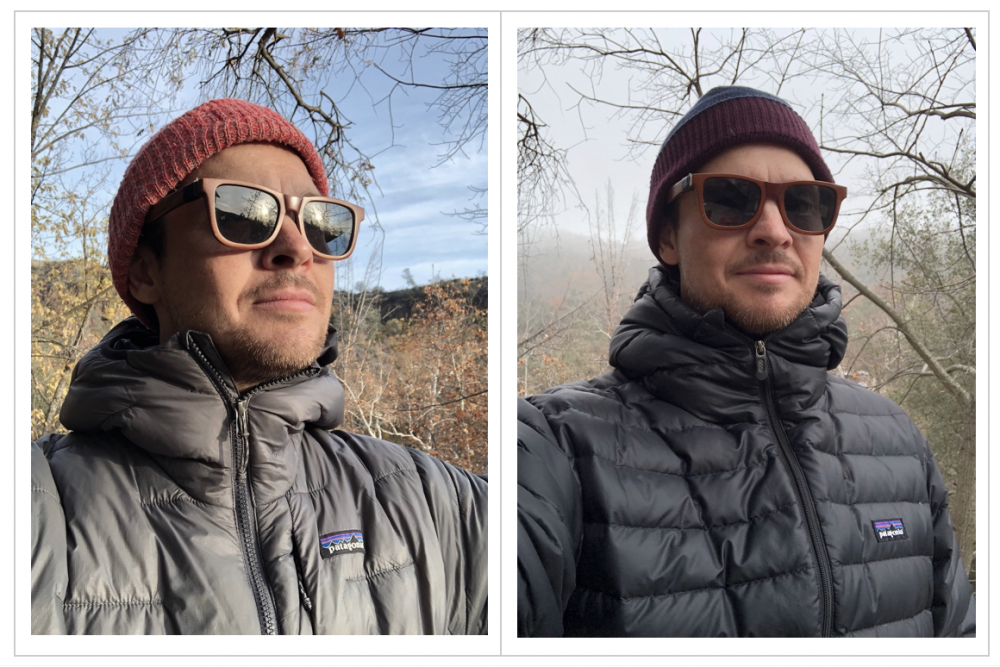 Designed as the warmer cousin of Patagonia's Micro Puff line, the Macro Puff Hoody is a lightweight, high loft insulated jacket. Using synthetic insulation and a DWR coating, it performs well even in heavy snow. Unlike other jackets I've worn with synthetic insulation, the Macro Puff maintains a down-like comfort.

It's not ideal for high intensity winter activities as one is likely to overheat. However, its insulating qualities and comfort shine through in especially cold temperatures (sub-zero Fahrenheit) or during a transition or descent when a hit of extra warmth makes the difference between enjoying a moment to pause and rushing to the car.
Pros
Lightweight
Insulating
Packable
Large pockets
Helmet compatible hood
Cons
Too fitted through the hip
The Patagonia Macro Puff Hoody is designed as a warmer, high loft alternative to the Micro Puff line. It incorporates synthetic insulation and boasts features appealing to many outdoor adventurers, such as water resistance and being ultra-lightweight. 
Testing Conditions
I tested the Patagonia women's Macro Puff Hoody from December 2019 through November 2020 as a member of the Trailspace Review Corps. I wore the Macro Puff while backcountry skiing, fat biking, hiking, and snowshoeing in and around the White Mountains. During testing, temperatures ranged from -30 to 20 degrees Fahrenheit.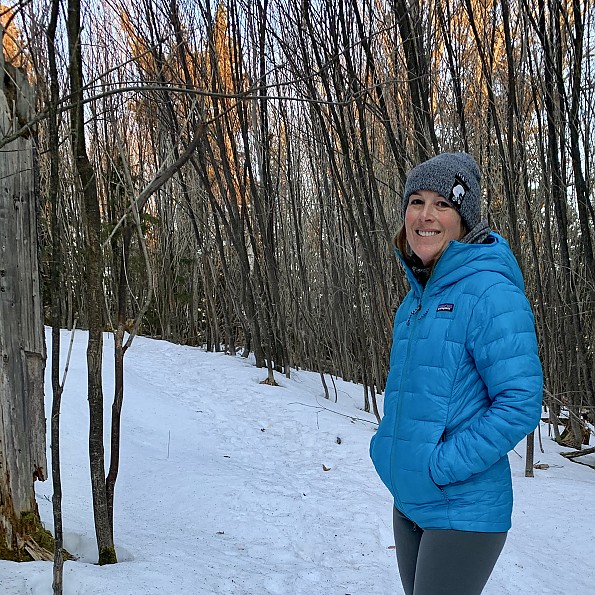 Fit & Comfort
The Macro Puff fits true to size. I'm 5'4" with a short, fairly narrow torso (35" hip, 27" waist, 33" chest, 15.5" torso length), and the size small fits well. On me, it's a bit more fitted through the hip than I prefer—more space for layering would be welcome in this regard. It's advertised as regular fit and according to the sizing chart I'm right in between an extra small and a small. When in doubt, I size up with jackets to make room for layering, and in this case it was the right call. It's available in women's XXS through XL and men's XS through XXL. Patagonia also offers a hood-less version, the Macro Puff Jacket, and a Macro Puff Quilt.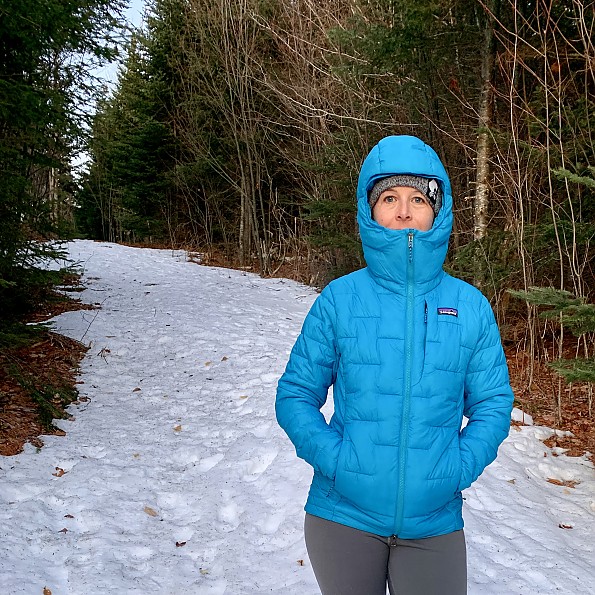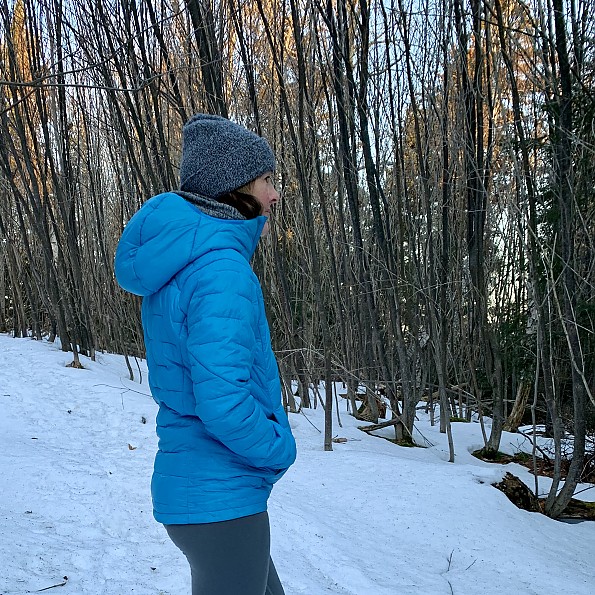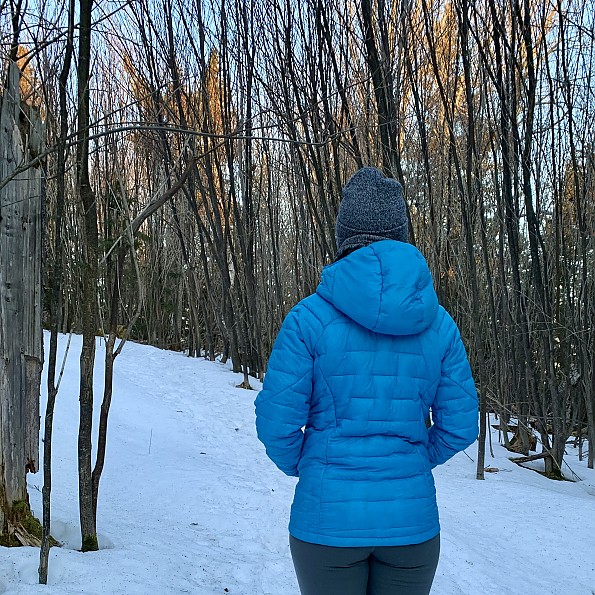 I also own the Patagonia Micro Puff Hoody. In comparison, the Macro Puff is less fitted (more spacious for layers), is longer through the hip, and has a much higher loft. The fit of the Macro is comfortable and allows for unrestricted movement. There is enough length in the arms for me to fully extend without gapping. During the time I've spent testing it, I had no issues with material pilling, fraying, or chafing.
The women's Macro Puff Hoody weighs 12.8 ounces (363 g) and the men's weighs 15 ounces (425 g). For comparison's sake, the women's Micro Puff Hoody weighs 8 ounces (227 g) and the men's Micro Puff Hoody weighs 9.3 ounces (264 g). 
For further comparison, Patagonia high loft hoodies include the following:
There are so many other options not listed here, but this at least gives you a flavor in terms of highlighting how lightweight the Macro Puff is, especially for a high loft jacket.
Insulation 

I usually prefer down over synthetic insulation, but I will say the PlumaFill insulation feels so similar to down I find myself forgetting it's synthetic. Here's what Patagonia has to say about PlumaFill:
"Revolutionary, 100% recycled polyester, high-loft PlumaFill insulation replicates the structure of down in a continuous synthetic insulation material, offering exceptional warmth with the packability of down and the warm-when-wet performance of a synthetic insulation."                      
Adjustability
The cuffs are elasticized and drawcords allow for cinching at the hip to help keep snow and wind out. The hip drawcords cinch via pull tabs in the hip pockets, which I love! It's so nice to be able to adjust without unzipping or fishing under the hem.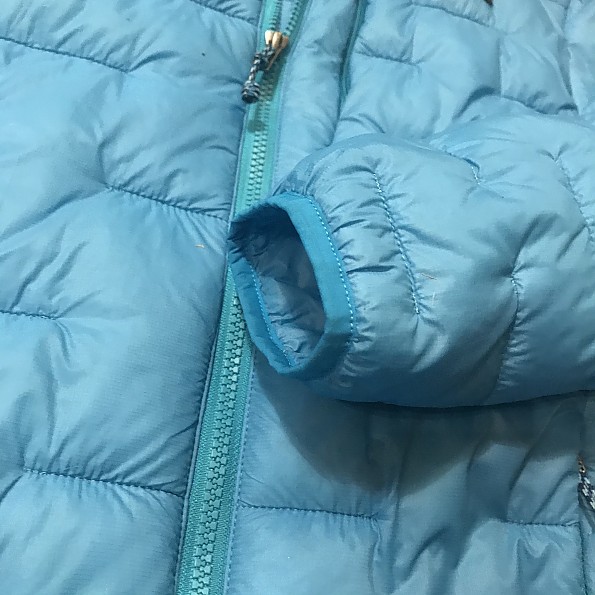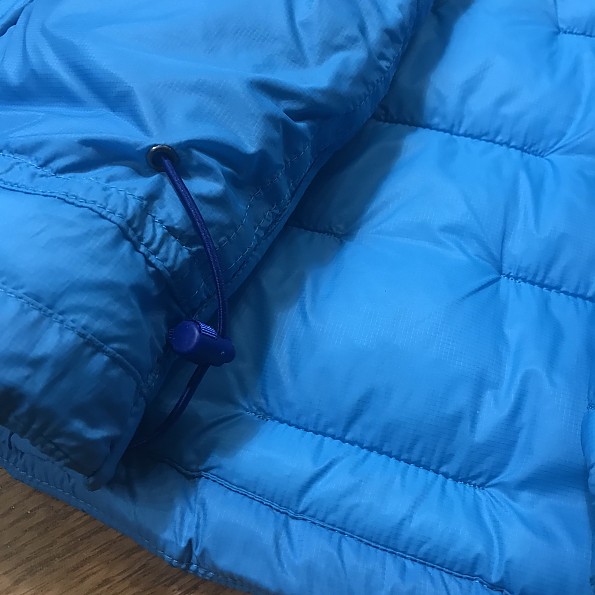 The helmet-compatible hood is roomy enough for my ski helmet or my bike helmet. There are drawcords at the back of the hood, a feature I appreciate to improve visibility.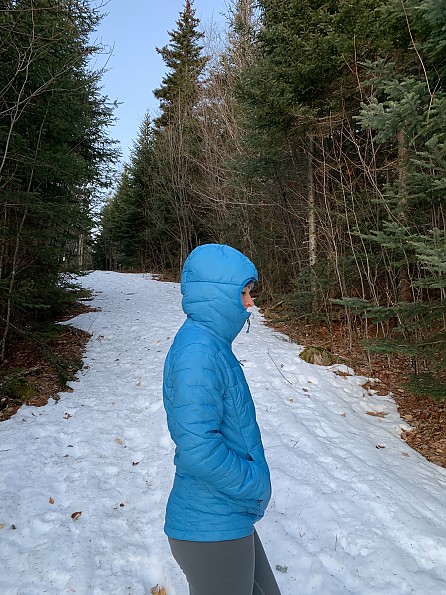 Water & Wind Resistance
The Macro Puff shell is made from recycled ripstop nylon that is water resistant (treated with a DWR finish) and windproof. A clear benefit of the PlumaFill synthetic insulation is that it maintains warmth even when wet. As someone who is nearly always cold, I find this to be a fantastic feature in a jacket. Wearing it through some heavy snowstorms, I remained warm and dry. The nylon outer sheds snow easily and keeps the wind out. 
My outdoor winter activities are high intensity—hiking, fat biking, backcountry skiing. Because of this, I don't wear heavily insulated layers when it's warm enough to rain, so really haven't tested the upper limits of the jacket in this regard. That said, I personally can't think of a scenario in which I'd wear a jacket as warm as the Macro Puff in temperatures above freezing. 
Breathability
I find the Macro Puff compares to other insulated hoodies I've worn in that there is some breathability, but it certainly has its limits. If I don't take the time to stop and remove the hoody when I really start to heat up, I'm going to be sweaty by the time I reach the summit. But this is just life outdoors in the winter—pausing to layer up or down is part of the trip. Aside from unzipping, there are no additional ways to vent heat (which is consistent with insulated jackets in general, at least in my experience).
Warmth & Layering
Unlike the Micro Puff jacket, which I often wear under a shell, the longer length and higher loft of the Macro Puff sets it apart as a jacket designed to be worn as an outer layer. I usually wear the Macro Puff in cold temperatures (single digits and lower) with a merino tank or long sleeve (depending on how cold it is and what I'm doing) and a breathable soft shell or long sleeve shirt.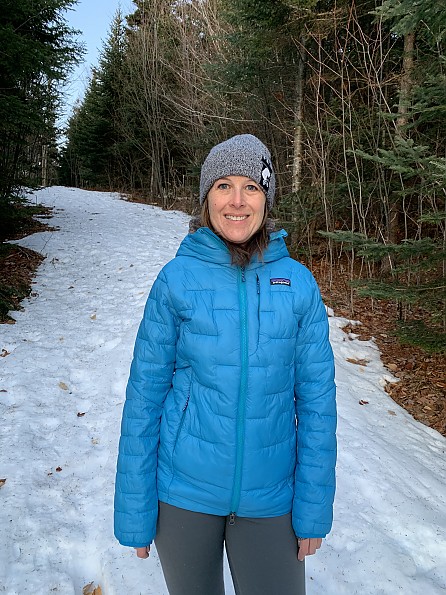 I appreciate it most during transitions and descents—times when I'm generally building less heat and need a layer that will keep my body temperature from dropping. I'll sometimes wear the Macro Puff at the beginning of a hike or fat bike ride on super cold (below zero Fahrenheit) days. However, even on days like this, once I get moving the Macro is a layer I tend to shed. 

The quilting pattern of the Macro Puff is a minimalist design, intended to stabilize the insulation while maintaining maximal loft. It does its job in this regard—I've noticed no issues with bunching or bare spots and the jacket certainly maintains its puff over time (aptly named!).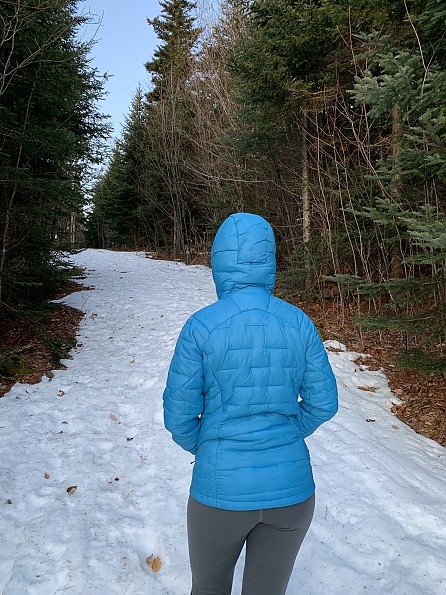 Abrasion, Construction, & Durability
The nylon outer of the Macro Puff is so lightweight I was initially worried about how it would stand up to long-term wear. However, after a full winter season there are no signs of abrasion or tearing. The stitching has held up over time—no pulling, and no loose or torn threads. 
Function & Ease of Use
Drawcords—I appreciate the single pull feature of the hood drawcord. It's housed beneath a covering, so snow buildup won't interfere with functionality. And with just a single pull I can cinch the cord on both sides of the hood. I love this feature as it allows me to keep my mitts on AND be able to see :)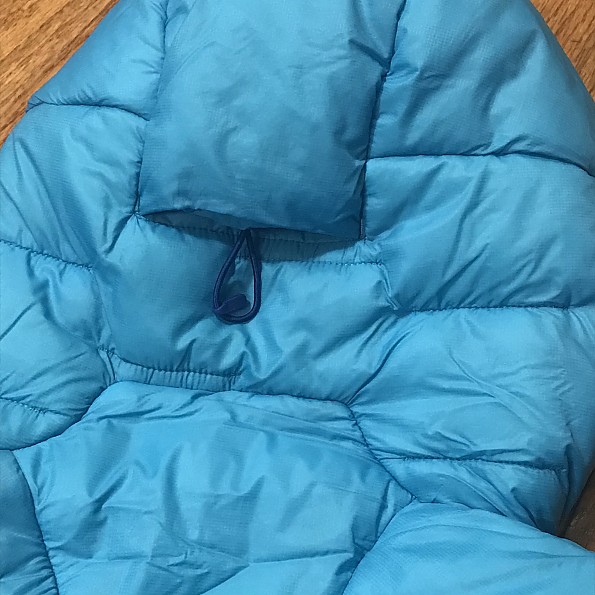 Zippers:  The zippers function as expected—I haven't noticed any issues with snagging or coming unzipped. The pull cords are helpful in that I'm able to operate the zippers with gloves on or when my fingers are super cold and not as dexterous as usual. The main zipper has storm flap and a zipper garage at the chin. This feature helps keep the wind out and prevents catching and abrasion. The zipper operates as expected—no issues. It's a dual zipper which is a nice feature. I don't use it often, but every now and then it's nice to be able to unzip from the bottom.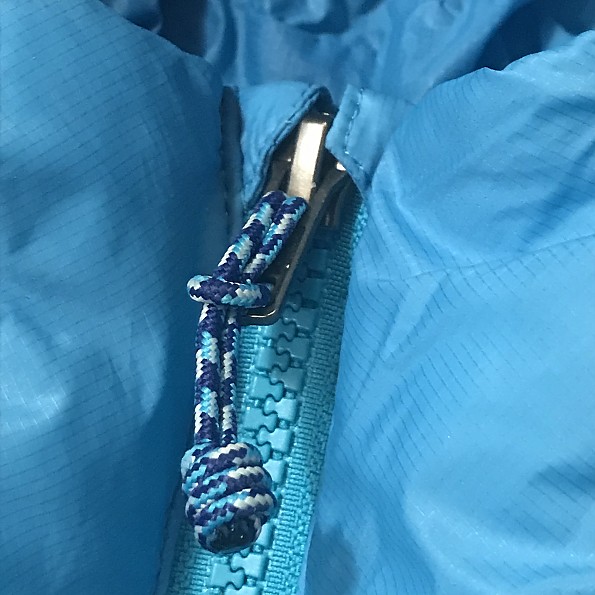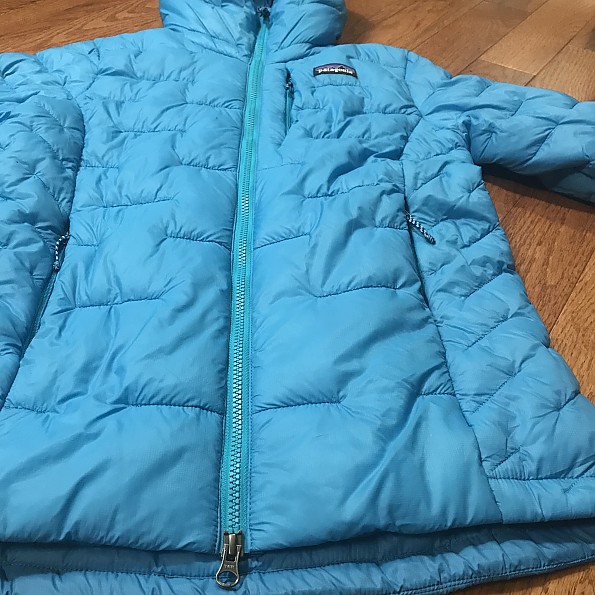 Pockets: The Macro Puff consists of two hip pockets, one zippered external chest pocket, and two large interior stow pockets with elasticized openings. The pocket storage on this jacket is exactly what I need!
The chest pocket is a great option for storing my phone (iPhone 7 for size reference) or other items I want to have access to without risk of dropping them in the snow when I stuff my hands in the hip pockets for extra warmth. The internal stow pockets are fantastic for storing larger items such as gloves or hats.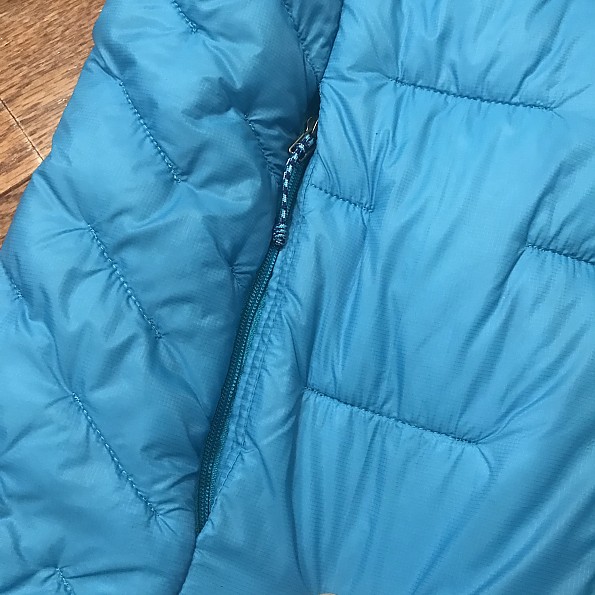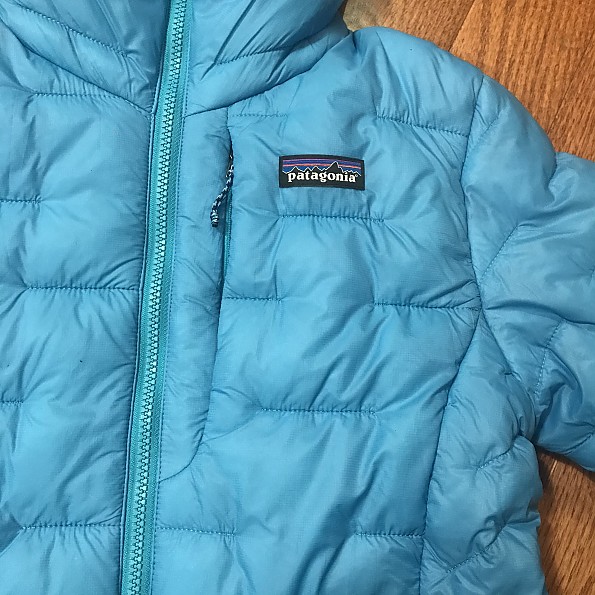 Both hip pockets incorporate zipper closures, which are set into the pockets. I like this feature as it keeps the zipper out of the elements so the contents of the pocket remain high and dry. The hip pockets are roomy, which is fantastic. They provide plenty of space to carry a trail map, a pair of mitts, etc.
There's a defect in the pre-production review sample I received in which one of the internal pockets is far too big. It's an issue in that it catches on the zipper. However, Patagonia was clear that this defect is specific to the sample I was sent, so I'm mentioning it here only because it stands out in the photo.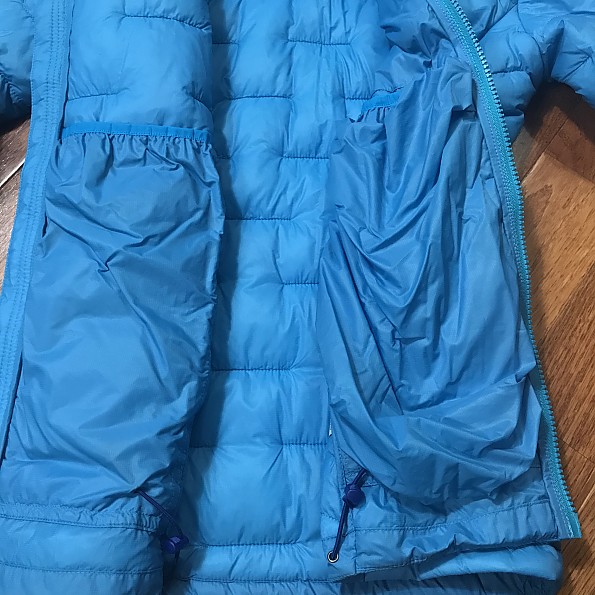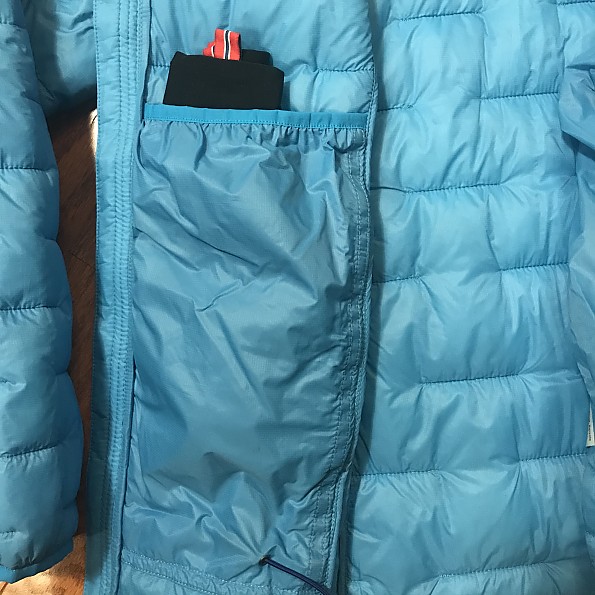 Packability
The Macro Puff is surprisingly packable given its high loft and the fact that it's synthetic insulation. Here it is compared to a 32-oz Nalgene bottle. It could likely compress a bit more in a pack if needed as there is extra space in the integrated pocket stuff sack.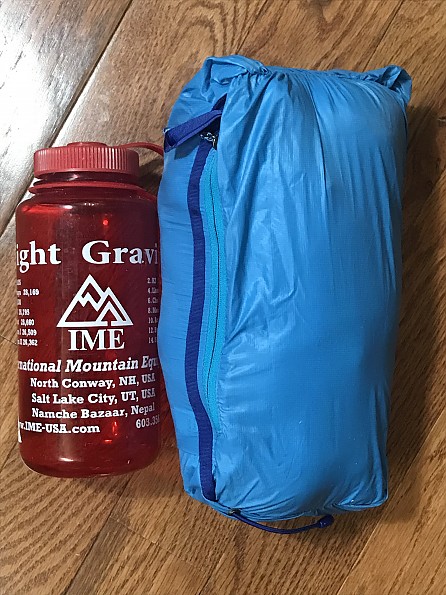 Conclusion
I've enjoyed testing the Macro Puff Hoody. It's a lightweight, ultra-warm jacket that certainly provides a sense of security in below zero temperatures. The synthetic insulation is surprisingly comfortable and packable. The combination of the nylon outer layer and PlumaFill insulation that maintains performance when wet keep me dry and warm in snowstorms. 
Thank you to Trailspace and Patagonia for the opportunity to test the Macro Puff Hoody!
Background
I used the Macro Puff Hoody about every other weekend (depending on temperatures) over a full winter season in New England. My most frequent excursions in it were winter hiking adventures in and around the White Mountains, but I also used it backcountry alpine skiing, snowshoeing, and fat biking. I've been alpine adventuring in New England for more than 20 years and find insulated jackets to be a staple of any winter excursion.
Source: received for testing via the Trailspace Review Corps (Sample for testing and review provided by Patagonia)

This belay-style insulation piece kept me comfortable when used as intended; over a shell and midlayer, and while standing relatively still in 38°F temps. I found the feature set fantastic. However, it's not as warm as the 'high loft' designation suggests—a Down Sweater Hoody is warmer. Even still, I found myself using the Macro Puff more frequently than any other puffy, due to its great versatility.
Pros
Good for a surprising range of temps
Very comfortable cut
Great included features
Best. hood. ever.
Cons
Not as warm as it looks
PlumaFill insulation compresses a bit too easily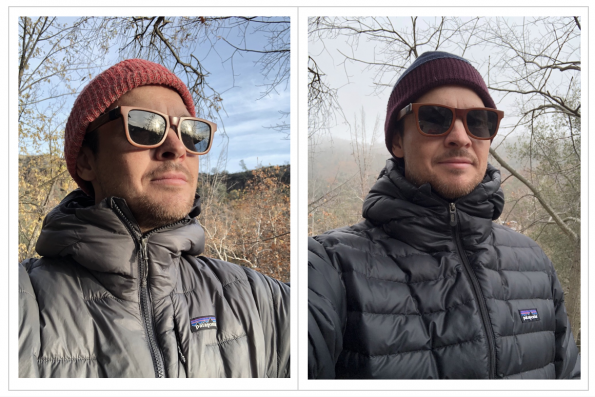 Intro
This is a great-fitting coat that's comfortable in a "you-forget-you-have-it-on" kinda way. Patagonia's new-ish PlumaFill insulation is fluffy and distinctly doesn't feel like a traditional synthetic puffy. It molds and bends and floats. The hood seems almost double stuffed (in a fantastic way), and if the whole jacket was that puffy, this would be a 5 star review!
A nice big YKK Vislon zipper glides smoothly as if I'm zipping up a sleeping bag. Be on the lookout for versions that have a double-zipper; that second zip is handy if you're gonna wear it with a climbing harness. And the less-insulation-in-the-arms approach does really allow me to move more freely.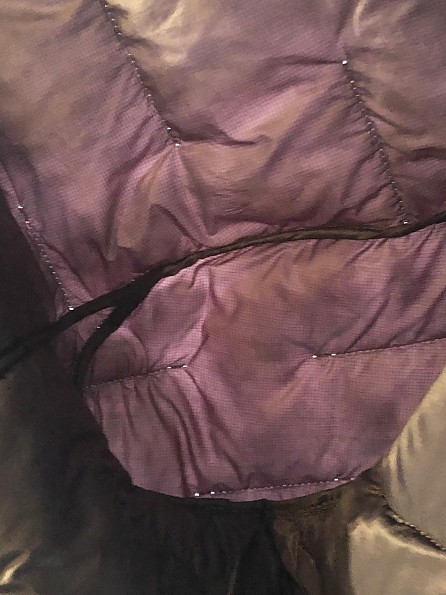 A 'better 100g Micro Puff'
Tested alongside other jackets, the Macro Puff Hoody and its 135 grams-per-square-meter of PlumaFill insulation actually compares very closely in warmth to the outgoing 100g Primaloft-filled Micro Puff Hoody. In other words, the Macro doesn't gain any added warmth; instead it's lighter for the same warmth. In that way—as a rightful successor to the older, coveted 100g Micro Puff—I feel the Macro Puff Hoody is actually a tremendous success.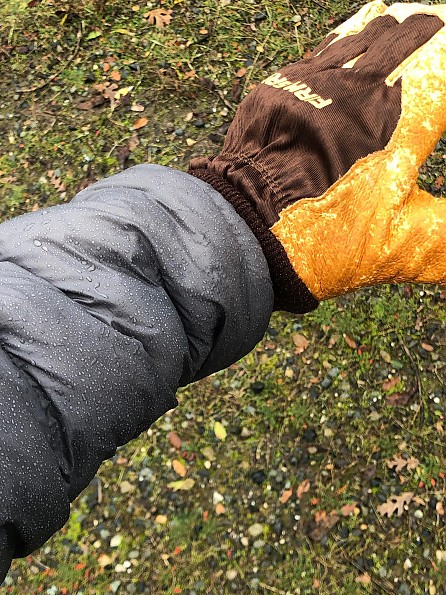 Uses: Technical & Casual
Right out of the gate, I suited up to try the Macro Puff out in three of my regulars: climbing, hiking and general exploration. As a climbing belay puffy, the Macro Puff fits over my layering system just fine (silk-weight base> R1 grid Hoody>  Knifeblade thin softshell> Macro Puff Hoody).
The Macro Puff keeps me warm while rooted in down to the high 30s and low 40s Fahrenheit. Surprisingly though, the cut is slimmer than my Down Sweater Hoody or a Nano Puff. On basic hikes, I find the Macro Puff breathes surprisingly well, even when layered with an R1 and in 40-50F temps. While I did zip and unzip as the trail grade increased, I didn't need to make adjustments while meandering from frigid cold shade, into direct sun, and back.
On a particularly icy morning, I decided to go for a bit of a recce around an old gold mining pit. It was a hike, a scramble, and a sit-and-watch-my-breath-float-away kind of deal. Wearing a few layers, I was comfy. And climbing over and through fallen tree branches (carefully) didn't cause damage to the puffy. 
*Updated: Hiking in Pacific Northwest-style light rain with wind gusts, I was surprised that no water soaked through after an hour. The PlumaFill insulation did really stay lofted! I had originally questioned the DWR after a 'shower nozzle' test showed apparent wetting-out. I'm confident in the Macro Puffs ability in the wet.
In the end, the Macro Puff Hoody is an ultralight, parka-length jacket that you can put on when stationary, and continue wearing when moving—all without overheating. While the Macro gets most of my everyday use nowadays, I picked up a DAS Parka to fulfill my original need of a "dedicated winter parka."
For tremendous detail, make sure you continue reading Kellys' review, below! 
Background
I've used the Macro Puff Hoody for about a year now. Prior to that, I had used Patagonia's Down Sweater Hoody and Micro Puff Hoody for roughly 10 years each. A few ultralights (both down and synthetic) have graced my quiver, too. I use these for hiking, climbing, camping, and biking.
Source: bought it used
Price Paid: $150 used

Your Review
Where to Buy
Help support this site by making your next gear purchase through one of the links above. Click a link, buy what you need, and the seller will contribute a portion of the purchase price to support Trailspace's independent gear reviews.
You May Like
Specs
Men's
Price
MSRP: $399.00
Historic Range: $158.99-$399.00
Reviewers Paid: $150.00

Fit
Regular Fit

Weight
425 g / 15 oz

Shell and lining
0.8-oz 10-denier 100% recycled nylon ripstop with a DWR (durable water repellent) finish

Insulation
135-g (side panels and sleeves: 90-g) PlumaFill 100% recycled polyester

Footrpint
Fair Trade Certified sewn

Women's
Price
MSRP: $399.00
Historic Range: $146.63-$399.00

Fit
Regular Fit

Weight
363 g / 12.8 oz

Shell and lining
0.8-oz 10-denier 100% recycled nylon ripstop with a DWR (durable water repellent) finish

Insulation
135-g (side panels and sleeves: 90-g) PlumaFill 100% recycled polyester

Footrpint
Fair Trade Certified sewn

Recently on Trailspace