Patagonia Nine Trails Pack 14L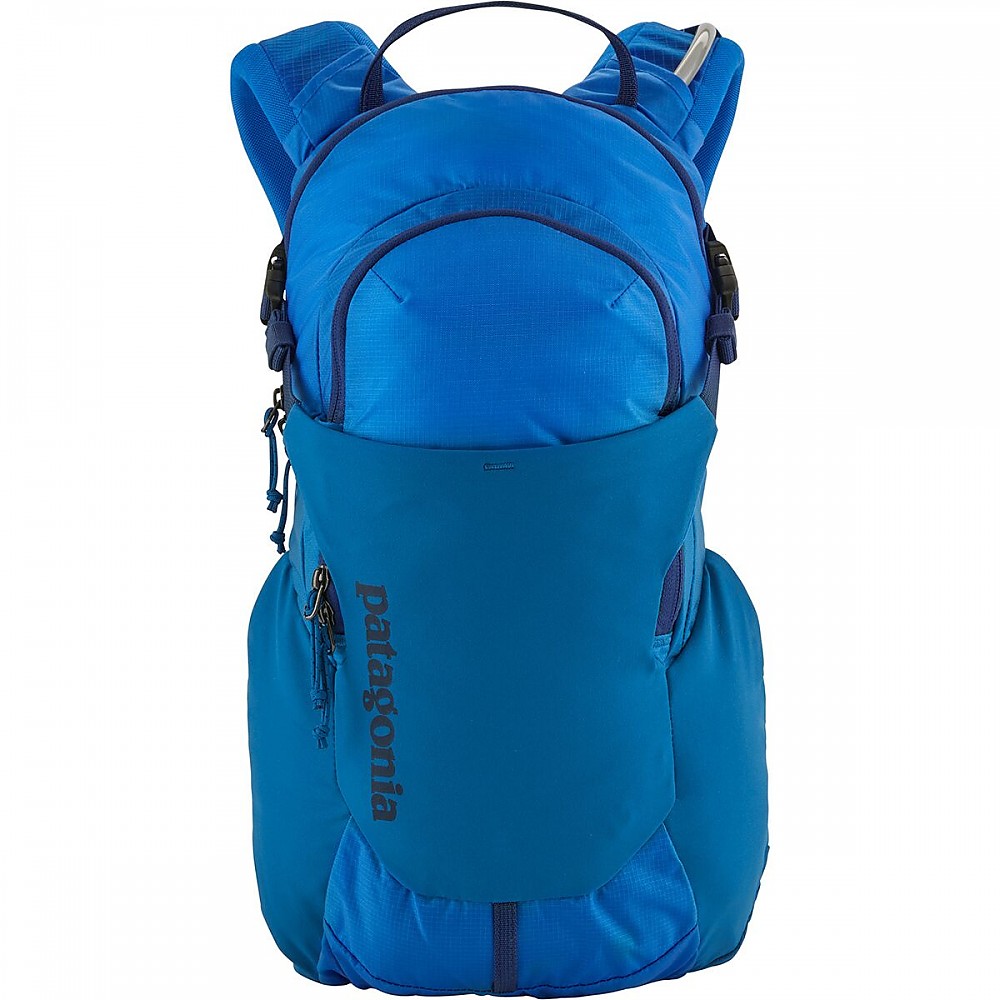 The Nine Trails 14-liter backpack is a great fit for mountain bikers looking for a pack that will comfortably carry the essentials for a full day of riding. It has plenty of storage compartments, keeping items organized and easy to access. I love the long, low profile shape of the pack. It keeps items snug and centered, allowing me to ride technical terrain without throwing off my balance or range of motion.
Pros
Low profile
Multiple compartments for gear storage
Breathable back panel
Hip pockets
DWR treated outer and lining
Includes 2-liter hydration bladder
Cons
Cord connecting hydration bladder and cover is short
Could use a system for securing loose strap ends
Testing Conditions: I tested the Patagonia Nine Trails 14-liter backpack as a member of the Trailspace Review Corps. I mountain biked with the pack in and around the White Mountains of northern New Hampshire and Vermont's Northeast Kingdom from June through October of 2018. I also brought it with me on an October road trip, mountain biking in Bentonville, Arkansas, and around Asheville, North Carolina. Temperatures during testing ranged from about 50 to 90 degrees Fahrenheit.
I also took the Nine Trails hiking and nordic skiing this winter during temperatures ranging from 0 to 25 degrees Fahrenheit. While this is straying from the intended purpose of the pack, it performed well on my hiking and skiing adventures. It's nice to have a pack that's not specific to only one sport.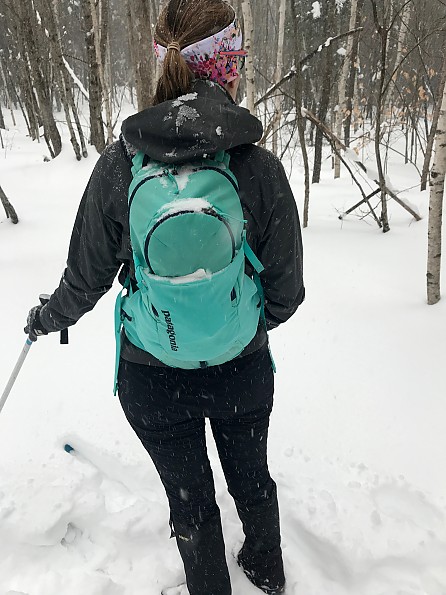 Back view (above) and side view (below)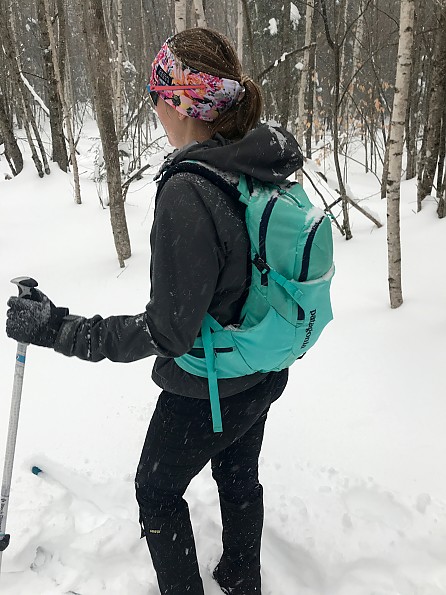 Fit & Comfort: The Nine Trails 14-liter pack comes in two sizes: S/M (18" x 7.5" x 4.3") and L/XL (20" x 7.5" x 4.3"). Really, the only difference is the extra two inches of length in the L/XL.
I'm 5'4" with a fairly small upper body (35" hip, 27" waist, 33" chest). I went with the size S/M and it fits well thanks to significant adjustability in the shoulder straps, sternum strap, and waist belt.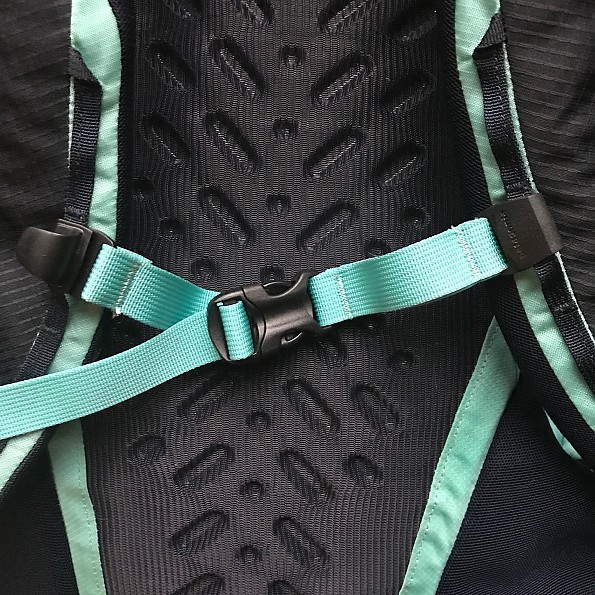 Sternum strap
The pack's advertised weight is 1lb 5.5oz. It's as lightweight as I'd expect a pack of this size to be. For breathability, the Nine Trails incorporates a mono-mesh back panel. I'll admit I still have a sweaty back at the end of a ride, but I don't know of any pack that can entirely prevent this. There has never been so much moisture buildup that chafing occurs and, in my book, that means the back panel is doing its job. The pack also has a padded shoulder harness, which keeps me comfortable while I ride, preventing the shoulder straps from digging into my skin.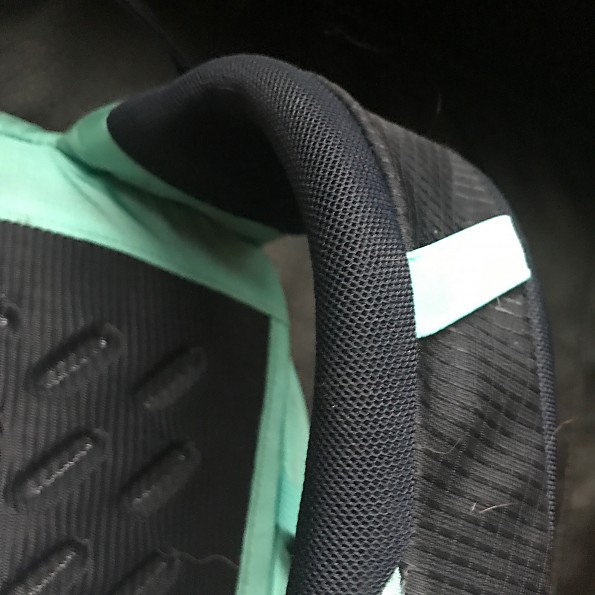 Padded shoulder harness (above), Mono-mesh back panel (below)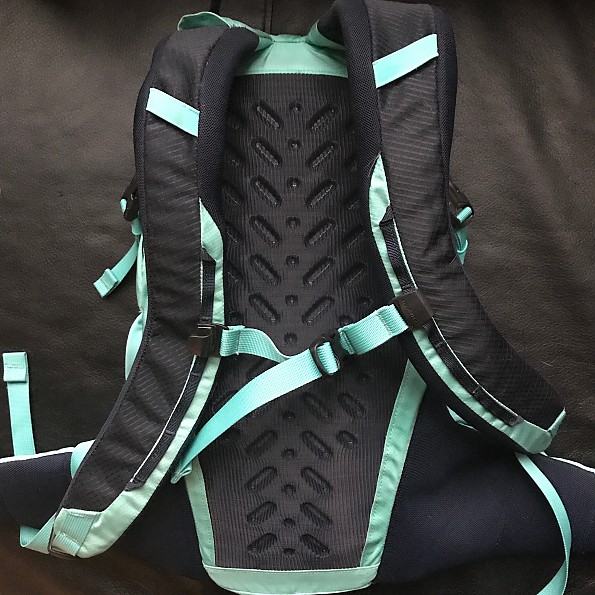 For the sake of clarification, the Nine Trails pack line comes in this 14L size, and also 18L (women's), 20L (men's), 26L (women's), 28 L (men's), and 36L (men's) sizes. Each of these options is available in sizes S/M and L/XL. However, the 14L pack is the only one specifically designed for mountain biking. I assume this is because riders generally don't carry as much on their backs as hikers. Those venturing out on multi-day bike trips are likely to invest in bike packs as carrying a lot of weight in a backpack just isn't conducive to riding. 
There is no women's specific version of the 14L pack, the only one in the Nine Trails line specifically designed for biking. At its worst, this reflects persisting bias that mountain biking is a male sport. This is something I encounter as a female rider more often than I'd like. Literally, men have come up to me before or after a ride and acted confused as I why I wasn't out shopping like their wives.
However, I'm inclined to give Patagonia the benefit of the doubt. From what I see online, the only features that differentiate the women's from the men's versions in other sizes of the Nine Trails pack are the shoulder harness and the back panel. I didn't find either of these features to be problematic or uncomfortable in the unisex version that I tested. Also, I find myself buying men's outdoor gear half the time anyway to avoid dressing myself in pink and purple. So, to sum up my thoughts, I'm happy with the unisex pack.
Capacity: I find the 14L size ideal for the type of mountain biking I typically enjoy—day trips of 10-20 miles of single track riding. Here's what I typically bring along on my ride in summer and fall months: a first aid kit (I have the Adventure Medical Kit Mountain Series Hiker for 2 people for 2 days, which I LOVE...thank you, Trailspace!), a bike pump (right now I'm using the Park Tool Pocket Protector Micro Pump), a couple of snacks, water, and a long-sleeve layer for warmth or sun protection. Everything fits easily. 
The Nine Trails easily accommodates the 2L HydraPak reservoir that comes with the pack (more on that below). On a couple of 40-mile days I did fill the whole reservoir, but for the most part I only bring a liter of water or less. When the bladder is filled, the pack is certainly heavier and there's a bit less storage space. However, there is still enough room to accommodate my essentials. 
Organization & Accessibility: The Nine Trails pack includes a large main compartment, a front tool pocket, an exterior stretch pocket, two quick stash pockets, and two hip belt pockets. The main compartment is where the reservoir sleeve is located. In addition to the water bladder, I usually store my first aid kit and outer layer here, and there's plenty of space for all three items.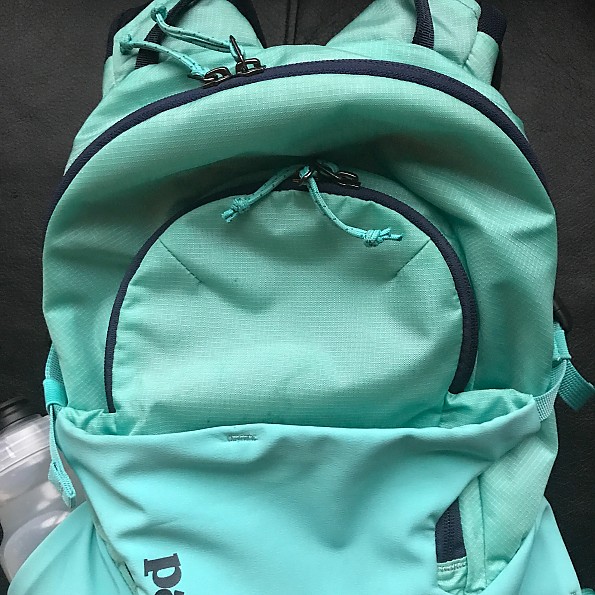 The main storage compartment, the front tool pocket, and the exterior stretch pocket
My bike tools and snacks go in the front tool pocket. There's a loop system to secure my bike pump, a clip for keys, and a pocket that easily accommodates small items such as money or a credit card.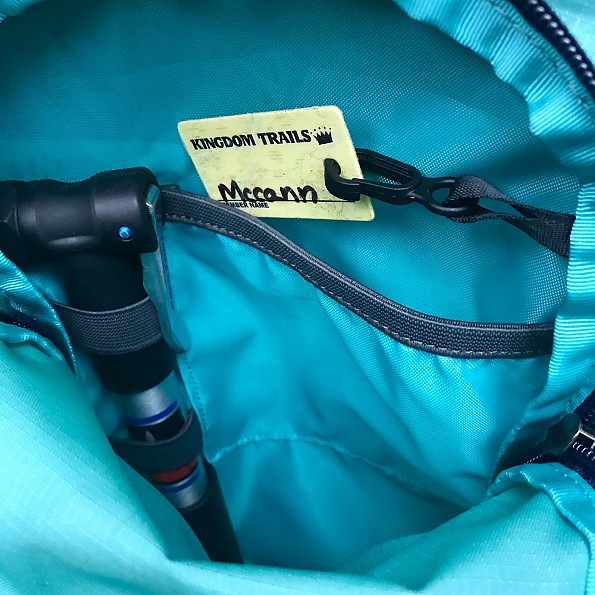 Interior of the front tool pocket with bike pump stored and trail pass ready to go :) 
The exterior stretch pocket is a great place for storing items I may need to easily access during my ride. My sunglasses get tossed in here on particularly humid days or rides when the sun disappears unexpectedly. I also tend to throw my bike gloves in this pocket if I've stopped for a break or at the end of my ride (so I know where to find them next time). 
I honestly haven't found much use for the two quick stash pockets. It's not that they're not a good feature to have, I just tend to be a bit of a minimalist in terms of gear packing, so I find I don't have much use for the extra storage space.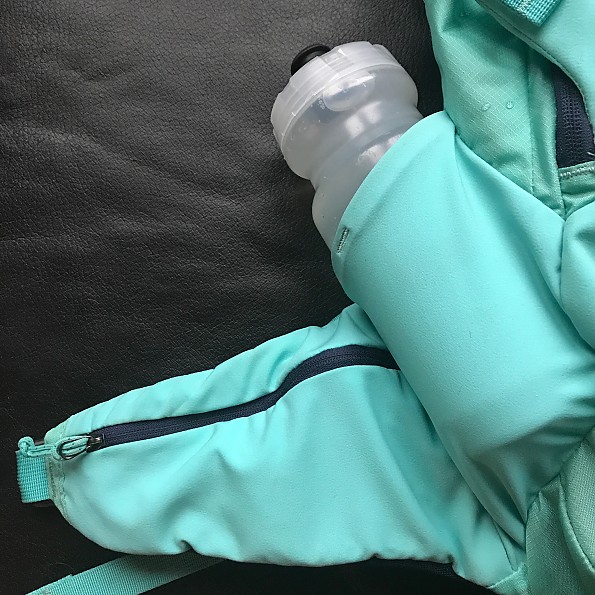 1 of the 2 quick stash pockets with a 20oz water bottle
The hip pockets are probably my favorite feature of the Nine Trails pack. They're large enough to fit my phone or a small snack (energy gel, for example). I primarily use online trail maps (MTB Project or Trailforks) while I ride, so having easy access to my phone is key. The hip pockets allow me to retrieve and store my phone with minimal time and effort, keeping my focus on the ride without risk of getting lost. And yeah, I'm not one to recognize hunger until I'm so lightheaded I find myself bobbing and weaving across the trail...so quick accessibility to snacks is a must.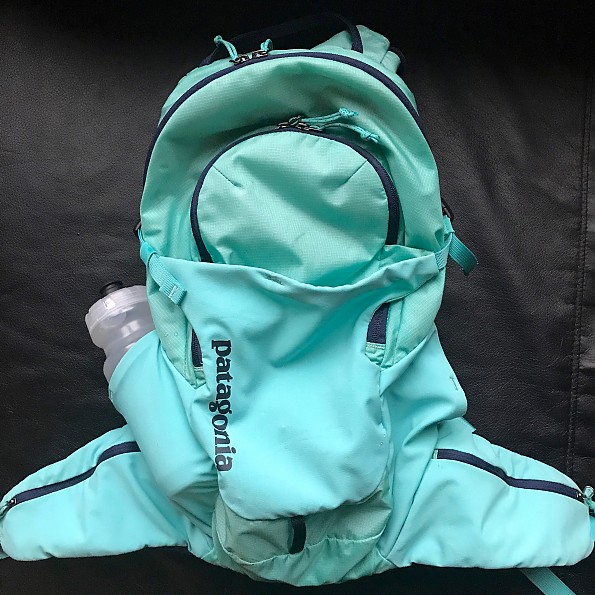 Storage pockets
Ride: The low profile and long torso of the Nine Trails pack provides adequate storage without compromising the flow of a ride. A pack that reveals itself to have poor weight distribution or straps that don't adequately secure the load will throw off my balance and will subsequently not be invited out to play. Factors like weight distribution and fit are especially important for me as a female rider with a fairly small upper body. I have a limited tolerance for anything that's likely to affect my balance on the trail. 
The Nine Trails Pack flows with me as I ride. The long torso length of the pack and low profile result in the weight being distributed down the center of my back. I barely notice the pack while I ride. The sternum, shoulder, and hip straps also allow a customized fit so the pack remains securely in place, even on particularly jostle-prone sections of trail.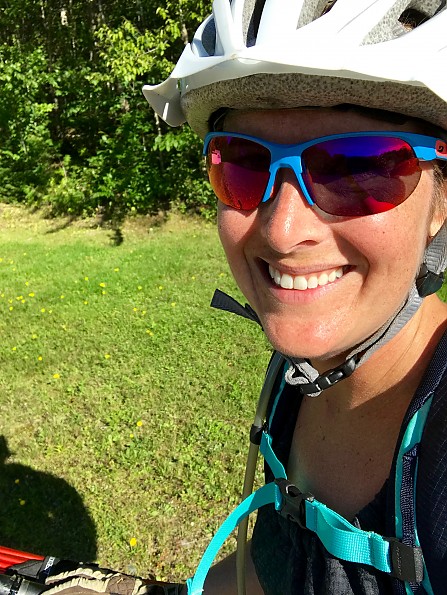 Sternum strap
Compression: The Nine Trails provides some compression but seems to rely on the overall structure of the pack itself for maintaining its shape and low profile. There are two straps that secure the exterior stretch pocket and can be cinched down. They work well, and because of the relatively small size of the pack itself, I've never wished for more compression than this.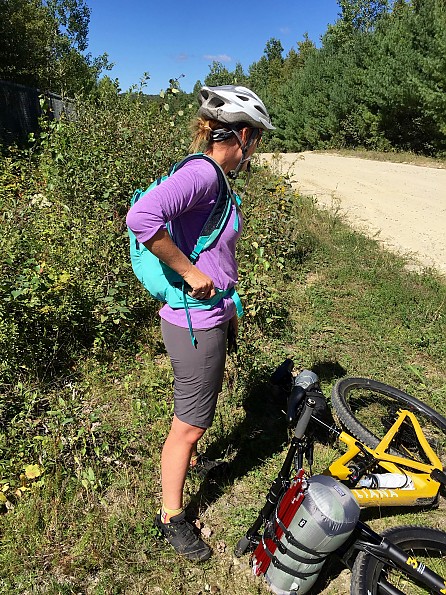 Side view showing the pack's low profile (above and below)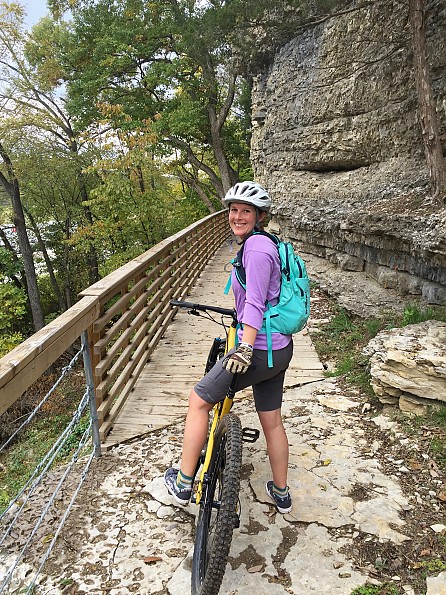 Ease of Use: I enjoy using the Nine Trails Backpack. Pull straps on the zippers allow me to easily access my gear, even with bike gloves on. Having multiple storage pockets helps keep my gear organized and accessible, avoiding the yard sale look of a rider who explodes the contents of her pack across the trail in an effort to dig out an item that had slipped to the bottom of the pile. 
Features: Let's talk HydraPak. I like the 2-liter size and am surprised by how, even when filled, it stows away with relative ease. It's easy to use, opening and closing with a hard plastic cover (for lack of a better term) that slides on and off. I detached the cord that secures the plastic cover to the bladder itself, as it seemed at times so short that it got in the way. The closure is secure—no signs of leaking.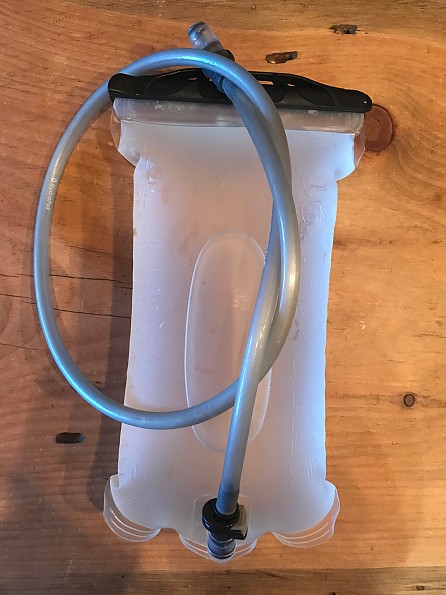 HydraPak filled (above) and close up of closure system (below)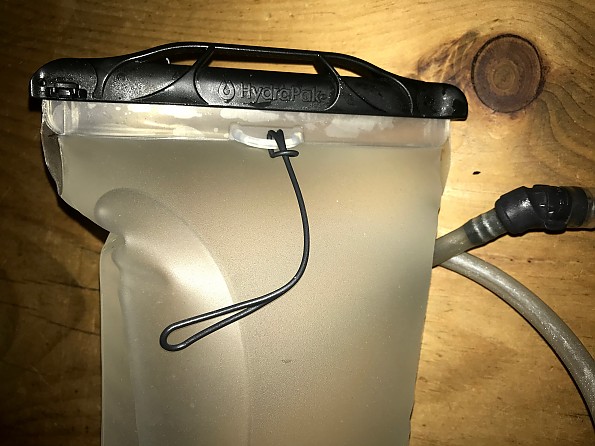 Construction & Durability: The Nine Trails pack is made from a 210 denier CORDURA nylon ripstop fabric outer with a 200 denier polyester lining. The material holds its shape with no obvious signs of breakdown (no tears or pilling). Both the outer and the lining are treated with a polyurethane coating and a DWR finish. I try to avoid mountain biking in the rain for reasons related to traction and damage to the trail. However, on a few occasions when I was caught in a light shower the pack kept my belongings dry. 
The straps and zippers function as expected and demonstrate no signs of wear. The waist belt incorporates an elastic band for securing strap ends. I wish a similar feature was included on the shoulder and sternum straps. While I could simply cut off the extra strap material, I'm hesitant to do so as I also wear this pack in the winter, and winter layers require me to loosen the straps. The hanging strap ends haven't interfered with my riding—I just like things to be buttoned up.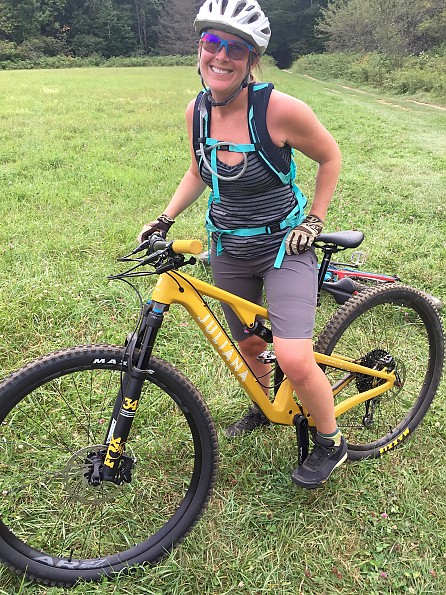 Front view of straps with the ends hanging
Overall Impressions: The Nine Trails is a great little pack for avid mountain bikers. It's the right size to accommodate the essentials for a full day of riding. Two main compartments along with a variety of other storage spaces keep my gear organized and in place. The hip, shoulder, and sternum straps provide a customized fit and prevent the pack from moving around as I ride. The stiff back panel maintains the shape of the pack and promotes breathability. Both the back panel and the shoulder straps are comfortably padded, sitting against bare (and often sweaty) skin without chafing. I love the low profile of this pack—I'm able to carry everything I need without throwing off my balance or restricting movement. 
Thanks to the folks at Patagonia and Trailspace for the opportunity to test and review the Nine Trails 14-liter backpack!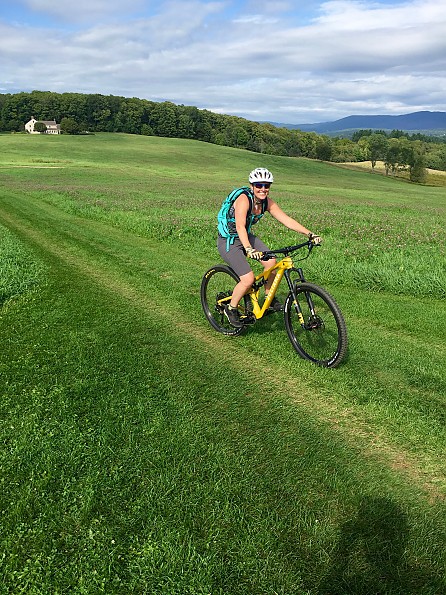 Experience
I've been an outdoor enthusiast for 20+ years and an avid mountain biker for three years. I mountain bike a few times per week during summer months, generally riding 10-20 miles of single track.
Source: received for testing via the Trailspace Review Corps (Sample for testing and review provided by Patagonia)

Your Review
Where to Buy
Help support this site by making your next gear purchase through one of the links above. Click a link, buy what you need, and the seller will contribute a portion of the purchase price to support Trailspace's independent gear reviews.
You May Like
Specs
Price
MSRP: $139.00
Historic Range: $49.98-$139.00

Weight
610 g / 1 lb 5.5 oz

Volume
14L / 854 cu in

Sizes
S/M: 18 x 7.5 x 4.3 in
L/XL: 20 x 7.5 x 4.3 in
Body
4.2-oz 210-denier CORDURA 100% nylon ripstop

Lining
3.3-oz 200-denier 100% polyester

Recently on Trailspace