Patagonia Nine Trails Skirt

The Nine Trails Skirt has been discontinued. If you're looking for something new, check out the best running skirts for 2023.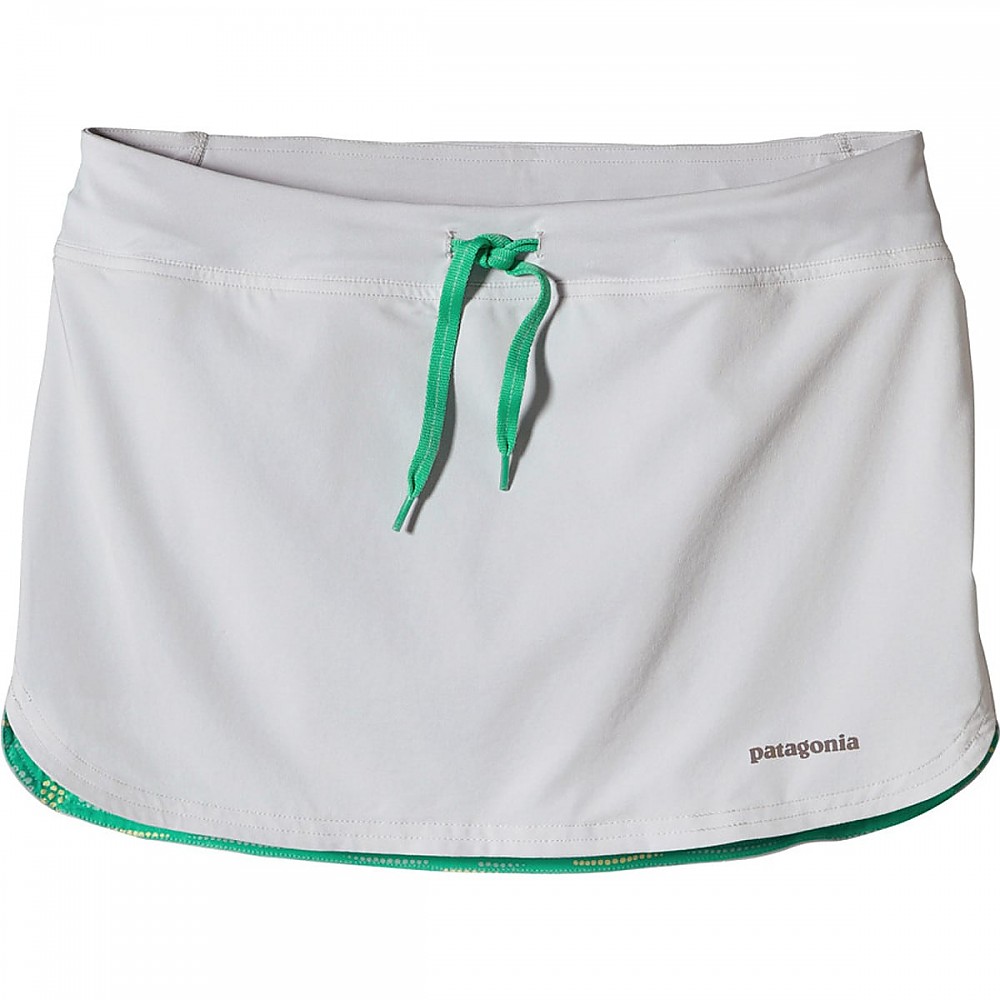 A quality garment suitable for multiple uses, particularly watersports. The undershorts have a permanent anti-microbial treatment that really does keep odors at bay. If already accustomed to wearing skimpy garments for workouts, the Nine Trails skirt will be a cute and welcome addition to your wardrobe.

The short skirt does turn heads (since it's not always obvious that the black undershorts accompany it), so it's not for those lacking a healthy dose of self-confidence. On the other hand, it also serves as a great bikini bottom, if you don't wish to get as much sun on your nether-regions. Durable materials hold up to a wide variety of uses and abuses.
Pros
Doesn't smell, even after multiple uses
Can be used for a wide variety of activities
Cons
Shorts ride-up a little when running
Drawstring not much function
Skirt is short so don't be shy!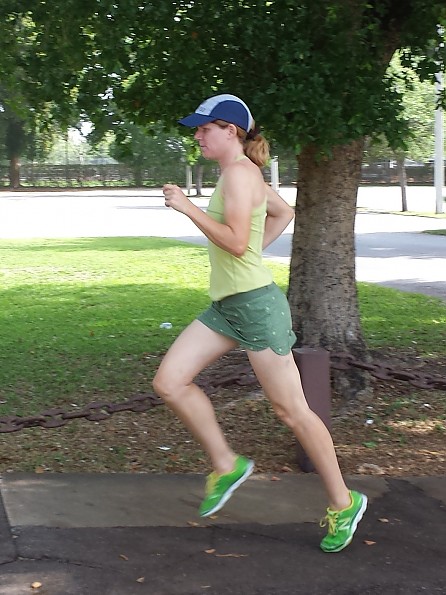 Conditions: I lead with this header because I really put this garment through its paces, finding it very versatile and durable throughout my testing. Most notably, it lived up to its claims of odor control. The garment employs a Polygiene treatment based on silver salt, according to the provided literature.
I usually regard such claims very suspiciously (after all, I interned in the very EPA division that reviews and licenses such pesticide/antimicrobial claims for safety and efficacy). So I was pleasantly surprised to find, albeit anecdotally, that this new technology appears to actually work.
If you're wondering, the literature states that the Polygiene technology is registered under the EU Biocidal Product Directive and US EPA (yes, this does have meaning in that it has gone through established scientific testing and review).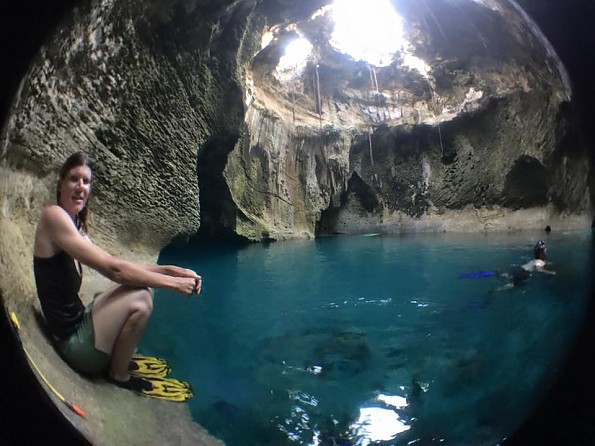 (inside the Thunderball Grotto)

It's not for lack of trying that I tested the odor control claims. I used this garment in very hot, humid conditions over 3 months. I deliberately wore it consecutive days on multi-day trips, without washing it in-between (other than an occasional rinse-down with fresh water). In all circumstances (hiking, paddling, snorkeling, running, and even swimming with the infamous swimming pigs of Staniel Cay), it delivered. That is, the lack of odor was very apparent in contrast to other garments that I have used in similar ways. 
I'll go so far as to say that my favorite pair of paddling shorts (which I have to treat as toxic waste after they have stewed in hot and humid conditions under my kayak skirt for consecutive days on long padding trips), will no longer be joining me for such trips. I will now seek garments that employ this new technology, because it really did make a positive difference to me.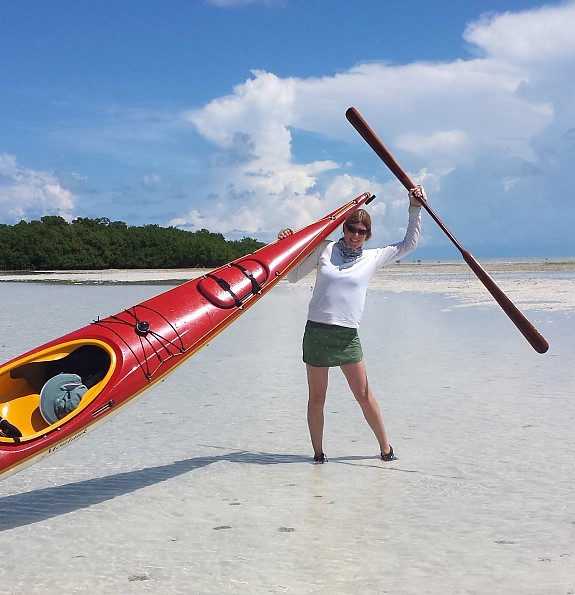 (raise a paddle for no-stink!)
Fit & Comfort: The fit of this skirt, or perhaps one would call it a skort, it basically that of a spandex short.  Generally I prefer a more loose-fit short for running, as I find spandex shorts tend to creep up too much for my comfort. As expected, the undershorts of the Trails Nine skirt also resulted in a slight-wedgie factor when I ran in them, so this was not my preferred activity for this garment, (even though I still continue to routinely wear it for running.)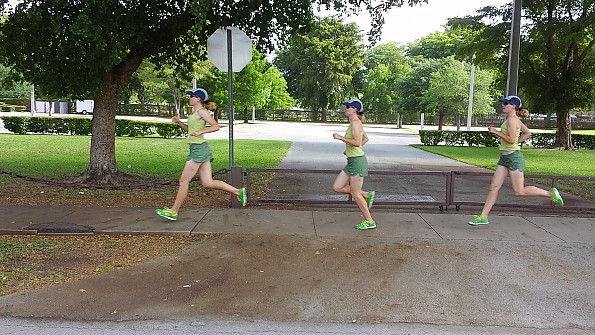 (playing around with some of the action features of my camera---wow, I'm really heel-striking! But that's another topic...)
I did find the skirt to be very comfortable for many other activities such as hiking, paddling, and swimming. The skirt is very short, so take that at face-value. It could be a positive or negative, depending on your uses and self-confidence. I drew comfort from the security of the undershorts, but it's not always apparent to others that the undershorts are there.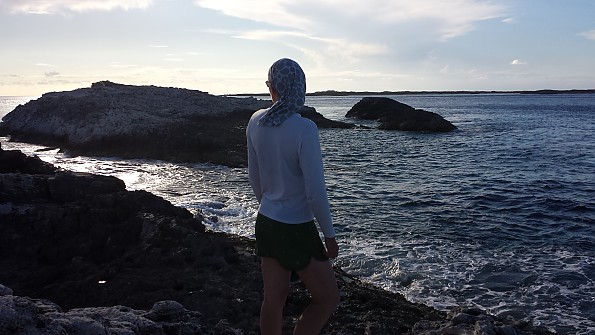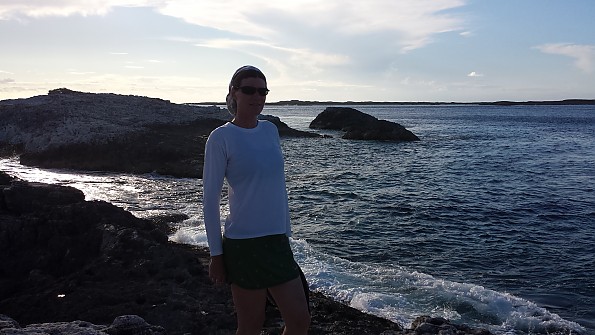 Adjustability: The skirt has one drawstring, which can be tied to tighten the garment around the waist. This is a standard feature of most active-wear, but I found it particularly useless in this case, as the garment is meant to fit rather skin-tight anyways. The drawstring can always be removed of just simply ignored.
Water Resistance, Breathability, Moisture-wicking: Literature on the garment states that the fabric is treated with a DWR (durable water repellant) finish, to ward off moisture from light rain and such. I deliberately got the garment soaking wet on multiple occasions (swimming, paddling, snorkeling), and I didn't really take note of transitory conditions like light rain (doesn't really happen in Miami…it's usually all or nothing). 
As skimpy as the garment is, water resistance seems to me to be rather unimportant…if it's warm enough to wear the skirt, you won't care that much about water resistance and thermal control anyways. But I did note that the fabric was reasonably quick-drying and moisture-wicking. For instance, I was comfortable wearing it in a damp kayak cockpit for up to 8 hours a day.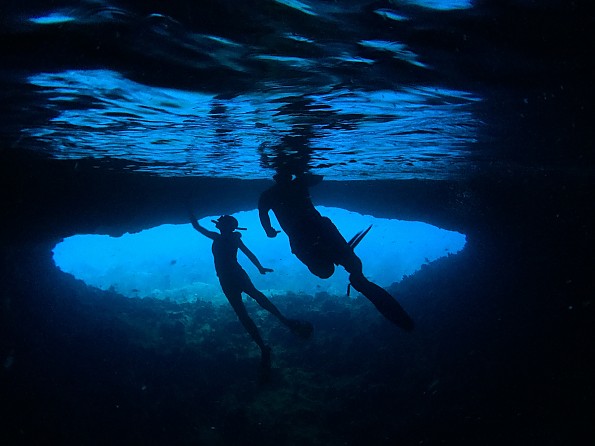 (swimming in the famous Thunderball Grotto...you can't tell I'm wearing the skirt but it was such a cool picture, I had to include it)
Abrasion Construction & Durability: This garment is very durable. I've put it through the washer/dryer close to 30 times and subjected to a lot of other abuses, with no signs of wear or even fading. While hiking and swimming in the Bahamas, I came in contact with the rough limestone substrate quiet often. There were several occasions where I was sure that the skirt must have snagged and ripped on the rock during my scrambles, but I could never find any damage (my knees, not so much!). The undershorts are made of a thinner material than the skirt but all are made of a quality, stretchy spandex/polyester blend.
Function/features: Other than the odor-control properties, there are few features save for the back envelope pocket and two drop-in hip pockets. I didn't use the hip pockets (suitable mostly for gels) but did utilize the back pocket to carry my car key for daily runs (I refuse to carry much else when I'm running).
A big thanks to Trailspace and Patagonia for the opportunity to test this fun, new product.
Source: received for testing via the Trailspace Review Corps (Sample provided by Patagonia for testing and review)

Your Review
You May Like
Specs
| | |
| --- | --- |
| Price | Historic Range: $14.75-$59.00 |