Patagonia Sunshade Technical Hoody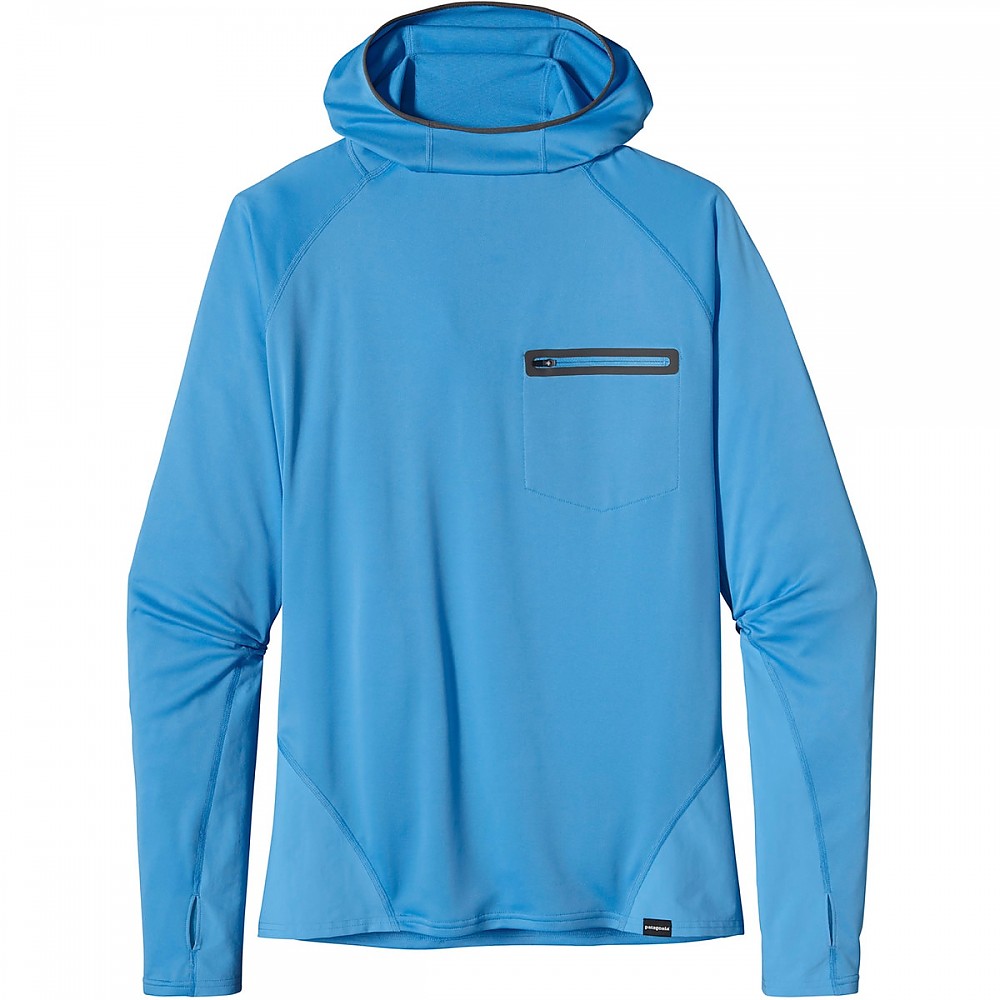 The Patagonia Sunshade Technical Hoody is designed to be used in hot and humid conditions, has a light airy design, and also offers SPF 50 sun protection. Overall I've found the Patagonia Sunshade Technical Hoody to be similar in performance to other sun shirts that I own. The fabric has a nice comfortable feel and is made from 100% polyester, of which 68% is recycled. The fit of the hoody from my experience is different than other Patagonia products and runs very large. Overall this is a nice sun shirt/hoody that I'll be using on future fishing and backpacking trips.

Pros
Unique seam locations on the sleeves result in a comfortable design with no seams under your elbow
Edging/Piping very comfortable
SPF 50 and very breathable
Nice soft polyester material that's 68% recycled
The HeiQ oder control seems to work—so far…
Cons
Runs very large compared to typical Patagonia sizing
Overview
The Patagonia Sunshade Technical Hoody according to Patagonia's website is a hoody designed for environments with high heat and humidity by having good wicking and quick drying capabilities and also being highly breathable.  The fabric is treated with a high tech Swiss treatment for odor control called HeiQ Fresh and the overall hoody is Fair Trade Certified sewn. The resulting hoody is a nice light sun hoody that is comfortable to wear.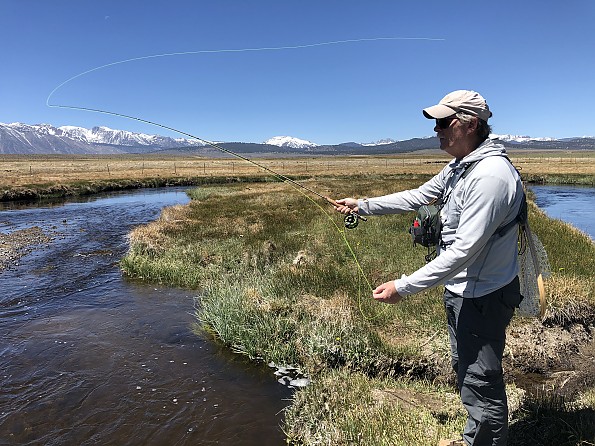 Performance and Fit
I received the Patagonia Sunshade Technical Hoody as a Christmas present this last year, and since that time most of the areas that I have been using the hoody have been in the Pacific NW and down in the Eastern Sierras, neither of which have been hot or humid, but there has been plenty of sun (I'm lying a little with respect to the amount of sun up here in the Pacific NW).
As sun shirts go, I would say that this hoody is lighter than other shirts and hoodies that I own (my medium weighs approximately 8 ounces) and that the material is very comfortable to wear.
With respect to sun protection the hoody worked just fine, but I think every sun shirt that I have ever owned, from $15 shirts off of Amazon to pricer hoodies like this one, have always provided good sun protection. I'm fair skinned, so if something did't work well I would find out pretty quick.
From a fit perspective the Patagonia Sunshade Technical Hoody is a bit different. I usually can reliably order any Patagonia clothing in a men's size large and it will fit. The first Patagonia Sunshade Technical Hoody I received at Christmas was a size large and it was huge! I was able to easily exchange it for a medium, which fits well even though I've picked up a few pounds during the pandemic.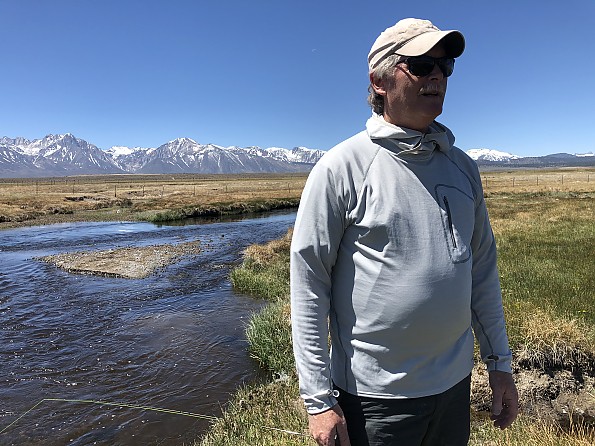 The hood is a nice size and easily fit over my hat and also has a single button closure if you want to close things up a bit.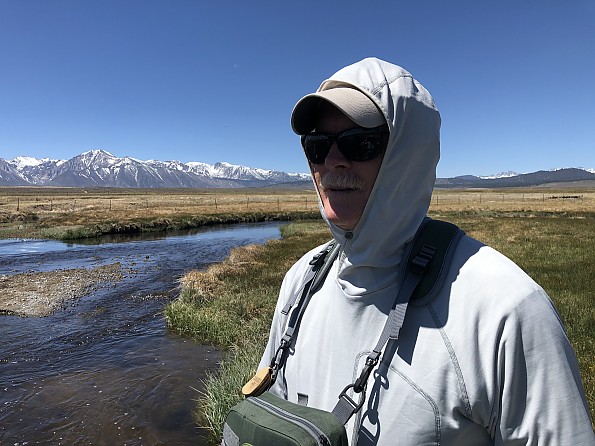 The sleeves have a unique cut/seam design that you can see in the picture below that avoids having any seams under your elbow which I liked. The sleeves also have holes for your thumbs if you like that feature, but I'm not someone who does, but I found the length of the sleeves to be more than adequate.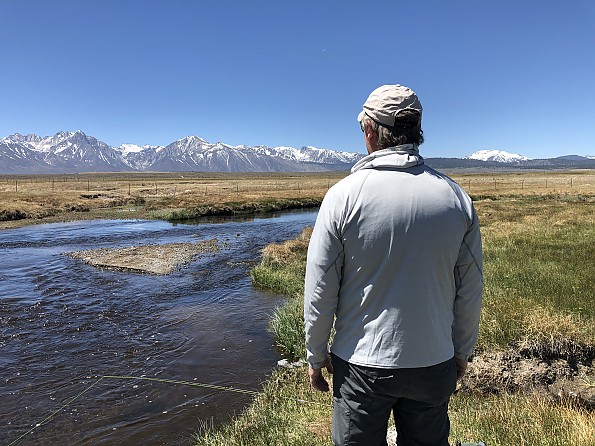 There is also a chest pocket that is a good size that I was able to easily fit my iPhone X into.
The Patagonia Sunshade Technical Hoody is constructed with flat lock type of seams like shown in the picture below and they are located such that I have never found them to be an issue or uncomfortable while wearing the hoody.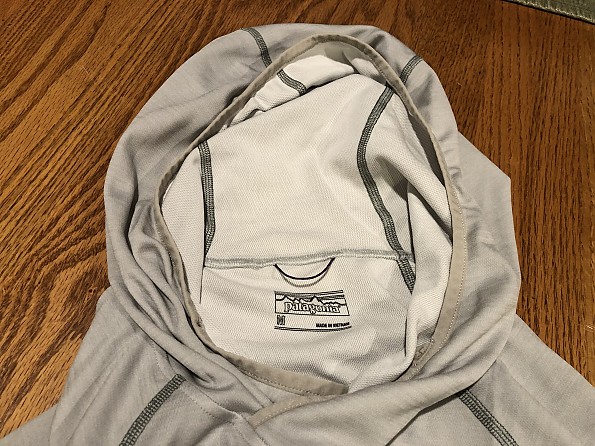 Price
The list price of the Patagonia Sunshade Technical Hoody is $79.  If you are just looking for basic sun protection there are less expensive options available, but if you are looking for a lightweight, breathable, fast drying hoody, then this might just be the hoody for you.
Summary and Recommendation
I found the Patagonia Sunshade Technical Hoody to be a nice hoody that I feel delivers on being a lightweight, breathable, and fast-drying hoody. I've been using this hoody mostly in cooler environments and generally layered over another shirt, but as we are now getting into the summer months I can see that this will be the first sun shirt/hoody that I'll be reaching for when I head out to fish.
The only downside or really the odd thing about the Patagonia Sunshade Technical Hoody is the sizing/fit. Fit is a personal thing and while I didn't find the fit of this hoody ideal (I've never understood why Patagonia doesn't focus on products for mildly overweight, 60+ year olds :-) ), it is a nice hoody and I wouldn't hesitate recommending someone to give this hoody a try.
Experience
I have only been using this hoody for several months, but have been wearing other sun shirts and hoodies for a number of years.
Source: received it as a personal gift

Fantastic option for sunny summer days when sunscreen is either not an option or not enough.
Pros
Fast drying
Breathable
Relaxed fit
Cons
Light fabric shows stains
Snags easily on branches and thorns
I had the opportunity to test the Patagonia Sunshade Technical Hoody during the summer of 2018 in Northern New Hampshire. As someone with a tendency to burn during the summer while also running hot when wearing layers, I was eager to see how this shirt would perform and I was not disappointed by the result. Almost every time I went outside to fly fish, hike, bike, or hang out on the water, I ended up pulling out this hoody. Even when the temperatures hit the upper-90's with high humidity, I still felt comfortable enough to keep it on.
Fit, Comfort, and Layering: The Sunshade Technical hoody is advertised by Patagonia as "relaxed fit" which made it comfortable to wear in hot weather. This description was accurate as it was baggy on me.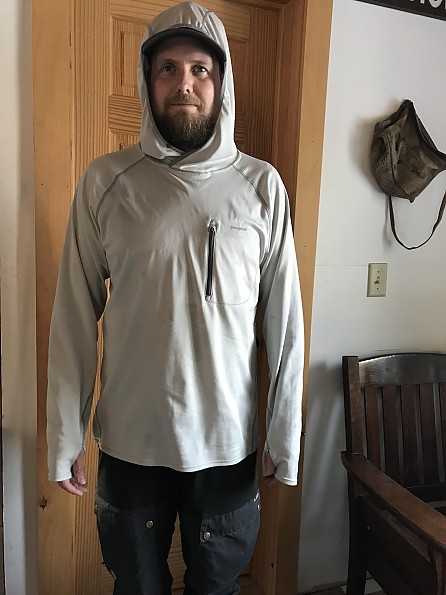 The hood is large and fits well over a hat. The arms are on the long side but contain thumb loops to keep the wrist openings in place if needed. For the most part I did not wear any other layers with the Sunshade but occasionally did have a light t-shirt on under it. Even though this shirt was baggy it fit well under a rain shell for those times an afternoon shower rolled in. 
Material and Durability: The Sunshade hoody is made of quick drying polyester with 50+ UPF sun protection. I can attest to the quick drying traits based on the few times I jumped into the river to enjoy a swim while still wanting sun protection. The hoody was dry within half an hour of coming out of the water. 
The shirt is well made but I have noticed a few areas where some threads have begun to pull. Most of this is due to the fact that I need to bushwhack to some of my favorite fishing spots and the thorns and branches tried to prevent me from doing this. 
After a full season of a lot of use I have noticed some staining and discoloration. I don't blame Patagonia for this though, I wore this shirt a lot and put it though some rough areas.
Adjustability: There is a button and loop at the base of the neck to help close the hood, but I never ended up using it. I liked how open and free flowing the shirt was since I was wearing it in hot temperatures. 
Breathability: This shirt is designed to be worn when you are standing out in the sun and the temperatures are climbing. Because of this it breaths like a champ. The fabric allows air to circulate through it in both directions keeping you nice and cool even with the sleeves down and the hood up. I often wore this shirt fly fishing under direct sunlight in humid New England conditions. I stay comfortable and protected.
Features: The key feature and selling point of this shirt is the 50+ UPF sun protection. I have always been skeptical of UPF clothing because I subscribe to the philosophy that all clothes have this protection since that is why humans wear them. I will say that the material used in this hoody is very thin preventing overheating while also providing sun protection. I think this is a difficult balance to strike and Patagonia has done a great job.
Other minor features included on the Sunshade Hoody are the large hood, a chest pocket perfect for a cell phone or small fly box, and the thumb holes which help keep the cuffs over the back of the hand increasing the sun protection.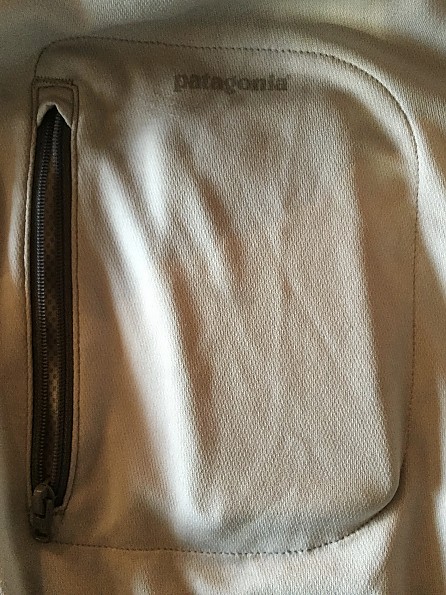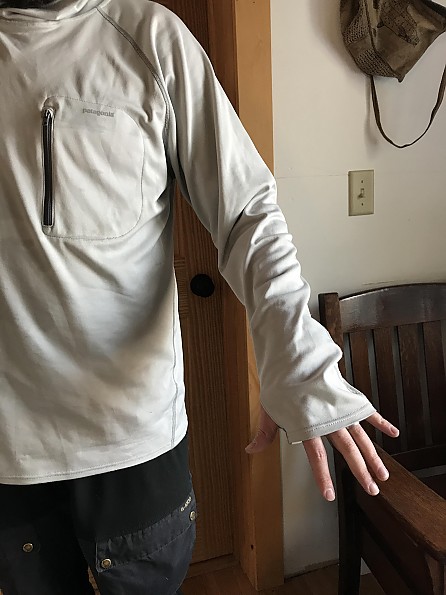 The material is also quick drying which I tested out by many times by either submerging my arm while landing a fish or on a few hot days when I jumped into the river to cool off.
Conclusions: I highly recommend the Sunshade Technical hoody. I wore it almost daily and found it to be the perfect shirt for the summer. It kept me protected from the sun but did not become unbearable to wear. The quick drying material was perfect for fly fishing and boating because I never worried about stay wet too long if it went in the water. Be careful when wearing this and bushwhacking as the material is prone to pulling in these situations.
While I did not do any high altitude mountaineering this year, I know many people wear similar shirts on glaciers and year round snowpack where the sun is hitting you from all angles. This shirt would fit in well in that environment. I look forward to bringing this shirt down to the Caribbean next spring to help protect my sun deprived skin from the sun.
Source: received for testing via the Trailspace Review Corps (Sample for testing and review provided by Patagonia)

Your Review
Where to Buy
Help support this site by making your next gear purchase through one of the links above. Click a link, buy what you need, and the seller will contribute a portion of the purchase price to support Trailspace's independent gear reviews.
You May Like
Specs
Price
MSRP: $79.00
Historic Range: $31.60-$89.00

Weight
224 g / 7.9 oz

Fit
Relaxed

Material
3.6-oz 100% polyester (68% recycled) double knit with heir Fresh durable odor control

Footprint
Fabric is certified as bluesign approved / Fair Trade Certified sewn

Recently on Trailspace