Patagonia Men's Super Alpine Jacket

Top 25 in men's Waterproof Jackets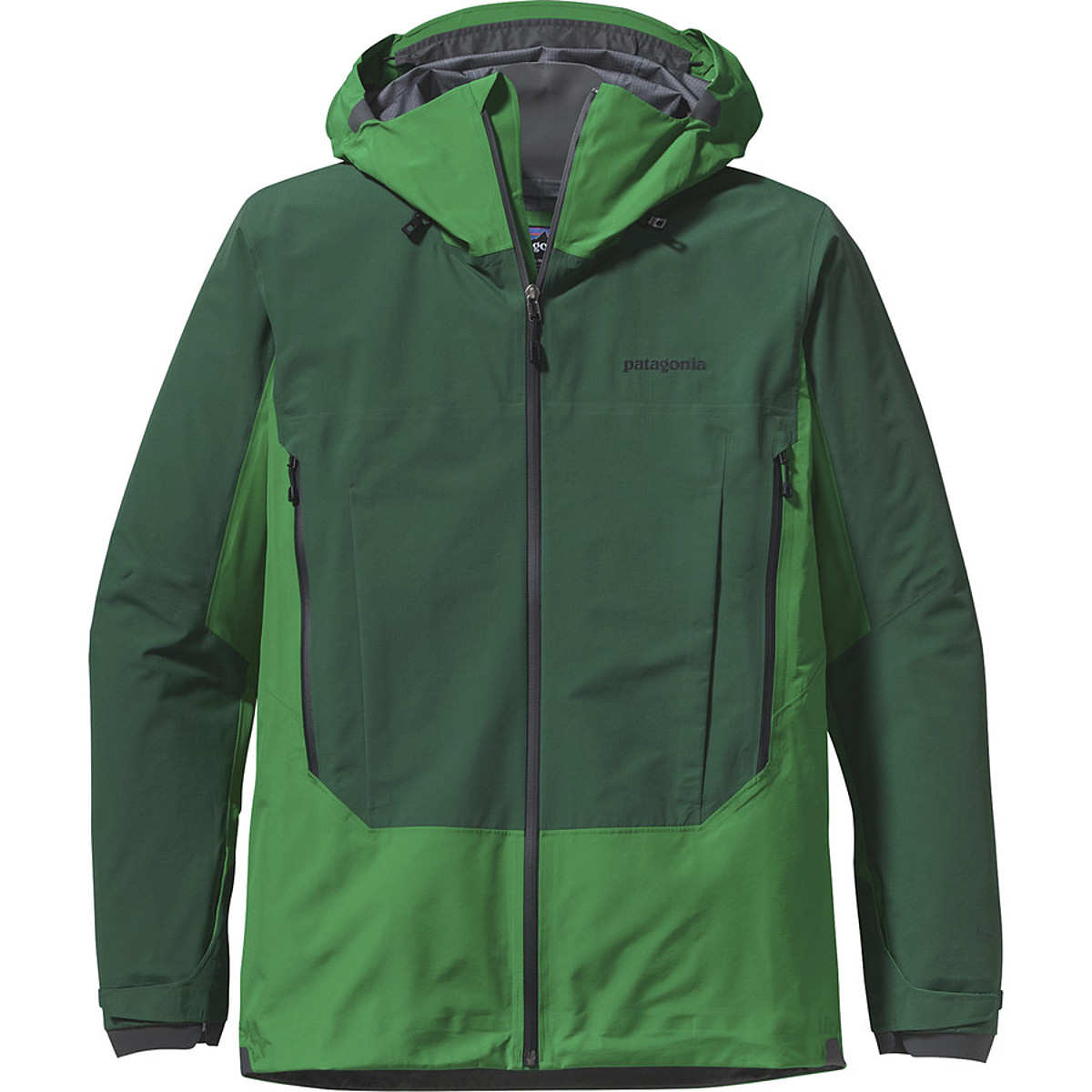 Specs
Price
MSRP: $559.00
Historic Range: $179.70-$599.00
Reviewers Paid: $425.00-$475.00

Weight
18.5 oz / 524 g

Shell Fabric
3 Layer, 3.8 oz 40-Denier GORE-TEX® Pro Shell 100% Nylon / DWR Finish

Reinforcement Fabric
4.9 oz 150-Denier GORE-TEX® Pro Shell 100% Nylon / DWR Finish

Reviews
6

reviews

5-star:

5

4-star:

0

3-star:

0

2-star:

0

1-star:

0
This was hands down the best jacket ever made! It is so sad they're not making them anymore. The only thing that has ever come close to it is Arcteryx's Alpha SV. But the collar on the SV does not cinch up snugly against your face, like the Super Alpine did, thus leaving a big gap in front of your face for all the nice cold air to come in!
The Super Alpine was longer than the SV, and thus protected you better around the waist. It had a two way front zipper, whereas the SV only has a one way. And since it was made before those awful plastic coated zippers became all the rage, you could actually zip or unzip the jacket with one hand - hugely helpful in active situations.
It's true that the jackets today are lighter and more compressible, and if that's your priority then fine. But none of the jackets today protect you as well as the Super Alpine did when you're actually wearing it. It seems like companies today are concerned about everything except how well the jacket will protect you in blistering cold, wet, and just plain hellish conditions. All they can talk about is how light they are, how breathable, how compressible.
Let me tell you, when the shit really hits the fan in the mountains, you're not concerned about the few extra ounces, or how "breathable", or how compressible the jacket is. When things get bad, you want a something that's going to seal out all the elements like a bank vault. And that's exactly what the Super Alpine did better than any jacket that's ever been made.
Its best features, features that can no longer be found all together on one jacket were 1. its hood, and 2. its length.
The best thing about the hood was the high front collar, mentioned above. It closed up right under your nose, and it cinched up snugly around your face such that it kept the heat in and the wind out.
With respect to length, it went down below the belt line in the front and a little further down in back. All the jackets now cut off at the waist, guaranteeing that if you raise your arms or bend over, you will expose your midriff to the elements. (And I know all the standard arguments salesmen will give you for this: "you're supposed to wear them with bibs, and the arms are fit such that the jacket doesn't lift."
Nonsense! First of all, practically no one makes bibs anymore, and the jacket always lifts when you put your arms above your head. I don't care what they say.) And finally it was completely clean. Lots of jackets nowadays have drawstrings that hang out and either flap in the wind or in your face, or catch on gear, branches, or ski-lift chairs. All the drawstrings on the Super Alpine were hidden away on the inside.
I could go on about how great this jacket was. Fortunately, I have one left. I should have bought more, but I just thought it was inconceivable that jacket design would actually regress and get worse! This was truly the jacket for everything. You only needed one jacket as long as it was this one. It was perfect for sailing, mountainbiking, skiing, and climbing.
Since, you only needed one jacket, it was also good for the environment, because you didn't need to buy different jackets for different activities. Just look at how many "specialized" jackets Patagonia now sells. How is that good for the environment?
I've written them several times pleading with them to make this jacket again, perhaps with updated materials, but they just won't do it. So here is my requiem to the best jacket ever made. RIP Super Alpine.
Price Paid: $475

Awesome ....
Totally bombproof.
Guaranteed to last longer than you.
Fabric: 2 layer goretex
Price Paid: $425

1993 model. AKA: Gridman jacket. Toughest jacket ever. Pure minimalism and functionality. This thing is Bomber. You could probably use it has a rope and hang from it, IT'S THAT STRONG. If you have one and are reading this I will buy it from you just because when I wear this one out I will have another spare. Hell, I want to have a fleet of them so I'll never not have one. Just in case my house burns down or something, and then I wear the next one out, I'll still have a few. They don't make em' like they used to (not just patagonia but anybody.) Everything else is childs play (well almost everything else, the SEQUEL Storm King and Twighlight? jackets are awesome too, but they just shut down so are equally as hard to find). SELL ME YOUR SUPER ALPINE(S)!
Scalabr@clemson.edu
Peace
Fabric: 3 layer gore tex
Price Paid: $475

Though no longer in production, If you can find one, buy it. I've abused mine for five years and still looks new. The three-layer Gore-Tex is bomber, I've pulled curtains running with water and stayed totally dry. Two years ago while changing layers at a belay, my partner stepped backwards on it with a pair of Rambos on. After yelling at him and inspecting for damage, I couldn't find any holes, snags, anything: nuclear proof. I still use it today and my brother is on his second Karakorum (now the Kichatna). You ought to be able find it cheap because Patagonias change. Tough old jacket for those tough old climbers. Buy it, My brother just did.
Fabric: Ripstop/Aramid Blend
Price Paid: Org. $425

My new go-to jacket.
I have found a new go-to jacket. I thought the Arc'teryx Beta AR was perfect but this one is even better. This is the perfect 3-season storm shell. It fits over an insulating layer. The pockets are well placed and the pit zips are so easy to use with one hand. The inside pocket works well for holding keys or other small items. 
The only other con is that some people might not like the bright colors.
I am 5'11" and 180 lbs and a large provides room for a softshell underneath in the winter without being too large without.
As a disclaimer, I am affiliated with Gore for product testing of Gore-tex products for the purpose of product review and recommendation. I do receive items from Gore for these purposes.
Disclosure: The reviewer received a sample of this product from the brand or its representatives in exchange for a review.
Source: tested or reviewed it for the manufacturer (Kept it)

The author of this review is affiliated with Gore for product testing and review.
Very nice jacket. Seems to be very well made and is holding up well. The jackets seem to run true to size. I am 6 foot 190 pounds and the large fits well. Loose enough that you can layer it, but not so loose that you can't easily wear it alone, which is what I normally do.

No flaws in it so far with skiing or other outdoor activities. I like that it has a high collar that zipped up keeps the elements from around my neck.
Cons
None so far. Does what is expected.
Vents well, and all cords, zippers etc. holding up well after one season of use.
Source: bought it new


All Super Alpine Jacket versions
In addition to the 6 men's reviews above, there is 1 review for another version of the Super Alpine Jacket. Read all reviews »
You May Like