Patagonia Super Pluma Jacket

Top 25 in men's Waterproof Jackets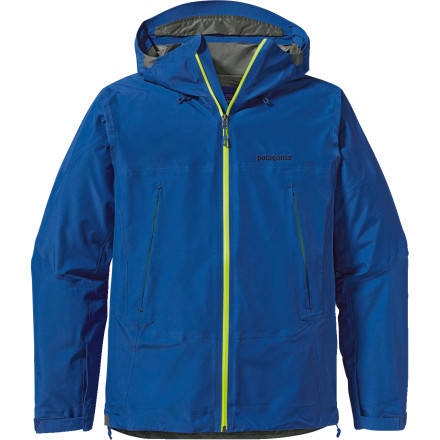 Specs
Price
MSRP: $499.00
Historic Range: $243.83-$549.00
Reviewers Paid: $99.00-$299.00

Weight
15.1 oz / 428 g

Fabric
3 Layer, 3.2 oz 40-Denier GORE-TEX® Pro Shell 100% Nylon / DWR Finish

Reviews
5

reviews

5-star:

4

4-star:

1

3-star:

0

2-star:

0

1-star:

0
Great all around jacket, built for anything. Will keep you dry.
Pros
Waterproof
Windproof
Durable
Lightweight
Cons
Sleeves are longer than normal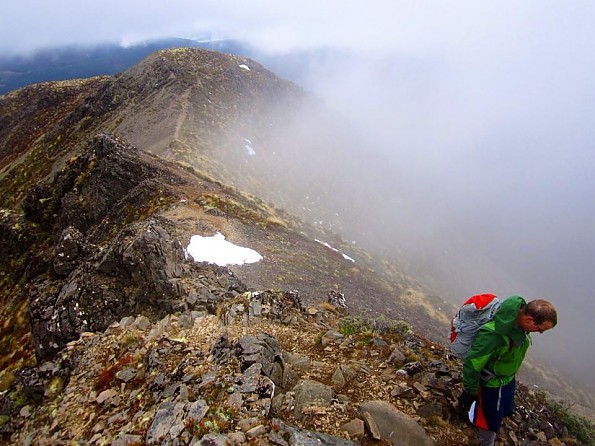 I bought this jacket for backpacking, but after a couple uses, it became my everything jacket. Quickly replaced my go-to ski jacket, found myself wearing it for chilly bike rides, short little strolls through the woods, kayaking and canoeing in the spring and fall. Extremely windproof and waterproof, and with its light weight there is really no reason not to bring it along.
The first time I took it out on a trip, 65 degree temps dropped to low 30's when a storm rolled in. Hard driving sleet and rain soaked through everyone else's gear but mine. Hood adjusts easily and effectively for keeping out precipitation, fits well over a helmet or without one.
Built tough and withstood ski wipeouts on icy conditions and bush whacking through dense forest. Pit zips to get read of excess heat, pockets that sit above the hip-belt of a pack so you can still get into them on the move, an internal pocket works well for holding a phone so I could listen to music out skiing.
Overall, I love this jacket, would highly recommend.
Source: bought it new
Price Paid: $250

All right, there's been a lot of talk about this jacket not being waterproof, some incredibly cheap jackets being bone-dry, etc. So I decided to make a test of three similarly priced but differently constructed shells that I happen to own.
The contestants are:
• 98 Patagonia Storm Jacket
Fabric: 2-Ply Mid Weight Taslanized Nylon
Barrier: H2NO Storm Coating
Lining: Mesh and Nylon Taffeta
Weight: 25oz.
No pit zips or reinforcement patches
• 99 Patagonia Super Pluma Jacket
Fabric: 3-Ply Light Weight Ripstop Nylon
Barrier: H2NO StormHB Coating
Lining: Laminated Tricot Scrim
Weight: 18 oz.
No pit zips or reinforcement patches
• 96 Marmot Cervino Jacket
Fabric: 2-Ply Light Weight Microfiber Nylon and Mid Weight Taslanized Nylon
Barrier: MemBrain Laminate
Lining: Mesh and Nylon Taffeta
Weight: 32 oz.
Pit zips and reinforcement patches
OK, How waterproof are these things? This is test drill:
Wear Capilene shirt and pants and wool socks, but no fleece layer that could absorb leakage or sweat. Put on the jacket, a pair of Waterproof pants, waterproof boots, and Marmot Randonee Gore-Tex ski gloves. Batten down the hatches and pull up the hood as far as it will go. Put large hunks of toilet paper in the chest pockets (a place about equal with the hood and back shoulders for potential leakage). Then stand in the shower at full force and let it run until the 40 gallon water heater runs out of hot water (about 20 minutes, and I figure the equivalent of 10-12 inches of rain). If, after this, the toilet paper is dry enough to be lit with a match, then the jacket is waterproof enough for me.
With the Patagonia Storm jacket, the toilet paper was completely dry. The insides of the zipper flaps were wet (to be expected) and there was a bit of wet through where the hood cord came out of the taffeta tunnel near the outside edge of the hood. The exterior fabric was saturated, but the inside was dry. After I hung the jacket up, the taffeta in the sleeves felt clammy (probably because the fabric cooled down and the moisture was my sweat condensing—I think mesh is a better liner for the arms), and the taffeta lower lining was starting to soak through from water running down the outer fabric and then being wicked up by the liner (which makes the mesh drain strip at the bottom a brilliant idea). The jacket air-dried overnight.
Next night, I did the same thing with a Patagonia Super Pluma jacket (H2No and Deluge DWR but no pit-zips.) Again, dry as Natur champagne (interior and toilet paper) except for some wetting of the inside of the zipper flaps. This is a nearly new jacket, but the Deluge DWR does the trick—fabric saturation only on the hood and over the pockets. When drying no wicking of the exterior water into the liner except for the hem tunnel. Air-dried in a couple of hours without shaking.
As for the Marmot Cervino (from the first year it was made), things didn't work as well. Although in fairness to Marmot, they've recently pulled back a little on their statements about their MemBrain laminate, and this has been a fine ski parka (the catalog copy says: "especially suitable for very cold, drier climates like the Rockies where breathability and softness are key." Because of the considerable number of seams, the zip-off hood, and pit zips, I thought this jacket would at least leak at the hood connection or in the pit zips, but these areas held up well. It seems that the force of the water simply overwhelmed the barrier—one paper wad was drenched, the other was damp; the mesh liner was wet; and one side of my shirt was damp. The Cervino's microfiber shell was really saturated, and it didn't air dry overnight. It should be noted that the present Cervino has entirely different fabric than the one I tested—although it still uses MemBrain laminate.
As for the Patagonia Triolet pants (three-layer H2No with smooth nylon shell), it's a little harder to say—the tricot scrim was a bit clammy in the knees and seat—probably from perspiration (it was, after all, hot water). There was no leak through at the seams or even the side zippers—which I found amazing. Water beaded well except at the knees (I've Nikwaxed these), and they dried as fast as the Super Pluma.
Tests with a Patagonia Glade Runner Acitvent/Pneumatic jacket and an old Sierra Designs coated nylon parka didn't last long about two minutes for the Activent and five for the coated nylon without any seam taping.
I never really expected the gloves to stay dry through this deluge, and they didn't. I put the glove gauntlet over the jacket sleeves and tightened the draw cord as much as I could. My hands had water on them at the end, but not really running off, and the dri-clime liner was damp but not soaking. After I took the gloves off to dry, the liners really got soaked—proving that they wick like crazy, which is what they are supposed to do. I suspect the problem is that water runs down from the jacket sleeve into the gauntlet (and thus onto your hand) rather than the gloves are inherently leaky. But the gauntlets are too bulky to fit under the jacket sleeve. Gloves are also notoriously difficult to waterproof even with Gore-Tex (although better gloves like Marmot and Black Diamond have either welded or taped seams on the waterproof bladder).
So the moral is, the Storm Jacket is waterproof but not the best choice for extended trips because the outer fabric saturates—thus destroying breathability until the outer shell dries again. As Clyde Soles has said over and over in Rock and Ice magazine, three-ply shells like the Super Pluma and others are the only choice for the big mountains. As Marmot itself says, MemBrain is not as waterproof as Gore-Tex (65+PSI for Gore vs. 45 PSI for MemBrain). Patagonia says H2No is as waterproof as Gore-Tex but not as breathable—which seems to be true. Smooth finishes such as ripstop bead water better than texturized fabrics, and three-layer parkas feel less clammy.
As for durability, I've never seen a really torn-up Storm Jacket, I put a big hole in an old Super Pluma Gore-Tex I had by falling on some small rocks, and the microfiber of the Cervino got little pin hole tears near the hem from falling on gravel covering an icy sidewalk.
Fabric: Various
Price Paid: $28-325

I researched this jacket comparing it to the NF Mt. Light. Patagonia by far makes a superior jacket. The Super Pluma may not have all the pockets and whistles the NF does but it's better made and you're not a walking advertisement. The Super Pluma is not a warm jacket, but it's great for wind and rain. It's also extremely light, weighting 18 oz.
Fabric: 3 layer H2No
Fill: PATAGONIA
Price Paid: $299

For those who believe that light is right, this is a superb parka. As always with Patagonia, the detailing is superb--foam drawstring locks on the hood that are the best that I've ever seen, access to the waist drawstrings without unzipping the front, etc. the hood is big enough to fit over a helmet, and moves reasonably well with your head.
The lack of pit zips or an internal pocket might dissuade some people, but I really don't miss them at all. They also add weight and unnecessary complexity for a parka designed to be bomber storm protection for only 18 ounces.
Although this parka has no reinforcing fabric on the elbows and shoulders, it has held remarkably well in almost daily wear over three winters--much better than a Marmot Cervino jacket I have.
The newest version of the Super Pluma uses Patagonia's H2NO Storm barrier instead of GoreTex and a different fabric, so durabilty, water repellency, etc. may be different than what I've experienced.
Fabric: Three Layer Gore-Tex
Price Paid: $99 on sale

This is a great jacket; very lightweight, with the usual excellent workmanship I've come to expect from Patagonia. It does not have pit zips, however, I've survived without them (it's funny how once a new feature comes out, everyone thinks that the world didn't exist beforehand; sort of like how people figured ice climbing didn't exist before plastic boots!)
Anyway, it's a great jacket for ice climbing, backpacking, and general mountaineering. The fabric is lightweight, so no bushwacking or chimney climbing, but other than that it covers a lot of ground at only 19 oz.
Fabric: Ripstop Gore-tex, 3 ply
Price Paid: $495 CDN

You May Like
Recently on Trailspace