Pat's Backcountry Beverages Brew Concentrate

Top 25 in Drinks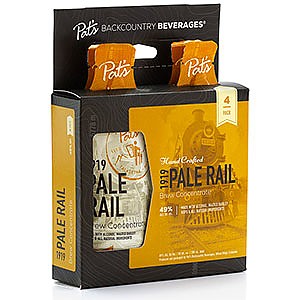 Specs
| | |
| --- | --- |
| Price | Reviewers Paid: $59.00 |
Reviews
1

review

5-star:

0

4-star:

1

3-star:

0

2-star:

0

1-star:

0
Version reviewed: Pale Rail Ale & Black Hops iPA
Perfect companions to their highly acclaimed Carbonator Bottle, these flavors give the user the ability to "brew" fresh adult beverages.
Pros
Nice to have a choice of adult beverages once camp is set
A LOT lighter than carrying a pint of ale!
Rather tasty, once you get used to the process
Shipping varies by state, but always requires a signature by an adult over 21 years of age
Cons
The instructions are a little daunting at first
Only 3 flavors currently available(updated)
Shipping requires a signature by an adult over 21 years of age
(arrange delivery to a place you WILL be)
I'm not a huge proponent of imbibing on the trail, but on a hot summer night after a day long hike, there's nothing quite as satisfying as a cool, frothy ale by the fire pit to set the night off right. 
I'll review the two "adult beverages" here, with hopes that someone more experienced with the soda flavors might chime in! The mixing and carbonation process takes a little practice, but once you've mastered it, it's not too bad (and is the same for these as the available soda flavors).
1919 Pale Rail Ale is a blend of mild and aromatic malts and Cascade hops that delivers a complex, well-balanced, craft styled brew. Its initial taste is that of a sweeter, malty ale with a sharp (not overpowering) snap of hops. I noted slight, flowery nuances of vanilla, cardamom, and coriander in the aftertaste.
It's really quite delicious and refreshing when made with (filtered) cold spring water, and compares to commercial or boutique brands quite favorably. Different, slightly smokey flavor elements are present when this mix is made with warmer water.
Black Hops iPA is crafted using generous portions of Cascade hops combined with a bold blend of dark, roasted malts to create a smooth yet robust dark brew. This is NOT a typical stout or porter, but more of a tribute to those styles with a heavy dose of hops.
In the tradition of India Pale Ales, this iPA is big — in a surprising combination of flavors. Dark, smokey, roasted, and sweet elements are offset by a slightly bitter aftertaste not unlike northwestern IPA's. This was a pleasant surprise, and again, presents different flavor components with different water temperatures.
Now onto the mixing process: Same for either brew (and sodas) and takes only about 5 minutes.
1) Open the bottle and remove the Carbonator cup from the cap. Add a few ounces of water to the bottle, replace the cap (not Carbonator cup) and invert the bottle. Open and close the lever on the cap to half way (45 degrees) 6-10 times until a little fluid seeps out. This measures the correct amount of fluid into a small reservoir in the cap for the CO2 activator packet. Uncap and add water to the bottle, just below the 16oz mark.
2) Open the Concentrated syrup and add the contents of the pouch (in your choice of flavor) to the pint of water, rolling the packet like and energy gel pouch or toothpaste. Gently swirl the container to mix. 
3) Open and pour in the activator pack into the carbonator cup. Fit that cup tightly back onto the underside of the cap. 
4) Recap the bottle, lift the lever 6-10 times to seep the reserved liquid into the activator powders. Lock the lever down and then shake back and fourth HORIZONTALLY (avoid inverting or shaking the bottle up and down) for about two minutes.
5) Here's where I go rogue and stray from instructions. After carbonation and mixing, I let the bottle sit for about a minute with the carbonator lever half open (*45 degrees*). This allows enough pressurized CO2 to dissipate so that the brew remains nicely carbonated and ends up in you...instead of all over you! 
Then open the bottle, and enjoy the fresh taste of your own craft brewing...wherever your adventures take you!
Aug. 2015 Update - New Flavor!! - American Logger - The Lumberjack of beers!
They've done it again. This nicely hopped, flavorful beverage is an excellent addition to the originals. I found it to carbonate a little bit better, and enjoyed several with some thru-hikers on the Appalachian Trail. Traveler, Spitz and "Mike"...if you read this, it was great meeting you all and talking around the fire.
My hope is that Pat's Backcountry Beverages will continue to bring us more variety!
This is touted on their WEBSITE as:
"the most environmentally-responsible carbonated beverage system on earth! This awesome addition to your gear list is engineered with an emphasis on rugged durability and really is first of it's kind - fun. Basically, it's your standard, everyday water bottle (yawn). However, when you decide to kick it into high gear and unleash the technology hiding under its cap, you get a burst of refreshing carbonation to energize any beverage of your choice. So no matter how far your wanderlust leads you down the trail, you can still enjoy a crisp, carbonated beverage anywhere on the planet."
Check out their other soda flavors too.
Cheers!
Source: bought it new
Price Paid: $59.99 for the kit - bottle, 10 activators and 4 packs of each flavor

You May Like
Recently on Trailspace