Perception Expression 15.0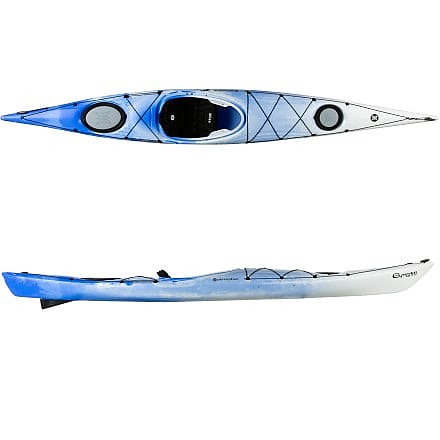 A fantastic touring kayak that handles well in most conditions. Build quality is good and paddling it is a pleasure. Easy to roll, paddles well on edge and great for the intermediate paddler to advance their skills but isn't quite ready for (or doesn't have the storage for!) a longer more dedicated sea boat.
Pros
Looks
Confidence inspiring
Price
Cons
Back rest (Definitely get the back band instead of the stupidly large armchair!)
Not as fast as a full on sea kayak (obviously)
Skeg system could be better thought out
I have used both the 14.5 Expression (called the 14 in the UK) and the Expression 15. Both are great boats that in some instances noticeably different.
Starting with storage, the 15 has a bit more space in the bulk head compartments, however the 14 still has more than enough room to swallow up enough gear for a camping weekend. The front and back bulkheads have good seals on them as do the hatch covers. I have rolled my boat repeatedly and never even found so much as a drop inside the storage compartments - therefore both boats tick this box well.
As far as comfort is concerned, outfitting is the same in both. The seat is comfortable and provides a sufficient amount of adjustment to the individual. The 14 has enough length to fit my long legs, but may start to get tight if you are taller than 6'2", go for the 15.  14 also has less volume inside, but unless you are larger than a size 12 shoe (like me), this wont matter. - Only if I wear big paddling boots do my feet start to feel wedged in between the underside of the deck and the hull.
I would strongly recommend two alterations / addition to get as near to a perfect cockpit as possible:
1)  Having tried a 15 with a full size (standard fitted) seat back, I opted for a back-band style seat back (which will need to be specifically requested from your retailer or perception). This is more versatile and makes the boat easier to learn to roll in and has the added safety benefit associated with deep water self rescue. - Perhaps not quite as comfortable as the full size backrest, but it does encourage better posture and is a "proper" kayak seat back. The larger seat backrest also didn't work with my buoyancy aid or neoprene spray deck. 
2) Add hip pads: Unless you are really large (I am 6ft tall and 160lbs) I installed some Pyranha pads that are great in my WW boats and work just as well in the expression. They will allow much better connection with the boat, assists with edging, rolling and nearly all maneuvers, just greater control and feel for whats going on. These took 5 mins to install without any alteration to the boat itself.
The skeg in this boat works well, although you'll probably hardly ever use it unless you have strong side / quartering winds. Simple (rope pully) operation, nothing technical, so less to go wrong. Only down sides to it is that when the skeg is deployed you end up with a bit of rope dangling just above the waterline, - not really an issue, but doesn't fit in with the rest of the boats "neat and tidy" appearance.
The other minor irritant is that skeg box itself. Unlike the Venture / P&H kayaks I've used which have skeg boxes with open back ends at the rear of the boat, the Perception box is incorporated more into the hull, effectively being closed in from all sides. This may improve the appearance but if you regularly beach the kayak or run into very shallow muddy water a combination of grit, stones, mud & sand etc can get caught up in here and occasionally jam the skeg in. Doesn't happen much and is very easy to sort out, but by the time you notice this, you'll not be in a position to reach! 
Paddling: The difference between the 2 sizes of boat is minimal and therefore you'd think the difference you feel on the water should only be very slight? In some instances this is true but the 15 feels more stable (primary stability) as its a larger (longer and wider boat). It does have that bigger boat feel on the water, with the advantages and disadvantages that come with this feeling.
The 14 is more responsive and gives the paddler a slightly more connected feel to the boat, however, possibly has slightly less primary stability and is in some ways a noticeably smaller boat. I definitely feel my edges more in the 14 compared to the 15, but both are very good on secondary stability fronts and most novice / intermediates (depending on your size) will feel settled in both boats before long, finding their edges easily and with confidence.
One major difference I found between paddling the two boats was how you stow your gear. The 15 lets you get away with chucking your supplies in without too much thought, and paddles on regardless, however, do this in the 14 and you can really feel if there is uneven distribution. I would recommend just being a bit more thoughtful to how you pack your gear in the 14, if done correctly, its fine.
I have paddled these boats all day (with a few rest stops). If you adjust your seat properly you won't get numb legs, but until you experiment, you may end up needing to stretch out a few times. The good thing about both the 15 and 14 is that there is enough room to take your feet off the foot pegs and stretch out while sitting inside the kayak. If you have the back band backrest you can really stretch yourself out now and again (provided your balance is fairly good!). 
Both boats have a really impressive looking deck. Plenty of neat and well placed lines and ropes to attach and stow equipment on. The simplicity of the deck (having no day hatch/deck pod or compass recess) really makes the boat look nice and for those shorter day trips as you have the advantage of a clean profile. Although fairly spartan of accessories you can easily add deck bags and I recently purchased a compass that specifically fits kayak decks using bungee cord. 
The build quality and finishes of the boat is good. I would say excellent, but you aren't paying for excellent. For excellent build quality and for very very tough Poly hulls you need to be paying £250 - £500 more, but overall it is a very good package especially for the price. Like any kayak, especially plastic ones, store and transport it correctly and it will last well.
I prefer the Expression to the Easky 15 (which is a great kayak too and I have paddled a lot of Venture kayaks). Both are considerably nicer than the Charleston, but if Dagger is your brand pay more for the the Alchemy which I think is more comparable.    
Source: bought it new
Price Paid: £650 approx $975

This is my second review, three years in upgrading rating from 1 star to 4 stars.
Pros
Overall nice design
Holds up over time
Cons
Seating system presents signficant safety issues if you have to get back in your boat
Not very impressive customer service from Confluence
Original Review 6/30/2012:
I bought this boat two weeks ago and have put approximately 25 miles on the Black River in Northern New York without problem.
My initial impression was this was an excellent boat. However, yesterday I took the boat out to Southwicks Beach on Lake Ontario. There was a pretty good chop with 2-3 foot swells. My purpose for the trip was to practice deep water self rescues and rolls. I took the boat out about 100 meters and dumped it.
I've done stern entries on other boats with no problem, however the Expression was a whole different ball game. I popped up on the rear deck with no problem, then my dilemma. As I scooted forward, the seat back presented as a four inch high groin / thigh hurdle, even with the seat bottomed out. After approximately 25 attempts with only 3 successful entries, I was cursing the boat and the heavens. My groin had taken multiple shots, my thighs, knuckles, and other body parts were freely bleeding from catching the sharp edges of the seat back.
Additionally, if you don't clear the seat, it folds forward and you find yourself sitting on the back of the seat, with no way to correct it without bailing out. I was exhausted and livid. I was thankful I hadn't tried this on the ocean or in a Florida / Georgia swamp, chum comes to mind.
All joking aside, this is a very serious design flaw and could have been fatal had I been much further out. I called Perception about this issue this a.m. and their rep indicated the "design was not intended for open water self rescue, it's more of a recreational boat". Perception does not advertise this boat as a "Recreational" boat. The rep stated that if I planned on open water rescue and rolls, I would need a back band set up. He gave me a part # 8023007, Phase 3 XP Back Band. They wouldn't comp me for the replacement. 
Perception needs to not advertise this boat as an "Ocean Touring Sea Kayak", until they retrofit their boats with the appropriate back bands. Although I have enjoyed the boat's overall performance, the seat issue is really scary. So for the time being I'll be sticking close to shore. This has not been a good start to my relationship with Perception.
Updated - 05/26/2015:
After paddling this boat for three years on Lake Ontario and throughout the Adirondacks, I've really come to enjoy this boat. Most of my paddling distances range from 10-30 miles, with paddling up until the local rivers are frozen over. 
My initial review (above) I still feel is spot on, but once I replaced the seat back with a back band and resealed the bulkheads, it's a much better boat. For a boat at this price point, it really is hard to beat. I was paddling some $3,000 - $3,600 Kevlar boats last weekend in Old Forge, N.Y., and by the end of the weekend, I was still very happy with my Expression. 
I actually just purchased the Expression 14.5, in lime green, for my wife just prior to writing this review. My advice, for someone just starting out or transitioning to a longer boat, is to be patient. As your skills and handling improve, the boat's features will begin in shine. As for the upkeep of the boat, I wash it with a UV cleaner, usually three times a year and it looks brand new.
Source: bought it new
Price Paid: $990

Your Review
Where to Buy
Help support this site by making your next gear purchase through one of the links above. Click a link, buy what you need, and the seller will contribute a portion of the purchase price to support Trailspace's independent gear reviews.
You May Like
Specs
Price
Historic Range: $838.93-$1,572.19
Reviewers Paid: $975.00-$990.00

Recently on Trailspace