Petzl MYO XP

The MYO XP has been discontinued. It last appeared in Petzl's 2011 product line. If you're looking for something new, check out the best headlamps for 2023.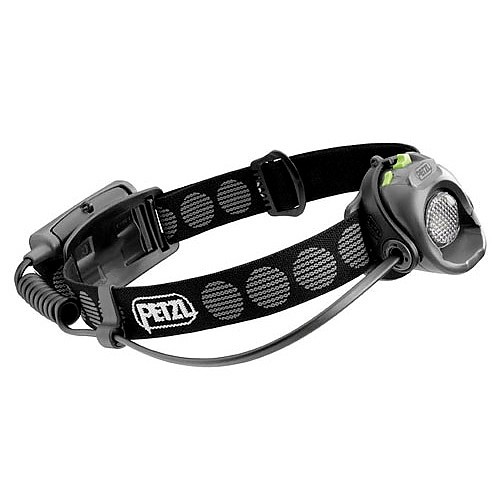 BEST HEADLAMP AND I'VE BEEN USING IT FOR 20 YEARS NOW! Better than any rechargeable battery, beam is easily adjustable w/flip up diffuser or different settings. Easy to aim light and stays where you aim it, unlike BioLite.
Pros
Runs on AA batteries, so extremely reliable and long-lasting use given battery to type and power of the light source.
The brightest light will still give you ample battery time!
My all-time EVER favorite headlamp STILL 20 years later!
Cons
This headlamp cannot be purchase anywhere anymore.
Amazing diffuse capabilities incomparable to even the newest lamps. Amazing battery value, love that it uses AA batteries bc it's predicate and reliable almost exactly everytime.
The diffuser that flips up is great to light needed closeups for rescues, gear maintenance/management, cooking or anything on the trail. Perfect amount of lumens and exquisite flexibility for serious outdoorsmen needing quality diverse headlamp.
Experience
Ice climbing, rock climbing, backpacking, trail running, long distance running, kayaking, and deep back country travel. Also sailing, running the neighborhood, and use in emergency at home.
Source: bought it new
Price Paid: $30 (bc I saved REI dividends! Norm price $89

I've had my Myo XP for a couple of years. It's held up extremely well under heavy use. I've seen no signs of the connection problems near the lamp mentioned elsewhere, and I've found the waterproofing to be excellent. This thing has been attached to my head during torrential downpours and hasn't so much as flickered.
Many people dislike the small, fiddly buttons and I understand why. In some ways they are actually an advantage. My light travels quite a bit with me, and when it's packed away in a bag the small buttons are tucked away in the head mount in such a way as to make it nearly impossible to activate them accidentally. Many times I have arrived to find other lights completely discharged after illuminating a dark recess of my bag all day.
It also has an unregulated output, which makes a refreshing change on a bright high quality light. I prefer it if the light fails gradually under low battery power, rather than cutting out from max power in just a few minutes. It also has an effective battery level monitor LED which switches from green to red via amber as the batteries deplete.
It is also rechargeable compatible (2008 manufacture onwards) which makes it quite economical for regular use. The newer models which can take standard rechargeable batteries have this indicated on the battery compartment. It's good to be able to use standard batteries rather than expensive custom battery packs with a finite lifetime.
Price Paid: £60

Worked very well for the first couple of years, but eventually the wire broke near the lamp unit.
The diffuser is okay, but the smaller leds on the Black Diamond headlamp I own seem to provide as much light but burn much less juice.
The boost function is kinda silly.
This is my 3rd Petzl and the best of them all! (also had 2 BD and a Princeton). It just sits so well on your head, the light is great, low level for reading inside the tent, boost it up to find the trail in the snow!
The new RXP is now out but I don't see any point in getting it, the XP works so well and I can live very happy with 3 lighting levels and not 9 that I need to program and then hope nothing will go wrong with the chip when I'm out in the country...why fixing something if it aint broken?
1/2 point down just because the weight and size, but I'm still happy to take it with me every long backpacking trip I'm going to.
Does not stand the test of time, the solid copper gauge wire is too thin and in time will break between the battery pack and lamp, rendering the lamp useless.
Price Paid: Christmas Gift

I recently used a new Myo XP purchased from REI (on sale) for its original purpose--caving. In this case, the trip was into a dark lava tube at 7000 feet that was still cold enough to contain ice. The Myo worked just fine, for he most part.
The light switch is small, which makes it harder to use in a cold cave. The "turbo" button is a gimmick, but the light diffuser works like a champ. The lamp was used with a Petzl Ecrin helmet with tabs to hold the light in place. No problems with the light falling off the helmet this time, but the light might not work so well with a helmet without those tabs. The light uses only 3 AAA batteries, but the cave trip wasn't long enough to wear out the cells.
In general, the Myo is light, seems to be easy on batteries, but the light switch should be larger for use in cold weather.
Price Paid: $60

I bought this light to replace my nite lite halogen headlamp for raccoon hunting. The 6volt battery on that old light was way too heavy. Other led headlamps I've tried weren't bright enough for the job but this Petzl worked great. The light was bright enough to see animals up to 100 yds away.
I wear a hat most of the time so I didn't bother attaching the optional top strap. I've been out about 10 nights since I got the light and haven't replaced the batteries yet. : ) That's always nice. Very happy with this light.
Great light! I have used the Tikka XP for a couple of years and ran across this unit at REI at their garage sale. IT IS BRIGHT! I like the design and the extra battery life. Its a little heavier than the Tikka but the overhead strap balances the battery pack and the headlamp evenly. If you can justify the extra cash over the Tikka, I think you won't be disappointed.
Price Paid: $34.95

At first, I thought this could be one of the best all around headlights. It's well made, and is also a nice looking headlamp that looks good on me. I also like the head strap that goes around the head. Three point strap is good when not wanting to wear a hat, but I do wear a hat most of the time when camping, hiking or working at night in wildlife research. Without the three point strap system I can wear the headlight on the outside of my Tilley Hat that I wear 90% of the time, or even when needed, wear it over top of a wool cap. And it's easier to wear a wool cap and pull the back of the cap over the battery pack to keep the batteries warm in cold weather.
However, after getting the light and using it in the field and on few hikes, I was a little disappointed. The light starts off bright, but the lux rating is not very high (Doesn't illuminate distant objects), and it start dimming soon after tuning it on in a slow steady decline meaning the light is not regulated. The lack of regulations is the biggest problem I have with this headlamp. After only about 30 minutes of use with the light set on the High setting, the lights output is down to about 60% of its beginning brightness putting out less light the my Princeton Tec Apex Headlamp in the Low 3 Watt Mode. Then it declines steadily to 50% of its start-out brightness in less then 5 hours. I just can't imagine why Petzl would go through the trouble of making a great looking light such as this, and put such high degree of excellence into most everything else on the light, but then not use a regulator to regulate power/light output throughout the life of the batteries. It's just dumb, just dumb!
Other problems I have with MYO XP is the fact that you can't use Lithium AA batteries for better cold weather performance. With Alkaline AA's after just a few hours in temperatures below 30 degrees F., the batteries are greatly reduced in capacity. After 5 hours below 25 degrees, I turned on the headlamp and the LED just about glowed, and that's all the output I got. So, in cold weather use, you would need to keep the headlamp's battery pack under a pull over cap to keep the batteries warm and the light working good. But if you are not wearing a wool cap, this could be a problem. Also, there is the fact that the headlamp is not very waterproof. I'd call it splash proof at best. And the operations buttons/switches are too small for big hands like mine or anyone wearing gloves.
Compared to my Princeton Tec Apex Headlamp, the Apex is much brighter has better throw and it will take Alkaline, Lithium or Rechargeable NiMH AA's giving more power options, and with Lithium AA's, much better cold weather performance. Not only is the Princeton Tec much bright with better throw, it's also regulated. With Lithium AA's the Apex will run in the High 3 Watt Mode at about 90% of it's start out brightness for about 5 1/2 hours, then it drops out of regulation, and gives a few hours of dim light to find your spare batteries. And it will give you over 24 hours of regulated light on the Low 5 mm LED's setting, giving more then enough light for most tasks in and around camp, in the tent or even walking a paved path. Also, the Apex is completely waterproof so there is no worry regarding wearing it in heavy rain.
If Petzl upgrades the MYO XP by putting in a regulator, allows for use of Lithium AA's, makes the MYO XP water proof and gives it bigger button switches, then they will have one for the best all around headlamps. So, they have some work that needs to be done. As of now, I'd call it a good headlamp, not a great headlamp. I really only wanted to give the MYO XP a 2 Star Rating, but it's a good looking headlamp and only because I'm in a good mood today, I'll give it 3 Stars. But Petzl needs to get moving on this and make these much needed improvements.
Price Paid: $71.95

Bright, small, light and powerful... Just what's needed for cooking, walking, and other light activities during nighttime.
Price Paid: 30$

Bright for an L.E.D. lamp.
However... the lamp on high is bright but fails to provide the long distance visibility that one leading on a glacier, ice climb or densely treed areas might wish they had.
The boost function is, honestly, stupid. Most manufacturers call this bright feature "high" and give you the option to leave it on longer than the 20 seconds the MYO XP allows. Also the power and boost buttons are so small that it is nearly impossible to operate them with gloves or even cold hands.
The light diffuser that provides the broad, short lighting is great on a summer moth watching trip but once again useless with cold, tired or gloved hands. It also manages to break easily when it is left resting out.
I am sure it would be replaced if it were to break, but remember that because Petzl is a foreign company repairs take much longer than most domestic manufacturers.
The MYO XP is a decent lamp for $35, but $70? I think that there are several better options. After several trips, I have returned mine.
Price Paid: $69.95

Headlamps accounted for a huge portion of outfitter sales last year -- every serious camping or hiking enthusiast needs one. They make outdoor night life easy and hands-free.
I retired my basic Petzl Myo halogen headlamp after three trips. It's not a bad design, but halogen literally pales in comparison to more recent LED headlamps. LED's are low power (meaning longer battery life), and provide more than enough light for backpacking purposes. The halogen is nice for distance, especially if you're moving fast (if you're biking).
http://outdoors.jasonpaterson.com/article.html?id=5
Price Paid: $89.99 CAD

I bought the XP when it first came out, because it was supposed to be the new best thing in headlamp technology. I still use it as my primary headlamp, but I think it suffers from some design flaws.
For starters, there's no denying that it IS bright. Very bright, if you're used to the old 3 led Tikka or equivalent. Despite having only one led, that sucker shines like a white sun. The boost mode ups the output even farther, and I was surpised to find myself actually using it while hunting for trail signs in a downpour at night. It's a nice touch.
The other real selling point is that like all led lights, it lasts forever, compared to regular bulbs. It's probably the brightest led light in its weight class, so if you're worried about switching to leds because they're dimmer, don't sweat it. For the size and weight, this thing blows away every other light I've used.
But I really dislike the switch for turning it on or off. This is a little yellow rocker type switch on the top outside, right next to the little yellow button for the boost mode. Rock once to turn it on, rock it again to up the power, and so on. This works fine in the store, but is pretty difficult when you're wearing gloves, or your hands are numb with cold, or you're covered in mud. I want a big old button somewhere, one that I can easily find in the dark while fending off a bear with my other hand.
My second complaint is about the flip up diffuser lens. This little piece of plastic does a great job of turning the laserlike spot into a pleasant floodlight, but you need warm hands and good fingernails to flip it up. It's impossible to do with gloves, and if your hands are dirty you're bound to smudge it so bad that you lose most of your light. It rests in the down position, so when you want to use it you have to reach up to your head, find it, and flip it up at the right angle. It's not really that difficult, but neither is it very easy.
The light does pivot up and down, which is nice for adjusting placement, but since the buttons are all on the part that pivots I always have to feel my headlamp to figure out where it's pointing so I know where to find the buttons. Arg. Some of the time I end up having to take it off to turn it on.
The three AA batteries (why 3? dunno.) sit in a separate compartment on the back of the headband. The light comes with an extra piece of headband that can go over the top of your head, but I've never needed it. The cord that connects the batteries to the lamp is a little short if you have a big head like me, so mine sits a little crooked in the back, which isn't a big deal. It has a little colored led battery indicator, but they last so long I've never actually replaced mine.
One thing it does have going for it, this thing appears to be super waterproof. It's not advertised as such, but mine has survived some real downpours and even fallen in the drink a few times, and it's still going strong. I wouldn't hesitate to use it as a primary for caving in wet environments.
I kind of enjoy hiking with the XP at night with a bunch of other hikers with headlamps, because side by side it's easy to see that it's WAY brighter. Apparently I like feeling like I have superior gear more than I dislike some of the ease of use issues mentioned above.
Price Paid: $70

I have to tell you I am extremely impressed with this lamp. Not long ago I spent $150 on a small flashlight that ran off a single 123 battery and used what is called a Luxeon LED lens. This flashlight is brighter then a 4D cell maglight. It was small enough to fit completely in my palm. This is the flashlight I have been using and until now I have not found its equal.
I recently purchased this Petzl MYO XP from REI for $50. It was on sale. When I brought it home I imediately tested it against my $150 LED flashlight. The MYO is brighter on high and even more so on boost. I was a bit heart sick that my flashlight had finally been beaten (and for a third the cost).
I was happy with the MYO though. This is a great lamp. Four settings and a dispersal lens that allows you to spread out the light pattern. It is well built and runs only on 3 AA batteries. You'll get about 7 hours on high with the batteries. This brings me to my one gripe about this light. Petzel cooked up some way to measure the time this lamp runs. Rather then just say "It runs 7 hours on high" they go into all the terms about how many foot meters of light you get…if you add subtract then divide you will then know how long your light will run. What is up with this?? Are they trying to be funny? Just tell me how long the frappin light will last on each of its settings please.
Anyway this aside...this is one plain awesome light and if you have the cash and are looking for a head lamp...this is the one to get… if you don't have the cash save up…because this is the one to get. Yes, it really is that good.
Price Paid: $50

Your Review
You May Like
Specs
Price
Historic Range: $49.98-$85.95
Reviewers Paid: $30.00-$71.95

Recently on Trailspace