Petzl Reactik +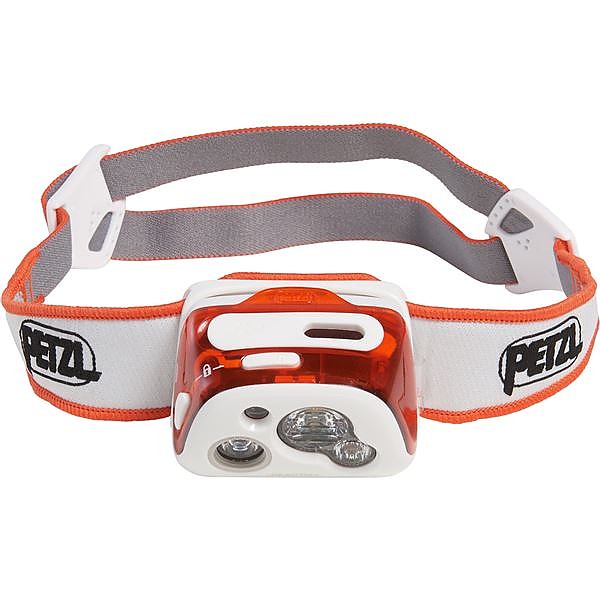 The Petzl Reactik Plus incorporates Petzl's reactive technology light settings with the added feature of being Bluetooth compatible to pair the light with the MyPetzl Light app. I highly recommend this light and it performs well in a multitude of activities ranging from hiking and snowshoeing to backcountry ski touring.
Pros
Ability to customize light output
Adjusts to fit head or helmet
Lightweight design
Cons
Autonomous light can be impacted by condensation
Bluetooth did not sync at first
Background Details:
The Petzl Reactik Plus is a headlamp that incorporates Petzl's Reactive lighting technology which adjusts lighting output based on user need. The light has a max output of 300 lumens powered by a rechargeable lithium ion battery. The Petzl Reactik Plus differs from the Petzl Reactik light because it syncs to the MyPetzl Light app allowing the user to adjust the beam pattern using their smartphone.
Testing Conditions:
I tested the Petzl Reactik Plus from November 2016 to February 2017 throughout the White Mountains region of New Hampshire. The temperatures ranged from the mid-50s to -10 degrees Fahrenheit with clear, mist, rain, and snow conditions all experienced. 
None of the varied weather conditions New England had to offer had any impact on the headlamp. I was intentionally hard on the light during the last few weeks of testing because we had some of the coldest and snowiest weather. I left the light exposed to temperatures down to 10 degrees below zero with blowing ice and snow and there was no effect on the battery life or the performance.
During a ski tour with substantial snowfall I was wearing the headlamp on a brimmed hat and had not noticed the 3 inches of snow that built up on my head. The headlamp sat in this snow for an hour and a half before I finished the climb and took off my hat. I turned on the light to make sure it was working and there were no issues.
Range, Beam, Brightness, and Features: 
The Petzl Reactik Plus allows the user to cycle between 8 light settings—6 white and 2 red. The white light settings are separated into 2 groups, Reactive Lighting and Constant light. Each of these groups has 3 options. The red light has either a constant or strobe. All of these settings are selected on the light using either the button on the top of the light or the button on the side.
The output adjustments for each setting are all done within the MyPetzl Light app that is available for most smartphones. The app is easy to navigate and use. However, I did have trouble pairing my phone to the light when I first started. I did some Google searching and found a workaround that forced the two to communicate. Since that point I have not had any issues.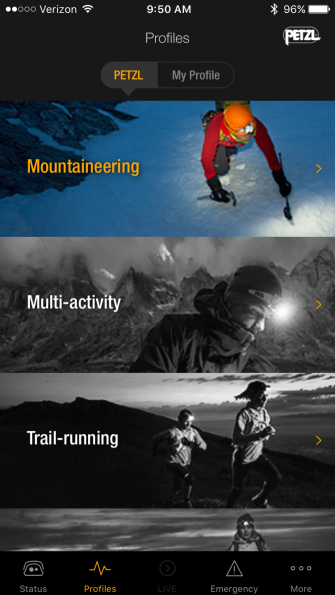 Light Settings:
Constant Lighting: When using the constant lighting setting the beam stays a consistent brightness based on the option selected. The settings are diffuse only, diffuse and spot, and spot only. Each option meets a different need as you are using the light. The diffuse only setting is great for walking around a campsite or along trails that you do not need to see far in front of you. It lights your immediate area with a soft white glow.
The diffuse and spot setting provides a soft light so that you can see around your general area while also providing a spot light to see far in the distance. The spot only setting provides a beam that allows you to see far into the distance but is not the setting for soft light around your general area.
The distances, brightness, and battery life are all dependent on the setting you have chosen in the app.
Reactive Lighting: The reactive lighting feature is something that sets Petzl apart from other brands. The headlamp has sensors that pick up the light that is bounced back and adjusts the brightness and beam accordingly. This means that when you look down at a map the beam becomes softer and more diffuse and as soon as you lift your head up to see the trail the beam focuses and provides views into the distance.
There are three settings within the reactive lighting profile:
Max autonomy: which allows the light to adjust on a constant basis in response to feedback from the sensors. This setting caps the lumen output at around 100 but provides the greatest battery life.
Standard: which has an increased lumen output but reduces the level of autonomy and adjustment. This setting reduces battery life by half.
Max Power: this profile pushes the lumen output to 300 and therefore increased the projected beam distance. The drawback is that it reduces the battery life by another 50%.
As with the Constant light setting, the specific levels can be adjust and customized in the app.
Red Light: The red light can be set as a steady light or a strobe. The steady light is perfect for reading in a tent or close environment were others are trying to sleep. It is also perfect for when you are standing talking with others and need some light be do not want to blind everyone. This setting is only for short range and it will be impossible to read red lines or text on maps so keep this in mind.
Emergency Signal: The light flashes as a signaling device in case of emergency. The MyPetzl Light app allows you to adjust the message that will be transmitted using Morse Code.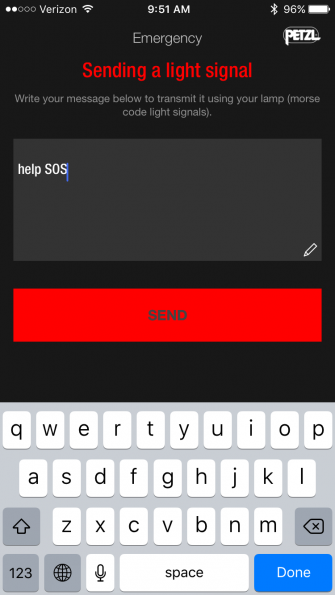 This is a neat feature if you find yourself in trouble, but you would need to have enough battery in your cell phone to sync the phone and the headlamp.
Range:
I have found that measuring distance with a headlamp beam is a "soft" science. For all applications while using the Petzl Reactik Plus I was always able to see as far as I needed to see. With that being said, I'll give some more detail.
I found the distances in these profiles to be accurate representations of how far the light reached at a given setting.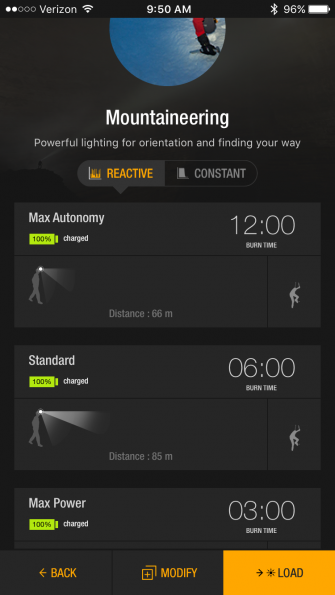 The picture below was taken on my road on a moonless night. The reflection in the middle of the image is approximately 600 feet away and the sign that is visible is about 200 feet away. The sign was clearly visible as were the trees in the general area. The light was on the standard power setting which advertises a 60 meter range. 
Lumen and Battery Summary:
Constant:
Standard = 100 lumens, 70 meter range, 6 hour battery life
Max Power = 200 lumens, 90 meter range, 2 hour battery life
Reactive:
Max Autonomy = 80 Lumens, 70 meter range, 10 hour battery life
Standard = 170 lumens, 90 meter range, 5 hour battery life
Max Power = 300 lumens, 110 meter range, 2.5 hour batter life
Red:
Standard = 2 lumens, 8 meter range, 30 hour battery life
Strobe = 2 lumens, 1000 meter visible range*, 60 hour battery life
*this range indicates from how far away the light can be seen by others.
The above summary is based on the out of the box settings that are pre-programmed on the light. Users can adjust the light within these ranges.
Reactive Lighting in more detail:
The reactive lighting Petzl is incorporating into their headlamps is a rather innovative technology. I have grown to appreciate how the light adjusts based on where I am looking. In most cases I found that the system worked well and I always had adequate light. The light adjusts in a fraction of a second between modes which is fast but is noticeable and takes a little while to get used to these leads to a small learning curve to get used to how the light adjusts. I did not find this to be problematic in anyway.
There are times when the light does not respond or you should avoid using the reactive technology. One example of this is during cold nights when you can see your breath or on foggy nights. When the light beam passes through the condensation it bounces enough back to the sensor to trick the light into thinking you are looking at something up close. This can cause an effect of the beam changing brightness every time you take a breath or hit a patch of fog. I was annoyed by this at first but then realized it was mostly operator error and if I adjusted the light to the constant setting all issues were avoided. 
The pictures below show the beam at its brightest using the max autonomy setting. You can see in the first picture that the beam reaches out rather far. The second picture is taken standing in the same spot with the same settings. The only difference is that I exhaled and my condensed breath reflected the light causing the headlamp to dim thinking I was looking down at something.
Petzl makes it very clear that this light should NOT be worn while biking. The reason for this is that if you are riding at speed and a car or another biker with a light on comes towards you, the other persons light will be picked up by your sensory at a high level and could shut your light off completely. This is dangerous because you will suddenly be without a light to see your path but you will also no longer have a light to indicate where you are to the other person. I did not feel it was necessary to test out this warning and suggest you don't either.
With all the learning curves and warnings aside, the reactive lighting feature is revolutionary and performs well in a range of situations.
Burn Time:
The Reactik Plus in combination with the MyPetzl Light app allows the user to select profiles and make adjustments to settings to maximize light output or battery life. The advertised battery life is between two and a half hours for settings focused on light output to 10 hours for lower light output. I found these advertised values to be accurate within reason and was never found to be in a situation where I was running low on battery power.
The indicator light on the side of the headlamp changes color to help give a general idea of how much battery life remains. Green is 66-100%, Yellow is 33-66%, and Red is 0-33%. This helps give you an idea of how much time you have before you need a charge. Additionally, when the light is paired to the app there is a display indicating the exact amount of battery life left.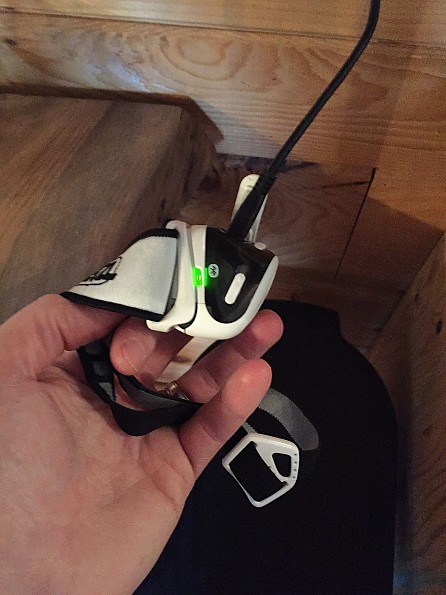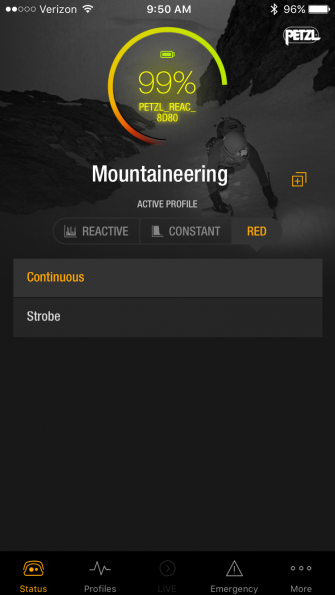 The provided data on battery life was found to be accurate. It is a great resource when deciding how to best prepare for longer trips away from a charger. You can use the estimated times along with average use to calculate if you will have adequate battery life with just one charge or if you will need to bring a second battery or remote charging device. 
I have had many headlamps over the years and feel that they have improved dramatically in terms of battery efficiency and light output this has allowed for the reduction of battery waste and an overall feeling of confidence when it comes to traveling at night.
Power Source: 
The Reactik Plus is powered by a rechargeable lithium ion battery. The light comes with a USB power cord and can be connected to a computer, solar device, or wall adapter.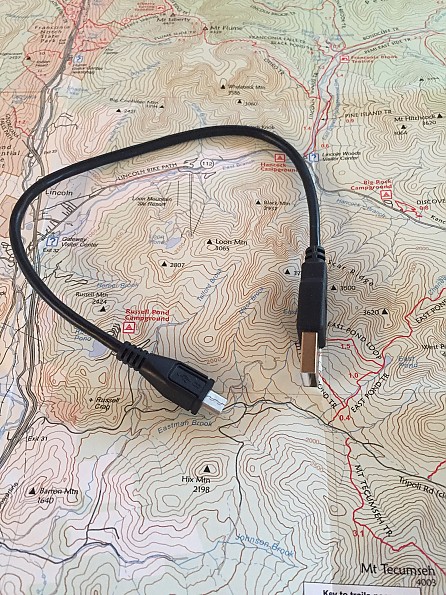 The power cord plugs into the top of the headlamp with a mini-USB connection.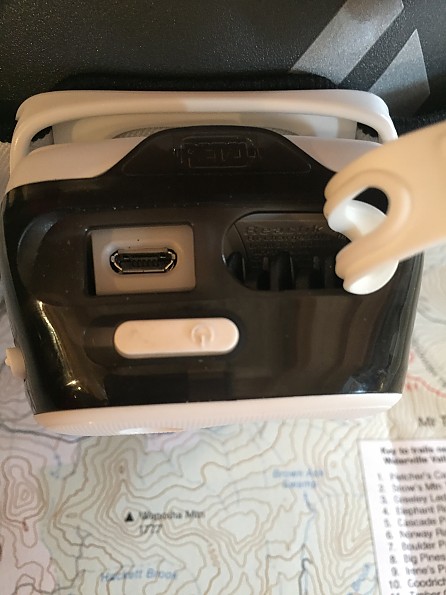 I always plugged my light into a wall adapter since I found this to be the most convenient method for charging. The only down side of this method is that the cord is short and tends to leave the light hanging above of, instead of resting on, my counter when charging. Full disclosure, this might just be an issue with my outlet height in my house.
From 0% to 100% takes a number of hours, so when needed, I would plug the light in overnight and it would be ready to go by morning. Typically, I would charge the battery when it was between 33-66% full. This recharge only takes 1 to 2 hours.
A nice feature of the USB cord is that I was able to plug it into my DC adapter in my truck. I would do this so that the light would charge on the way to a night hike, ski, or search and rescue mission. This would provide a little extra layer of battery security for night adventures.
The lithium-ion battery is simple to remove from the headlamp if needed. This allows you to carry a spare or keep the battery inside a jacket to keep it warm in extreme cold.
Weather: 
As I mentioned previously, the headlamp held up well against the winter weather. It was used in cold temperatures as well as sleet, snow, and rain. At no point did any of the weather impact performance. The weather protection is provided through thoughtful design work. The mini-USB port is protected under a rubber gasket and the battery and lights are all sealed.
Modes and Ease of Use:
I found the different selection options to be a little confusing to work at first but once I figured out the button combinations I was able to cycle through the modes to find the desired option.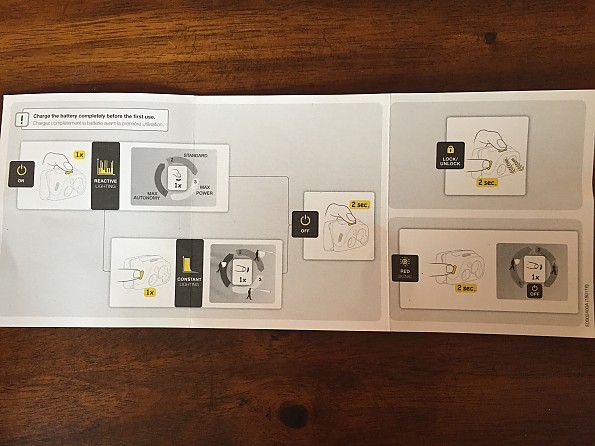 The challenge is that there are only two buttons on the lamp but there are eight different lighting selections. When I first started using the light I found that I would forget which button did what and it made it difficult to get to the setting I wanted. However, with practice and use this issue resolved itself and I have no trouble getting to the desired setting.
Any gear that I test in the winter needs to pass my rigorous winter glove test in order to get my approval. There is not a lot of real estate on the Reactik Plus and therefore the buttons are small.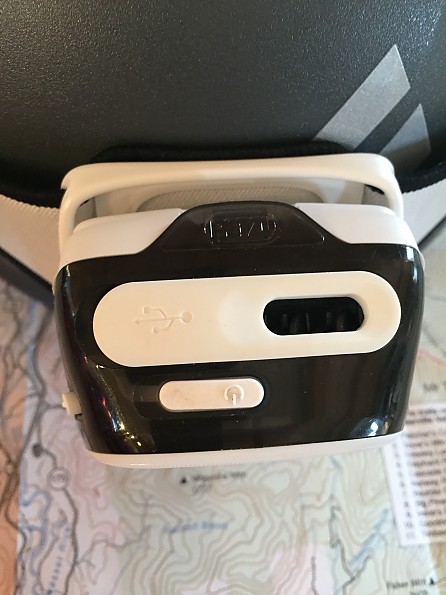 Even with the small buttons, I was able to cycle through all settings and fully depress the buttons while wearing thick winter gloves.
Construction & Durability:
The Reactik Plus is well constructed and has shown no signs of wear during the testing period. I have stretched the headband around helmets and shrunk it to fit snug against my bare head and it has maintained its elastic. The plastic body and buttons have held up against being tossed in my pack and truck and there are no scratches. 
Summary:
I tested the Petzl Reactik Plus during a winter that started with mild temperatures but came around and provided plenty of New England cold and snow. I was able to use the headlamp while ski touring, snowshoeing, hiking, night sledding (down a steep long hill where light is of the utmost importance), reading around the house and campsite, as well as snow fort building.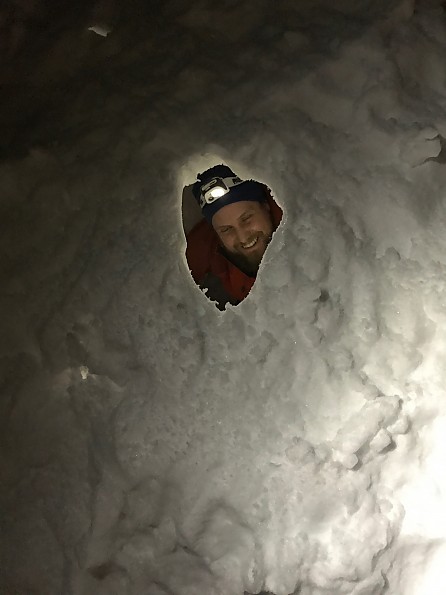 During all of these applications the light performed great. Headlamps should work in a way that allows you to forget you are wearing and using them. This light does just that. I always had the right amount of light for the task I was doing and never worried about battery life.
I highly recommend this light for anyone who spends a lot of time outside at night and is looking for a lightweight, comfortable, and well performing headlamp.
Source: received for testing via the Trailspace Review Corps (Sample provided by Petzl for testing and review)

A total pain in the ass to get all lights at max.
Total pain to use buttons. And why did I buy a light with an app?
Source: bought it new
Price Paid: $140

Your Review
Where to Buy
Help support this site by making your next gear purchase through one of the links above. Click a link, buy what you need, and the seller will contribute a portion of the purchase price to support Trailspace's independent gear reviews.
You May Like
Specs
Price
Historic Range: $49.00-$119.95
Reviewers Paid: $140.00

Recently on Trailspace