Potable Aqua Pure

Top 25 in Water Purifiers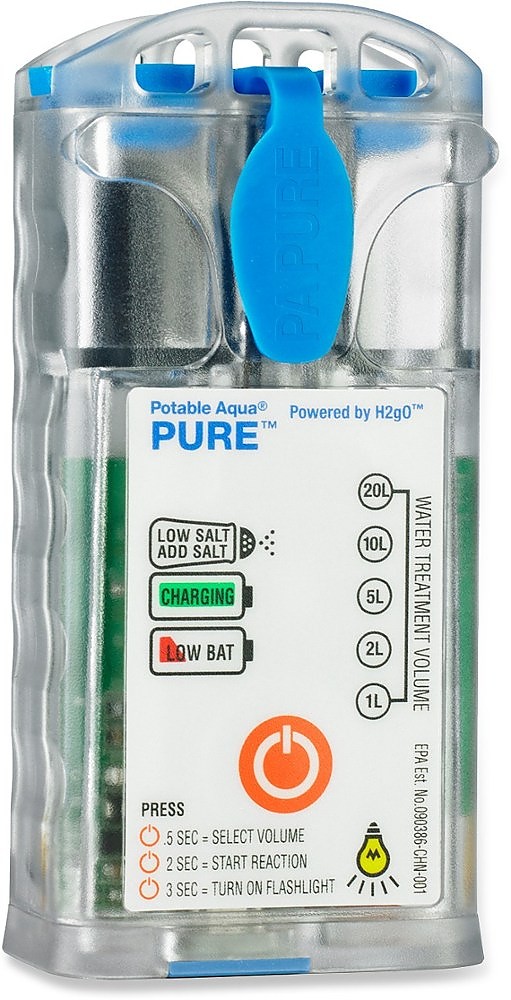 This rechargeable water purifier is an innovative, extremely low maintenance device that almost anyone can use to treat drinking water. Through the process of electrolysis, the Potable Aqua PURE breaks the NaCl molecule in a simple salt water brine solution that produces Chlorine and Peroxide.

From backpacking to emergency disaster relief, this small device can be used in a multitude of environments.
Pros
Low maintenance
Easy to use
Scalable treatment
Rechargeable battery/solar backup
No filtering necessary
Integrated Emergency Flashlight
Cons
Treated water has chlorinated taste
Certain conditions dictate longer treatment time
Treatment scale indicator light difficult to see in bright light Conditions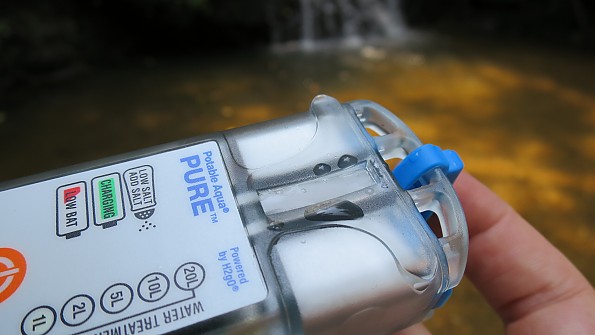 The reaction chamber in action, fizzing and bubbling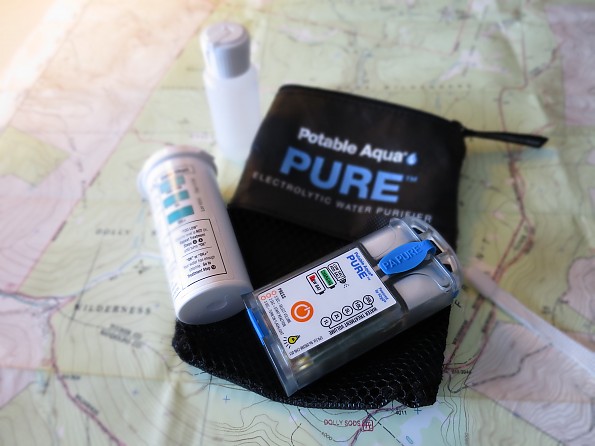 The device with its included brine container, chlorine test strips, and carrying bag
There are few products that break new barriers in today's innovation and technology. One of these breakthroughs is certainly the Potable Aqua PURE Electrolytic Water Purifier. I can easily envision this product in every world traveler's kit, where questionable water quality is a possibility. This purifier may really change the face of disaster relief due to its ease of use and versatility!
Beyond the application for underdeveloped countries, there is equal usefulness in our backyards and wilderness, lending use of this product to our 'downstream dirty' applications. I've been in situations where filtering water or using a UV sterilizer is not ideal because of particulate matter, for example a beaver-dammed pond.
Operating this device is quite interesting, making the user feel a little bit like part scientist, part apothecary. When in operation, the purifier bubbles and fizzes in the reaction chamber, as a heavily chlorinated odor is released.
One could argue that this may detract from the 'mountain experience', but I can't say that I felt like I was ever communing with nature pumping a filter, or stirring a UV light either.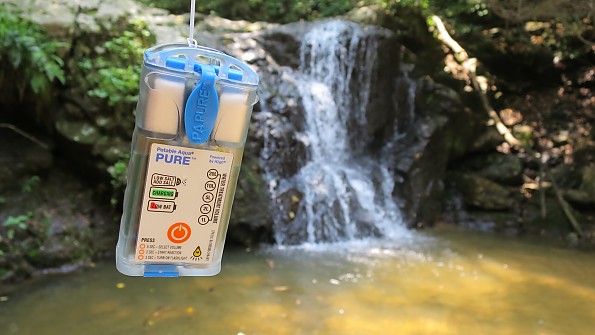 The purifier is very durable, meeting military requirements.
Specs:
Weight: 3.8 oz
Dimensions: 1.2" x 1.7" x 3.7" 
Operating Temperatures: 20°F-130°F
Water Resistant to 60 ft
Quantity of Full Charge Treatments: 150+ liters
Effectiveness: 
Over the course of my testing, I found nothing contrary or different to the claims of the manufacturer in regards to treatment time, effectiveness, charge times, etc.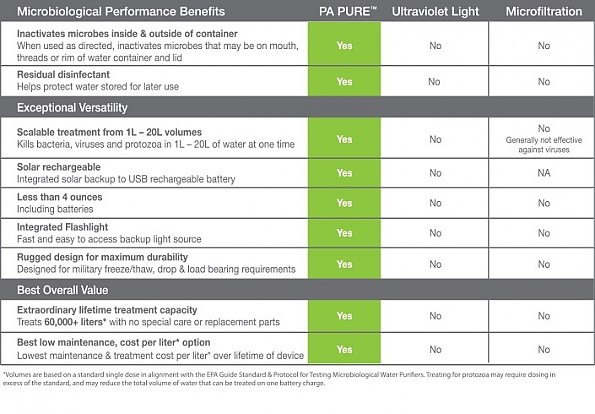 Speed & Efficiency: The reaction time and treatment time for the Potable Aqua PURE varies on different conditions of the volume of water being treated, and the quality of the water. I have recorded the following times when the brine mixture is in the reaction chamber:
~ 30 seconds for 1L treatment
~ 1:00 for 2L treatment
~ 3:00 for 5L treatment
~ 6:30 for 10L treatment
~ 7:30 (x2 treatment cycles) for 20L treatment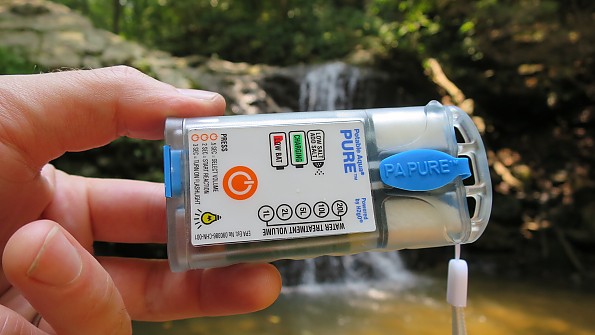 The device is very straightforward, and easy to operate.


Based on the conditions, water that is suspected to have Bacteria, Viruses, or Giardia, the 'kill time' that is specified is 30 minutes. If Cryptosporidium is suspected, 4 hours is the recommended 'kill time' before drinking the treated water. Without lab analysis, this information cannot be proven based on my experience reviewing the product.
Capacity: This purifier is especially versatile in this aspect, for the volume that can be treated is scalable. Water can be treated as little as 1 liter, and up to 20 liters. The choices of water treatment volumes are:
1 liter
2 liters
5 liters
10 liters
20 liters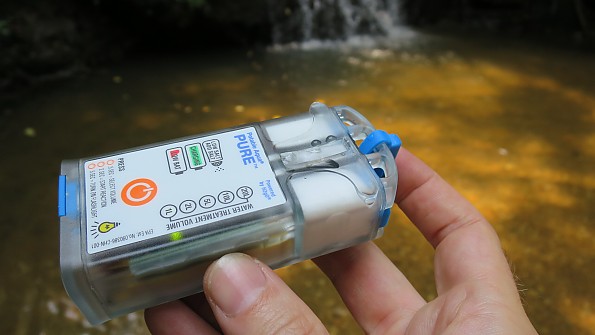 The water treatment volume indicator, however is very difficult to see in bright light.
With a full battery charge, the Potable Aqua PURE has shown to treat 150+ liters of water. Over the course of my testing (over 100 reaction tests), I have never found the battery to fail short of what the manufacturer claims. Between having a battery backup and the integrated solar charging panel, this purifier can really operate indefinitely until the unit itself fails (after an estimated 60,000 liters of treated water).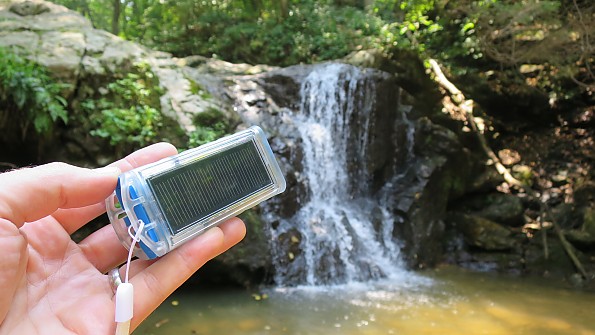 The bottom of the unit has a built-in solar charging panel.
Ease Of Use: PA PURE does an excellent job making this device easy to use. Even without having the instructions or quick-reference guide, there is enough information printed on the purifier itself to get the job done.
There is one simple button for powering the device on/off, operating the flashlight, selecting the volume, and starting the reaction. Even without the brine mixture bottle, one can simply add a few granules of salt to the reaction chamber, and fill it with water. If the mixture does not have enough NaCl dissolved in the water, the LOW SALT/ADD SALT indicator will light up, and the reaction will not begin.
The included chlorine test strips are very easy to use when following the PA PURE steps that are in the manual, quick reference guide, and on the waterproof chlorine test strip storage bottle. PA PURE has developed a thorough instruction process, which specifically indicates even how to treat/purify the consumer's drinking bottle lid and threads, which is a commonly overlooked consideration when treating water.
In my opinion, this product has 'left no stone unturned' when it comes to the important safety of a product that preps for human ingestion.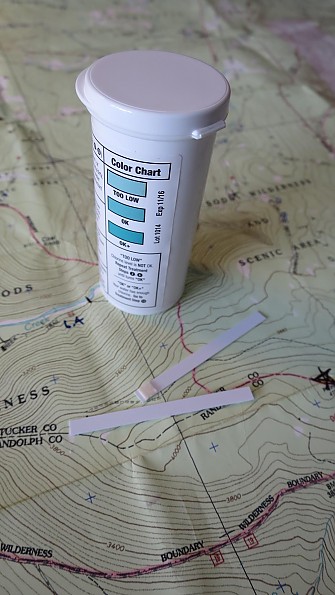 Waterproof chlorine test strip bottle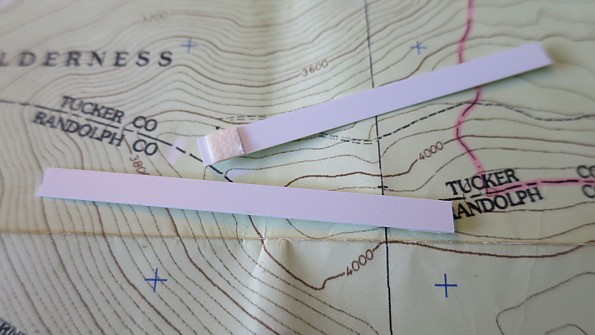 Closeup image of the test strips

The included brine bottle is very well made, and does not leak or accidentally open.
This purifier comes with all of the necessary equipment to charge and operate, save for electricity, water, and salt. There is an included wall plug/USB adaptor, USB cord, brine mixture bottle, bottle with chlorine test strips, and a handy mesh bag for storing everything together.
Features:
The purifier has three warning indicators; one shows when the unit is charging, another is a low battery indicator, and the most important is the Low Salt/Add Salt light. The integrated flashlight is a nice feature, but overall is unrealistic, except for emergency use.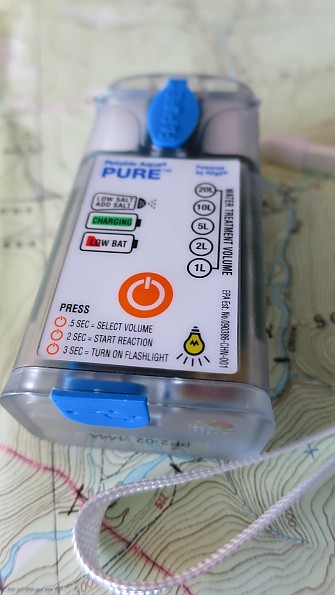 The power button controls all functions of the device.
On the top of the purifier, there are two reservoirs for storing table salt, which hold enough salt to likely treat 1,000 liters of water. Both of these reservoirs, the reaction chamber, and the USB charging port all have waterproof rubber covers to prevent moisture intrusion.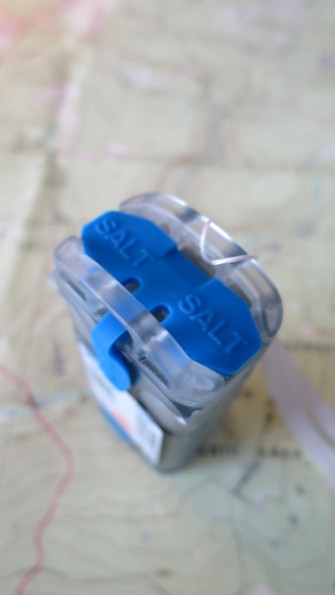 The salt reservoirs have well made rubber covers that stay in place, and are water tight.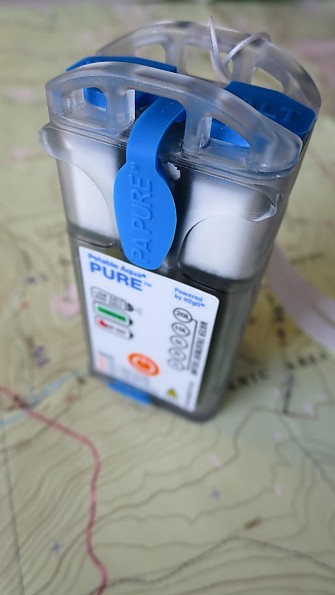 The reaction chamber (between both salt reservoirs) also has a rubber cover
PA PURE also includes a lanyard to help prevent an unwanted drop of the device.
Construction & Durability: This purifier has been designed to meet military freeze, thaw, drop, and load bearing requirements. Although I did not purposely or accidentally drop it, the PA PURE purifier has held up extremely well during all use and tests.
The plastic exterior feels very durable and thick, and all rubber seals and covers fit and seal well. The included USB cable and plug are of very good quality. The included brine container is well made, and does not leak. Included chlorine indicator strip container seals properly, keeping the strips dry.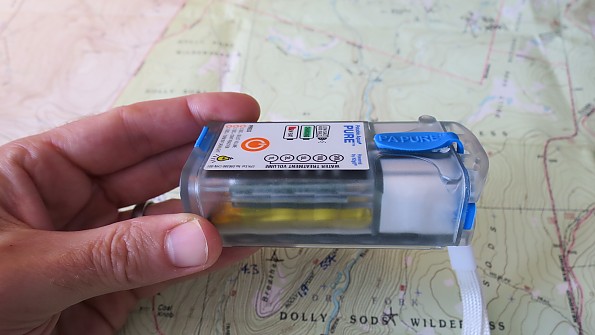 Thick plastic molding keeps the device from breaking in case of a drop.
Conditions: Unit has been tested in the Maroon Bells/White River National Forest Colo., gone on several local day hikes close to home, and been extensively tested at home spring-summer 2015.
TAKEAWAY: Beyond the Ten-Essentials and the basic gear needed for the backpacker/traveler, there are very few items (especially hi-tech) that I feel should be in every walker's tool box. The PA PURE Electrolytic Water Purifier is now one of them! Whether it is volunteer work in Belize, recreational hiking in Maine, or weathering through a power-outage, this handheld life-saver is certain to become a staple piece of gear worldwide!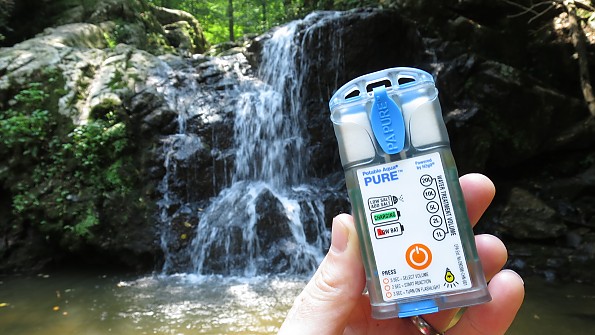 Source: received for testing via the Trailspace Review Corps (Sample provided by Potable Aqua for testing and review)

Your Review
Where to Buy
Help support this site by making your next gear purchase through one of the links above. Click a link, buy what you need, and the seller will contribute a portion of the purchase price to support Trailspace's independent gear reviews.
You May Like
The Potable Aqua Pure electrolytic water purifier uses a simple solution of water and salt to purify the dirtiest of backcountry water, whether you need to treat 1 liter or 20.
With a brine mixture, the electrolytic Pure creates a mixed oxidant disinfectant capable of killing 99.9 percent of organisms, including viruses, bacteria, Giardia, and Cryptosporidium. The result is drinkable water.
The purifier can be recharged via USB from your computer or an outlet, or it can be charged in the field via a built-in solar panel.
No pre-filtering, pumping, or stirring is required to use the Pure. Select the volume of water you want to treat when you're ready. The Pure can treat up to 150 liters of water from a full charge. No replacement parts are required to treat up to 60,000 liters of water.
The Pure electrolytic water purifier meets military drop, freeze/thaw, and water resistant standards.
Specs
Price
MSRP: $99.00
Historic Range: $49.93-$119.99

Weight
3.8 oz

Dimensions
1.2 x 1.7 x 3.7 in

Operating Temperatures
20°F-130°F

Water Resistant
to 60 ft

Quantity of Full Charge Treatments
150+ liters

Recently on Trailspace