Princeton Tec Alloy-X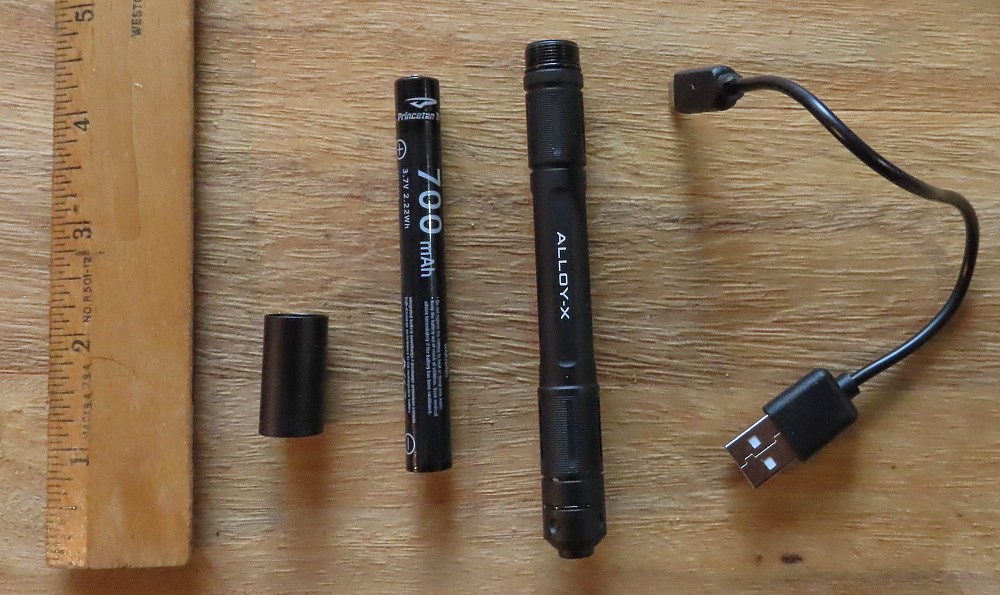 This small lightweight penlight creates a mighty beam of light! Suitable for use as a household light, as part of a car emergency kit, or as a reliable light for camping, the Alloy-X is a strong-beam flashlight, powered by a rechargeable battery or two AAA alkaline batteries. It is very compact and appears quite durable, and I can recommend it for use in the field or in the home.
Pros
Lightweight and compact
3 intensity settings
Two power source options
5-year warranty
Can be used with headband flashlight holder
Cons
No lanyard/strap attachment ring
Sequencing of beam intensity (Med-Low-High)
Gets quite hot if used for long duration
No beam size adjustment
Introduction: I always carry a spare headlamp and batteries in my canoeing bag and daypack, and keep a small flashlight in my camping kit. Though our camping season has yet to begin, this light has been used a lot around our home. I keep flashlights in the home for whatever use is necessary, and this small sized light has been perfect for getting into those tight spaces (i.e. checking the dog's ears, looking for small items between seats in the car, searching under the refrigerator).

I was glad to have the opportunity to test this Princeton Tec penlight, especially since it does not rely only on regular batteries, but also includes a USB rechargeable battery. This will be extremely helpful on canoe and front-country camping trips, when the ability to charge a light from a power pack is important.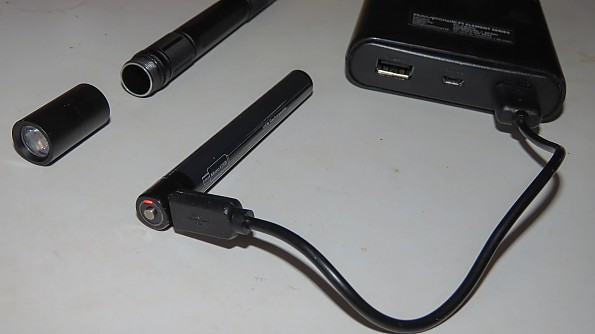 This light has a nice bright beam (400 lumens), with three intensity options. It is small to hold, but very light and compact. My husband does not like wearing headlamps, so he is always looking for a suitable hand-held light to use around the campsite. This will provide more than adequate illumination. I like using headlamps and found that this light is suitable for use with a headband flashlight holder, perfect for those times you need a hands-free light.  
Description: This light is 5.5 inches (14cm) long and approximately 1.75 inches (4.5cm) in diameter, about the size around of a child's primary pencil. It is available only in black and weighs 1.5oz / 42g. The light's body is aerospace-grade aluminum and has a military-grade type III hard anodized black finish.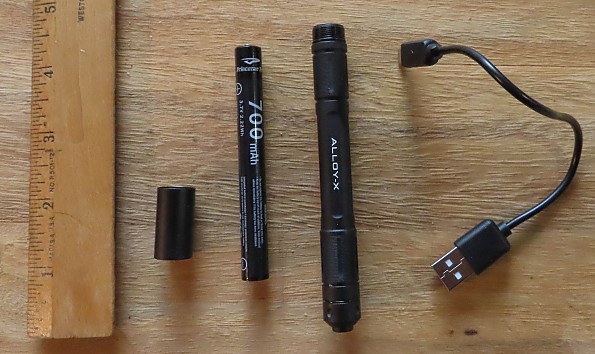 It has a pocket/strap clip on the side, but does not have a closed lanyard ring. Alloy-X also features "textured knurling to ensure a firm grip, as well as a one-touch tail switch that ensures quick and simple use", with three intensity settings. The manufacturer advises it has a 28-hour burn time on low, with the rechargeable battery in use.
The light is reported as having water resistance at an IPX7 standard (IP code, or Ingress Protection Marking). IPX7 rating indicates that this flashlight can be submerged in water down to 1M. On the Princeton Tec website, it is stated in one section that the rating is 1XP8; however, that is an error, as verified by the manufacturer. The light uses a Li-Ion rechargeable 10900 battery (included) with charging indicator lights, or 2 AAA Alkaline batteries.

Princeton Tec identifies "Core Technology" of this light, along with suggested uses. According to the manufacturer, the key technology aspects of benefit are:

The battery power meter, allowing you to monitor the current charge of the battery
A narrow, long, focused powerful beam
Waterproof integrity down to 1XP7, 1 meter submersion
The MaxBright high quality powerful LED, with SPOT beam
Multiple mode settings to adjust for distance, intensity required, or to preserve battery life
Rechargeable battery, with option for 2 standard AAA alkaline batteries
Princeton Tec's suggested uses for this light include hunting, fishing, camping, military, emergency response, law enforcement, safety and industrial uses, and travel. Having used penlights for law enforcement and EMS work in the past, and being a frequent camper, I can agree with those suggested uses. The light would also be helpful in a home preparedness kit, for power outages, or repairs around the home that require a narrow bright light.
Packaging/Contents: The light comes packaged with the rechargeable battery, a short micro-usb charging cable (8"/20cm), a replacement 0-ring, and a small card with the QR code for accessing instructions. For those of us without smartphones, the instructions are available on the Princeton Tec website.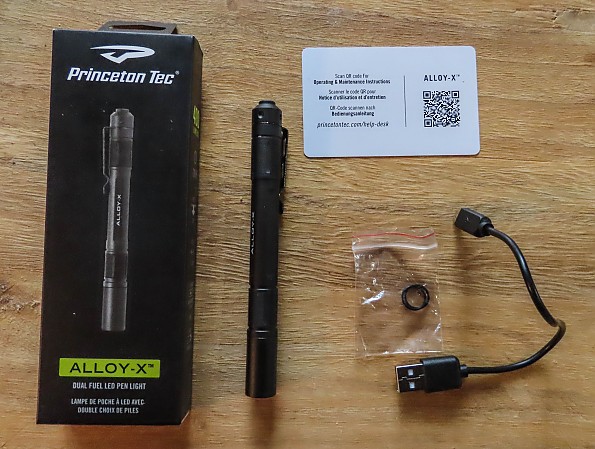 And yes, even though we probably all know how to use a flashlight, reading the instructions for this penlight is strongly suggested! The instructions clarify the 5-year warranty, explain the technical specs and details, and provide specific steps to follow for safely charging the battery, operation of the three beam settings, and maintenance of the light.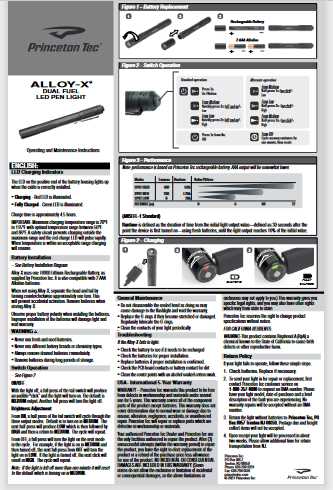 Operational Details/Maintenance

A. Charging:  The estimated full charging time for this battery is 4.5 hours. I actually experienced it fully drained reaching a full charge after only 3.5 hours, at room temperature. If the USB charging cable is attached correctly, there is a small indicator light on the end of the battery, indicating if the battery is charged, or is in process of charging (red/green light). The reported ideal charging temperature is between 50 and 80 degrees (10 to 26 C), but the battery can be charged between 20 and 115 degrees (-7 to 46 C). If an attempt is made to charge the battery outside of those parameters, the red light will pulse on and off until a more optimal temperature is reached.
B. Saving Battery Life: Princeton Tec recommends turning the head (bulb) end of the light one turn, to essentially disconnect the light's circuit. For storage it is recommended that the batteries be removed.
C. Maintenance: The penlight comes with a spare O-ring, and the instructions advise that the rings be lubricated frequently. However, there is no indication as to how this is done, or what lubricant should be used. By searching the Princeton Tec website, I found information on lubricating the O-rings for a different flashlight. If the O-ring becomes damaged or stretched out, it should be replaced. In addition to the one provided, I did find Princeton Tec O-rings available on secondary sites.
I also searched for replacement rechargeable batteries; I did find an aftermarket battery, that did not have the indicator lights, available for about $10 from another battery site. I would be concerned about the effect using such a battery may have on the warranty. I was unable to locate any replacements for the MaxBright bulb, so that would have to be obtained from the manufacturer. Princeton Tec advises that if replacement parts are needed, one should contact their customer service department.

Performance:
This is a powerful little light, and yes, I mean little. As a "penlight" it is very small for a handheld light.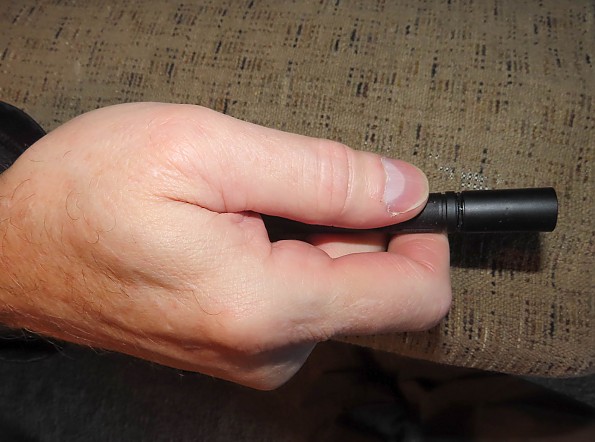 This penlight projects a beam in three intensities (low/medium/high), and I found it easy to use in standard operating mode. The "alternate mode," involving half-presses of the switch was a bit confusing, and I did not find any particular benefit to that mode of operation. Perhaps an EMT checking a patient's pupils might want only a momentary burst of light? For most uses, I prefer to select the intensity, and keep the beam at that level until the need for light is over.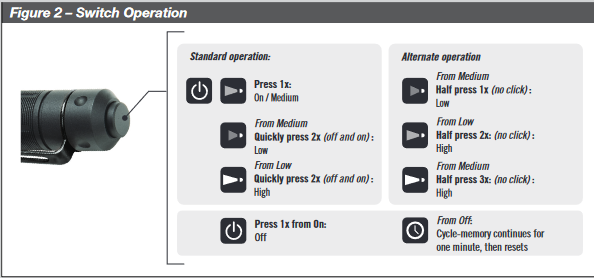 The sequencing of this light in standard operation is medium, low, then high. I think for most uses, medium mode might be the default, since it still packs a bright wallop, and results in a longer period of battery life. However, to me, it makes more sense to have a low-medium-high sequence. This is the reported performance time and distance of each setting on the light, as provided in the instructions:

I wondered how the battery life could be affected by cold; in 10-degree (-12 C) conditions, the light at medium intensity remained consistently brightly lit for nearly 90 minutes, a slight increase over reported duration.
The beam is not adjustable, as on some other small penlights. Therefore, a focused beam on a small area is really not achievable.
Since this light is so small, I fear it would be prone to getting lost or misplaced, if not attached to a lanyard or clipped to a piece of equipment. The side pocket clip is strong, and I was able to use this clip as an anchor spot for a lanyard. If I drop this light in the water or snow, it is nice to have a bright attached lanyard to aid in finding it! A lanyard of some type is also necessary if you want to hang the light from a tent interior accessory loop.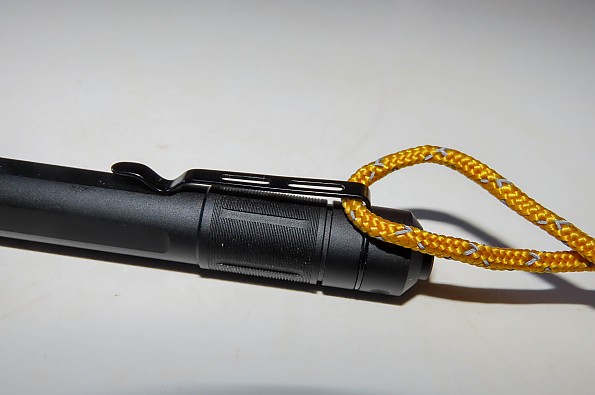 As with many rechargeable LED flashlights, this one can get very hot to the touch, especially when on the highest setting. I noted this was more obvious when the rechargeable battery was in use. Apparently, the LED lights use energy that is converted into heat; such an occurrence is not a safety concern with this Princeton Tec light, since the company has a reliable reputation in this market area. I found that in the high setting, after approximately 5 minutes, the bulb end of the light's body was too hot to comfortably hold. It is not hot enough to melt a Styrofoam cup or a plastic baggie (I checked), but it is worth noting.
I conducted some informal testing of the light's functional duration, when the rechargeable battery is used. At room temperature, the reports from the manufacturer appear accurate. The reported time to recharge the battery is also consistent with what I found.
The USB port on the battery is quite small, so it takes a little finesse to connect the charging cable. The charging cable is also quite short compared to other small electronic devices cables I use. I do like having the red light/green light indicators on the battery, letting me know when the battery is fully charged. I noted that if the battery is being recharged from my small 5v power pack, the green "charged" indicator light remains lit for only a minute after reaching full charge. When charging via an outlet, the green light remains lit until battery is disconnected from USB cable. The red "uncharged" light remains lit the entire time during charging, while using either charging method.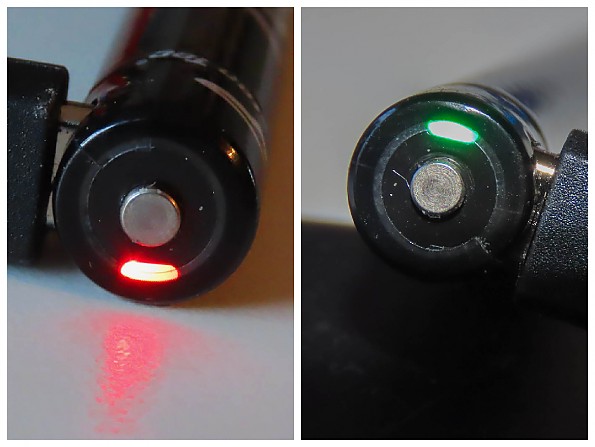 The battery itself is also quite small, and when the bulb and battery are removed for recharging, you have a few small parts that need to be secured. I have yet to recharge the battery in the field, but this is something to monitor. I will carry replacement AAA batteries for emergency use.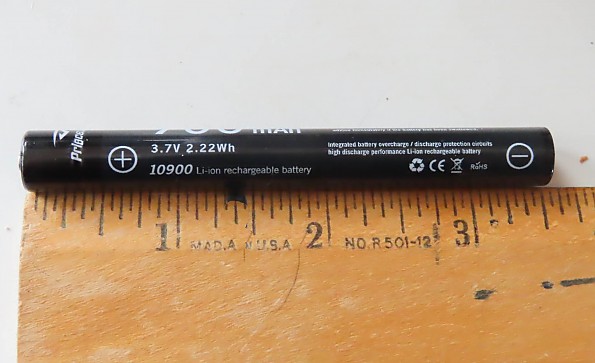 Since this light does have some water resistance, I anticipate frequently carrying it in my canoe kit, or wearing it on my PFD. The 1XP7 rating indicates the light can be submersed up to 1 meter; though in my paddling I rarely become immersed, this area on my PFD is exposed to splash and rain.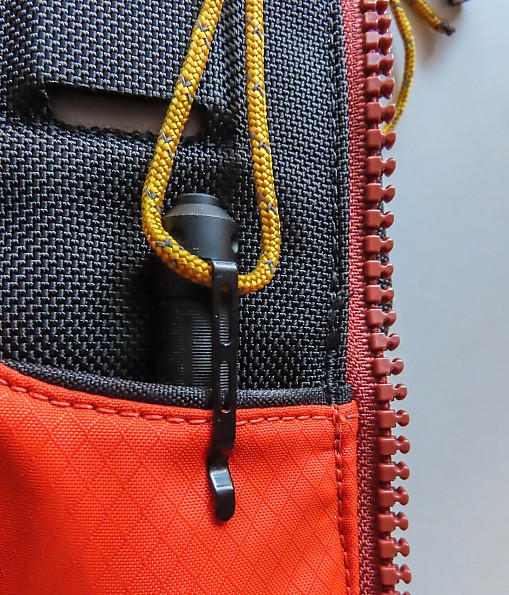 Warranty: This light is covered by Princeton Tec's 5-year warranty, if the light is defective under normal use. Components (except battery) are covered and will be replaced by Princeton Tec if found to be defective. Normal wear and tear damage is not covered. The company does provide information on authorized repair procedures, which involved first contacting Princeton Tec to get an authorized return or repair.

Summary and Recommendation: I have not yet used this light while camping, and our evening winter outings have been limited to walks to the mailbox with the dog and quick trips out to get something from the car. However, it has been a handy light to have around the house, and it is now fully charged in anticipation of possible power outages due to an incoming storm.
I have been impressed by its powerful light, long battery life, power options, and ease of use. I anticipate that this light will be a part of my camping kit come spring, and I will then be able to better assess its uses within a tent, or around a campsite. I think it will probably be a backup or secondary light to my primary lantern and headlamp, but when used it will be in both handheld mode and with a headband adapter.
I can comfortably recommend this light, with the caveat that it is very small (easy to misplace) and has only a fixed size beam. It appears durable and effective for its designed purposes.
Experience
Having been a camper since I was a child, and also a long term EMT and state trooper, I am familiar with the use of handheld flashlights. The technology for recharging and battery power have improved to a great degree over the past few years, and so I recognize that this little light really packs a wallop in the illumination department. As a frequent camper and outdoor adventurer, I know the importance of a reliable primary and backup source of light, so feel that I am in a good position to evaluate this penlight.
Source: received for testing via the Trailspace Review Corps (Sample for testing and review provided by Princeton Tec)

Your Review
Where to Buy
Help support this site by making your next gear purchase through one of the links above. Click a link, buy what you need, and the seller will contribute a portion of the purchase price to support Trailspace's independent gear reviews.
You May Like
Specs
Price
MSRP: $59.99
Current Retail: $57.25

Power
400 Lumens

Lamp
1 Maxbright

LED Burn Time
28 hours

Batteries
1 10900 Rechargeable Battery (included) or 2 AAA Alkaline backup option

Weight
1.5 oz / 42 g

Water Resistant
IPX7