Princeton Tec Apex Pro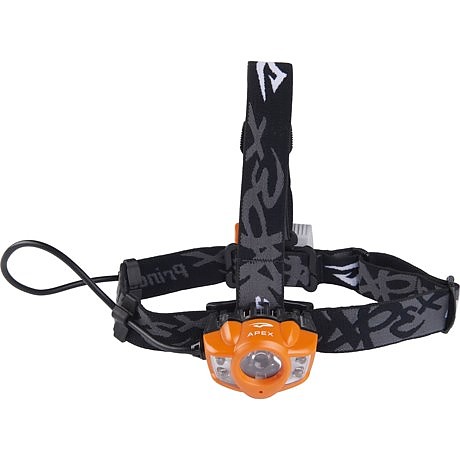 Do your research! I bought this headlamp at REI and loved it, absolutely loved it, all throughout the first 4-day trip it took with me. Unfortunately, when I got home and started reading online about my new purchase I found many many reports of chronic cracking of the headlamp housing above the two screwholes which hold the housing shut (making it water resistant). Some even reported pieces of plastic falling off as a result. I looked at my housing and sure enough, after about 10 hours of use over the course of a 4-day trip, it was cracked.
I returned it to REI without any issue and picked up a Black Diamond Icon Rechargeable which was rated brighter than this Apex PRO. Unfortunately, it does not use CR123 batteries which are common to my Surefire lights and my SteriPen Adventurer, which was convenient for me. Also, subjectively, the Black Diamond does not seem as bright - though I may more reasonably be able to attribute that to the fact that I haven't had to trust my trip to this new contender yet in a new moon after my eyes have adjusted properly (the Apex Pro saved me on my 4-day during an unexpected long night trek during Septembers new moon).
UPDATE 06OCT07: I was looking at the Princeton Tec website today and cannot locate the Apex PRO anymore, only the AA Apex. I contacted Princeton Tec about this to ask if they are revising or recalling the model. I'll write more when I find out for sure. I sure hope they improve the housing materials and re-release it. I loved that light.
UPDATE 10OCT07: I received this reply from the military rep from Princeton Tec. In light of this assurance that any cracking is covered under warranty, the issue will be resolved, and there is potential that I can resolve the problem in the pre-fix model by loosening the torque on the housing screws a very small amount, I've decided to return the BD Icon I picked up and go back to the Apex PRO. The performance and battery compatibility benefits are just too great for me to ignore. See below... Also, as a result of the exceptional customer service response I've received from Princeton Tec, I've updated my rating to 5/5 stars. This was an exceptionally great product, with a flaw. The flaw is being resolved and the service is as top-notch as the products produced by this company.

James,
No the Apex Pro was not discontinued. It was never on our website. We need to update our website, but currently do not have any one to do it.
The Apex Pro is still available and you can purchase it at a few retailers. I can help you locate a retailer if you want. Also, they have been working on the cracking issue. We do cover this under the lifetime warranty. Apparently we are now using a shorter screw so the housing should not crack. The torque specs were set just a little too much on the machine and that was enough to cause the housing to eventually crack. I hope this answers your question. If you have any other questions or need help with a retailer please feel free to contact me directly or you can contact our customer service rep. XXXX@princetontec
Thanks,
XXXXXXXXXXXXXX
Princeton Tec
Industrial Sales/Customer Service Rep
XXX-XXX-XXXX

Check us out on the road @
http://www.livingonthedash.com/
Price Paid: $89.99

MAY 30, 2008, ORIGINAL REVIEW:
Bought light 1-08, knew of cracking, assumed Princeton Tec probably had fixed problem out of self interest. WRONG, mine was fine out of the box. I placed it in a zip-lock bag on night-stand on 5-24-08 I checked it over, with bike riding in mind; shock-time! It had hair-line cracks all-over.
I've returned it to PT for service. So heads up! No-doubt, defective units are still on dealers shelves. further; I can see no way to use it on a helmet.
Another issue, for me is using buttons with gloves-on,no-way. I own other PT units some eight years old. It's all great kit but in this case it's past-time for PT to do the right thing and issue a recall. It cost me aprox $8 to send it back to them, moreover phone calls were not returned, ergo a reluctant 3.5 stars. Respectfully. snap.

JUNE 11, 2008, UPDATE:
This is a follow up to previous post wherein I suggested a heads-up, re the Princeton Tec Apex Pro's notorious cracking problem. I returned unit to Princeton Tec for disposition, that was 5-27-08. Today (6-10-08) I received a new unit; turn around time two weeks. I feel they play fair. I also feel we all need to know it.
NOW watchful waiting, will this unit start cracking in five or six months? We'll see! If you don't hear from me, pull my chain and I'll let you know. respectfully, snap

DECEMBER 17, 2008 UPDATE
Hi all, as promised I'm back. My headlamp shows no signs of cracking. it was replaced in June, it's now Dec 08, some 6 months later.
I failed to notice in June that there seems to be special washers under screw heads: they're thicker! a simple fix?...maybe; it seems to be holding-up, and I'm no longer concerned about cracks developing! thank you for your attention. Snap.
Price Paid: $80

I bought this headlamp based on other reviews I have read. Brightness is superior to most (a solid 5 stars). The reason I have given a 2 star rating... If I had just researched problems associated with this model, I would have found that many owners are experiencing cracking of the housing. Mine was cracked NIB, bits of plastic had chipped off from around the two screws that hold the housing together. This is not small chips but the majority of the plastic surrounding the two screws.
If you go to buy one, take it out of the box and examine the top of the light around the two screws. Luckily I can return the light but this should not happen from any light much less an $90 one. Do your research thoroughly, I didn't, lesson learned!
Price Paid: $89

Well if yo wanted to pretend you were Luke Skywalker in the middle of the woods...this is the headlamp to use. I absolutely love this thing. I live in a small ski town so this baby got abused, it held up great in freezing temps it's super light weight so it never gets annoying sitting on the top of your head.
My only complaint is that I think the buttons might be a bit sensitive so sometimes it gets switched on. I've found owning a pair of rechargeable batteries cures the problem of buying $14 dollar batteries, also by switching the batteries around the wrong way I don't have to worry about it switching on by accident.
All in all I love this baby and look for excuses to use it :)
Price Paid: ebay...cheap

So far this is the best headlamp I've had. Amazing light and works in the cold thanks to the Li batteries. Just buy a bunch when you find a good deal, since they are expensive and harder to find.
Have seen complaints about it being fragile. Have bashed it around (been in backpack during flight, checked in) and don't see anything yet, but if I do, I'll let you know.
No other complaints, except when I sleep with it on, the battery indicator lamp blinks in the sleeping bag, which is noticeable, but I guess I'll put a piece of tape over it next time.
Price Paid: $80

I use the light for caving and have found only the $300 Sten to be its superior. It has however cracked around the housing screws but REI replaced it without question. I know others who have had to return theirs.
To be fair, caves are pretty darn hard on equipment. The light has endured mud, water and repeated strikes on overhead rock. As long as Princeton tech continues to stand behind their products I'll remain happy. If they work out the housing issues I'll give them 5 stars.
Price Paid: $71

For everybody that's ever complained about cracked housing on Princeton Tec headlamps, it's not their fault. the screw is not supposed to be over tightened! I have always used Princeton Tec lamps and I believe that they are the best headlamps around. As for this one in particular, it is similar to the regular Apex, but I think it has better battery life. I still haven't figured out the difference.
Excellent cold weather headlamp.
Pros
Long run time
Multiple light levels
Battery low level warning system
Excellent light for cold weather hunting, ice fishing, and search and rescue. 
Source: bought it new
Price Paid: $85

Your Review
Where to Buy
Help support this site by making your next gear purchase through one of the links above. Click a link, buy what you need, and the seller will contribute a portion of the purchase price to support Trailspace's independent gear reviews.
You May Like
Specs
Price
Current Retail: $98.99
Historic Range: $6.60-$99.99
Reviewers Paid: $71.00-$89.99

Recently on Trailspace