Princeton Tec Aurora

The Aurora has been discontinued. If you're looking for something new, check out the best headlamps for 2023.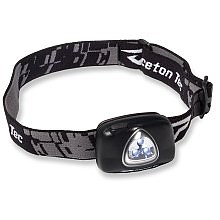 Always in my pack all trips, batteries last forever I only change them to be safe. Love the different settings and the light is plenty bright for almost all situations. Fits good holds tight and pretty well waterproof.  
This thing is going strong after 3+ years
Price Paid: $24.95

I bought this light because it was touted as being bright, yet lightweight. They were right, but in addition to these features it's also disposable.
After six months the attachment point where the lamp connects to the headband cracked and the two separated. I returned it to Princeton Tech and they replaced it with no questions. Great, so now I've paid $36 for this light ($30 price + $6 to mail it back).
Well, four months later the replacement broke at the same spot. I sent it back to Princeton Tech and again they replaced it with no questions. Now I'm up to $42.00 ($30 price for light + $6 shipping + $6 2nd time to return it).
Well, a month later the housing cracked when I was trying to open it up to replace the batteries. In the trash it went..........
Save your money go elsewhere. It's great that they stand behind their products, and it's inevitable that there will always be defective units that have to be returned, but when the design is flawed then there's really no benefit to a great return policy. Especially when you have to mail it back to get it repaired.
Price Paid: 30

I got mine about a year and a half ago, still burning bright. I've used my Aurora for backpacking, caving, boating, and everyday uses. I even used the strobe once to signal to a friend in a boat from shore after dark.
Great little lamp for the price. Tilting function comes in handy when you don't feel like blinding everyone you look at, the button is hard enough to depress that it won't accidentally get pushed in your pack or pocket, and it seems to be waterproof.
I would say I will buy another one when this one craps out, but it has a lifetime guarantee so I don't have to! Get it.
Price Paid: ~$21

Bought two of the lights, one for me and one for my bride. The light is bright enough with fresh batteries that you can actually hike in the dark without benefit of any other light. Been there done that - don't plan on doing it again. Just because you can, doesn't mean you should.
This light works best around camp with plenty of light to see how to setup in the dark - if you don't have foresight enough to start while there is still light. (See hiking in the dark comment.) The light weighs next to nothing and on the low setting is just right for reading in the tent.
I glued a neoprene pad on the back side of the light to keep it from slipping around and to provide additional cushioning on my pretty little forehead. If Princeton Tec had put the pad on first, they could have had 5 stars.
Price Paid: 20 bucks

I bought this headlamp on the advice from a friend that owns one. I used it every night for a month solid last summer, again on two more 2-week long trips, and several small outings and still haven't changed the batteries. I only use it on the low setting around the camp and the high setting while on the trail or river. The waterproofness is nice because I don't have to worry about killing it if I bite it in the water.
My only issue with it is that it looks a bit silly on my head due to its boxy shape and triangular light reflector. It doesn't bother me too much and the benefits outweigh it. Overall it's a great headlamp for the price- I'd recommend it to others on a budget, otherwise go spend the money on a Tikka XP.
Price Paid: $22

Good light if you use it for less than 1/2 a year. It was bright and had good battery life until it suddenly stopped working. I sent it back in and was very impressed with the lifetime warranty and customer service. However, my new Aurora came in and also broke in less than 1/2 a year.
Price Paid: $30

Amazing performance in a little package for the price. It goes everywhere with me. I wouldn't go on a pack trip without it. I use it all the time at home too when I need to keep two hands free and need a light. Gonna get another to keep in the RV.
Price Paid: got as gift

I have basically stopped taking flashlights on trips after getting this headlamp. It is so bright that when I wear it around others, they complain that I am blinding them! The tiltable light beam and adjustable brightness levels are highly useful, though I have not found a use for the strobe feature yet. Maybe induce seizures in epilectic people?
This hands-free light is great for reading in the tent, making yourself visible when throwing Frisbees after dark, late-night trips to the john and looking for items in your car or pack. You would probably need something brighter for after-dark kayaking and other similar activities, since it is mainly a spot light, not a directed beam. It is nicely compact and lightweight - perfect for backpacking and all other types of camping.
Price Paid: $25

The light was defective when purchased; it drained three sets of batteries while turned off. I returned it to the manufacturer, and they replaced it.
Lightweight, easy to use, but not very bright. When walking around the camp in rattlesnake country at night, I want something that lights up the ground more than this unit does.
Price Paid: don't recall

I have owned the Aurora for close to three years. It is among my must take items for travel and outdoor activities (camping, mountain biking, road trips, and deployments). I bought this headlamp while stationed in San Diego, Calif. It works great for finding gear, reading and such. I have used it during my night conditioning runs and found it barely adequate even with fresh batteries.
The headlamp is excellent with one caveat. It does not have a voltage regulator so as the batteries wear down the light dims, and battery life for usefull life could be better. Although this happens so slowly it is hardly noticeable it is a nuisance nonetheless.
So my recommendation is: If this is to be used as a camp light buy it, but if your intention is to use it as your primary night navigation light I believe you would be better served with a 1 watt Luxon LED headlamp.
Currently my lights consist of a Mag Light with a 1 watt Luxon LED replacement bulb and my Aurora headlamp. The combination has been very reliable and lightweight. The Aurora has been dunked, dropped, and stepped on and still works fine, which has made me a believer in Princeton Tec products (plus my dive lights are Princeton Tec as well).
I still want better battery life than the tiny AAA batteries can provide and a headlamp with better throw, so I will be upgrading to the 3 watt LED Apex headlamp in the near future. However, this is such a compact and lightweight headlamp I am sure that I will continue to pack it as a backup.

Price Paid: $30

Incredible headlamp! Completely completely waterproof (been down waterfalls, whitewater, and swum in underground lakes with it). The tilt feature is really a plus, as is the variable brightness. Batteries last forever.
The one disadvantage is that as an LED light, it's not focused like a flashlight so if you're in a cave you get a soft light all around you and it can be hard to make out details because it's not a spotlight.
Price Paid: $20

The Princeton Tec Aurora LED headlamp is one of the better overall headlamps. It has three brightness levels and two blinking modes and takes three AAA batteries which are in the head. I don't like the battery compartment to be in back because it makes it uncomfortable when reading. The batteries seem to last a long time. The battery compartment is best opened with a larger coin like a quarter. The switch is easy to operate with gloves. The head pivots on a hinge to place the beam where you want it. The wide flood type beam (as opposed to a spot beam) is suitable for nighttime trail navigation and reading in a tent on its lower setting. You can't go wrong with this headlamp.
Price Paid: $29.95

I know that it is just a headlamp, but this thing is really amazing. I got it about a year and a half ago and it just now ran out of batteries. The thing is, I used it ALL the time. I used it on 10-15 backpacking trips and for other small outings.
I really like the five different settings of the headlamp, along with the rotating head. It is plenty bright, even on low setting, for sitting in your tent reading a book. I have used it for spelunking, reading, setting up camp, cooking in freezing temps, and everything in between. Fits snug and I bring it on every trip. Great light!

Price Paid: $21

Your Review
You May Like
Specs
Price
Historic Range: $14.93-$29.99
Reviewers Paid: $20.00-$30.00

Recently on Trailspace