Princeton Tec Fuel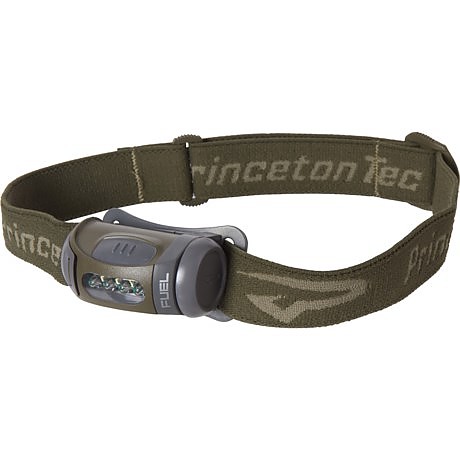 From the Ozark Trail to the slopes of Mt. Rainier to daily morning runs, I have relied on this headlamp for nearly three years, and I have found it to be a lot of light for a little price. Hands down it is the best light I have ever used in this price range.
Pros
Great battery life
Lightweight
Decent light output
Price
Cons
Others have noted battery doors breaking.
REVIEW UPDATE (after nearly three years of use):

I bought this headlamp in February 2013. It is still going strong after all this time and infrequent battery changes. Due to its light weight and dependability, this is the light I took with me on my Mt. Rainier trip. On summit day, we were up and moving by 2 a.m., and I relied on the light completely while ascending the "Nose" of Disappointment Cleaver.
In addition, the headlamp also goes with me on my pre-dawn runs around my neighborhood. Because it's so light, it doesn't bounce, and I barely notice it is there.
I stand by my original review that this light was a really deal, and I'm adding half a star to my rating, because this is the best light I have ever owned in this price range.
=============ORIGINAL 2014 REVIEW BELOW=================================

The Con Everyone Complains of:
Let's get right to the con, because that seems to be the issue most talked about.
Yes, the battery door requires a delicate touch. If you know that when you buy it, you should be all right.
However, the Fuel has a battery life of 146 hours. If I use my light for an AVERAGE of 2 hours per night (often I don't even have it on for a full hour), that is 73 nights or 32 weekends of use. This user does not get that much time outdoors.
In other words, in the two years I have owned this headlamp, I've only had to change the batteries twice. Since my last battery change five months ago, I have done two full-week trips and three weekend trips, for a total of 30+/- nights.
I am not negating others' bad experience with the battery door. Perhaps when I change the batteries again in 6 months, I'll experience the same. However, I will get a full three years out of this light before that happens.
Not bad for a $14 impulse purchase!
________________________________________________________________
Now to the rest of it:
Beam, Brightness & Range: Princeton Tec only advertizes the highest setting at 70 lumens, and does not state lumens of the lower settings. The Fuel throws a decent, wide beam light. 170' on the high setting; 134' on medium; 100' on low. I find the low setting to be all the light I need in and around camp. The high setting is nice when you hear something out in the distance, but I rarely find it needful.
Here is video that didn't turn out too well overall, but shows the Fuel running on the low setting:
Burn Time & Batteries: Using 3AAA batteries, the Fuel provides 146 hours of light on the lowest setting, 90 hours on medium, and 50 hours on high. The blinking "emergency" light will last 96 hours.
Ease of Use: A large, easy-to-push button on the top of the lamp works while wearing gloves. Each press of the button changes brightness, starting at high (every time) and diminishing to medium, low, and flashing. Holding the button down for 2 seconds shuts the light off. Through habit, I automatically triple click the button to get to the low beam.
Weather/Waterproofness: I have not submerged this light, but I've worn it in the rain on many nights. Additionally, I stow this light in my pack in a non-waterproof pocket during the day. Since, my backpack automatically attracts rain (In two years, I have two non-rainy trips), this light has been sufficiently wetted without problems in performance.
Construction & Durability: As mentioned, the battery door should be handled with care. I do not "baby" this door, but I am mindful of the problems others have had.
4-Stars: I give the Fuel a higher rating, because it is a low priced headlamp with decent output and long battery life. If I were comparing it to a highend light, of course the rating would be lower.
Price: I bought this light off Steep & Cheap for $14. I've never regretted the purchase. However, $30 seems a bit high for this light. Look for sales.
Source: bought it new
Price Paid: $14 Steep 'n Cheap

This light does what it says. it's not super bright but it gets the job done.
what i like about it the most is its size and weight, without batteries if you hold it in your hand with your eyes closed you can't tell if you're still holding it. with batteries it still weighs almost nothing.
it goes pretty good with water i've had it in my pack while i've hiked some slot canyons where the water up to your chest most the time and it still worked great.
and it like the energizer bunny i haven't had to change the batteries yet, it's getting a little dim though.
the only thing i don't like about it is it's hard to tilt it, you have to use two hands every time.
Price Paid: $25

The Fuel is an effective, portable and comfortable 3-LED headlight when it's not cracked and broken.
Maybe I've been unlucky, but both Princeton Tec headlights (a Quad and a Fuel) have suffered unassisted plastic housing fatigue. The Fuel's plastic battery lid hinges simply gave way shortly after purchase. Now the Quad has developed a half-inch crack through the top of the plastic housing and plastic lens. I must stress this damage was not caused by any misadventure. It is purely fatigue!
Princeton Tec was good enough to replace the Fuel. I shan't bother asking them to do likewise for the Quad. Why suffer another disappointment?
Princeton Tec - never again.
Price Paid: Too Much

Maybe I just had bad luck, but this light did not last long.
Cons
Plastic housing for battery broke
Not very bright
Did not last long
So I got this light on sale so I figured I would give it a try. At first the light was working good but that didn't last long. After the first time I replaced the battery, the plastic housing that holds the battery in cracked where it snaps closed. After that the light would work if I held pressure on the housing, so I taped it up and used it for awhile like that. Then one day it just stopped working.
This was my first Princeton Tec and my last. I now own a Petzl Tikka XP 2 and love it.
Source: bought it new
Price Paid: on sale

I really REALLY love this flashlight, but like the first reviewer, the battery door hinge broke after a few months of very VERY gentle use, and the replacement's battery door latch broke after another few months.
Luckily I bought it at Mountain Equipment Co-Op and they have a lifetime warranty.
The beam is not quite wide enough to read with, without annoyingly moving your head back and forth. However for working on something it's fantastic.
I've been a camper since I could walk, this is my favourite light source after my candle lantern (and, totally 100% complimentary in function.) However I use it mostly around the house when I'm working on things or hunting for books or records in the recesses of closets, but I also would like to take it camping if it'll last long enough.

A light with great stamina. A light with great lumens.
Pros
Super easy battery change
Very reliable
Very easy to use
Cons
A tad bit heavy to some folks.
A  light that weighs only 78g with 70 lumens of brightness and 146 hours of burn time. A light that also has an asymmetrical single arm bracket that makes directing the light effortless and reliable; a large, easy to find push button switch and a virtually bulletproof, easy access battery door that protects the 3AAAs and its electronics.
I have yet to be disappointed at all with this easy to use gem. Get one.
Source: received it as a sample, freebie, or prize (Mmmmm, Trailspace, lol.)

I bought this for the price and other reviews that I read. I bought it, mainly for camping, but ended up, recently, using it for a caving expedition into a self-explore cave.
The entire event was 3 hours long. The temperature in the cave was 38-40 degrees, while the water was between 31-35 degrees. I used this light submerged, quite a few times. It held up to the cool temperatures of the water, as well as the cave, then unbelievably warm, humid temperature after coming out of the cave.
I haven't been very easy with the light, which for $17 bucks, I knew I wasn't going to be. All in all, so far, this has held up to the crap that I've put up against it, and with my not-so-gentle use, it's still ticking.
Price Paid: $17

I had trouble getting the batteries into the housing when I first received the lamp. However, removing the batteries was an awful experience. I had to use a pair of pliers to remove one of the batteries.
I then tried a different brand to see if maybe the first batteries had an extra thick coating. This was not the case. The design of the FUEL battery compartment is so tight the battery's coating was being cut trying to put the battery in to place.
The light is bright and has a long life, but if I need to change the batteries I do not want to spend 10 minutes with tools to do it. I would never and will never purchase PT headlamps again. 
Price Paid: $17

Plastic cracked after three uses in normal conditions.
I used this on only three trips. Then when I went on a 100-mile hike in Kenya the housing on this headlamp cracked, leaving me to camp, pack, unpack, eat, etc... with one hand (or my mouth) holding the lamp.
I am back now, and looking for a new headlamp which will NOT be Princeton Tec. It was good enough when I could wear it, but if I needed a handheld flashlight I'm sure I could do better.
Source: bought it new
Price Paid: too much

I just bought this item and ran a 5 miler with it last night. So far, it is GREAT. I couldn't even feel it on my head. Definitely more than enough light for road running at night. The swivel head makes it really easy to change the angle of the light, when needed. It even stopped a growling dog in its tracks! I turned it on high, and pointed it at the dog, and it stopped immediately, blinded by the light! It has 3 levels and brightness, along with a strobe setting. You can't beat this lightweight headlamp, for the price. Plus it runs on AAA batteries which are cheap to replace.
Price Paid: $24.99

This is just one of the models of theirs I've owned. All had switches go out and drain batteries when not on. POS, go with anything else.
Cons
DSwitch fails and they all have dead shorts and drain batteries when not on
Crappy products. All models I've had drain batteries when turned off and switches fail.
Source: bought it new
Price Paid: from $15-30

They had battery door problems with the first batches of the Fuel. The light has a lifetime warranty. Just call Princeton Tec 1 800 257 9080.
I have the Fuel 3 and the new FRED both are outstanding lights. Don't dwell on the negative past.  I just purchased 5 more PT Fuels for my friends this past week. Enjoy and have fun!
Price Paid: $25

This headlamp does not work well at temperatures below 50 degrees F. My old cheap Dorcy light worked well winter camping in subzero temps, but I can't even take this new light on a fall overnight. I do not recommend for anyone who does more than summer camping.
Email sent to Princeton Tec:
Am avid biker/hiker/camper and have quite a few of your products, i.e., the Fuel ( three,
two for gifts), a few "scouts", two "genesis handheld, even a few other items. 

Right now I'm packing for a weekend outing and dropped a "Fuel"  headlamp.  The battery door just broke off, upon further inspection, it should have  broken off, by design. It is a horrible design; it is flimsy and discouraging that you could market these items.

I'm still on the original batteries provided so it's not like  it's worn out.  It might be manageable if this wasn't such a catrastrophic failure; the  cover cannot be secured without that inferior hinge.
May 10, 2011 Update:
Emailed Princeton Tec earlier citing door failure: 
Received an offer to mail out two new doors.
This is my response to that, they should replace them with a lamp that is reliable:
Thanks Pam, I guess its the best thing to do, too bad now I'll have to carry the spare doors and probably another light and pair on needlenose pliers to re attach the new door if it breaks at night. I'll bring a Black Diamond headlamp, for that.
No more Princeton Tec products for this unhappy camper.
Price Paid: 13 bucks

On/off switch broke after two months. Had to rig it in the field with duct tape. Something within the enclosed mechanism just broke, wouldn't rely on this light for backcountry excursions without a backup.
Your Review
Where to Buy
Help support this site by making your next gear purchase through one of the links above. Click a link, buy what you need, and the seller will contribute a portion of the purchase price to support Trailspace's independent gear reviews.
You May Like
Specs
Price
Historic Range: $8.83-$29.99
Reviewers Paid: $13.00-$25.00

Recently on Trailspace