Princeton Tec Helix Backcountry

Top 25 in Battery-Powered Lanterns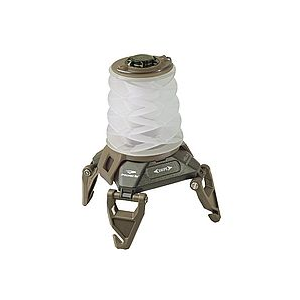 Specs
Price
Current Retail: $39.99-$57.99
Historic Range: $17.93-$57.99

Reviews
2

reviews

5-star:

1

4-star:

0

3-star:

1

2-star:

0

1-star:

0
The Princeton Tec Helix Backcountry is a collapsible lantern, which uses three AAA batteries, to boast up to 150 lumens of ambient light. I've found it to be a versatile light as it can be used not just for backcountry camping but also as a backup headlamp, for bike commuting visibility, or as a Leave No Trace campfire alternative.

The positives of the light are the battery life, multiple attachment options and the glow in the dark globe, which make it easy to find in the dark. Room for improvement? I'd love to have a way to tell the battery level, it's hard to find the switch in the dark and the stated weight is off.

I'd recommend this light to anyone looking for some creature comforts at the backcountry campsite, the backyard BBQ, a music festival, or canoe/car camping where the extra weight isn't as much of a concern.
Pros
Battery life
Glow in the dark globe
Alternate use a flashlight
Able to stand or hang securely
Intuative
Cons
No battery level indicator
Doesn't work with gloves on
Stated weight is off
Hard to find the control pad in the dark
Range and Beam: There are two different ways to evaluate the range on the Helix—in use with the globe, and when removed, as a spot (or flash) light. Let's break it down into those two categories.
Lantern: While on high the lantern pumps out 150 lumens of ambient white light, more than enough for use around a campfire, stove, by the cooler at a cottage or reading in your tent. The light is diffused through the globe and covers a circle roughly 25 feet in diameter.
I've found the high setting to be almost too bright for many occasions, when reading, especially in a smaller one person tent, the medium, or even low setting, is more than capable. For route finding, or map reading, at night when you don't want to mess up your night vision, the red light comes in handy.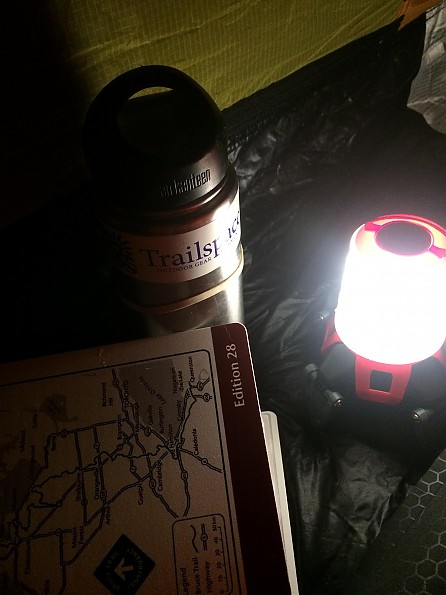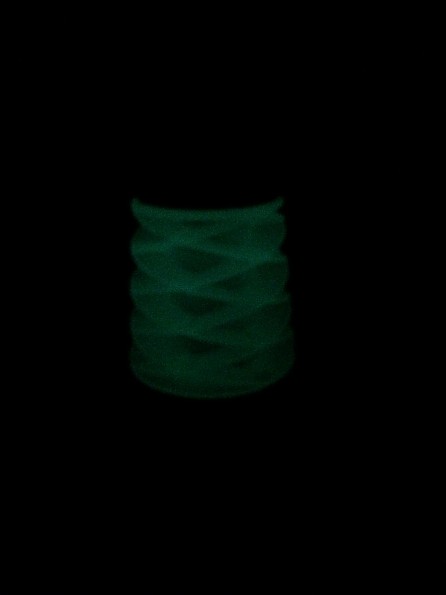 It's easy to locate within your tent with the glowing lantern, I usually have to throw something over it because it can be almost too bright.


Spotlight: I found this application of the light way more useful than I had anticipated. It adds a huge deal of versatility to the light, and many other possible uses- as a backup to your head lamp, a light for trail running or on the back of your backpack while biking at night. In my opinion it's all of a sudden gone from being pigeon-holed as a camp lantern, to a multi-purpose user. It throws light a good 30 feet when it's on the high setting.
The flashing red lights are visible from a long ways away, not sure the exact number (at least the top of my street to the bottom), more than enough time to be spotted by cars. I've used it in this configuration to hike at night by attaching the legs to the sternum strap on my backpack, it's a little less intuitive, as you have to turn your whole body, rather than just your head, but it's passable.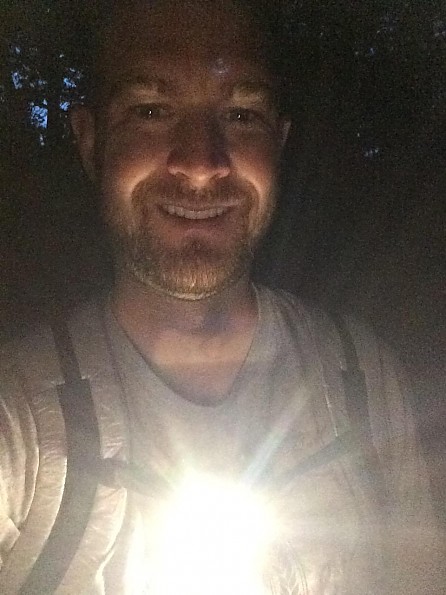 Hooked onto the sternum strap on my backpack.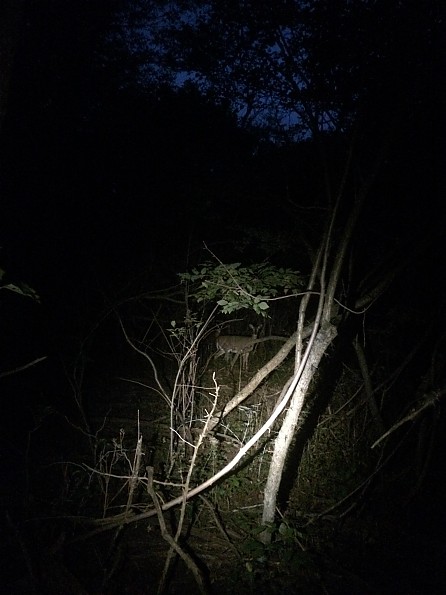 The deer was roughly 25 feet away at that point. No sure who startled who more!
Burn Time and Power Source: I wish I could comment on the burn time, but at this point I can only give you the numbers from Princeton Tec:
White: High 8hrs, Low 24 hrs

Red: High 12 hrs, Low 32 hrs
I haven't been able to wear out the three triple AAA's which were provided with the lantern. I can tell you that I've used it way more than I had expected to when agreeing to test the product. My two year old son has taken a liking to it, god only knows how long it has been shining when I find it under the couch, left on.
I've used it for many activities that I've already mentioned, and it is still going strong after about two months of use. That said, I have no way of knowing how much power the batteries have left. I'd love to have some way of knowing roughly how much battery life I have left. Just a simple low, medium, high indicator to warn me of the oncoming darkness!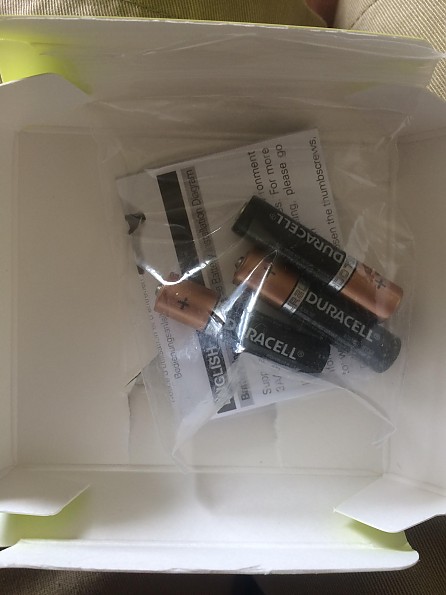 It's always a nice touch when batteries are included!
Also, there seems to be lots of conflicting info on the power source. Princeton Tec's own website lists it as two AAA (under the technology tab), three AAA on the main product page and backcountry.com has it as two AA's. It would be nice to see that cleared up so the end user knows what to expect. Three triple A batteries, final answer. Outdated game show reference anyone?
The batteries are easy to change, just unscrew the two screws on the underside (you can use a coin, screwdriver, knife or an excessively long fingernail, if you have one) and swap them out. The battery door sits flush and secure and they certainly haven't skimped weight on the screws, they're metal and could double as bear protection if you need!
Ease of Use: If you can swipe to unlock your phone then you're on your way to figuring it out! Sliding the control pad from left to right will give you your white options. Once for high, twice for medium and three times for flashing. Same thing for the red light but this time from right to left. Holding your finger on the pad will slowly dim the lights, once you hit the lowest setting it will flash softly.
At any point you can swipe in either direction again to turn the light off. It's surprisingly well designed and easy to pick up. As I said, a two year old has picked it up (after a few short tantrums of course...tantrums optional for you).
There are a couple of downsides to the control surface. Much like your phone it is touch sensitive, so unless you are wearing those new, fancy scmancy touch compatible gloves then you must remove any hand wear. The second is that it can be hard to find the pad at night. It just feels like any other flat surface on the light, so it takes a little extra fumbling in the dark. The bright side (see what I did there) to the pad is that there is no chance that the lantern will be able to be switched on accidentally while in your pack.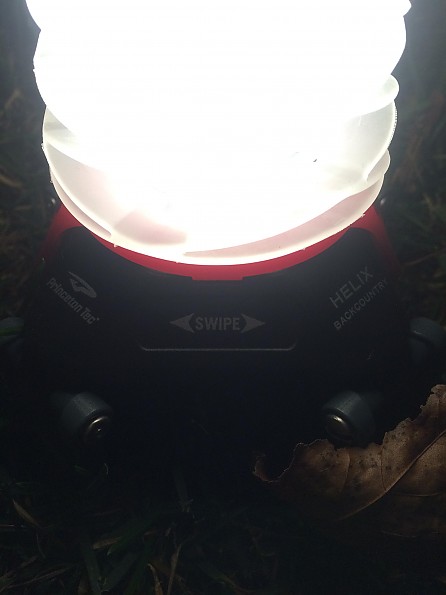 The pad has no tactile feel to it which makes it hard to recognize in a sleepy slumber. Either that or I'm a bit of a stumbling idiot, either one is possible. I'd like to see something small, even a dot or two on the sides of the pad.
Durability and Weather Resistance: There isn't too much to break, and what there is, is well made and protected. The lights are covered by solid plastic that both protects them and focuses the spotlight beam, and then presumably has the globe over them.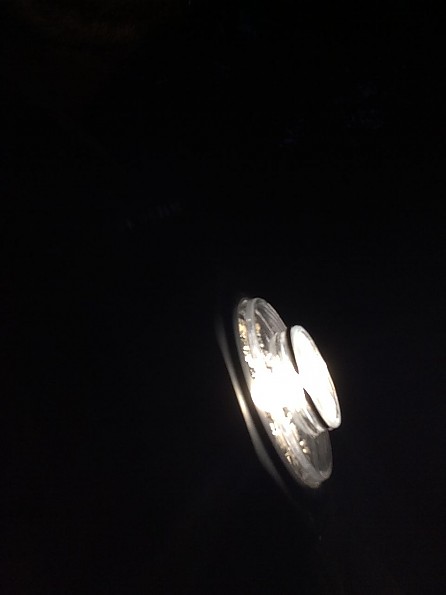 The legs are sturdy and the hinges have the perfect amount of resistance—not so tight that they are annoying to deploy, but not to flimsy that the light flops around. The metal hardware evokes confidence and the quality is top notch.
The legs held on nicely even in the high winds.
I see two possible weak points in the long term. One is the plastic used to attach the globe to the base and two is the plastic globe itself possibly weakening from repeated collapsing. Princeton Tec does cover this product for a five-year period, which is nice.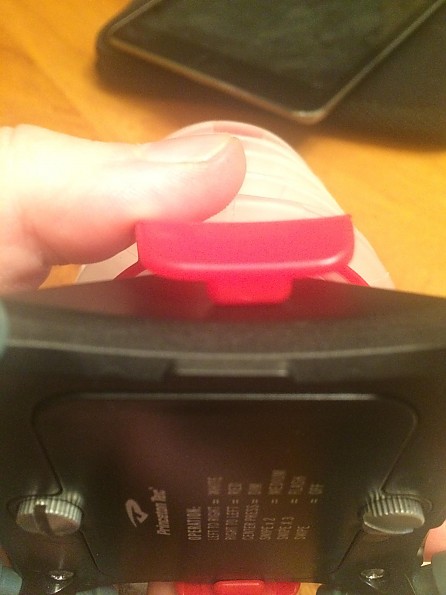 The red you see is the plastic I'm referring to, which clips the globe onto the body of the lantern. You can also see the beefy screws I was referring to earlier.
I've been unable to test the weather resistance in the backcountry (all nice weather, rats!) so when a big storm rolled in I quickly took to the backyard to test it out. To give a little context to the video, I had let the light sit in medium to hard rain for ten minutes prior to filming.
Size and Weight: There's one major gripe I have here, mostly with the marketing of the product. The stated weight is off, significantly. Princeton Tec lists the light at 5.5 ounces while the weight on my scale is 6.6 ounces. No, an extra 1.1ozs isn't the end of the world, but that is roughly 20% off the stated weight.
I am not an ultralight backpacker, nor do I think the extra ounce will make or break a trip, I just like it when the marketing matches the reality. With that out of the way, 6.6 ozs isn't bad, especially with the upcoming fall season and hence the shorter the amount of daylight. Personally I enjoy pulling into camp around 4, lounging by a lake for a bit before enjoying a good meal by campfire or lantern. This makes the weight worth it to me.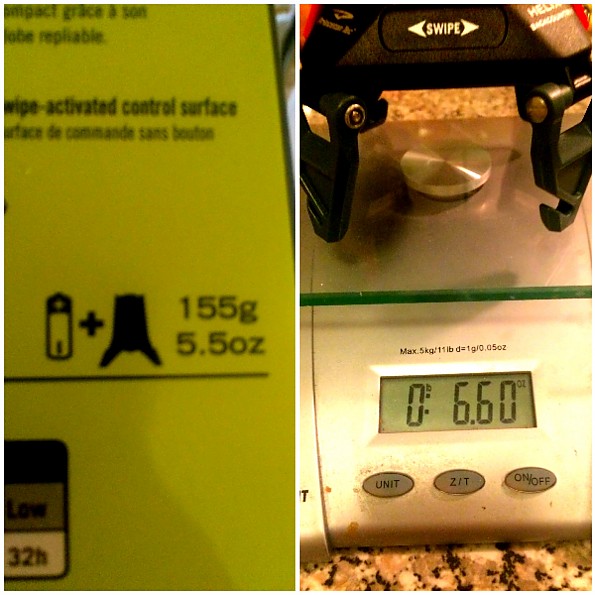 Stated size and weight on the left, what mine actually weighed on the right.
The pack size is more than reasonable. It goes from 13 cms fully extended (legs and globe) to 5 ½ when collapsed. It's easy enough to throw in a backpack, lid, or even a jacket pocket.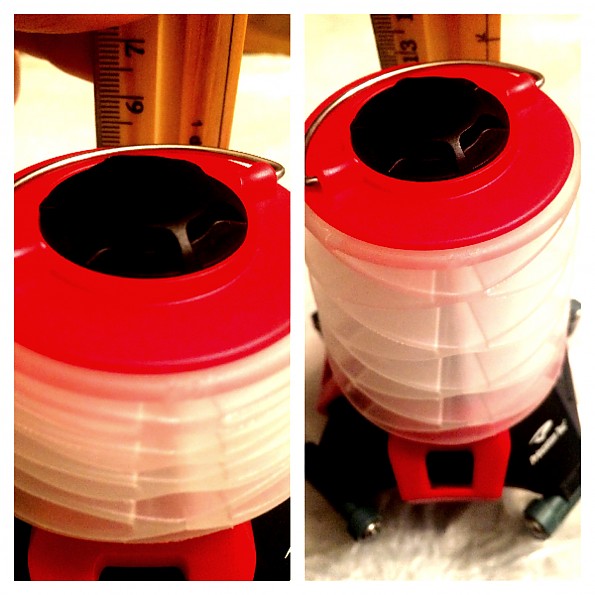 Conditions and Testing: I've got no reasonable guess as to how long I have used the light. It's been on and off so many times I've lost count. Sometimes it's been turned on for five seconds to find a zipper pull for midnight bathroom breaks, and sometimes it's been found left on, presumably for hours, under the couch. I can tell you that I've had it for two months and I've been able to use if for multiple activities—camping, both the front and back of my backpack for either hiking, running or biking, and it comes in quite handy for emergency preparedness.
The temperatures have ranged from 22 degrees celcius to overnight lows of -7 degrees celcius, with the majority of testing days I experienced low humidity, but high wind speeds. It's one of those accessories that you may scoff at and say you don't need, and you may be right most of the time, but it sure is convenient to have around especially at around $30.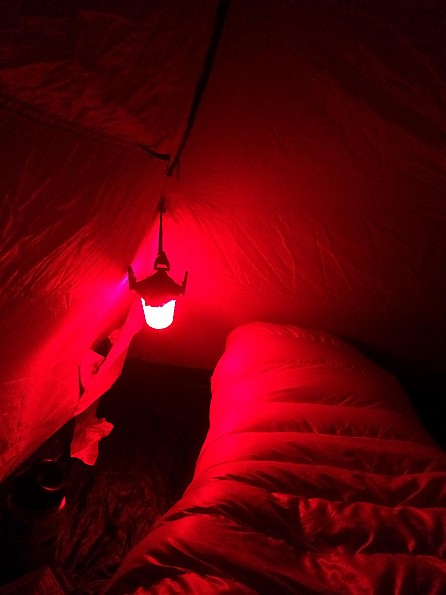 My thanks to both Princeton Tec and Trailspace for the opportunity to test the Helix Backcountry.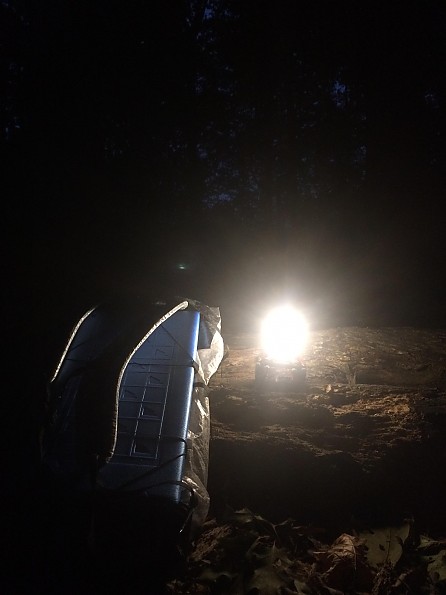 Source: received for testing via the Trailspace Review Corps (Sample provided by Princeton Tec for testing and review)

OMG. This thing kicks ass!!!!!
Pros
Brighter than any other lantern I have seen.
Very versatile and can be used in many ways.
Cons
More color options please, maybe all black or camo
This is the coolest light I have ever owned. So many useful ways to use. Can be used with or without the rubber diffuser like a flashlight, or hanging from a tree, or just  sitting on a table. Very bright!
Source: bought it new

You May Like
Recently on Trailspace