Princeton Tec Vizz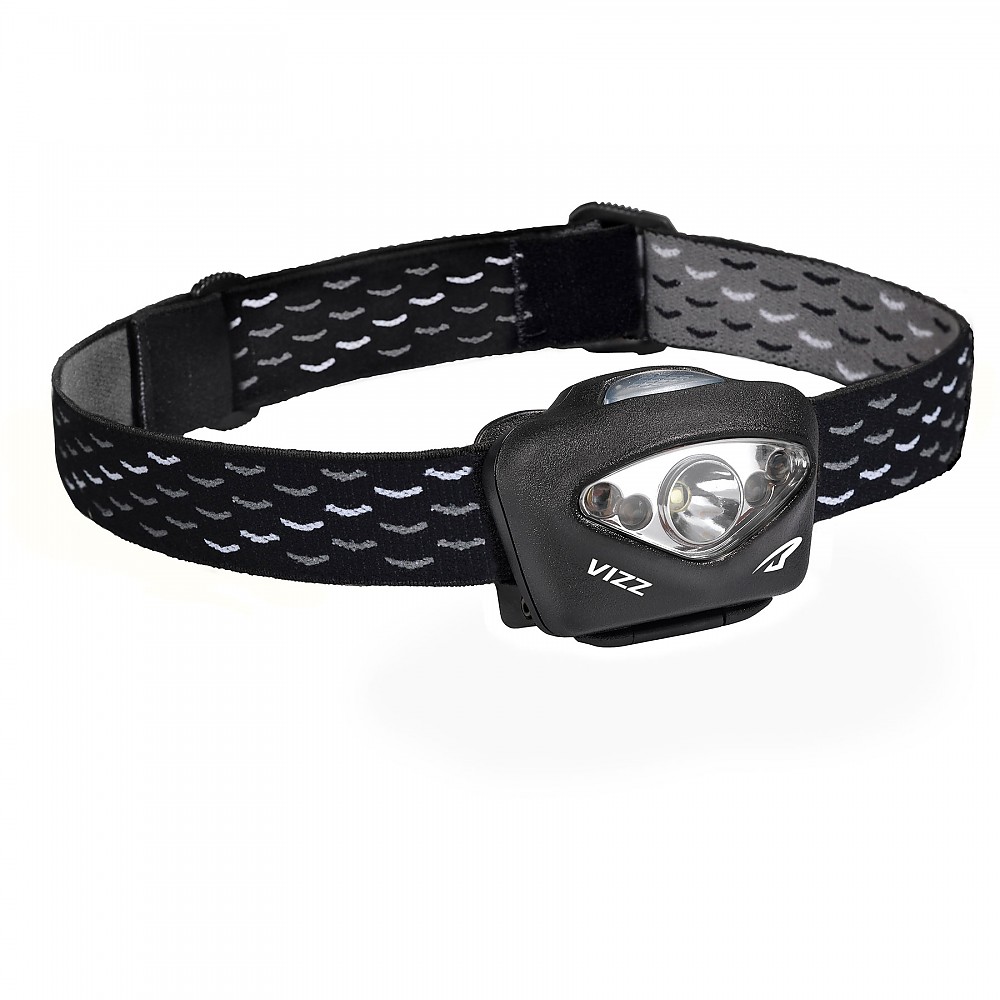 This lamp has the best of all the worlds I need it for at a reasonable price. The options, durability, and comfort make this a good go-to item.
Pros
2 red LED lights
Good throw of high beam
Highly adjustable 2 light LED feature
Waterproof to 1m for 30 minutes
Takes lithium batteries
Big switch button
Switch lock
Made in USA
Cons
Bulky
Always turns on to red light feature
Battery door screw will come undone
I usually research things to death before I buy them. Ironically, I bought this almost on impulse when I was preparing to go on an 11 day canoe trip. My favorite headlamp was "appropriated" on an overseas trip, and I replaced it with its new version. I hated it. So, I had been doing my reading on a lamp that I would find would work better for my needs. Walking down the camping goods aisle in a sporting goods store, this lamp's sale price caught my eye, and then I studied the features. I was sold. I haven't regretted the purchase!
The lamp's high beam triangular mid-sized throw is 90 meters (Ptec calls this main beam form 'medium' but it's not because they compromised on distance or width, they just combined them both in to an elongated triangle), and the low dimmable setting is 20 meters. The lamp sports three sets of bulbs: 2 red LEDs, 2 white dimmable LEDs and 1 high output LED bulb. Run times are 110 hours on high, and 150 on low with alkaline batteries. Lithium batteries will significantly extend use times. The empty lamp weighs in at 2.8 ounces, and with alkaline batteries 3.7.
I needed this lamp to be muliti-use, and I got more than I had even realized at purchase. The waterproof feature was a huge bonus as I wanted it for the canoe trip. I was relieved to have a lamp I didn't have to worry about if I had to press it into service while in the boat or near the water. I also wanted a stronger light to night hike or bike with. The 150 lumen lamp has certainly lived up to its need. I never worried about having enough light with the features of this lamp.
The dimmable LED function is hands down my favorite feature. The dual white LEDs are bright enough to night hike or do camp chores all by themselves, and I LOVE being able to dim down the light for tent use/reading. The secondary LEDs are activated by holding down the button.
(The mode always starts at the dimmest setting which continues to increase in brightness until the button is released; the dim cycle can be cycled again at any time. The light increases in intensity, blinks once, and then dims back down to the lowest setting where it will continue to repeat as long as the button stays depressed, taking ~ 3 seconds) The red LEDs are also bright enough to lots of evening chores and reading as well.
Outside of one major quirk of the battery door screw will come undone while jostling in my gear, I found the lamp to be durable and sturdy. It sports a high water and dust resistance number, and the housing and band seem no worse for wear.
I believe this is a solid lamp with good features for a reasonable price. One lamp that does most for multi-sport users who want a reliable, effective product. I would buy this lamp all over again.
Source: bought it new
Price Paid: $29.99 on sale

I have to say overall not a bad light for its price point. It does the job well, not great, but well.
Pros
Dimmable LEDs
Red LEDs
Lock out so it can't turn on in your bag
Cons
Main LED has poor beam quality
I have not used this light for extended periods of time yet. What I can say is that it is a pretty decent light at its price point. I'm definitely a light freak. I have many flashlights. It's kind of a hobby.
I can say if you spend a few more dollars there are better options out there. The main plus is this is available at local stores and doesn't have to be bought online.
I have really only used this light for fishing so far. I can say it's GREAT!! for that. Red LEDs to not shine the light across the water and spook the fish. The dimmable white LEDs are great when tying knots or switching lures etc... The main LED is great for accessing certain trails to the fishing spots.
Overall I would and have recommended this light to friends. It's a great light for what it is. My only complaint is the beam quality is not smooth, but I can get over that. Otherwise it has done everything it has needed to do for me.
Source: bought it new
Price Paid: $50

Frustrating product. Would not recommend.
Pros
Pros are useless if you can't light the lamp.
Cons
Battery life is unacceptable. NOT what PTEC claims.
This headlamp has the listed FEATURES as are advertised, but are useless when the lamp fails to light. The batteries DO NOT last anywhere near what they claim. There is NO WAY I get HOURS out of each set of batteries, and I use alkaline, exactly what they recommend. And I do not mix old with new.
I use my lamp when I go to my barn after dark. Total time of usage would be 10 to 20 minutes each trip. I am lucky to get three trips before batteries die. PTEC can brag all they want about the great features, but it is nothing when the lamp won't light. It EATS batteries like crazy.  
I keep my lamp at my house, like I said for farm use, but if I ever had to use it elsewhere I would go to Sam's Club and buy bulk batteries to take along. I told this to the store where it was purchased (REI) and they agreed with me. Said the battery usage is the biggest complaint on this item, and sales on "Vizz" have slowed down substantially since word is getting out.
Definitely would NOT recommend this lamp to anyone. What an outrageous price for such a poor quality product. WalMart probably has a better one.
Source: Rec'd as gift (told bought at REI).

It stopped working after sometime. I didn't use it much either. Stay away from this product despite lifetime warranty. Cause actually you need this device in most critical circumstances and when it stops working then you are pretty much done for.
My review of this product is totally terrible. It's not reliable. and when you are in some critical situation like tracking in the mountains this could mean a difference between life and death.
Who care about lifetime warranty? You won't be able to claim it when you are dead.
Experience
My experience was totally filled with frustration.
Source: bought it new
Price Paid: Lot of money

Why do the batteries routinely go dead after just a few hours?
Cons
Dangerously quick burn time
The first Vizz I owned seemed to have an electrical short -- why else would the battery go dead so quickly? So I called Princeton Tec to report the problem and they graciously agreed to have me send it back to them. They soon sent me another -- and the life of the batteries is equally poor: maybe 2 hours of use, and now the red light indicating low battery life is flashing.
The problem with the burn time negates any redeeming qualities it may otherwise have. It's irresponsible for PTec to be selling this to people who will expect to rely on it for serious trips in the backcountry.
Source: bought it new
Price Paid: Full price from a small independent shop

Could be really nice lamp if not for defective circuit... :(
Pros
Very bright light
Comfortable to wear
My son bought this for me a couple months ago and lamp worked perfect for the first couple times I used it. Now when I want to use it I have to open up the battery compartment and squeeze unit together to get light to come on—very frustrating!! There must be a short somewhere in the circuit or something???
I am gonna try and return it for another one before I buy from competitor.
Source: received it as a personal gift

Liked it initially, but chews through batteries and died after 12 months. Ptec wouldn't cover it.
I found one of the outer white LEDs didn't always work and the battery life is terrible. It took me a while to work out, but when I turned the lamp off the main LED was still on, only very dull, but you could not turn it off.
Then after 12 months it stopped working altogether and despite a "lifetime warranty" it was not covered.
I would not buy Princeton Tec ever again.
Source: bought it new
Price Paid: $89

Your Review
Where to Buy
Help support this site by making your next gear purchase through one of the links above. Click a link, buy what you need, and the seller will contribute a portion of the purchase price to support Trailspace's independent gear reviews.
You May Like
Specs
Price
MSRP: $49.99
Current Retail: $39.40-$64.99
Historic Range: $14.73-$64.99
Reviewers Paid: $29.99-$89.00

Power
420 Lumens

Lamp
1 Maxbright LED (regulated), (dimmable) / 2 Red Ultrabright LEDs (dimmable) / 2 White Ultrabright LEDs (dimmable)

Burn Time
90 hours

Batteries
3 AAA Alkaline or Lithium

Weight
3.2 oz / 92 g

Water Resistant
IPX7