Rab Continuum Hoodie

The Continuum Hoodie has been discontinued. If you're looking for something new, check out the best down insulated jackets for 2022.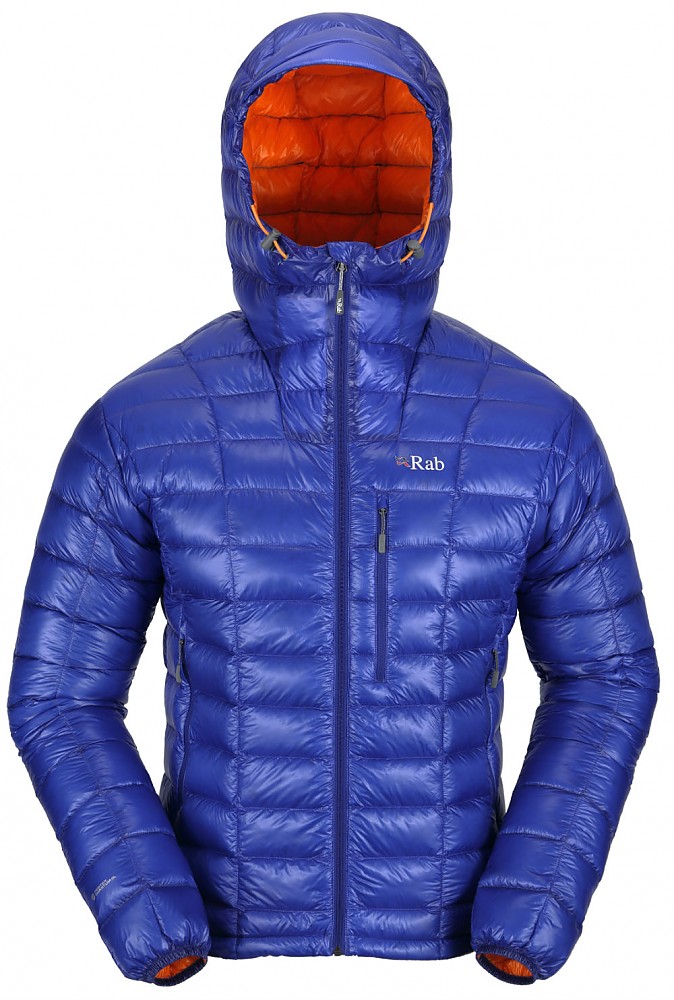 Specs
Men's
Price
Historic Range: $185.61-$349.95
Reviewers Paid: $180.00-$299.00

Women's
Price
Current Retail: $209.99
Historic Range: $195.99-$349.95

Reviews
2

reviews

5-star:

1

4-star:

0

3-star:

0

2-star:

1

1-star:

0
The perfect high mountain backpacking down jacket.
Pros
Very high warmth-to-weight ratio
Great fit
Well designed hood
Hydrophobic down
Well made
Cons
Unneccesary chest pocket
Expensive
There is almost nothing better than backpacking in the Sierra in late summer/early fall when the nights can get chilly. Temps can routinely get into the 30s and 20s—and even the teens. I remember one morning below Mt. Whitney in late September it was 17 degrees at 6 a.m. When that happens, there is nothing better than having a great down jacket.
Unfortunately, that morning I did not have one. I had some layers, a down vest, and a stocking cap. I survived, but if I had brought the Rab Continuum Hoodie, I would have been ecstatic.
This is an awesome jacket. It bridges the gap between the superlight (not so warm) jackets weighing in at 8-10 oz and heavier jackets at more than a pound. This jacket, at about 12-14 oz (depending on your size) is in that sweet spot. It can keep you warm in freezing temps with a couple of thin layers underneath, but you hardly know you are carrying it. It is like a warmth insurance policy in your pack. And it compresses down to nothing.
The jacket has an "athletic cut," meaning it fits closely. The XL fits me perfectly. I am 6'2" and weigh about 200 lbs with a 45 inch chest. It is engineered to be warm. By that, I mean the cuffs have nice snug elastic that seals out cold air, the waist can be cinched via two adjusters, further sealing out the cold and the hood is the topper — keeping a lot of heat loss from happening. Some jackets are less form fitting, creating more space inside that has to be warmed by your body. With those jackets you can add multiple layers. The Continuum is designed for use with fewer layers.
A few years ago I became a "hood" convert. I always had insulated jackets without hoods and relied on a ski hat for warmth. But I learned the difference in warmth a hood makes is game-changing on a cold morning. You pull that hood over your hat, cinch it down (especially if it is windy) and you are toasty and warm. I'll never go back. The hood on the Continuum is big enough to wear a helmet underneath (for climbers), but can be cinched down two ways. And, it has a nice brim with a bendable wire, which is really nice.
A great thing about bringing a down jacket along on a backpack trip is the dual use. I was on a trip with some friends, and one of the women was really getting cold at night. Her bag was not warm enough for the temps and she was a cold sleeper. I gave her my down jacket to wear in her bag and she was toasty. They can add up to 10 degrees warm factor to a sleeping bag.
This is NOT a winter jacket. It is a summer/fall high mountain jacket. And it is NOT one of those stripped-down jackets that do away with all the adjusters to save weight. They could have made this jacket two oz lighter by doing away with some of the adjuster bungees, but they make the jacket warmer. I love them.
The inner material is incredibly thin and light. The outer shell (Pertex Quantum) is a little heavier, but still plenty thin. This jacket is not designed for crashing through the brush. It won't take that kind of punishment. But the build quality is excellent.
The down is treated to absorb less water if you do happen to get it wet. It is 800+ fill down that meets European traceability requirements. I haven't really gotten it wet, so I can't comment on how much drier the down stays than untreated down. But hydrophobic down is showing up in a lot of high-end jackets these days.
The zippered chest pocket is the one thing I would change. I would get rid of it. The hand warmer pockets are plenty big to store stuff in. I almost never use the chest pockets on jackets, so I would save the expense and weight of having it.
There are a lot of great jacket choices out there. This is one of them.
Source: bought it new
Price Paid: $299 on sale

With great expectations come great disappointments, and I was hugely disappointed. This high-end jacket had all the right specs, features, and review, suited exactly to my needs. But being incredibly fragile together with other quality issues left me with no choice but to return it.
Pros
Best specs of down-volume-and-weight ratio
Very warm
Loaded with features
Looks good
Cons
Abnormal feather and down clusters shedding from seams and fabric
Extremely fragile outer fabric
Low quality control
Although I have a decent experience in trekking and thru-hiking, I never owned a down jacket. As I always aspire to upgrade my gear, I realized that if I want to travel lighter, I need a down jacket.
The main purpose of this jacket will be to serve as an outer layer at camp, and as such, it should be warm and functional. I researched the internet and decided what are the most important features for me, the amount of money I am willing to spend, and if synthetic could be an alternative.
I rounded my requirements to these:
It should have enough down to keep me warm when I am static, water repellent treated down is a bonus.
It must be under 400 grams (14 oz) to make it a worthy upgrade to my existing gear.
Hood is a must, adjustable one will be a big bonus.
Durable, so I won't need to babysit it.
Belt\harness compatible pockets are a bonus.
It should have a hem cinch.
Good reviews and good quality control.
I was willing to spend up to 200 dollars for a high-end jacket that will have all these features and will hopefully last for several years. On the other hand, I was looking at cheaper options, jackets that will be nothing more than a camp jacket, and I won't care too much if they get warned out quickly.
I was inspired by Alan Adventures to plot a table that compares the down-to-weight\cost ratio of several candidates. I literally looked at dozens of different companies and models searching for the best jacket.

Thanks to this table I could conclude that the Rab Continuum has the best warmth-to-weight ratio and has a huge down volume that will surely keep me warm (table attached). It has 850FP water repellent treated down, three-way adjustable hood, hem cinch, two harness compatible pockets, and Pertex Quantum GL fabric that should be ultralight, downproof, windproof and durable. Moreover, the jacket has good reviews and Rab has a good reputation. I waited a month or two for a deal and bought it for less than 200 dollars with gift certificates.
When I received the jacket, there were already loose feathers in the bag it came in. When I inspected it, it had tens of tiny feathers and down fragments sticking from every seam and some even through the fabric. Having no experience with down jackets, I read and understood that it is normal for a down jacket to shed some feathers in the first two weeks, and thought it is probably normal. I decided to test it for three weeks, giving the down a chance to settle, and the production leftovers to clear.
During these weeks I wore it mainly to office, I camped for two nights, and used it in an outdoors activity for two days.
First, this jacket is warm, very warm. It is very light and the 850 FP down really does a difference. The features are excellent, though the hood is huge and it had to be cinched all the way down for it to fit my helmetless head. The fabric is silky smooth, and it has a brilliant color. The fit is athletic which fitted me well; I got many compliments on how it looks.
With that said, the jacket did not stop shedding feathers and down fragments for everywhere, seems and fabric. There were feathers flying around me all the time, and shirts I wore underneath it got covered with them. At some point big down clusters started to find their way out, and not just through the seams but through the "downproof" fabric itself. The construction is a boxed sewn-through which is not ideal as there are many seams, letting wind in and down out. The wrist cuffs are weak and their seams looked as if they are about to reap.
After almost 3 weeks, as I was wearing it at home, I saw there is a thread that got stretched on one of the sleeves, I tried to stretch it back in place and that revealed a small hole. I have no idea how this had happened as I was just in my house having dinner and that hole wasn't there before. I was most careful while wearing it or storing it. I did not experience anything pulling my sleeve whatsoever. While inspecting the hole, I noticed that on the other sleeve, the Rab logo was peeling off, just like that, almost half of it was detached.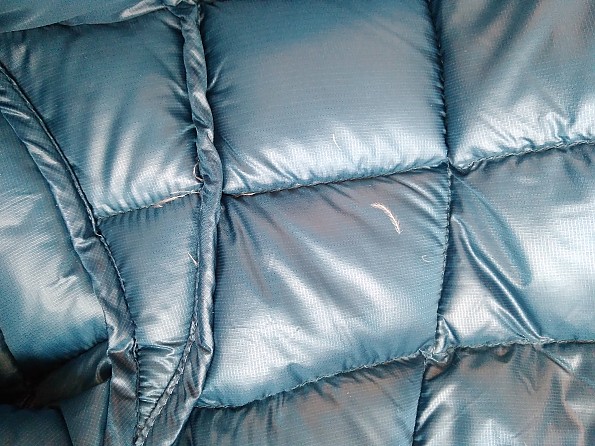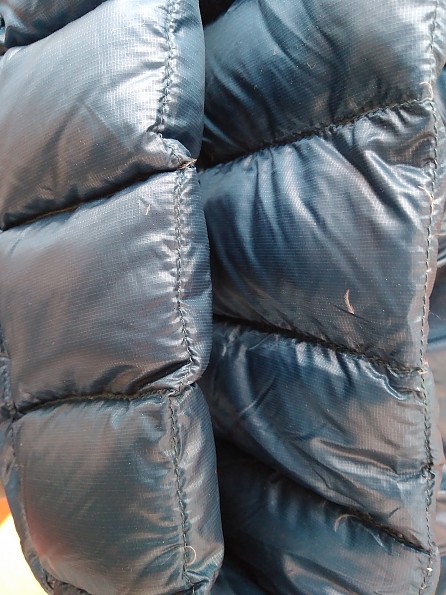 Based on those flaws I returned the jacket to the seller and got a full refund (Kudos to Campsaver). I am perplexed of how a jacket that is meant for mountaineering and is made by a company that advertises its products as suited for the most demanding adventures, can be so fragile that it is not suitable even for indoor use.
I understand that ultralight comes with compromises. I understand that these fabrics demand extra care. But I think that if a jacket is so fragile to a point that you must constantly wear a shell over it or it will be damaged, the purpose of ultralight is completely missed.
With great expectations come great disappointments, and I was hugely disappointed, especially after spending so many hours searching and comparing, I thought I had a winner. It has such good specs that I even thought of rebuying it, thinking maybe it was a production glimpse. It took me a long time to find another jacket that could match the Continuum, and finally I decide to go for the Mytrail Co. UL hoody. It lacks many of the features of the Continuum, but hell, it has good specs and I got it for 90$ !!!
Btw I'll be happy to share the excel table, it's basic but it helped me to take a data-based decision, credit to Alan Adventures.
Experience
I'm an experienced thru-hiker, day hiker, backpacker and climber, though I never owned a down jacket.
Source: bought it new
Price Paid: 180$ with gift certificates

You May Like
Recently on Trailspace