Raichle Mountain Trail GTX

Raichle is no longer in business, and the Mountain Trail GTX has been discontinued. If you're looking for something new, check out the best backpacking boots for 2023.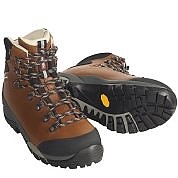 These are excellent boots. I recommend them for cooler temperatures. The fit is excellent. These boots have great side support.
Pros
Extremely high quality boots.
These boots are very comfortable and durable. The support is excellent. These boots are very water resistant, traction is excellent.
These boots are best in cool or colder hikes. I have used these boots on short hikes. Boots are a little heavy.
Source: bought it new
Price Paid: About $170

I'm going to echo what another reviewer called these boots...ROCKSTARS! I've had them for three years and have logged well over 200 miles in them in subalpine / alpine terrain with 40 / 45 lb loads. Never a blister, never a twisted ankle, like your feet are encased in armor.
While they're not the lightest I would never consider them heavy. Comfortable with no toe bang. They might get a little warm in summer lowland temps but for extended backpacking trips in varied terrain and inclement weather they can't be beat. Now under the Mammut brand name but the same boot. Get em.
Materials: Leather / Goretex
Use: Backpacking
Break-in Period: Minimal
Weight: 3,6 lbs
Price Paid: $185

Purchased nubuck leather version six months ago. Broken in quickly thanks to 10 hours walking up flooded creek. Since then have used on a number of three and four day walks with full pack and over rough terrain often with no track.
I have been very pleased with the performance of these boots. They have excellent support and grip and are surprisingly comfortable. So far I am more than satisfied with the boot, longevity pending.
I would appreciate a non Gore-tex version because even though it is supposed to breathe I find it keeps water in almost as well as it keeps it out. unfortunately most quality boots are Gore-tex lined these days. probably serves most people well but the option would be nice.
I have plenty of confidence in these boots and am happy to recommend them.
Other boots owned; Zamberlan, Scarpa, Merrell.
Materials: nubuck leather
Use: varied
Break-in Period: 4ish days
Price Paid: $399 australian

I'm a women's street shoe size 4.5 (US) and have the Mountain Trail GTX labeled as such (sold as a UK size 3).
My uses: heavy backpacking (40+ pound pack, up to 12 miles and 4,000 feet elevation gain per day) and light mountaineering (non-technical climbing; mixed rock and snow; occasional crampon use). I got a great deal on a closeout.
The Good: boot fits phenomenally well for a foot with a narrow heel and high arch, consistent with the preponderance of reviews I read before buying. Utterly true-to size while wearing a wool sock and thin sock liner (I have a wide toe). I retained the factory footbed.
This literally is the most comfortable pair of backpacking boots I have ever worn. Boots required virtually no break-in, essentially just a few days wearing around the house to check fit and a couple of hill walks up a 400-foot vertical in sagebrush-steppe. On glacier and snow fields, worked very well with my SMC traditional strap-on crampons.
The BAD, very bad: soles started to de-laminate on the very first trip (
Materials: 2.6 mm waxed leather, gore-tex liner
Use: rough trail and off-trail w/heavy pack; light mountaineering (non-technical climbing)
Break-in Period: virtually none.
Price Paid: $122

I purchased these boots in early 2006. I see that they have changed the model slightly. But, I LOVE these boots.
I work outdoors in oil and gas exploration and carry heavy loads (30#+) at times in all terrains and these boots are a dream to wear! They fit like a glove, are waterproof, and need very little break-in time. They have great traction and have handled every situation I've been in with ease.
The rubber rands protect the boot from sharp rocks and tree limbs. The padded collar and ankle support feel wonderful and hug my foot like a glove. I never developed blisters while wearing these boots. They are beginning to show some wear on the leather (it's time for me to treat them).
The only problem I have had so far is the quick lacing off-set hooks at the ankle on my left boot broke off after the laces got tangled in some downed tree limbs and I yanked too hard to free myself. Other than that, I have no complaints and would definitely purchase these or other Raichle products again! I have never been more satisfied with a boot/hiker before.
Materials: leather and gore-tex
Use: dayhikes and rough trail
Break-in Period: none
Weight: not sure
Price Paid: $190

Intended to retire my 15-yr-old Zamberlans for these. First four days of fell walking in the lake district I was very impressed. No discomfort from brand new boots, not foot sore after 15 miles including over rock and scree, no feeling of sharp rocks into foot sole and great grip. Then a lace went slack and I discovered the ankle level lace hook on the inside of the left boot had sheared off at the bend. Scrambling down rocks was probably to blame but if you look at the position of this hook it is very vulnerable to this. Also the hook isn't solid, it has a slot in it reducing strength (why?).
Retailer was very good and gave me my money back so returned to the trusty Zamberlans. A real shame because if this was fixed, replaced with a tethered D-ring say, I would go straight out and buy another pair.
Materials: leather, gortex lined
Use: trail/ lakeland fells
Price Paid: $139

This boot is a Rock Star. Stability and support are freakishly good. Not too hot. Not too cold. I have a narrow heel and it did not budge. And I didn't have to lace it so tight that my foot fell asleep either. I've hiked through streams and stayed totally dry. Overall comfort is fantastic.
I can't say enough good things about this boot. I've used Vasque and Asolo boots in the past and they don't even come close! The one thing to mention and I couldn't even ding the boot on it, was, as usual with any boot, the insert was worthless and I replaced it before even hiking in them.
Materials: Leater & Gore-Tex
Use: Day hikes and weekenders
Break-in Period: 5 miles
Weight: 3.9 lbs
Price Paid: $189 US

Hi,
I don't have extensive experience with hiking boots. I had another brand before this of the same price. In less than a year traveling overseas they literally fell apart. I returned them to the shop and as they no longer supplied that same brand, I was given this Raichle boot. I had never heard of it before.
I also want to mention that I have flat feet. These boots however gave me all the support that I needed.
After reading many reviews of these boots, I felt disappointed that they did not last me as long as others stated. I have been told though that I have received good durability. My use was walking around China. I walked around the countryside and also a lot of walking in the city. Sometimes up to 10 hours a day. If I average my walking time over the one year I was in China (and then back home), I think it must be about four hours on average per day. My boots were the one thing that I was always very happy with. I never want to be without them. If I ever wear joggers, my feet would hurt after two hours. You can really tell then just how good these boots are.
Here is a negative of these boots. I tried to have them resoled. I went to a guy that was recommended to me, as an old craftsman. He removed the sole and told me it was not worth the cost to resole them. That was very disappointing, and obviously inbuilt obsolescence by Raichle.
Here in Australia, the cost of these boots is about double of any other shoes I have bought. They are very expensive for me personally. I have really been thinking if I should buy another pair or not. I decided today that I would. I consider them necessary for foot health, and of course they are wonderfully comfortable.
Materials: Leather and Gore-tex
Use: day hikes
Break-in Period: one month
Weight: 2 kg
Price Paid: $A350

Well, I never give a 5 star rating.
The boot needs to break in of course, but when they do, oh my! Took about three weeks of hiking every other day. First my left foot went numb, then my right foot, and I began to doubt the boot...but then everything clicked. The technology feels like it begins to "know" your foot, and before long, no hot spots, no numbness.
It's easy to adjust boot tightness and they are stiff enough to accept strap-on crampons. Took these boots about 12 miles to Mt. Adams summit and back and smiled the whole way.
Materials: Leather and Gore-Tex
Use: rough trail, easy summits
Break-in Period: 3 weeks
Weight: 4 lbs
Price Paid: $189

Purchased these 4 months ago, after trying on about 20 pairs. The best fit in the shop. Wore them on a 12 mile hike the next week after 3 or 4 miles at home about town etc, with my old boots in the pack for when feet started to ache. They never did.
I walked about 50 miles in the first month and 150 since, and no blisters or rubs anywhere. Truly comfortable, totally waterproof so far, using Nikwax on outer, warm but not sweaty, good traction and support.
A bit heavy, but that is the tradeoff for quality. Great on Scottish mountains, and Derbyshire hills. Lovely boots.
Materials: Leather with Gore-tex liner
Use: rough trail w/light/med pack
Break-in Period: None
Weight: 1.3kg
Price Paid: £95

Your Review
You May Like
Specs
Men's
Price
Historic Range: $99.95-$179.00
Reviewers Paid: $139.00-$190.00

Women's
Price
Historic Range: $129.93
Reviewers Paid: $122.00

Recently on Trailspace