Rayovac Indestructible Lantern DIY3DLN-BC

Top 25 in Battery-Powered Lanterns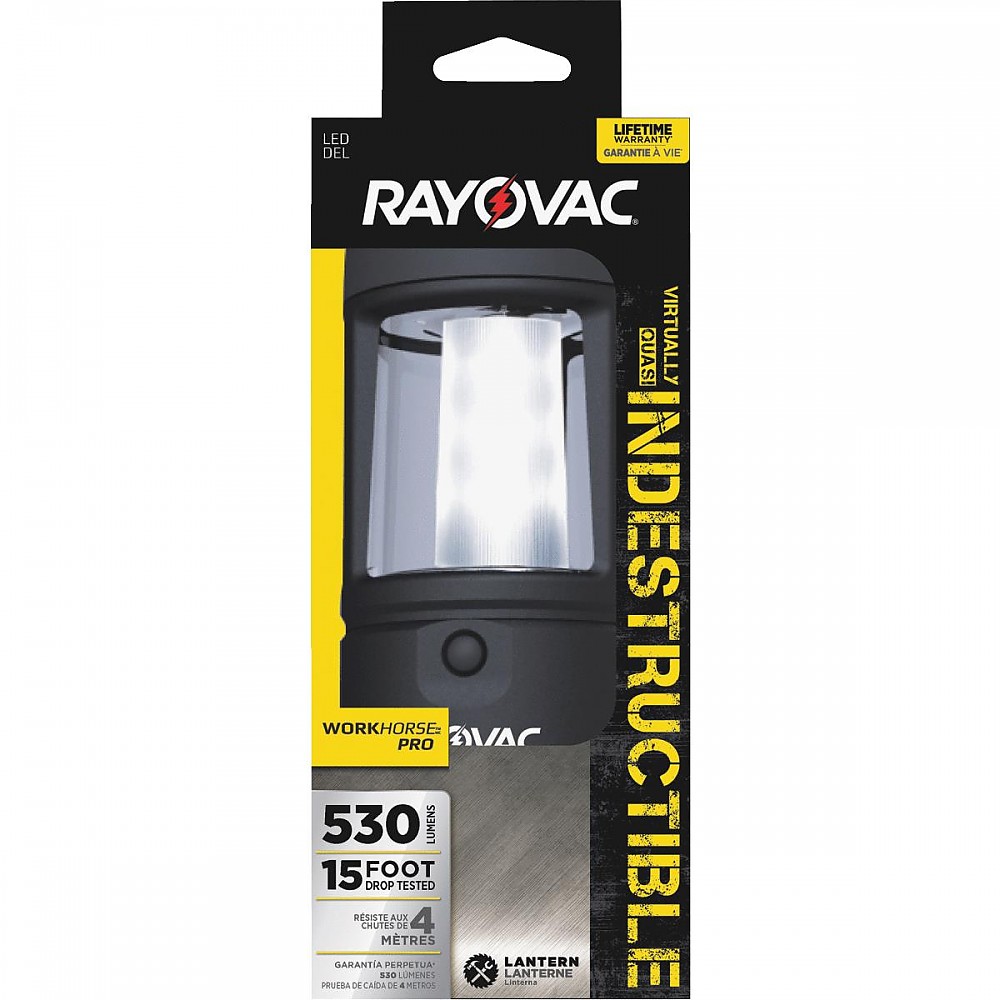 Specs
| | |
| --- | --- |
| Price | Reviewers Paid: $29.99 |
Reviews
1

review

5-star:

0

4-star:

1

3-star:

0

2-star:

0

1-star:

0
In the Beginning, on the 1st day, the Almighty Rayovac Created Light, and Rayovac saw that the light was good and it separated the light from darkness. And now all of humanity shall not perish in the darkness of night.

This Rayovac is the best LED lantern that I own. It claims to be indestructible and waterproof, submergible up to 1 meter deep.

When camping in a group, using headlamps for your primary light when sitting around the campfire only results in blinding one another with each other's headlamps. Having a lantern not only illuminates the entire area, but eliminates the above scenario of blinding one another.

This is the perfect lantern to take for campsite camping, basecamp lighting, camping in a group, or for use in case of a blackout.




Pros
Multiple mounting options
Lifetime warranty
Long run time
Inexpensive
Waterproof
Durable
Bright
Cons
Weight
Uses only "D" type battery
Power button isn't glow in the dark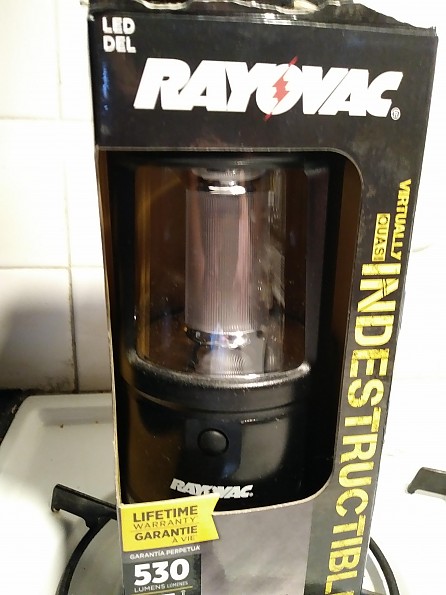 The Rayovac DIY3DLN-BC  Indestructible Led Lantern.
There is something about a company that offers a Lifetime Warranty that just screams "This is going to be with you for the long haul."
I am not the kind of guy that goes camping in the summertime, I just can't take the heat. For me, I get my thrills from the outdoors  when Mother Nature is speaking to me: i.e. during storms, high winds, or snowfall.
I was preparing for a camping trip many years ago during a storm and was reluctant to bring a fuel-based lantern out of fear the winds would knock it over and cause a fire. I needed a lantern that had a long run time, that runs on batteries, that was not only durable, but also able to handle getting drenched by the pouring rain. Most importantly I needed a lantern that was bright.
I traveled to REI then EMS, followed by Cabela's and even Dick's Sporting Goods. Not one of the places had a lantern that fit the bill. It wasn't until I happened across this Rayovac Indestructible Led Lantern at Home Depot that my journey for a lantern was over.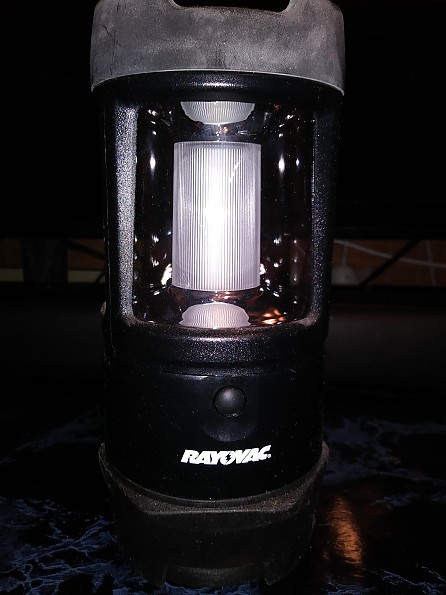 When one thinks "Camping Lantern", I am sure that many of you would never have even thought of buying a lantern made by a battery manufacturer, I surely did not. To my surprise this Rayovac Led Lantern had every feature that I was looking for.
A lantern weighing 2.4 lbs. w/batteries may seem to be a bit hefty to lug around, but when one takes into consideration that this lantern will illuminate your campsite for 5 hours a night for 8 nights straight, the weight saved from not carrying extra "D" batteries that weigh anywhere between 0.35 to 0.40. lbs. actually reduces the weight of your pack compared to other lanterns with a shorter run time.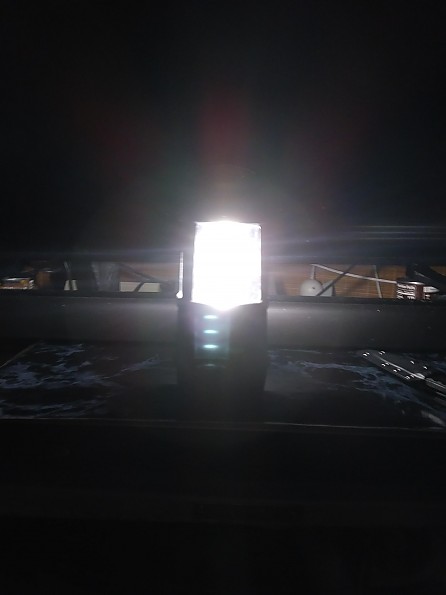 Another important feature that this Rayovac Lantern has is its top and bottom hanging options. When hanging upside down it projects the light lower to the ground which is perfect when hanging over your eating area or when hanging in your tent.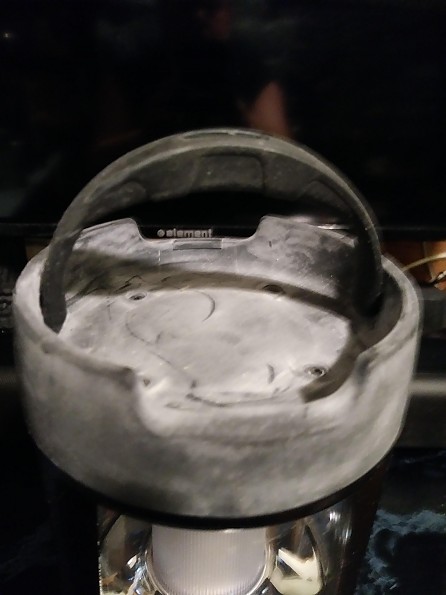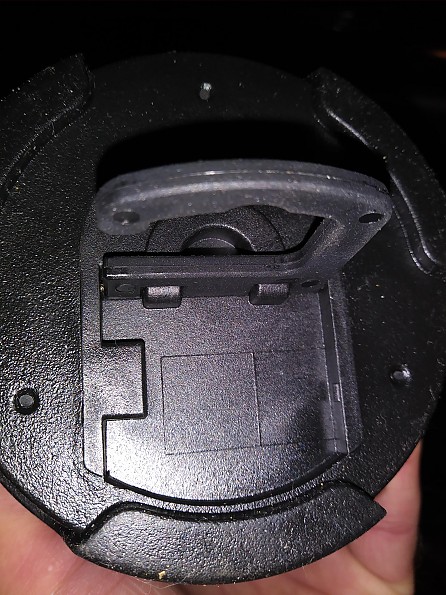 Conclusion 
The Rayovac DIY3DLN-BS can project light up to 13 meters on high setting which delivers 550 lumens of brightness and will run for approximately 40 hours straight. If using for reading or as a tent light, this lantern can cover 4.5 meters, offering 68 lumens and will run for about 260 hours.
It is heavy enough not to be blown off the table from windy conditions. It is perfect for campsite camping, camping in a group, or using at a basecamp. I have used this lantern 5 hours a night for 8 days straight on high, and other times for one week at 5 hours a day on high while additionally using the low settings each night  for an hour or two prior to the batteries going dead.
It has a simple push button that toggles between High, Medium, and Low brightness settings. It had no problems operating under harsh conditions such as extreme cold or pouring rain and was able to handle being dropped with no damage occurring. Considering how many LED Lanterns that I have broken over the years, Rayovac's lifetime warranty ends this cycle of buying another LED lantern for me.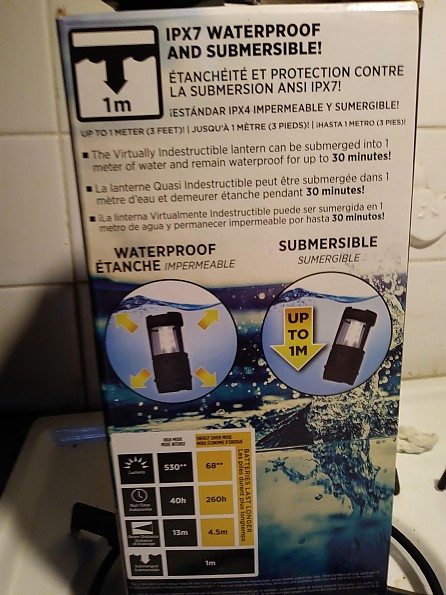 List of features.
                                               Specifications 
Brightness on High:  550 lumens 
Beam Distance on High:  13 Meters
Battery run time on High:  40 hours
Brightness on Low:  68 Lumens 
Beam Distance on Low: 4.5 Meters  
Battery run time on Low: 260 Hours
Features:
High, Medium, & Low Brightness settings
Waterproof/submersible up to 3 Feet for 30 minutes
Shatterproof lens and Reflector
Drop Tested up to 15 feet
Impact resistant internal engineering 
Top & Bottom Hanging Loops
Dimensions:  8.5 Inches High x 3.5 Inches Diameter
Color:  Black
Material:  Aluminum
Bulb Type:  LED
Battery Type:  "D"  (takes 3 "D" batteries)
Weight:  2.4 lb. 
Experience
As most of my readers already know, I have an arsenal of lanterns in my home for camping and backpacking and for large gatherings. I consider having adequate light at a campsite to be a crucial requirement.

Having gone through so many LED Lanterns over the years due to cheaply manufactured parts, corrosion, or just human error, as in dropping them, it was a godsend to find a heavy duty lantern that just won't give up no matter how much abuse it gets. Having a lifetime warranty just insures that my investment is one that will last longer than I will on this planet.

Yes, this isn't the lightest or brightest lantern out there on the market, but weighing in all factors—run time, brightness, durability, weight, and lifetime warranty—this lantern gets two thumbs up from me.

Note to Readers: Currently this lantern is being sold far lower than what I had purchased it for.
Source: bought it new
Price Paid: $29.99

You May Like
Recently on Trailspace