RecPak Complete Powder Meals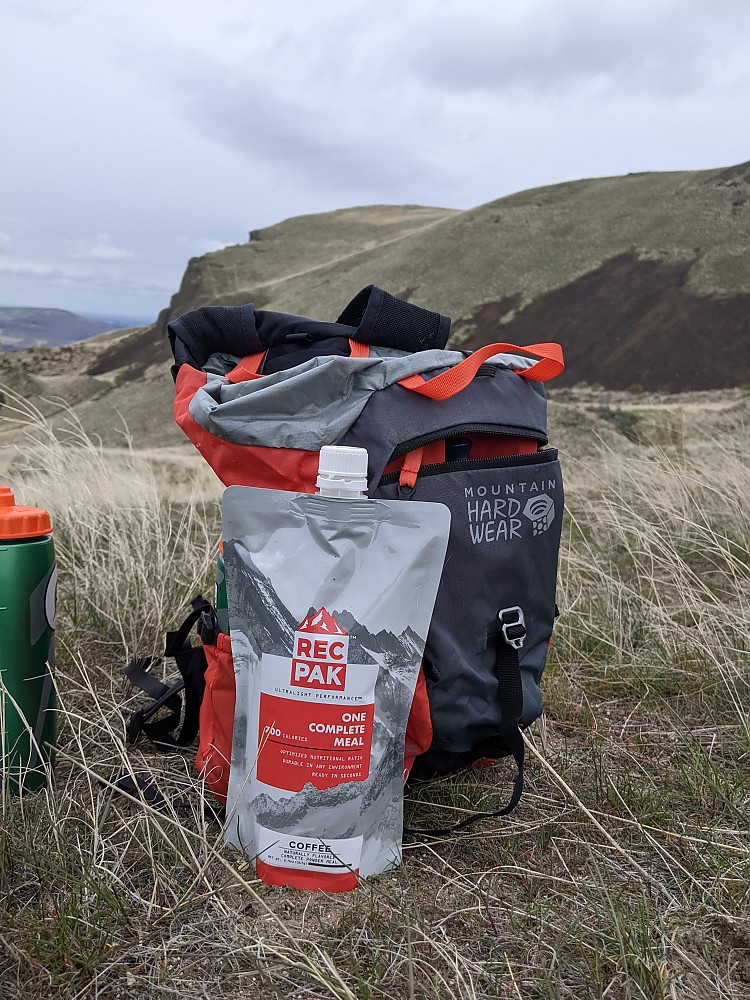 Backcountry gourmets DO NOT read this review!!
700 calories (kcal for the pedantic), 18g fats, 46g protein, 91g carbs with 6g of fiber at your fingertips. An indestructible container with zero prep or cleanup. Leave your titanium spoon at home!
Pros
Instant, don't even need to heat water
Indestructible container
Zero cleanup
Excellent macro and vitamin blend
Low sodium
Philanthropic company
Veteran and first-responder founded
Cons
$12-13 per pack
Possible shelf-life concern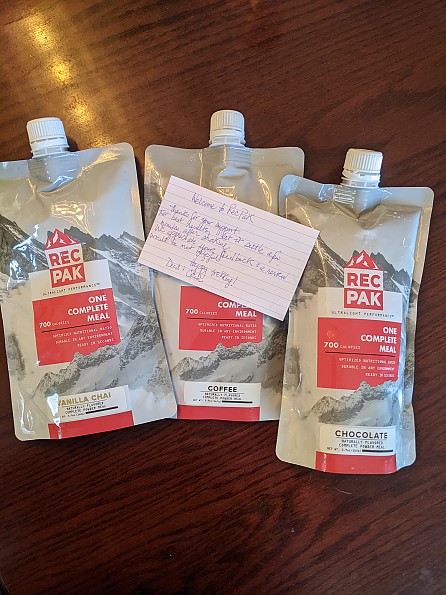 Are you a backcountry gourmet? Do you spend hours planning and preparing the perfect backcountry dining experience to inspire awe in nature and appreciation for the divine gift of wilderness? Yes?  You picked the wrong article!  Backcountry chefs beware, trying the RecPak shakes may have you leaving your backcountry pizza brick oven, sous-vide machine, and artisan sourdough starter at home next time. You have been warned!
This product is for those who consider food to simply be fuel so you can push harder, go farther, and exert yourself beyond the low-country. This is for those who will venture beyond the campers roasting s'mores, breaking out solar-powered karaoke speakers, string-lights, and backcountry badminton nets. 
Maybe you want to just eat, sleep and climb (or even hike, I guess).  Maybe you are sick of over-salted "backpacking meals" that take forever to rehydrate, never look like the picture on the bag, and waste precious stove fuel. Or maybe you're just sick of the same old stuff and want variety. This product is for you.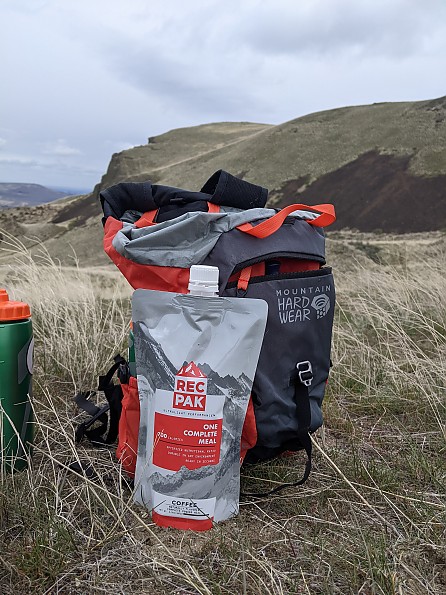 What the heck is it?
RecPak is complete nutrition in a sealed pouch. Open the lid, pour in 12-16oz of water, cap it, shake it like Ryan Chetiyawardana mixing a Man O' War, and enjoy! Afterwards just roll the container up, cap it, and stash it in your pack. Easy-peasey! 700 calories of balanced nutrition designed to keep you rad in the mountains.  
From the manufacturer: Compact enough to fit in a pocket, durable enough to withstand the toughest conditions.
COMPLETE NUTRITION IN SECONDS 700 calories & high quality ingredients fuels long-duration activities
SAVE SPACE, WEIGHT, FUEL, & WATER Lightweight pouch designed to withstand the elements. No need to boil water.
USE IN ANY ENVIRONMENT
Drink it anytime, anywhere, on the move. Just add water.
The convenience of a snack, the nutrition of a meal.
Who needs this?
I think this product is fantastic for single or multi-day endurance activities where light weight, speed, and boldness are the order of the day, not necessarily culinary enjoyment. 
My dear, Jeffrey, isn't this just another meal replacement shake?
That is a great question. It is until you consider the indestructible packaging that requires zero cleanup, the ability to drink it without stopping your activity, and the balanced macros and vitamin/mineral mix. To the "I could make that too if I wanted to spend the time" crowd, well, yes, you could. Would you please make me a few dozen for less $$ and send them to me for some beta testing? No? What a shame!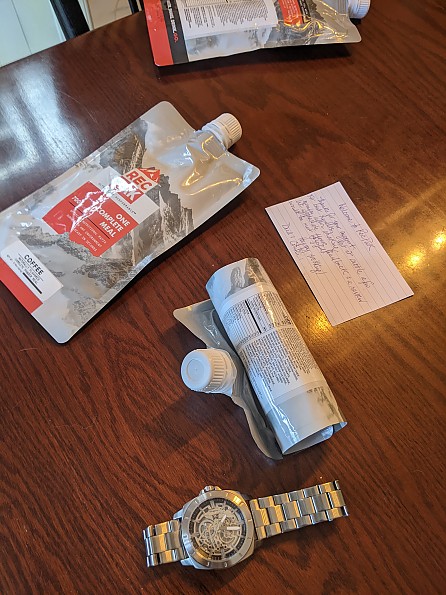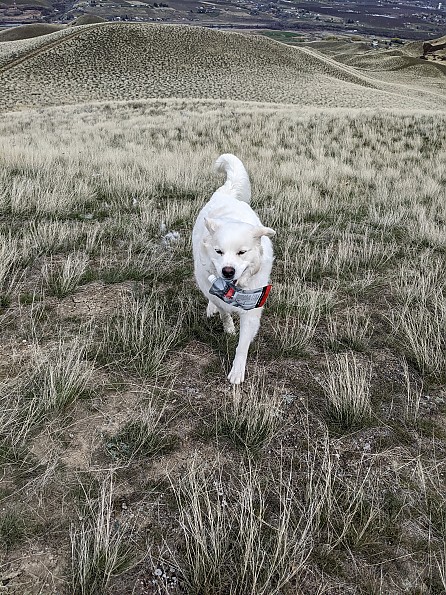 What is this bomb-resistant packaging you speak of?
You know that bag that your Sawyer Squeeze filter came with? The one you SWORE would never last and now you've had for most of a decade? I'm no packaging engineer but it feels like that stuff. If I hadn't paid for it myself, I would DEFINITELY run it over to prove its durability.  
But, Jeffrey, my dude, how does it taste?
I have an issue with you even asking me this. Not because the shake is yucky; it's delicious. I have an issue with this question because if you were looking for fine dining, you'd be better off with the big crowds at the overused campsite by the lake cooking steaks asking the ranger for the local WiFi password. 
Yes, RecPak made a pretty good meal. My personal favorite was the Vanilla Chai followed by the coffee then the chocolate offering. They taste as good as any really good protein shake.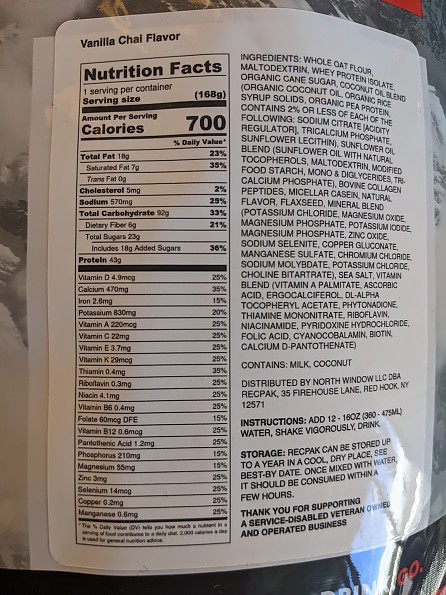 My brother, what is the Nutrition balance? What's in it?
According to my math (I only took statistics in college, not real math) the macro breakdown is 12% fat, 60% carbs, and 28% protein. I find that to be a good amount of carbs for strenuous activity with enough fats to give you some long-term energy and enough protein to do some muscle repair overnight. I'm not a nutritionist so feel free to disagree.  
In my climbs, when I go places like Mt. Rainier, Hood, Baker, or Glacier Peak I ONLY eat gummi bears during the day and save fats and protein for after the work is over to avoid slowing me down.  Everyone (except Mark Twight) thinks this is a horrible idea and I'm crazy for doing it. This meal offers the same benefits; it doesn't sit in your gut like those brown brick nutrition bars you bought at REI.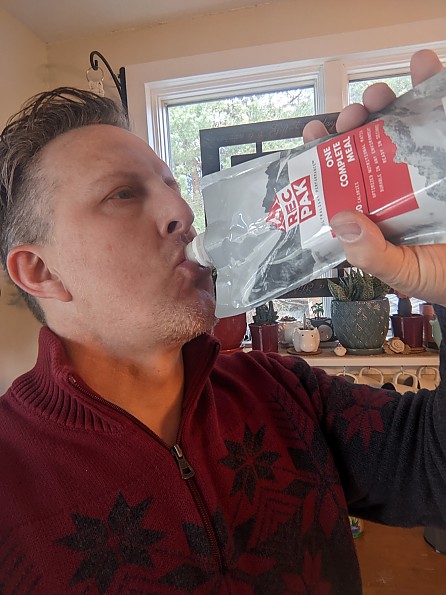 And...how does that make you feel?
I was hoping you'd ask me about my feelings. It's always good to check in. After fasting all day like I normally do, I drank the meal, and about an hour later I went to the gym and did the normal lower body workout that I do to prep for climbing season which includes squats, lots of calf and quad lifts, step-ups, stairs, running etc. I was pleasantly surprised that the meal wasn't sloshing around in my belly and didn't slow me down or give me a side ache. Truly, I didn't notice any difference in how I felt from a normal pre-workout snack.  
Can I virtue signal AND use this product?
Absolutely! Subtly mentioning this amazing little company you just started getting your meals from is a fantastic flex on your friends. "Oh, you still eat XYZ hiking meals? I USED to eat those, until I discovered this rad little company in NY making complete meal shakes that totally crush anything else."
RecPak is based in the US and was founded by two brothers; one a Marine (I'm sure a crayon flavored offering is in the works) and the other an emergency first-responder. The company also participates in "1% for the Planet" and donates one meal pack to Ukraine for every one pack sold online. 
My own personal flex: I received a personal note from Deed and Colin (the creators) in my order. Ya, it's no big deal but they wrote to me. 
They actually sound pretty badass, so what better way to show your support for badassery than buying RecPak meals?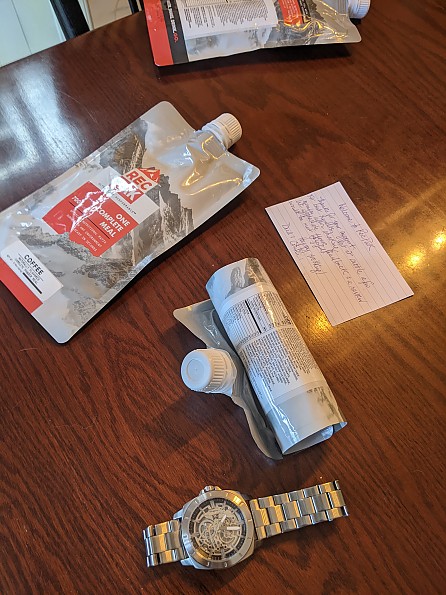 Does this meal make my pack look fat?
Um...no...That's all the extra fuel you no longer need because you aren't heating water for your meals anymore. Ditch that like you ditched your boyfriend after he said climbing sounds like too much work. At 5.9 oz (net wt.) the RecPak meal weighs less than a hamster or a human heart and who ever gets tired of carrying those?! It's practically weightless. Get to a stream, squirt water in the bag from your Squeeze filter, drink and go!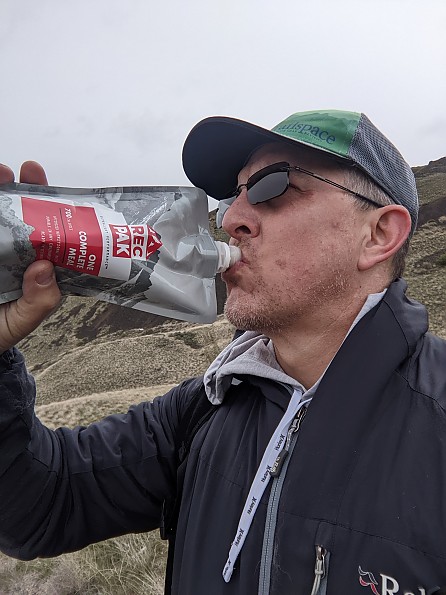 WHAT?!?! You didn't actually try this in the mountains yet?
Bless your heart. Of course not. I haven't lived this long by trying new things in the mountains that I might end up hating or might make me sick later. I thought it was wiser to test them closer to sea level first. I'll send a few to my son though. He is an infantryman. I'll see if they make him sick in the humid jungles of the Pacific. However, if Alicia were to toss a few my way for testing, now that I know they're good for my belly, I'd be happy to take them ski-touring, snow camping, or climbing and give you all a full field report.  
Why should I drink this instead of using meal bars?
You read my mind! The simple answer is: hydration. This shake provides you with 12-16 ounces of hydration along with the other goodies. Another reason is quicker absorption. I don't eat Clif bars or the like on the go because they will sit in my stomach and slow me down. Think of it as energy goo but with complete nutrition AND hydration.  
Bro, it's perfect!
Whoa there, professor! That kind of thinking is exactly what got me into my second marriage...take it easy. The RecPak meals I received arrived around April 1st 2023 and the packaging says "BEST IF USED BY 08/11/2023."  Does that seem odd to you?
By my horrible math that's someplace in the neighborhood of 130 days of shelf life; something like 1/3 of a year. The package says to enjoy within a year. Now preppers have been stuffing their bunkers with expired MREs for decades and they seem...... well......um...perhaps they're a bad example but there are many people who aren't afraid of expired food. How about you? 
A one-year shelf life means I have to eat it well before climbing season ends this year. Is there a stability/perishability issue here?
Also, at $12-13 per meal it is definitely in the pricy range for hiking food, though not dissimilar to the price of your Mountain House meals. You may need to make a few more Door Dash deliveries in order to afford these meals.
You read this far? Whoa!
In conclusion, the RecPak shake is a great option for those looking for complete nutrition in a compact, durable, and convenient package while exploring the outdoors. The shake is not designed for backcountry chefs or those seeking fine dining experiences in the wilderness, but rather for those who view food as fuel to power their activities.
With its balanced macros and vitamin/mineral mix, the RecPak shake can provide energy and nutrition for long-duration activities without the need to boil water or clean up. The packaging is nearly indestructible, making it ideal for any environment. The shake comes in different flavors, and its taste is comparable to good protein shakes.
Finally, the RecPak company is based in the US and founded by two brothers, one of whom is a Marine, and the other an emergency first-responder. The company also participates in "1% for the Planet" and donates one meal pack to Ukraine for every one pack sold online.
Overall, the RecPak shake is an excellent option for those who value convenience, nutrition, and durability while exploring the great outdoors.
Update 4/20/23: I spoke to one of the owners of the company and they said they are working on the one year shelf life issue and that it is a function of the high quality ingredients they use which makes good sense.
Experience
I have experienced a wide range of food options while on the trail, including freeze-dried meals, raw food, fasting, and cold food. When embarking on climbs, I typically pack pizza, bagels, trail mix, and several pounds of gummy bears. I have climbed numerous mountains in Washington state, including volcanoes and smaller peaks in the region, and my outdoor activities primarily revolve around hiking, climbing, and mountaineering in the state. Through my quest for the ultimate mountain meals, I have arrived here.
Source: bought it new
Price Paid: $34.99 for three meals

Your Review
Where to Buy
Help support this site by making your next gear purchase through one of the links above. Click a link, buy what you need, and the seller will contribute a portion of the purchase price to support Trailspace's independent gear reviews.
You May Like