Recreation Before Responsibility Nylon RipStop Vest

#4 in men's Synthetic Insulated Vests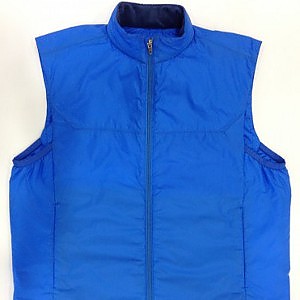 A basic, very functional vest from a very unique company.
Pros
Made off grid in the US
Excellent craftsmanship
Lightweight
Resists snags and rips very well
Breathable
Good DWR finish
Packable
Cons
Zippers pulls are short
Chest pocket is inside the outer zipper
I admire old school, low tech ways to get things done. However, I also admire hi tech fabrics and technologies. I also wish more of our stuff was made responsibly in the U.S. It seems like these sentiments came together in the Recreation Before Responsibility Ripstop Vest. This vest combines Primaloft One insulation with a DWR treated down proof shell made off the electrical grid by Amish crafts people in Iowa on sewing machines that use no electricity. 
Coming from a Mennonite heritage myself that I can trace back to within a few years of the Reformation I must admit that this concept interested me on several levels. Who are the Mennonites? They were the radicals of the Protestant Reformation. We see them as very conservative by today's standards, but back in the 16th Century they were the wild men of the religious world. But I digress.
This vest came with with a personal note from the manufacturer commissioning me to give the vest a very thorough trial. 
With these instructions I gladly embarked on a hike to my favorite local wild place.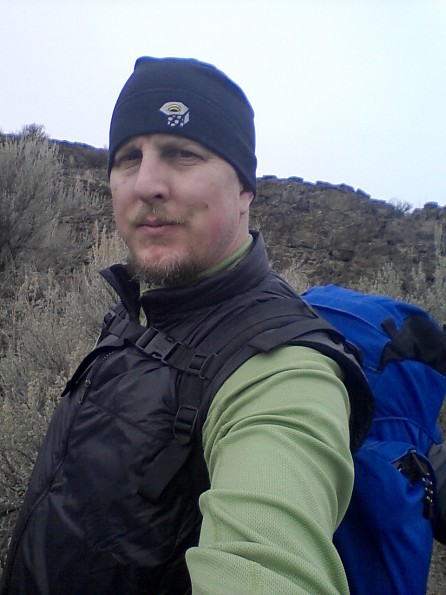 Hiking through the sage in 20-ish degrees. Lots of bushwhacking through stiff sagebrush and rabbit brush.
Fit
I am 5' 10" and 220 lbs.  I have a 45-inch chest. I ordered the Extra Large to be an outer layer over my base and possibly insulating layer and it is still a tad big, yet manageable. I would have been better off with the size Large. The vest shape is pretty boxy and not fitted so keep this in mind when ordering. The armpits have nice elastic sections that help seal in your heat. The tail of the vest is cut to keep your rear covered.  I appreciate this feature a lot. 
Workmanship
The seamstress who made my vest personally wrote her name on the inside tag and I must say, Frau Kaufmann did a fine job making this vest (vielen dank Frau K, wenn Sie dies lesen). There is not a single stitch astray and no IPs (loose threads) anywhere to be found.  The craftsmanship is every bit as good as you would expect for a personal, custom made vest from a skilled maker.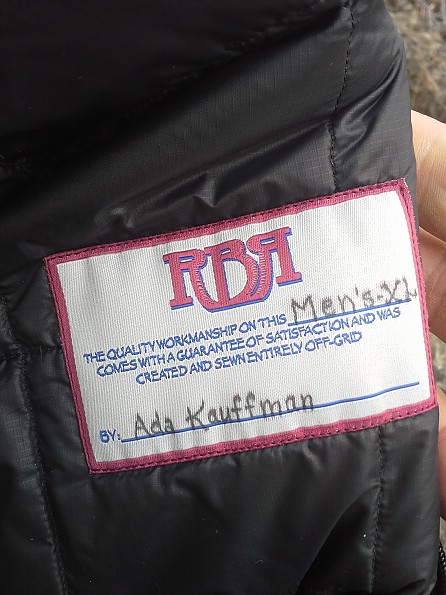 Cool
Material
The down-proof rip-stop outer layer has a slight sheen to it and feels gossamer thin but after a long morning of dragging dead sagebrush together to make a shelter there wasn't a single rip or snag in the material, only dirt from my work. I didn't baby this vest and fully expected to have a good look at its innards after this job.  I was pleasantly surprised.
It was snowing lightly this day so I also got to see the DWR finish which adequately beaded up the melted snow. There is a soft material around the neck that is comfortable against bare skin when this vest is zipped up all the way. The zippers are high quality as you would expect.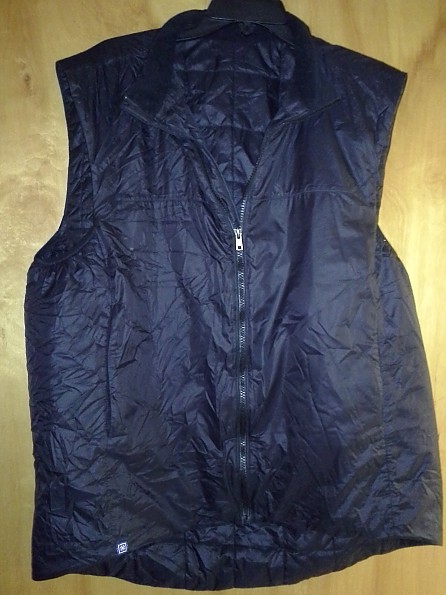 Just unpacked from its pocket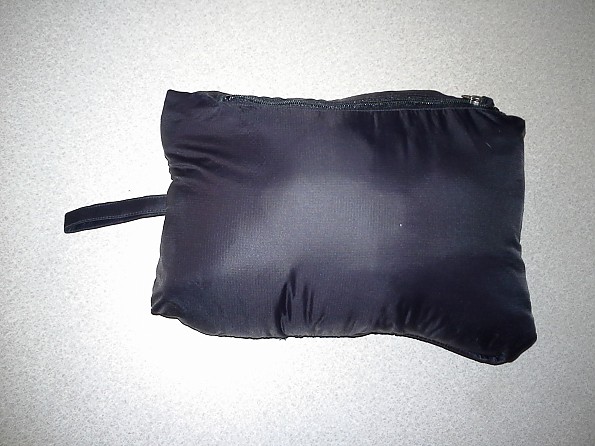 Makes a nice pillow, I like the sturdy hanging loop too.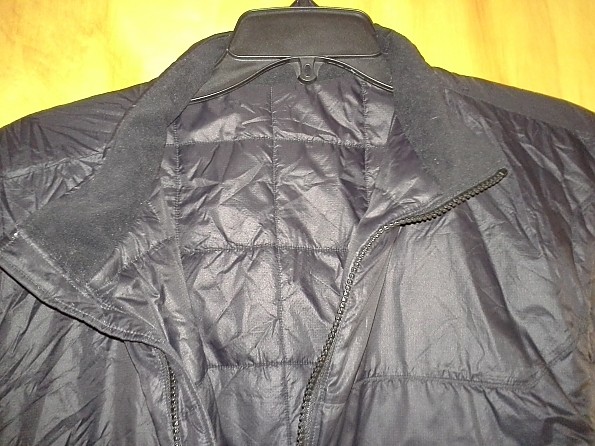 Soft Collar lining
There's a zipper tab in there someplace!
Features
I wish the chest pocket was accessible from the outside of the vest, having to open your vest to get at your sunscreen, lip balm, or whatever is a pet peeve of mine. The pockets are where you'd expect them and adequately sized.
To reach the tiny zipper tabs that close the pockets you must remove your gloves and search the deep fold where the black-on-black tabs are located. I know this feature is to protect the contents of the pocket from weather, but it frustrated me. In the future, zipper pulls need to be installed to make this easier. Yes, I could make my own.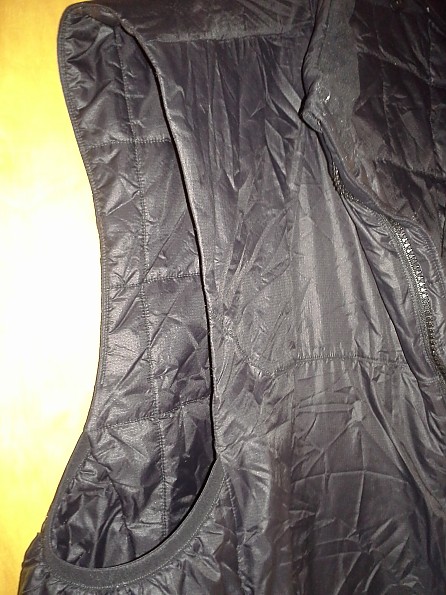 Elastic around armpits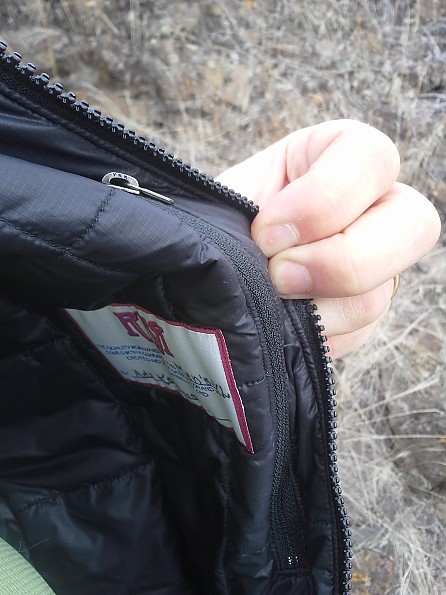 I prefer the chest pocket on the outside.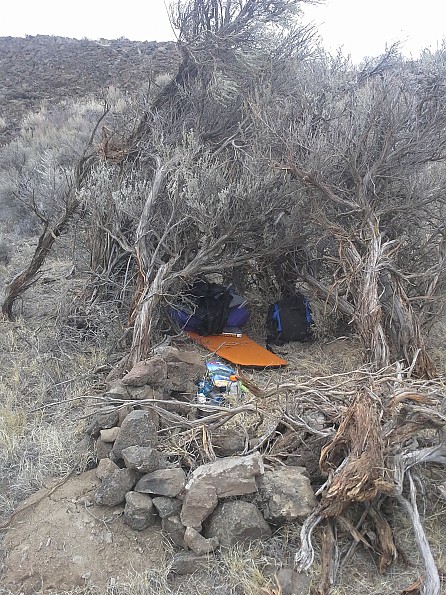 It took me an hour or so to drag all this sage together to make a debris shelter from the fine, wind-driven snow.  The pic doesn't show it well but the pile was about 10' tall and 20' in diameter with a little nest inside where I slept. It kinda worked. The vest had ZERO damage though my pants took a beating. This area is open range and severely grazed, I always camp LNT in more sensitive areas.
Warmth
For the first trip I wore this vest on it was approximately 20 degrees F and I wore the RBR vest over my wool shirt as I hiked in perfect warmth and had no sweat buildup issues with the vest.  The Primaloft One insulation is a great material to keep you warm while letting you breathe. When I stopped moving I layered the vest over a light hoodie which really increased the usability range of that light jacket.  The other way I wear it is over a wool sweater while fishing, it protects me from splashes and is nice and warm. Imagine your favorite fleece vest but wind and water resistant.
Worn over a hooded jacket
Style
This basic black vest might lack the fancy styling, form fitting and stitching methods we see in other similar garments, but to me a vest is a basic item, like a beanie, that does not require such things. The RBR vest is plain and boxy (I am sure the plainness would appeal to my ancestors).
Who Should Buy This
Not everyone likes vests. I do and see them as an important part of my kit. If you need a light insulating layer that retains the mobility of your arms and you appreciate quality and conscientious manufacturing do try the RBR vest. If you don't mind adding your own zipper pills you will be pleased with this garment. 
Conclusion
I am always happy to learn about small companies trying to do the right thing to make us cool stuff. This is an excellent example of those goals and is also a solid performer. My hope is that this company, with its feckless name, continues to turn out quality for people who enjoy the idea of wearing quality clothing that is responsibly made. Stay tuned for more beta as I continue to test this vest!
Jeff
Source: received for testing via the Trailspace Review Corps (Sample provided by Recreation Before Responsibility for testing and review)

First off, top notch materials, for the hardcore adventurers to staying warm around the fire this is an amazing product. Great fit, function is well thought out, and tailored design meet fashionable and functional.
Pros
Top materials — no corners cut here
Lightweight and super warm
Packs into its own pocket
I have tried the jacket and vest, the thought in how the garment is made and assembled is really notable when you are on a long hike or lounging around and forget that you are wearing the garment. The longer tail in the back covers you when you move around and are not surprised by a cold gust when you least expect it.  
I really appreciate the craftsmanship and the fact that the jacket is made off the grid and completely assembled in the USA. You can tell it is made with compassion and care, with all the attention to every detail.
Source: bought it new

Although there are many choices in this modern world of high-tech outdoor gear, this vest makes my day, every day. While its fabric, materials, and construction details are top notch bomber, yes really, I am extremely stoked on the fact that everything is handcrafted in America using sustainable practices. They have figured it out and are doing it right on all levels. Go, RBR!
Pros
Performance material sourcing
Top quality construction
Handcrafted in america
Sustainable practices
Source: bought it new

Your Review
Where to Buy
Help support this site by making your next gear purchase through one of the links above. Click a link, buy what you need, and the seller will contribute a portion of the purchase price to support Trailspace's independent gear reviews.
You May Like