Redwick's Preserves Freeze-Dried Food

#6 in Snacks and Side Dishes
Redwick's Preserves is no longer in business, and the Freeze-Dried Food has been discontinued. If you're looking for something new, check out the best snacks and side dishes for 2023.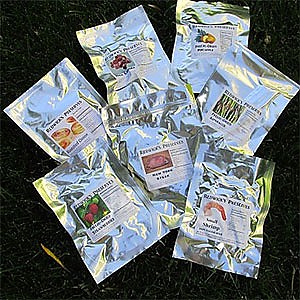 Redwick's Preserves is a family-owned operation that offers unique small batches of freeze dried foods that are ideal for backpacking.
Pros
Good flavors
High quality
Unique offerings
Cons
Limited distribution
Label needs more information
For people like me who make their own lightweight backpacking food, it's exciting to find a purveyor that offers something a little different from the mainstream companies. Redwick's Preserves is one of those rare finds. Redwick's is a family-owned operation out of Seattle that makes all kinds of freeze-dried foods, ranging from whole steak to roasted onions.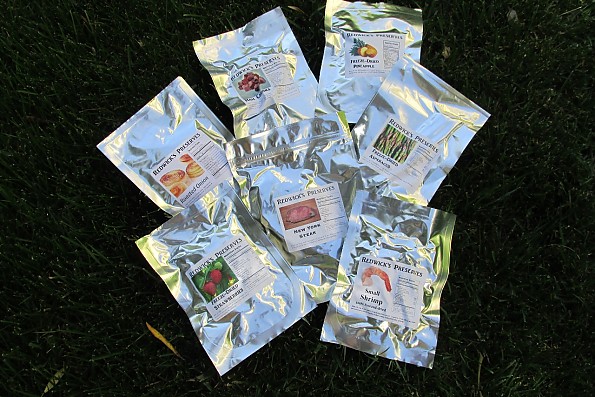 Redwick's isn't easy to find unless you're looking. You won't find them at your local store or on Amazon as they only sell their products on Ebay. They maintain a Facebook page where you can get information and message them with questions. They may not always have their full line available on Ebay so I recommend scrolling through their Facebook page to get an idea of the yummy range of foods they have. They have a large selection, but the important thing to know is, if you don't see it, ask them. They can probably make it for you and they are constantly experimenting with new products.
Here are some examples of interesting freeze-dried products they have:
Andouille sausage
Ham chunks
Pineapple
Asparagus
Charbroiled flank steak
Bacon
Flame-grilled Teriyaki glazed chicken breast
Shrimp
Salmon burgers
Cream cheese
Mango powder
New York Style Cheesecake
Ice cream rocks
Redwick's was kind enough to send me a box of samples and I've had so much fun this summer using their products to test new recipes for the next edition of my book, The Hungry Spork. I've purchased some items on my own as well. I generally prefer to assemble meals from freeze-dried instead of home-dehydrated ingredients as they are lighter and have a longer shelf life.


The freeze-dried ham chunks, pineapple, and roasted onion were a big hit in a recipe I'm working on for Hawaiian Ham and Rice. The pineapple tasted so bright and sunny and, though the texture was necessarily different from fresh pineapple, it gave the perfect balance to the ham.
I normally use plain old minced onion in my recipes but the roasted onion had that wonderful grilled flavor that you would expect in real food, so that was a big enhancement. Mixed with instant rice, homemade bouillon crystals, True Lime and peas, this was a very tasty meal that my husband raved about.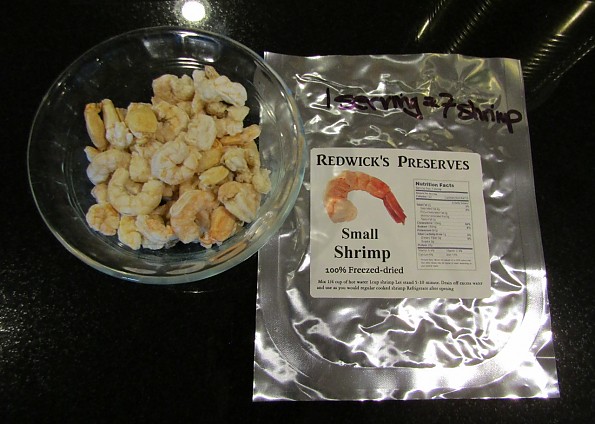 A new product, whole small shrimp, was another hit with Steve, though I thought my recipe for Lime Cilantro Shrimp still needs a little work. The shrimp was good, but the recipe overall was too dry so I need to work on a sauce. I dehydrated fresh cilantro and used instant rice and instant guacamole (Alpine Aire). The guacamole and Redwick's shrimp saved the day.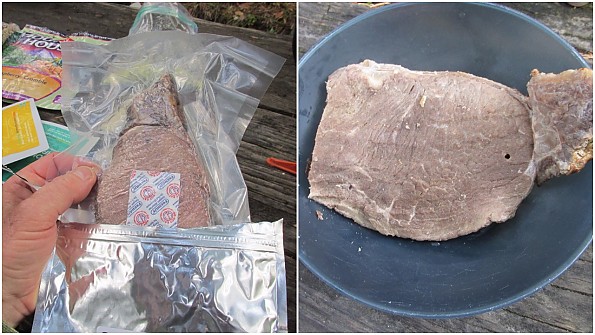 The most audacious product I tested was the New York steak. I just couldn't imagine what was going to come out of the package. I kept feeling the packet to ascertain what form it was in. I've only seen ground meat or chunks of meat freeze-dried but this was a whole, entire New York steak.
I wrote to Redwick's asking what I should do with it and they wrote back that I should use it however I would normally use a steak. That made sense, but I was still uncertain. In camp, we plopped it into a bowl, covered it with hot water and waited. It was a little like watching one of those compressed sponge sheets rehydrate, though of course it wasn't that flat.
We were backpacking with a group, one of my introductory backpacking classes, so we each tried a taste. It tasted like real steak! However, it was a bit dry, which isn't surprising. It was comparable to an overcooked steak, but it's not as if we expected a tender, juicy steak from a product that has had 98% of its moisture removed. Everyone liked the flavor and came up with suggestions for how to use it, including cutting it into pieces for chili, spaghetti or a cream sauce.
I've tried a few other Redwick's products. The freeze-dried strawberries were excellent in our cereal but that was one product that I can find from several different vendors, so it wasn't as unique as some of the other offerings.
The freeze-dried ground beef was good quality and rehydrated better than my usual home dehydrated version. The asparagus had good flavor with a texture like slightly overcooked veggies. I still have the Andouille sausage and haven't had a chance to make my Cajun recipe yet, but I look forward to trying it.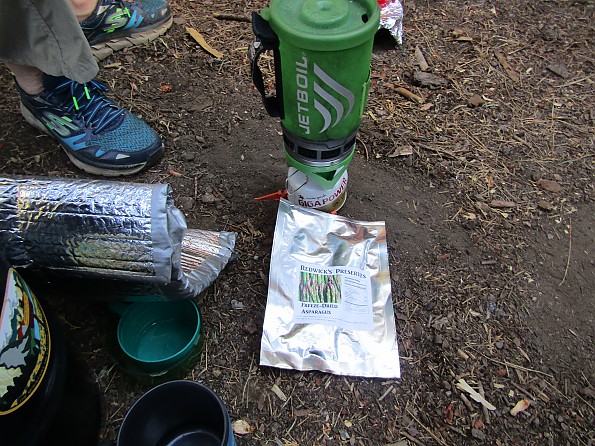 Redwick's doesn't always have a complete line of products available on Ebay so I tend to purchase staple items elsewhere, but for unusual, tasty foods that you might not find anywhere else, Redwick's Facebook page is worth visiting online. 
The Redwick's label could use a little more information. It contains the standard Nutrition Facts with serving size, calories and nutrition breakdown, as well as preparation instructions. However, it does not contain any information about how many servings are in the package either by weight or product count. This makes it difficult to plan, especially for a thru-hike when large quantities may be needed.I ended up eyeballing it and used the whole package of shrimp in a recipe for two people.
Redwick's Preserves offers high quality, flavorful freeze-dried foods that are idea for backpacking. Their unique and varied selection inspires creative meal planning for backcountry meals. The quality of the food is excellent and the reason I took off one star was due to the incomplete label and limited distribution. 
Source: tested or reviewed it for the manufacturer

Disclosure: The author of this review received a sample of the product from the brand or its representative in exchange for a review.
Scott's items are as close to fresh as you're going to get on the trail. I made all my own meals exclusively with Redwick's freeze-dried provisions—breakfast, lunch, and dinner—for my LASH on the AT.
Pros
Near zero oz's
Taste like it should
Easy to rehydrate
No preservatives or additives
Lightweight packaging
Cons
No fresh to dried weight or serving equivalent
I have severe food allergies. When I was planning my 2016 LASH on the AT I was having problems finding dehydrated meals with no MSG, preservative chemicals and gluten. I stumbled onto Scott's Facebook page and tried his fruit. It was great, we struck up a friendship and before you know it I was asking for all kinds of weird foods and he was suggesting all kinds back.
I began creating better breakfasts than just oatmeal. I made eggs w/onion, peppers, sausage, and hash browns, oh and sausage gravy. I was in Heaven. 
My dinners were phenomenal—chicken and dumplings with carrots, peas, and potatoes. Spaghetti with meat sauce, chicken noodle soup, Ramen noodle soup with chicken, veggies and rice noodles. Other hikers watched me making my meals in separate bags and containers with awe. When offered tastes of my masterpieces they all groaned in agony at having to resign themselves to beef jerky and ramen.
I didn't worry about counting calories or fat, carbohydrates intake or anything everyone else worried about. My main concern was, what to do with my leftover? I made my meals entirely too big. 
Experience
Consumed them hiking the Appalachian Trail.
Source: Found him on Facebook

Your Review
You May Like