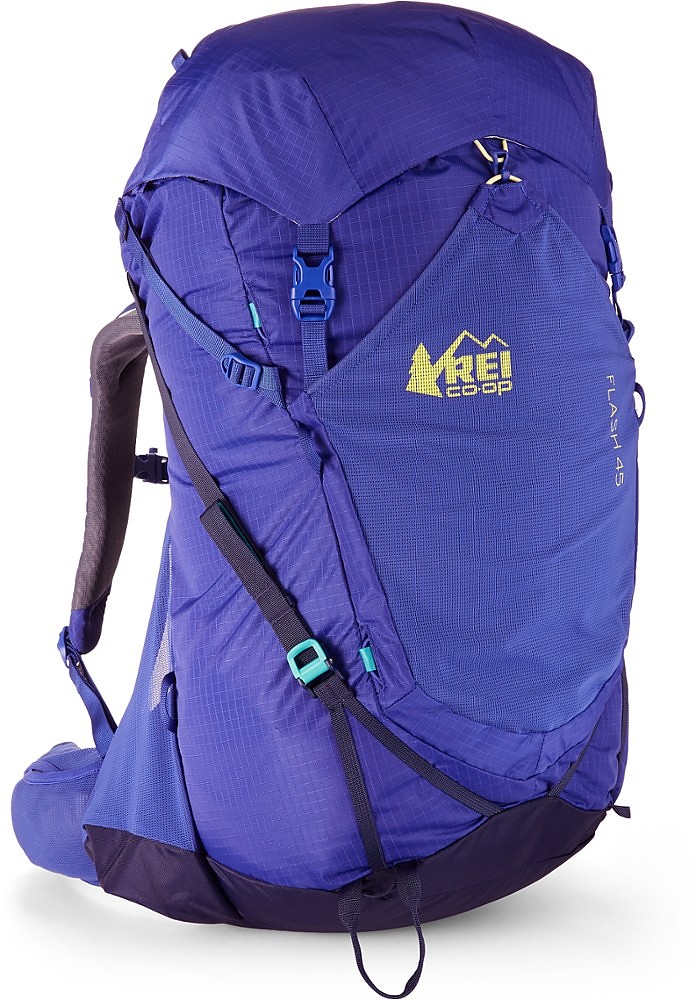 Specs
Price
Current Retail: $159.00
Historic Range: $51.73-$159.00
Reviewers Paid: $89.00

Reviews
2

reviews

5-star:

0

4-star:

2

3-star:

0

2-star:

0

1-star:

0
Nicely balanced pack designed with comfortable features for a fast weekend trip or ultralight getaway. While designed for overnighters, could easily be used for longer trips with careful gear selection.
Pros
Quality materials and manufacturing
Design and structure
Easy to carry the weight
Not overdesigned, minimal pockets, extra cordage, etc.
Not a lot of compromises to get it light, still has a good capacity
Love the useability of the outter pockets to carry just about anything
Minimal hot spotting
Hip belt pockets are nice for snacks, not nice for GPS or phones
Cons
Ambigious and large outer mesh may not be as useful for some
Ultralight materials may be concerning over time regarding durability
No height or torso adjustability expected at the weight range
Hip belt pockets are not big enough for modern devices like GPS or smart phones
Hydration hole is very tight to get hose through
Bladder use takes up a lot of real estate if you use one
Flash 45 is a fast, lightweight, overnight bag designed to carry your gear and get you there quickly and lightly.
I call it fast because of the way it feels on your back. I tried a few other packs on my back before getting this one. None of them had this shape that seemed to hug you and pull the weight in the way this pack does. I feel I can move faster because of it.
I am about 6' and 185 lbs, and this fits me pretty good, but I am at the top end of the adjustments.
I was concerned about this adjustment, but find with the three uses I have given this pack, I didn't have any weird rubbing or issues with having to readjust. I set it up and went no problems. I like the set it and forget it ability.
The Flash 45 has nice cutouts on the back to vent, while still having lots of padding and mesh to quickly wick moisture and heat away from you. I found it to have minimal hot spots, a big concern for me using in Arizona. I don't want to get too hot using it and found it worked as designed.
I found the capacity to be great. I took a 2-night trip with my son who was on a first time trip. I was able to pack my gear, and some of his gear in it with no problems. I will try and post a picture to give you an idea of what I typically pack.
I typically have a bivvy as a backup to a hammock, but I had on this particular trip take my 2-man tent. I was concerned this wouldn't fit and would put me at the max end of the capacity and comfort of this pack, but it exceeded my expectations in this arena. I was pushing 30 lbs wet, and still able to have comfort and load balanced across the board.
I did put the poles on the outside of the pack and found this to be easy to use and was a little worried that the large, ambiguous mesh pouch would drop them out somewhere, but they held tight and had no issues.
I find the pack has just enough strapping to get the load comfortable without having too many or being over designed. The straps are just big enough as well, without excess.
I did find using the hydration bladder sleeve challenging. I don't however, find this challenge unique to this particular pack. You have to remove nearly everything because of the depth the sleeve drops to with a fully loaded 100 oz bladder. Filling was a problem when we hit watering spots to have to unload and reload each time.
Again, hydration bladder user problems, not necessarily a pack deficiency.
The other challenge I found was the size of the hip belt pockets, and again not unique. It is as if the manufacturers are stuck in the early 2000's with the size of their pockets. It would be nice of they designed them big enough to store electronics bigger than a standard flip phone or protein bar.
I use my phone for pictures and would have liked to have easy access to it without having to get a lanyard or carry it in the pouch on top. I doubt the pockets would hold a standard camera either.
Overall, I have around 25 carry miles on this pack, and am happier each time I use it. I find the value of the pack outweighs any of the limitations it could potentially have. I love the lightness of the starting weight with this pack and easily have enough room for all normal 1-3 night trips all within the inside.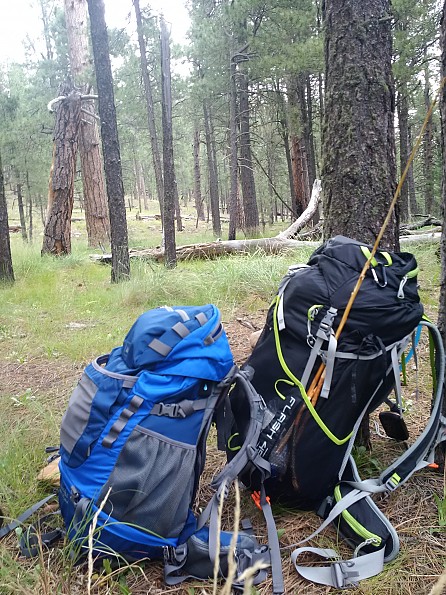 Next to an REI kids pack. My REI Flash 45 has a lighter starting weight than the kids pack.
Source: bought it new

This is a fantastic lightweight pack. It carries well for such a light pack that doesn't have much in the way of a frame. This pack would be great for those starting on the journey to ultralight backpacking, while still having a pack with a lot of features.
Pros
Lightweight
Handy hipbelt pockets
Very adjustable
Cons
Comfort limited to around 25 lbs and below
Sternum strap can move around
Could use additional compression straps on lower body
Fit:  This pack claims it fits up to a 19" torso in the Large size. I am 6'3" with around a 20" torso but decided to give it a try anyway. The pack is essentially frameless outside of the back padding and the Delrin rod around the outside of the back.
Comfort:  Even overloaded with 28 lbs the pack was comfortable. As my load lightened throughout the weekend, it got better and better. All of the straps are adjustable and it even includes load lifters.
Capacity:  The Large is advertised as a 50L pack and I would say this is pretty accurate. I was able to fit a hammock, top quilt, undercover, tarp, clothes, food and a fleece jacket in it pretty easily. 
Organization:  The pack body itself is just one large sack. I loved the stretch pocket around the outside which I used for wet camp shoes, wet tarp, water bottles and filter. The lid contains a fairly large top pocket which is great for frequently accessed small items.
Ride:  I found the pack sat on my hips well once i had the hipbelt tight enough. I really had no trouble during the entire 3 days of my hike.
Compression:  There are two compression straps on the side of the pack near the top. I would have liked to have had an additional set lower on the pack, but overall this isn't a big deal.
Ease of Use:  I found the pack very easy to use and met my expectations for a lightweight pack.
Features:  The back padding is very comfortable and makes you forget that it is almost frameless. Hipbelt pockets are nice and will hold a point and shoot camera or a couple of snacks. In addition the shoulder strap pocket makes a great place to store your smartphone should you choose to bring it.
Durability:  The pack appears to be well made but at this point I've only used it for one long weekend hike.
Conditions:  I used this pack for a long weekend hike on the AT near Franklin, N.C. It was a fun weekend in what I believe to be the wettest place on Earth.  :)
Source: bought it new
Price Paid: $89

You May Like
Recently on Trailspace