REI Flash UL

The Flash UL has been discontinued. If you're looking for something new, check out the best daypacks for 2023.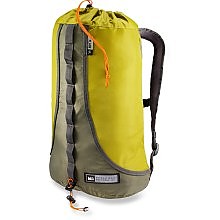 I bought this pack to have something small and light to take with me on trips and to carry some of the "extras" my kids always seem to come up with. I ended up using it to carry my gear to work (as a float RN, I pack extra 'stuff' that I may need not found on the unit I end up working on) plus lunch and stuff in general. I am quite amazed by how rugged this little pack is. I managed to shove an oversized clipboard in it and was waiting for a tear or seam blowout and had nothing but secure carrying.
I always pack it when we travel and end up with snacks, jackets and other "stuff" my three young ones somehow unload on dear old dad. (Yes they have packs, but they're still small tykes and so are their packs.)
The little pockets in the pack do come in handy for sorting away essentials during our travels and the mesh they're made of make it easy to keep track of what's inside.
This pack is a perfect gift for someone who has everything, the ultralight weight freak, the Christmas stocking, for yourself, and definitely for someone you really want to make happy.
p.s. as far as genders of packs, tried to figure it out by turning it over and even inside out, but couldn't sex the thing. I think they divide like amoebas for reproduction. Mine is shy though, still only one in my closet...
Design: rucksack
Number of Pockets: 1 main sack and little divider pockets inside
Max. Load Carried: probably 20 lbs
Height of Owner: 6'1" in the morning
Price Paid: around $20 on sale

This is a great little travel pack to use while exploring cities or for excursions away from your campsite. I am an amateur photographer and I used this pack while I went camping in the Santa Monica Mountains and at Joshua Tree National Park. After setting up camp, I carried my camera, tripod, towel, water, a sweater, and a hat. I left most of my gear at camp but I was able to carry what I needed to take my pictures. The longest hike was approximately 10 miles.
Also, I have used this pack while exploring the cities of Chicago, LA, St, Louis, and Louisville. It was useful in carrying a raincoat, sweater, tour books, and other small items. Also makes for a good carry-on for planes.
Some cons to note are there is no internal frame so you have to be careful in how you pack to make sure it is comfortable and that the material does not breathe so your back will get hot. The pros are that the bag is extremely light, can revert into a stuff sack at camp, has many useful pockets, and can hold a hydration reservoir pack. All in all a great daypack for the price.
Design: Top-loading
Size: 1,050 cu. in. / 17 liters
Number of Pockets: 5 + main compartment
Max. Load Carried: 10 lbs
Height of Owner: 5'10"
Price Paid: $25

I love this bag. Just go out and buy one, you'll easily find a use for it whether on the trail, for work, or around the city. Also, at 25 bucks you can't beat the price. You're also getting the REI brand, which I have always found to be of high quality.
Pros: Lightweight, good looking bag, versatile, low price, stuff sack
Cons: Only comes in one color as of now, no clip to hang reservoir on (does have a hydration pouch though), can be hard to find things but this is typical of a stuff sack.
Number of Pockets: 2 internal, 1 hydration
Height of Owner: 5'10"
Price Paid: $25

This is more of a sack with shoulder straps than anything. It's not large enough to use for anything but a small summit pack on a hiking/climbing adventure. It has a hydration slot and some pockets on the inside. This pack has no framesheet. It is very very light and can be folded insight out and used as a storage bag. This is a poor daypack because of lack of support. REI also makes a 45L UL pack that would function much better as a daypacck.
Design: top loading
Size: 1oL
Number of Pockets: 0
Max. Load Carried: 10
Height of Owner: 5' 9"
Price Paid: $25

Wonderful bag! A MILLION USES (really this is the Swiss army bag). I just took this bag to China to hike in the mountains. It worked wonders! Ample space for rain jacket, hydration bladder, pockets for energy bars, map compass, GPS!
Negatives:
>stitching around cinch came loose (I think it is common) but an easy fix.
>also, straps where sternum straps connect to the main arm straps came undone...another easy fix.
Size: One-Size
Number of Pockets: 1
Max. Load Carried: 7-10 lbs
Height of Owner: 6.2 ft.
Price Paid: $25

Your Review
You May Like
Specs
Price
Historic Range: $25.00
Reviewers Paid: $20.00-$25.00