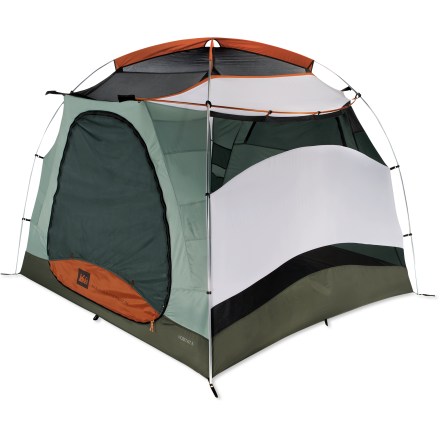 Specs
Price
MSRP: $319.00
Historic Range: $192.93-$277.73
Reviewers Paid: $260.00-$339.00

Reviews
9

reviews

5-star:

4

4-star:

2

3-star:

0

2-star:

3

1-star:

0
A little wind tore this tent apart.
This tent is great if there is no wind. We used it a few times without problem, but on the fifth time, there was a windstorm that tore it to shreds and bent the polls. REI offered nothing other than to fix the polls for $10 each, but the tent itself was torn apart so it had to be thrown away.
I would not buy this tent again. 
Source: bought it new

I lived in this tent 8 weeks (July & August) in upstate NY last summer and loved it. I came back in September for another week and was able to almost completely put it up by myself and I'm 5'3". REI has a video which I watched several times and was very glad I did. It was helpful as I put it up the first time.
Rain was only a problem once and that's because I didn't think I needed to close the windows because there was a huge tarp over my tent. WRONG, the rain came in sideways. My fault and I'll remember.
Sleeps: 6+
Ease of Setup: extremely easy

I have taken this tent out and set it up effortlessly in 15 minutes. I've read reviews that have complained about leaking. Every time I have had this tent up, it has poured! Lightning and thunder, too! No Leaks, I repeat, no leaks! The only way that I can see this tent leaking, is if the rainfly is not taut... I have tied it down with the extra guide lines (included) and it was great, no movement. The envy of the campground.
Size-wise, everybody referred to us as being in the "Hotel". I am 6'1" and I can stand, up-right, right next to the windows. Plenty of room, and I also recommend purchasing the vestibule to go along with it. Attaching the vestibule gives you more indoor storage and more privacy. You can keep your "front door" open for air movement. Love this tent!
Design: free-standing Dome
Sleeps: 5
Ease of Setup: easy, even for beginners
Weight: car tent

I use this tent for setting up a comfy base camp. It is definitely only a car camping tent. It has amazing room and easily sleeps 4 with a lot of space. With two persons on cots it's as if you have your own hotel room.
My concern was that it wasn't going to be that water tight. The Colorado summers have frequent rainfall in the evening often accompanied by moderate winds. I was concerned that the open air design wouldn't be that waterproof.
I was wrong. I've had this tent in numerous downpours over the last year. No water has entered the tent. I haven't bothered to seal the seams and rarely bother to stake out extra lines to the rain fly. Still, it doesn't leak. It does well in winds too for a tent this size. It does take two people to set up. It is large and weighs a lot.
If it had a slight vestibule over the entrance, I'd give it a five. If you're looking for a roomy car camping tent that sets up easily, withstands wind, and is water tight, this tent is a very good choice. I have own a lot of tents and this ranks up there for its intended use.
Design: Family Camping
Sleeps: 6+
Ease of Setup: Not too tough, but require two people.
Weight: A lot -- car camping NOT backpacking
Price Paid: $300

Bought this tent on the way up to our campsite as I thought the extra size would be nice (first time camping with a 2.5 yr old). Tent went together very well, staked it down through all of our gear into it and went to sleep.
Over the course of the next two days we had at least one 2 hour Lake Michigan thunderstorm blow through. At first no worries however, within 5 minutes of the rain starting a large puddle had formed in the flat center of the tent. No leaks (initially) but the tent was unable to throw the water off and it continued to collect. Simple push up in the middle was able to get the water off (but you can't do this all the time in the middle of the night).
By the third day of severe rain some of the seams where the standing water was collecting were beginning to leak, making both the wife and to a much lesser extent the daughter somewhat miserable. Agree with the other posters' comments about the doors opening up directly into the path of falling water.
Great tent for a dry location with only minimal showers, would not recommend for any location that can receive downpours...
Sleeps: 6+
Ease of Setup: Very east to assemble and set-up
Weight: With all items and ground cloth 28 lbs
Price Paid: $339

We got caught in a wind storm the first night using this tent. It held up GREAT! Awesome tent.
https://www.youtube.com/watch?v=CtJQgH4xyUw
Design: Tall
Sleeps: 2
Ease of Setup: Must have 2 people
Weight: Average
Price Paid: sale

I purchased the Hobitat 6 and used it on a four-day camping trip with my dogs.
Setup:
I set it up with my sister in late night darkness. It took about 40 minutes because it was dark, we had about six hours of sleep in two days, we were trying to be quiet because it was after quiet hours, and I did not properly prepare by setting it up or reading the directions before taking it on the trip. At only 5'2" in stature I had to jump for the final step - a bar is attached to the top of the tent to hold the rain fly up to prevent pooling water - I had to jump to unzip the opening, pop the stick up, and zip the opening again. Next time it will take maybe 10-15 minutes, even in the dark. I did purchase the footprint and although it is labeled "Hobitat 6" it is about 3' too small for the tent - it doesn't clip in and when we went to straighten it we had to un-stake the tent and roll it up to get to the footprint. I have owned and used footprints on my other tents and this is surely an REI mistake, the footprint will go back to the store.
Dimensions:
The sides are so straight that I was able to put my dog's crate (32"Hx48"Lx27"W) only about 6" from the wall! It also fit a queen sized 8" thick air mattress and there is room to bring a side table or portable camping closet if I wish but I just used the top of the dog crate.
Durability:
Overall we are really hard on tents - my dogs were oblivious to the screen over the door and it withstood having them pop their heads into it for four days. They were able to open the door by nosing the zipper if it was closed to the bottom instead of the top of the door. The side window mesh didn't hold up to my Great Pyrenees jumping on it - she was trying to look out the window to me, but it wasn't meant for dog nails and 100 pounds of downward force so I am solely to blame. I will have to fix the hole in the screen. The tent survived happy dogs romping around in the morning. The poles took a lot of abuse from the dogs and they withstood all they were put through.
Weather:
We were camping in mixed hardwood forest and it held up to strong wind and rain. There was a wonderful breeze and air movement passing through the tent doors – it was great to get away from the biting flies and take a nap even during the hottest part of the day. I had a wonderful view of the river since the doors are so large. Make sure you stake this tent because it's not terribly aerodynamic.
Overall:
I am thrilled with my purchase! I couldn't be happier! The materials are strong, the shape is right, it's a freestanding pop up (although I would stake it down). The only thing it is missing is a view of the stars when the rain fly is on it. Although it is about 30 pounds lighter then other brands with steel poles, it is still a car-camping tent.
Design: "Three-season pop up Cabin"
Sleeps: 6+
Ease of Setup: A novice can do it.
Weight: 25lbs
Price Paid: $260

We got a Hobitat 6 and used for three days. It's very roomy which is what we liked about it. However, it rained pretty hard the first night. There were a number of small leaks but we survived.
The design of the entrance is terrible since the tent sheds water right where the door is and when it's raining you will get soaked entering the tent. Water pooled in the top of the tent even though there is a sponge that is suppose to push the fly up far enough so you wouldn't have water collecting.
We returned the tent for a full refund and no problems to REI. We felt lucky that we had perfect weather to really test out the tent. The tent worked great when it wasn't raining but unless you plan on camping only where you get no rain or light rain I can't recommend this tent.
Sleeps: 4
Ease of Setup: easy

This tent is massive. I'm 6'2" and have to jump to reach the top. Performs quite well in rain as the nasty New England spring taught me. Don't forget the eyebrow awning over door, I mistakenly thought if we weren't using the door who needs to put the pole in? Wrong, only time it has leaked.
So easy to put together my 11-yr-old did it, by herself, without directions.
Only quibble is the zippers tend to stick a bit, will need some wax to loosen them up.
Sleeps: 6+
Ease of Setup: cake
Weight: for car camping, but you knew that
Price Paid: $299

You May Like
Recently on Trailspace