REI Insulated Mug

Top 25 in Cups and Mugs
The Insulated Mug has been discontinued. If you're looking for something new, check out the best cups and mugs for 2023.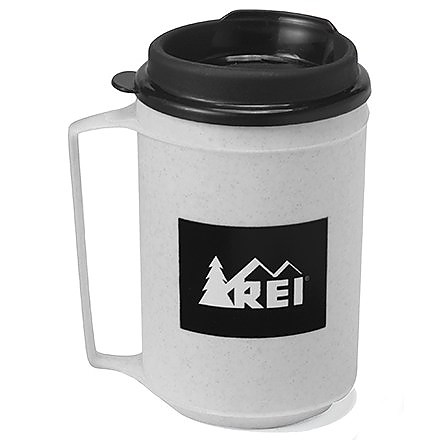 This is a good general purpose mug for camping. Those looking for a very light or compact mug for backpacking may want to look elsewhere.
Pros
Sturdy
Appropriate capacity
Cons
Heavy for lightweight backpacking
Bulky for backpacking
How I use it
I've had this mug for at least a few years, and use it regularly now for car/4x4 camping. Though I've used it for backpacking, I've since switched to another mug which is a tad lighter and less bulky. I use it for my morning tea with my breakfast.
Insulating Qualities
I've found this mug keeps my morning tea nice and warm, yet it's not so super-insulated like some other mugs, where it takes forever to get cool enough so you can actually drink from it.  For me, in summer Sierra weather, or even cool Spring/Fall weather, it's about right.

Capacity
The mug is rated at 12 oz, which is OK, though I prefer larger. The mug I replaced it with has a 16 oz capacity, and I find that's better since I don't need to consume fuel to heat additional water for a second cup.

Weight
This mug is rated at 5 oz which I think is pretty accurate. For those counting ounces for light-weight backpacking, it's a little on the heavy side. For the sake of comparison, the plastic mug I got to replace this for backpacking is around 4 oz, as is a 450ml (14oz) double wall titanium mug is around 4 oz.

Durability
This mug has a hefty feel to it, and is very solid. The lid snaps on tightly, and unlike some other mugs I've used, there's no issue with leakage.
Price
While I don't recall the price I paid for this mug some years ago, it currently lists for $4.25 at REI.  You can't beat this price! A titanium mug goes for $40-50. Even the replacement plastic mug I got for backpacking was significantly more than this one (the trade-off for slightly less weight and less bulk).
Overall Impression

This is a fine mug for camping, and if you're not overly concerned about weight and bulk, even for backpacking. The lid fits well, and is good for keeping your tea or coffee hot (and serves to hold in tea bags or even loose leaf tea). I'd recommend this mug for general camping use. I gave this a 4 star rating ... there are no real flaws or defects, but it's not perfect (could be lighter and less bulky).
Source: bought it new
Price Paid: too long ago to remember

This fantastic mug has greated my morning for over 20 years now.
Pros
Super durable and long lasting
Excellent camping mug
Excellent daily mug
Dishwasher safe
Cons
Can not be replaced
A tad bulky and heavy for long distance treks
Ordinarily I would say a mug lasting this long and still functioning is a fluke, but for the fact I have two identical mugs and both are great. I bought mine many years ago when my wife and I hiked The Big Bend in Texas and later hike down to Phantom Ranch in The Grand Canyon.
My wife found a picture the other day with the mug in the background. The picture is over 20 years old. I guess this has to be one of my single greatest purchase. I went online to see if I could buy another REI mug like them but I see they no longer exist.
Aladdin has a similar one but the lid is a little different. It looks like they redesigned the lid to incorporate a lip edge. Totally not necessary, but I guess it would help identify where the drain hole is located.
Anyway, can't say enough good things about my Aladdin mug(s). I hope I never lose them.
Source: bought it new
Price Paid: $4.50 - $5

This mug is awesome. It has the ability to keep drinks warm on snow camping trips and we never leave without one in each pack.
It has a measuring cup on the side to allow fluid measurements at the camp site. We wash it in the dishwasher, no problems and the lid works great.
Price Paid: $4

I purchased this mug a few years ago because they are almost identical to my old Aladdin mugs that were showing their age, being some 20 years old.
Good insulation, durable, great lid. I don't carry this in my pack, but I use it at home every weekend.
Might buy a few more and squirrel them away before they stop making them.
Price Paid: ~$5.00

REI has had some version of this mug for decades. I've been using mine for about 18 years now. It's completely bullet proof and keeps drinks hot longer than any other mug I've owned. It is a little heavier (by about 0.25 ounces) than many of the fancier double walled metal mugs, but it's also $30 cheaper and it'll last forever. They do melt a little if you let them touch your red hot stove, but I like the battle scars.
Price Paid: $4

I love this mug. It's tough, lightweight, and cheap enough that I don't worry if I do break it. I've tied a string from the lid to the handle. In the past, that's my most common way of "breaking" a mug. It even goes through the dishwasher like this.
Finally, it has some measurements on the outside of the mug. I've used them once or twice over the last three years (yes, the mug lasted that long) and now they're starting to wear off.

Price Paid: $4

Your Review
You May Like
Specs
Price
Historic Range: $4.00-$4.25
Reviewers Paid: $4.00

Recently on Trailspace