REI Kingdom 6 Tent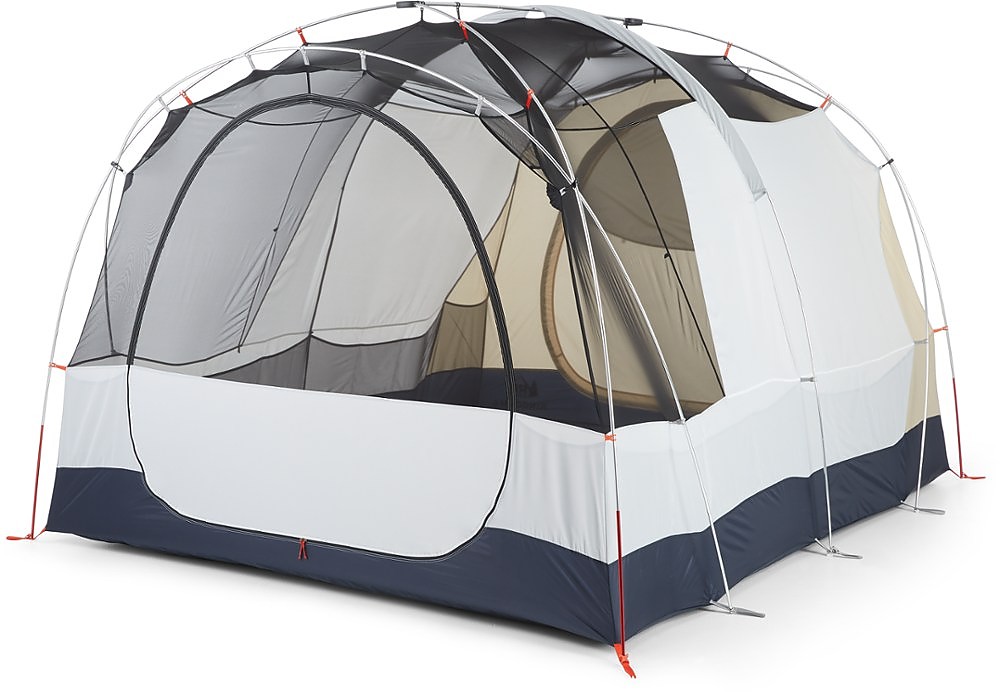 Great tent!
Summary: Unique options for using the fly (folded half back over one "room", or folded half way up for shade/rain protection with a view), very easy set-up for such a huge tent, lots of floor space and head space, lots of pockets, room divider very useful, but also folds back easily. Do buy extra stakes for best set-up in wind, since it only comes with 6 but you need 8 more to fully stake out rain fly. More details below.
I decided on the Kingdom 6 the first season it was offered because of the unique features, size, and reviews that indicated it had withstood significant rain and wind already.
Have used it two nights on one trip, plus two practice set-ups at home.
Usual use: Two adults and one 80 pound dog, for car camping trips up to 3-4 weeks long. We are now creatures of comfort, not minimalist backpackers any more. I have owned several backpacking and car camping tents and this is my favorite by far.
Set-up: Practiced set up at home twice, first with two of us, then by myself. I was able to set it up by myself quite easily on our deck as a "freestanding", using no stakes. (I am 5'6") Directions come on the bag, so can't lose them. The three poles seem quite strong - metal rather than fiberglass. Two hubbed poles work nicely.
Color coding on "footprint" (optional and useful), tent and rain fly make set-up easier. Do follow color-coding - I forgot to on our camping trip and the rainfly was on "backwards." To explain, vestibule that is built into rainfly is meant to cover the door that is not waterproofed. Door on opposite, more exposed end is well waterproofed. Since it didn't rain, it didn't matter, but we would have switched ends if rain had threatened.
On our camping trip, I set up the Kingdom 6 by myself in moderate wind with some gusting. Was pretty easy even under those circumstances and even though I had to tie on the guy lines (which will now stay on tent.) Easy to stake out and adjust tension for optimum set-up.
Tip for set-up: Stake out tent corners first. Put middle pole (the straight, non-hubbed one) through its sleeve before trying to raise tent (directions say after you raise tent). Attach hooks onto poles before you raise the tent - goes up like magic! (If you can, watch the video on REI website) When putting on rainfly, do not forget to attach the velcro tabs to the poles on the corners.
Doors: One at each end. Door under vestibule is not waterproof (but well protected by vestibule), other more exposed door appears very well sealed and quite waterproof, and made of heavier nylon. We were not rained on, but I have faith in the appearance of the construction. Doors can slip into over-door pocket to get completely out of way. Both have full netting so can vent as much as you want, or close up tight for privacy. Only one zipper is needed to open door. After having had tents for years where you needed to zip-unzip two zippers to get in or out, one zipper is a great feature!
Pockets: A pocket outside of each door (have never seen that), two in each "room", four on each side of "wall" between rooms! Lots of overhead loops for hanging laundry line, lantern, fan or whatever. It is hard NOT to be organized in this tent!
Headroom: The 6'2" max as stated is true, and not just in the one little spot. The tent is not a dome but rather is set on three parallel U-shaped hoops, so that the max height goes for the length of the tent and the side walls are almost vertical. As a result, this 10' by 8.5' tent feels way bigger than comparable tents with same dimensions. (My partner insists this tent is much larger than our last one, which is a modified dome. I measured - only a few inches diff on one side. The configuration and vertical walls makes a big difference in usable space.)
Floor space: Like a palace! We use large self-inflating mattresses and rectangular sleeping bags, and two of those fit easily into the "sleeping room", with lots of space for other gear. In the "living room" was the large dog bed for the 80 pound mutt, a storage box (about 15x24 inches), a folding table (about 15x15), misc other "stuff" and space in the center of the room for us to stretch out to play cards! With a little clearing out, we anticipate being able to put up our two reclining canvas chairs in the "living room".
Four could easily sleep in the tent with a fair amount of gear, six could be cozy but comfortable (using it primarily for sleeping) with minimal gear, but then there is lots of storage space in the vestibule.
Vestibule included: Vestibule attached to rainfly can be configured in a number of ways (one to three sides open), or completely out of way. Quite roomy, and I can stand up inside. Vestibule creates privacy if want to fully vent the door at that end. There is also an optional vestibule that is larger for other end, but I don't think we will need that one. It would offer even more storage space, and shade options. Like all vestibules, no floor, but could rig one if wanted.
(For ease in the following verbage, I will call the room at the vestibule end the "sleeping room" and the room at other end the "living room")
Rain fly: What makes this tent really, really unique to me. When fully in place, the rainfly comes almost to the ground on both long sides, and the vestibule comes to the ground. The "living room" door has only a small awning over it, but, as stated above, appears fully water proof when it is closed up. If it was raining hard, I would probably opt to go out through vestibule to avoid letting water into the living room.
When properly staked out (which is easy to do once the guy lines are attached), we experienced very minimal flapping in the 20-30 mile winds we had.
The rainfly covering the living room can be folded back, exposing that half of the tent. Both rooms are configured so that one side is mesh and one side is nylon. With the rainfly folded back, one can have views out the door and one side of the living room - poof - you have a sunroom! If the room-divider is in place, then there is still plenty of privacy available in the bedroom.
The rainfly can also be folded UP half way on one or both sides, so that there is more venting and a view out.
We decided on this tent because of the roominess and the options with the rain fly. I anticipate waiting out the rain in this palace without getting claustrophobic.
The only real con is that it comes with insufficient stakes to stake out the fly, but stakes are really not expensive, so it is worth investing in 10-12 stakes so that the tent can be fully staked out and you have have a couple of spares on hand. (you need the 6 REI provides, plus 8 more.)
With the fly in place and staked out, the doors may be seem a bit difficult to zip up at a certain point of tension. I found that I could simply loosen the tension on the fly a bit, and no more problem. The more I used the door and the more I experimented, the easier it got, so that the door was easy to zip, and the fly had the tension it needed. (Previously we returned a different tent to a different store for a similar problem, but I was not able to resolve the problem on that other tent - could not zip without feeling I would rip something, and after a few openings something did rip. On the Kingdom6, I feel the problem is easily resolved with a little practice and nothing will rip out.)
Packing up: The tent comes with its own "backpack" into which everything easily fits. Separate compartments for tent, fly, stakes, with enough room for optional footprint. No need to fold and re-fold tent to try to fit it into under-size bag!
For some folks, this tent may seem pricey, but our less expensive tents have failed (fiberglass poles bent, guy lines ripped out,and the returned tent mentioned above) REI has a great 100 percent satisfaction guarantee, which I have used on other products. They really do back up what they sell.
This tent appears exceptionally well made and thought out, and I look forward to many trips with it, in rain and wind, and, hopefully, sun! (BTW, I live in western Washington - lots of rain!)
Design: Three season freestanding two room with near vertical walls
Sleeps: 6+
Ease of Setup: Very easy with two, almost as easy with one
Weight: 17 lbs for tent/fly, 19 in it's backpack with stakes
Price Paid: $289

Great tent for family camping when your family is 5+! Easy to set up with one or two people.
Pros
Set up is 15 minutes
Plenty of room for gear and 6 people
Will take on heavy rain and wind with ease
Spacious carrying case!
Cons
Poles will bend a little too easy
The REI Kingdom 6 is a great tent. My kiddos are all finally old enough to go camping and it was time to start looking around for tents. In the middle of my research a Kingdom 6 popped up in a Craigslist search. I found it for $250 which is pretty much the same price as one you can find at an REI garage sale.
Last summer I took it on two week long trips: one to Governors Dodge in Wisconsin and the other a trip to the Porcupine Mountains in Michigan UP.
This tent is a really simple to set up, but if you can't remember how to do it the instructions are printed on the inside of the carrying case. By the way, this sounds silly but the carrying case is large enough to easily get the tent, poles, fly and stakes into after you are done. Plus the carrying case is not flimsy and has shoulder straps in case your site is a ways away from the car. Why don't other companies do this?
Once the tent is up you will have plenty of space. I am 6' and can stand up easily inside with another 4–5 inches of clearence. There is a nice "garage" on one side if you put the rain fly up that will store your gear and shoes. Inside there is a curtain that can be used to divide the tent into two rooms.
There are some pro's and con's to this. The curtain tends to get in the way, unless you pull it back. But on the model I have (not sure how old it is but it is not the current model) you can't tie the curtain all the way back with the provided pull back straps. So the bottom flops around in the wind, which is not great if your sleeping near it. You can zip the curtain together which solves this problem. But now you have thin wall that you may or not want beween your kids and you. Well actually the kids care about that not the adults!
There is plenty of indoor pockets for storage. One large pocket in each corner, and bunch on the divding curtain. There are also plenty of loops inside to hange jackets, lights or whatever.
On my trips last summer I had at least one day of heavy rain and very heavy wind. Our friends had purchased the very less expensive generic Coleman model. It seems like a bargain but not after a 4 hour torrential donwnpour and windstorm left the inside of their tents wet. The fly that comes with the Kingdom is solid and secure. If you properly guy it out you should be just fine.
You can purchase an optional "garage" for this tent but I am not sure why it would be needed unless you wanted to have an iside dining option or keep more equipment like bikes or something dry. A campside host had a Kindom with garage set up and it is huge.
REI also has a larger 8-person tent which I assume will be great if you really have a lot of people to camp with. I am pretty happy with this tent. It provides plenty of space and protection. I will keep until we transition to backpacking.
Source: bought it used
Price Paid: $250

A family tent that can handle my family of four.
Pros
Lightweight for its size
Tons of ventilation options
Two doors
Two rooms
Cons
Might need two people to set it up
Source: bought it used
Price Paid: $130

Cons
Does not inspire confidence in Sierra Nevada/White Mountains wind and summer snow.
With sufficient details from others' reviews I'll cut to my issues.
Half the tent roof is screen but there is no provision for neatly stowing the fly after it is peeled back for porch use. So you get an untenable mess in a breeze.
The quonset hut pole configuration relies on exotic custom castings for an inferior performance to the simpler overlapping dome design of the old King Pine Dome. Quonset huts are corrugated metal. Fabric is not the first substitute coming to mind.
While nothing has gone wrong the frame basically does not bend with wind loads like a dome design. The point where poles meet the castings is under a tremendous load in wind. I get a sensation of the wind trying to pry us loose and flip us like a cardboard box.
REI defends its choice by saying three seasons do not mean wind and snow/hail.
Onion Valley Campground is at 9,200 feet. Grandview and Four Jeffrey are both higher than 8,000 feet. These are all popular California campgrounds. June, July, August wind and overnight snow are routine. Deserts are windy. The Colorado River is a wind tunnel. Grand Canyon North Rim gets wind and hail in the summer.
Where are they camping?
Car camping tent companies appear to have gotten together and agreed to de content their products. King Pine Dome creator incompetence is a foregone conclusion in this review. They threw away a design that worked in wind and snow. REI fills the breech by answering a question nobody asked.
Experience
100+ days in the Sierra Nevada back country since 1981. Repeated trips over years to the places in this review. Bought my King Pine Dome in 2005. Kingdom 6 came in 2017. We like alpine zone campgrounds in the American Southwest for their exquisite day hikes, like Telescope Peak in Death Valley N.P. Death Valley, Joshua Tree for winter holidays.
Source: bought it new
Price Paid: $350

A massive, incredibly well thought out 6-person tent. Ideal for car camping luxuriously.
Pros
Super easy to set up
Spacious
Well designed (creature comforts)
Cons
Might be overkill for less than 4 people
Expensive
Purchased in spring of 2017. Used for car camping and backyard sleepouts with kids. 
Very easy to set up. I can single-handedly set this up in less than 10 minutes—quicker with assistance. Three separate collapsible poles that don't require forced-fitting. I'm 6'3" and can stand up straight inside. Footprint is like a small apartment, can absolutely fit six adults comfortably.  
Purchased as a "lifetime" tent for my family of six. Anyone familiar with REI products can be assured of quality craftsmanship and design, and this one hits all the marks. In my research, I didn't find any faults, and still have not.
Comes with easy to attach rain-fly. I wanted something I could do while half asleep at 2 a.m. in a rainstorm, and this is that. Clever pockets and clip hangers strewn throughout.  
I also purchased the ground sheet ($50). A large piece of tyvek would work great too. There is also a "garage" attachment that I do not own, but cool to stow away gear if you need extra room.
Love this tent. 5 stars all the way.
Source: bought it new
Price Paid: $400-ish

I love this tent!!
Pros
Easy setup and take down
Great in the rain
Storage pockets!
I love that this tent has enough room for me and my daughter to have our cots, tables, and odds and ends! We take it anytime we need to sleep out somewhere.
I have had this for 2 years and just experienced its first rainstorm. Crazy mountain rainstorm!! It stayed totally dry inside!! Love it even more. I will be buying the garage next month!
Definitely buy the footprint. Worth every penny.
Source: received it as a personal gift

Ha! Just read the full review ; )
Purchased the Kingdom 6 online 5 years ago. Lived in it for 2 summers+autumns until the snow stuck (late oct in sw co). following are a mess of messages i sent a friend regarding this tent:
Thought the 2 (main tent structure) panels of screen would make it difficult to keep the warmth in, but banked it up with some straw on the sides and was cozy!..especially love (besides being able to stand in it), the 2 'walls' that meet across the center forming 2 rooms. and the storage pockets are fairly well placed.
It could use a few more toggle restraints, grommets, and loops, and especially a patch at each opening at the base to step on for easy one handed zippering.... do recommend getting separately, the, think they are called 'groundhog stakes' (red metal, notched at top) much better than what was supplied.... but yeah, once the rain fly is battened down, and maybe a bit of straw thrown around, that girl is tight in nasty weather!
I also had a white 10x20 tarp strung over her for extra shade and hail protection, also made a nice overhang for walking around outside of tent in rain.... and this tent is great in hot weather, too. that inner screening is awesome for cross venting. can you stand in yours? that can make such a huge difference in comfort, i've found....also, be so great if the long sided flaps had pleated folds of fabric in the corners so the sides could be raised in rain and also protect the inside. would love to see a kit of rods, etc for this function.
So she's been in rather inhospitable (extreme dry and hot + alternately frigid) storage the last few years. set her up a several days ago. two big blustery rainstorms in that time. held solid! just one tiny little drippy leak due to design flaw along one corner that i've had issue with from day one.
Also notable: I lived in this tent with a cat. she climbed it. and only the smallest holes that patched well with duct tape came of it. even after over three years in storage, walls held up well to new cat clawings. also, after days of torrential downpours, any space is going to need airing: easy to move stuff to one side, flip up half of tent to dry and rearrange earth, stake back down, then repeat with other half.
The vestibule rocks, nice shoe/cooler storage + maneuverable space (i'm 5'6")..and get the footprint tarp! so worth the peace of mind! and the add ons fit in the pack with room to spare! ... there was a small hiccup in one of the doorway zippers upon arrival, it did grow after time, but that's my own fault for not being able to exchange it, because i needed to move in asap : )
Bottom line: THIS TENT IS GREAT! i have lots of little issues because i know it so well, and lived in it for many months through all sorts of weather and day to day needs... highly recommend this tent!
Enjoy and happy camping to all!
peace and gratitude
Source: bought it new
Price Paid: $400 + add ons

Bought this tent for family camping and it has been great!
Pros
Easy to set up
Large/roomy
Well ventilated
Easy to set up and it held up though a tornado/severe thunderstorm without any damage or leaks. The vestibules are great for storing gear and creating an additional shady area. Great for car camping and getting your family (and friends) outdoors. 
Comes with a nifty bag with backpack straps for easier transporting (since it's big). It came with extra guy lines but I had to buy a few more tent stakes to beef it up for storms/wind. The round zippered doors take some getting used to and will snag slightly if you (or children) zip them too quickly. 
Overall, a great tent and I would recommend it to anyone wanting a large family sized tent for car camping.
Source: bought it new
Price Paid: bought at retail

Your Review
Where to Buy
Help support this site by making your next gear purchase through one of the links above. Click a link, buy what you need, and the seller will contribute a portion of the purchase price to support Trailspace's independent gear reviews.
You May Like
Specs
Price
MSRP: $399.00
Historic Range: $139.83-$469.00
Reviewers Paid: $130.00-$400.00

Recently on Trailspace