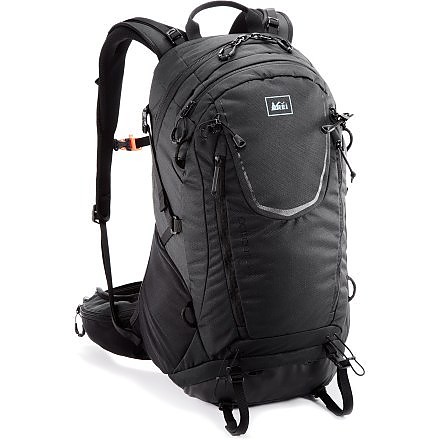 Specs
Men's
Price
MSRP: $89.50
Historic Range: $34.83-$75.73
Reviewers Paid: $45.00-$89.00

Women's
Price
MSRP: $89.50
Historic Range: $37.73-$89.50

Reviews
4

reviews

5-star:

1

4-star:

2

3-star:

1

2-star:

0

1-star:

0
A light pack that does the job. Some nice features but some leave me wanting. Can't beat the price though, given the size and quality! Great for carrying lots of stuff, not so great in the hydration, bottle pockets design.
Pros
Light but sturdy
Seperate pouch for bladder
Waist belt pockets are big and roomy
Cons
No connect to lash the bladder
Water bottle pockets not easy to access
No attached rain cover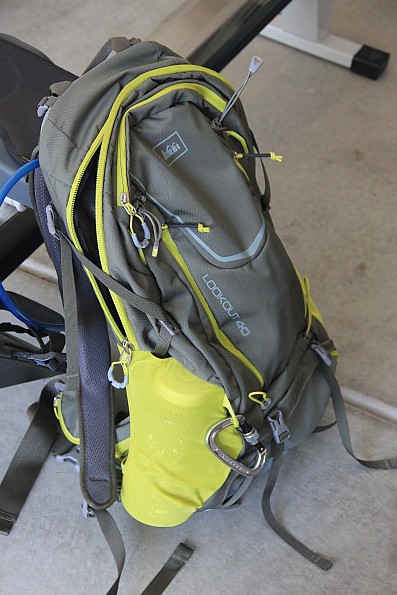 You can see the bottle tucked in all the way here.
That is explained below.
I have been using a Deuter pack but thought maybe it was time to branch out a little. I saw this pack and a couple of the features struck me as being useful to me:
1) the redesigned water bottle pockets were touted to be easier to access.
2) the pockets on the waist seemed a handy addition, lacking in my Deuter.
I also liked the bladder being between the back pad and the interior of the pack, leaving less chance a failed bladder would soak the contents of the pack. This is open at the top, so don't get the idea it is another actual contained compartment. AND it has a key clip in it and that is the ONLY way to suspend the bladder. A horrible design flaw in my opinion.
I feel like a bit of a traitor, given my Deuter got me to Everest Base Camp, but I wanted to know if I had other options that worked for me for an upcoming trek in South America.
WATER BOTTLE POCKETS
I was NOT impressed with this redesign. If you watch the REI video, even there it looks a little bit tougher to use than classically designed pockets. In this one, you shove the bottle in at an angle. But unless you push the top of the bottle in under the top portion of the mesh, the bottle will fall out under its own weight. I am a larger person, so that may make the fact the reach is awkward more exaggerated. But just like any other pack I carry, I still have to take it off to retrieve a water bottle.
This is disappointing because I really wanted to have a non bladder pack experience if I could just grab the bottles as REI asserts I can. Replacing is harder than getting them out. But the frustration is more than I could endure so I just took the pack off like I always have had to do. I use 32 ounce bottles because I always want plenty of water and I live and hike in the Mojave desert.
From here, the bottle will easily come out. You must push it in completely to prevent that. If you use a bladder, these pockets can be good for quick grab small items like gloves.
WAIST POCKETS
These are great. Again, I am a big girl, so they aren't right there in front of my hips, but they are accessible and great for carrying any snacks I need on the trail. This combined with the bladder means, I can hydrate and fuel without stopping or taking off my pack.
GENERAL OBSERVATIONS
This is a pretty static pack in terms of adjust-ability.  The sternum straps are not adjustable, but the shoulder straps are. I could get a general fit that was pretty comfortable over my shoulders. Torso length is also not adjustable.
The pack rides well, settling right where I like it on my hips. But it doesn't feel quite as comfortable as I had hoped. I seem to know it is there more than I am used to with my other pack. Perhaps it is because there is no pivoting so it stays in one place and your hips don't.
I got the men's Large and that has a little more capacity than the medium. I like that and can load all my gear in for a day of climbing. helmet, rope, shoes, additional cloths, gloves and harness.
The bungees for attaching the poles are adequate and I can tighten them down on top and bottom, stabilizing the poles well. I always have poles with me, so this was a big positive.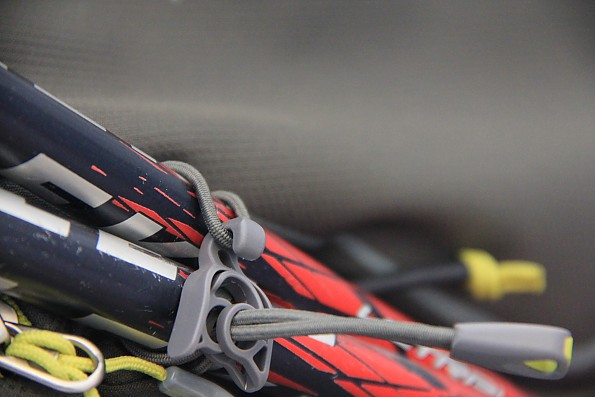 Notice the hook. That is a nice feature lacking in my Deuter.
The nice little rubber cinch helps contain the movement of the poles.

The main compartment is one big tunnel. That is fine for my uses around here for day hikes. But would be less functional on overnight/multi day hikes since you would find yourself digging around in it all the time. You can access it from bottom or top, but a real tossed salad to find items in the middle. Also makes it easier to mess up the load distribution if you lack patience like I do.
One thing I REALLY like is the zipper pulls! They are easy to grab and just seems like a design that has been a long time coming. Who would think something like that could make such a difference, but I like it!
There are two exterior pockets on the face of the pack in the men's version. Another reason I got the men's because the woman's had only one pocket. Really REI?
All in all, this is a very good pack because of the durability, size and features for the price. It is comfortable and had I not been spoiled by my Deuter, I would think this pack was the total bomb. Had the bladder hook been there and the bottle pockets actually been a better design than classic ones, this would have gotten a another full star. 
But that price really does make it an appealing pack. Something I would recommend to others without hesitation considering their planned uses. It rode well over the course of a day's hike and that is a very important factor. there are straps to tighten the fit on the back for loser loads, so that is also a good thing.
Source: bought it new
Price Paid: $76.29

This is my first daypack and I couldn't be more pleased. After trying several on at REI this one felt right for me.
The main cavity is very spacious. In it I put my Jetboil, rain poncho, fleece, rain jacket, coffee mug, cup o soup, sandwich water purifier, and snacks, and I still have some room left, even with my 70 oz. hydration pack full and in its pocket.
There are plenty of other pockets to stash extra gear. The long side pockets are excellent for a maps, gloves, or flashlight. If you carry a weapon these side pockets are just right for an averaged size handgun (don't do it unless it's legal of course).
Top pocket carries my headlamp, wallet and keys. Yet another exterior pocket holds first aid kit, hand shovel, lip balm and sunscreen.
There is also the lower straps that could hold a sleeping bag, or pad. Also, two mesh side pockets are perfect for a slim canteen or 16 oz. bottled waters.
I am hard pressed to fill this pack up for a day hike.
With all this gear I often pick up my pack and wonder how I'm going to lug it around for several miles. But once on my back the various straps snug it up just right and I hardly notice the extra weight.
I would highly recommend this pack!

Design: Panel
Size: 40 Liters
Max. Load Carried: 25 lbs.
Height of Owner: 5'4''
Price Paid: $89

Great day hiking and travel pack. Overnight, though, it's lacking.
Pros
Larger main pocket.
Lid pocket is just the right size
Hip belt pockets rock!
Cons
U-shaped zipper opens downward (kind of a con)
Side pockets make pack overly wide
My version of the lookout is about 3/4 years old. Back then, REI did place toggles near the top of the bladder sleeve inside the pack. Honestly, though, I've never used them. I've taken the pack as a carry-on from Montreal to El Paso, as it easily carries a weeks with of clothing and gear and still fits beneath the seat of a 737.
I've also taken the pack on several overnighters on the AT and Tuscarora. It easily fits my 45 degree bag, bivy, food, cookset, and rain gear. All told, I believe I had about 20 pounds of gear in there.
My only real gripe is, in order to use the pack's full 42 liters, the side pockets become so stuffed that my arms hit them while hiking. Not a big problem on trail, but annoying when things get steep or narrow.
Source: bought it new
Price Paid: $45 on sale

Comfortable and enough volume for a winter day hike or snowshoe trip. Excellent design and arrangement. Durable, but therefore a bit heavy.
Pros
Lots of pockets and features
Maintains its shape when not full
Easy access to two compartments
Secure water bottle pockets
Cons
Heavier than many day packs
I don't see this exact model for sale any longer
Other than weight I find this product one of the best of many daypacks I have owned. I need this much volume in winter or on a climb where there is a possibility of spending an unexpected night out. Any bladder can be hung in the pack if you use a little ingenuity and paracord to attach the key clip to the bladder suspension system.
My sternum straps DO move up and down a few inches. Maybe that has changed in another model?
Lots of daypacks are acceptable, but I think all the features and pockets and their arrangement makes this even better than most. I like the key clip in the bottom of the o/s pocket. I like the neat zip-up pocket inside for my wallet. I like the inside extra pockets to slip my camera and GPS into. I like the cool outside side pockets for snacks and to keep my first aid kit handy. I happen to like the deep bottle pockets because on some occasions I have to scramble or bushwack and it is easy to lose a bottle in a less secure pocket in those circumstances.
I didn't find this exact model for sale online. Too bad. Mine weighed 48 ounces on my scale and that is a bit heavy, but even so I think this will be my "go to" daypack because of the comfort, features and volume. I think it is very durable and I plan on using mine a long time. 
Source: bought it used

You May Like
Recently on Trailspace