REI Lookout Pack

The Lookout Pack has been discontinued. If you're looking for something new, check out the best overnight packs for 2020.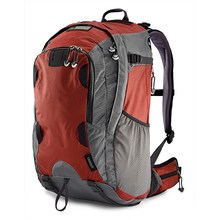 Specs
Price
Historic Range: $32.83-$49.93
Reviewers Paid: $24.83-$85.00

Reviews
7

reviews

5-star:

3

4-star:

2

3-star:

1

2-star:

1

1-star:

0
I just bought this pack 3 weeks ago (early May 2008) and have taken it day hiking twice. This pack is different from the 2006 model in several ways.
This model has a horseshoe zippered flap to let you into the pack, instead of a strap down flap with carabiner loops (from looking at the pictures of the old model). It's easier to get into as a result. That flap also has another horseshoe pocket with loops to let you tie stuff on the outside of the pack, and three mesh pockets on the inside.
The main pack has a pocket for a hydration bag, with rubber flaps on either side to let the tube through the bag (not tested). There are water bottle pouches on either side of the pack, suited for liter water bottles.
The top pocket is still best suited for small objects like a tube of sunscreen or bug repellent. The zippered side pockets behind the water bottle pockets are suitable for snacks or other fairly small items. The zipper pouches on the pack belt will hold a small compass like the green Brunton or my folding Silva, but not a Garmin ETrex GPS (leave that on a neck strap). There are loops on the bottom of the pack suited for a foam pad or a jacket.
So far I like the back stiffener on the pack, which is light and so far isn't annoying. Might not be all that comfortable in hot weather, but my Lowe Vision 40 has a real frame which is better (but heavier) for that kind of weather.
Design: Rucksack
Size: 42 liters
Number of Pockets: 8
Max. Load Carried: 15 pounds
Height of Owner: 5'9"
Price Paid: $80 list - 20%

It's a decent pack. I do wish it had stays. I don't like the horseshoe main compartment zipper. I wish it was either a top loader or a panel loader. At least with a panel loader you can just zip it up most of the way and use it like a top loader. This zipper kind of meets towards the middle so you can't do that. Also, as the previous reviewer said, the side pocket zippers are horrible. Mine have already gotten stuck a few times just playing with it.
I was going to return it and get the 2007 model, I have the 2006 model I got from REI outlet. The 2007 model solves many of these issues and also comes with a stay. The back padding on the 2007 model is much better. There's really no comparison between the pre-2007 and 2007 models. But it turns out that the 2006 model is $24.83 in store. So I returned it and rebought it at that price. Because, it's so cheap, I decided to keep it.
Price Paid: $24.83

I really wanted to like this pack but after trying to load the pack up for a trip to Yosemite the zippers on two separate units resulted in a return to the store. The zippers were very cumbersome and frustrating to open and close. I believe it has to do with the location of assembly and production as well as the design and maybe the zippers chosen.
Height of Owner: 6'
Price Paid: $85

This pack is one of the most comfortable packs I've ever worn. It has everything I like in a pack -- front loader and side pockets, surprisingly light and fits surprisingly well for an REI pack (I've always been a Gregory fan for this reason over REI packs -- REI packs I've tried, like the Venus which I own, have felt stiffer and heavier than Gregory's, to me).
Design: front-loading
Size: 2700 cu in
Number of Pockets: 3
Max. Load Carried: 40
Height of Owner: 5'6"
Price Paid: $40 on sale

I've had the pack for almost a year now. It's gone with me on dayhikes, multiday hikes, vacation car trips, and just around town sometimes. This pack is a gem. It's perfect for a day trip, an overnighter, or even an extended multi-day lightweight trip. So it's very versatile and cheap if you don't want to spend a bunch of money on a ton of different packs.
I love the panel loading, everything is easily accessible when I open the pack. The top pocket is perfect for your little items that need to be at hand and I absolutely love the zipper and mesh pocket on the belt strap, they can perfectly hold your cell phone, chapstick, small map, etc. I was leery about it not having any stays but after using the pack many times I find its more comfortable than my internal framed Mountainsmith pack. It's also a very sturdy pack and can take abuse, I hike in a lot of sandstone canyons and it gets rubbed against canyon walls a lot and hasn't received hardly any abrasion. I would recommend this pack to anyone.
Design: Fron panel loading
Size: 2700 Cubic Inches
Number of Pockets: 5
Max. Load Carried: 35 lbs.
Height of Owner: 6'4
Price Paid: $80

I purchased this pack the other day and I just got back from my first hike. Let me start off by saying that I am just getting back into hiking after about 10 years of sitting on my duff and doing nothing but getting out of shape (250+ lbs.).
That being said, I logged about six miles in 38 degree weather in about 3" of snow here in Maryland on a relatively easy set of trails. I found the pack extremely comfortable (at about 3 lbs.) and very friendly to use. The panel access is (to me) more convienient than top loading packs that you need to tunnel down into to get a specific piece of gear or food that you may want. The hip belt offered good support and the zip pocket on the belt held the trail map very convieniently. The pack stayed close to my back and the modest load I was carrying was not felt due to the hidden delrin rod that makes this a kind of quasi-frame pack.
My only concern of this pack is that I wish the bottom fabric was a little more durable (1000 kodura would be nice). I can see a potential of it chaffing a bit if you put it down and drag it off a rock.
I am looking forward to many more strenuous hikes with the REI Lookout as I get back into shape. As of now, I feel that this pack will meet my needs of an extended day pack with warmer weather overnight capability.
Size: 2700 (Large)
Max. Load Carried: 17 lbs.
Height of Owner: 5' 11"
Price Paid: $80

I just purchased my REI Lookout daypack during the REI Labor Day Sale Event. I purchased the large pack which is 2700 cubic inch and a great light weight pack at approx. 3 pounds. I used the pack on a two-day 15 mile hike on the AT in Georgia starting at Unicoi Gap.
What a great pack. It really makes a great pack for light summer backpacking. It is hydration compatible with drinking tube ports on the left and right side of the pack. It held my 2-liter hydration bladder, sleeping bag, food, snacks, maps, rain gear, etc., (total approx. 28 pounds) and carried the load superbly. The side mesh pockets are extra large and the pack has full length zippered pockets on either side of the pack for easy access to rain gear or maps.
Two other really neat things about this pack are the zippered pocket and mesh pocket both on the hip belt. I used these pockets for items such as a small knite, compass, sunscreen, lighter and headlamp. This is a great daypack.
Design: Front-loading, internal frame
Size: 2700 cubic inches
Number of Pockets: 6
Max. Load Carried: 28-29 pounds
Height of Owner: 6 foot
Price Paid: $60 on sale

You May Like
Recently on Trailspace