REI Lumen +25


This is a great wet weather alternative to a down bag. It's very warm, the price is right, the weight is acceptable for a synthetic bag of this temp rating (sub 3 lbs), and the feature set is perfect-—not too many features, but ones that are useful.

I highly recommend this bag for anyone that wants the warmth and packability of down, combined with the wet weather security of synthetic.
Pros
WARMTH!
Well thought out feature set—not too many, just useful
Inexpensive
Decent weight for a synthetic bag of this temp rating
Relaxed fit in shoulder and hip area—more wiggle room
No zipper snags!!
EN rated
Nylon stuff sack and cotton storage bag included
Cons
Discontinued :-(
No compression sack, over-sized stuff sack only
*Reviewer note: I have the "regular" and "long" versions of this bag. This review is of the "regular" version only, since the only differences between the two are in the dimensions, weight, and fill weight. All other features and temp ratings are the same.
I bought this bag to supplement my REI HALO +25 down bag (which I absolutely LOVE!), since cold weather around here (Middle TN) usually means WET weather, and I feel safer carrying a synthetic bag in cold, wet conditions. It has many features in common with the HALO +25 down bag. So far, it has served me well.
Just like the HALO +25 down bag, THIS bag is a heater! Seriously, it is almost too warm. It warms up so much, and so fast, that you get the impression that it is actually generating heat, rather than just trapping it.
I haven't had this bag down to its temp rating of +25 yet—only right at freezing. But based on the fact that I was roasting in it then, I would guess that it will easily keep me warm at lower temps.
This is the only synthetic bag I own that "puffs up" similar to a down bag, and is as warm and comfortable as a down bag.
First, the "official" technical specs;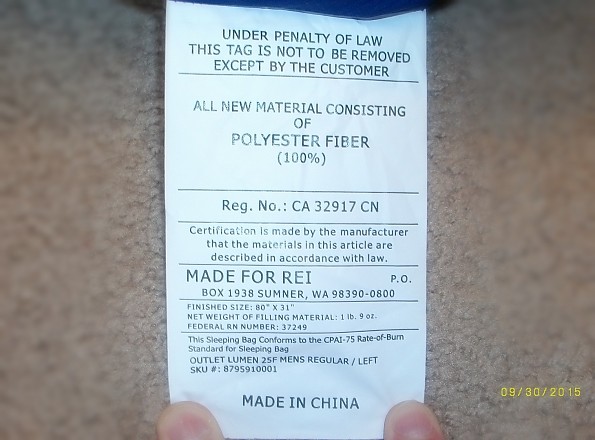 The "legal" tag.
EN lower limit (rating for men) 27 degrees Fahrenheit
EN comfort (rating for women) 36 degrees Fahrenheit
Temperature rating (F) 25 degrees Fahrenheit
Temperature rating (C) -4 degrees Celsius
Weight 2 lbs. 15 oz.
Shell Ripstop nylon
Zipper location Left
Insulation type Synthetic
Fill Polyester fibers
Fill weight 25 ounces
Lining Nylon taffeta
Sleeping bag shape Mummy
Fits up to (in.) 72 inches
Shoulder girth (in.) 62 inches
Hip girth (in.) 58 inches
Stuff sack size 9 x 20 inches
Stuff sack volume 20.8 liters
Compressed volume 7.9 liters
Durable polyester insulation is highly compressible and provides warmth even when damp
Shingle construction with overlapping layers distributes insulation evenly so there are no cold spots
Durable ripstop-nylon shell fabric is treated with a durable water repellent finish to resist water and dry quickly; nylon taffeta lining is soft and tear-resistant
Relaxed fit through the shoulders and hips offers more room to move about
Contoured hood, insulated full-face muffler and full-length zipper draft tube with ground-level seams work together to keep warmth in and cold out
External chest pocket keeps small essentials handy
Pocket in hood can be stuffed with clothing layers to make a pillow
Pad loops provide attachment points to keep sleeping bag and pad together (straps not included)
Full-length zipper is backed by wide, antisnag binding tape
Differentiated drawcords (1 round, 1 flat) allow quick identification, even in the dark
Nylon stuff sack and cotton storage bag included
Now on to the good stuff.
Exterior
Weight:
My scale consistently read 46.5 oz/2.91 lbs (in the stuff sack), which is just slightly less than REI's stated weight of 2 lbs 15 oz. Nice!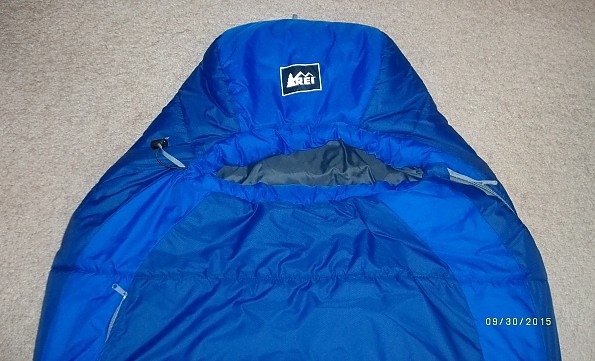 Notice the very small facial opening. This adds to the bags warmth. Also notice the very large "hood" area. REI has been very generous here, as this hood has more than enough room for your head, pillow, hat... whatever you want.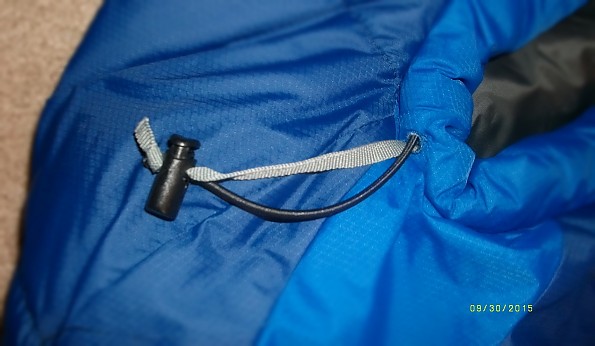 Notice the differentiated drawcords (1 round black elastic cord for the head, 1 flat grey cord for the neck, both locked with a standard barrel lock/cam lock).
Why, you ask? Think about it- when do you typically cinch these shut? In the dark! Having different size/shape cords makes it easy to determine which is which by "feel" alone—without needing a light or having to sit up. A nice feature!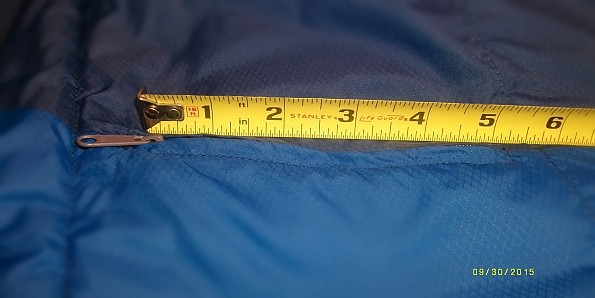 This is one of the features that I am not too crazy about. All of my REI bags have this exact same "external chest pocket". Curiously, it measures 5" when closed...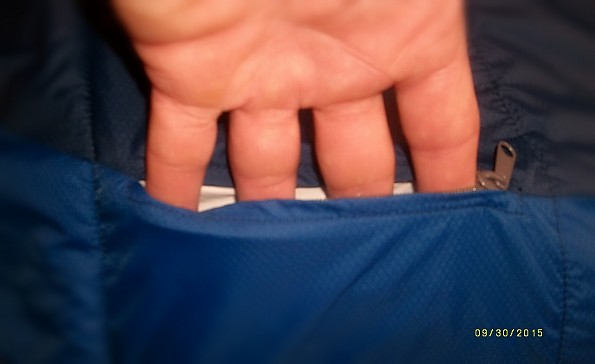 ... but when unzipped, it is only a 4" opening.
Now I do not have large hands by any means, but I have to fight and struggle to get my hand in or out of this pocket. And every time I do, I'm afraid that I am going to rip a seam.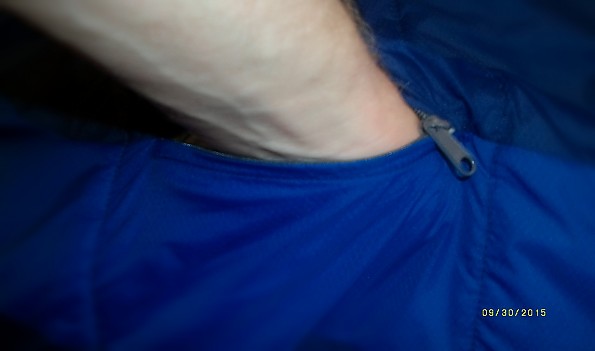 This is a VERY deep pocket! I mention this as a warning. As you can see, my hand (with outstretched fingers!) goes in past my wrist. So unless you have smaller hands that easily slide in/out of this pocket, don't put anything small in here that you will have to fish out later.
I have actually given up on using this pocket due to the hassle and the fear of tearing it.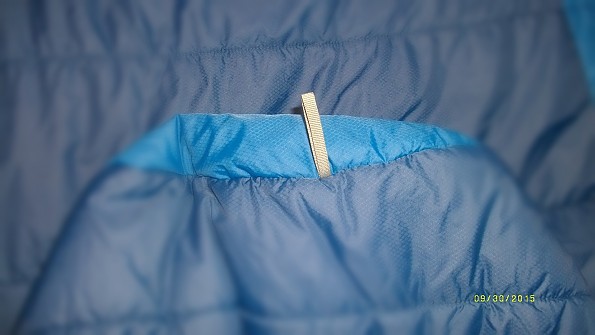 Here you see the head end hang loop for storage. You should NEVER store a sleeping bag compressed!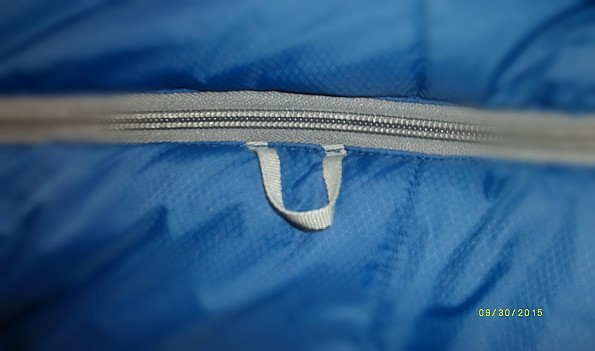 Here is one of my favorite features: "Pad Loops". These are great! All of my REI bags have these, and some North Face and Kelty bags have them, as well.
In case you are unfamiliar with the concept, take a look at this...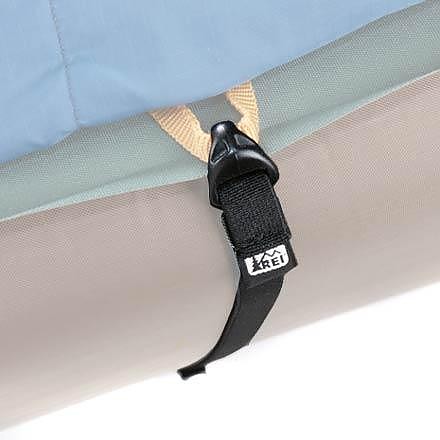 The idea here is to strap the bag to the pad. This keeps the two together, and, more importantly, allows you to roll inside the bag without the bag rolling with you. No more rolling off your pad!
I bought a set of these straps from REI when I bought my HALO bag, and wanted to get more of them when I purchased this bag. Oddly, REI has discontinued these straps, and I have yet to be able to find anything comparable anywhere else. So sad :-(
Moving down to the foot end,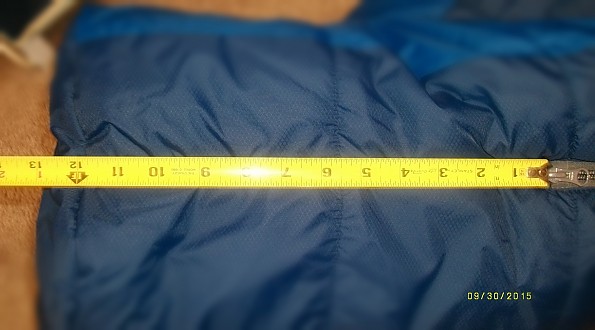 Strangely, REI calls this a "Full-length zipper". Now everyone knows that a full length zipper is not a good thing on a cold weather bag. You want to eliminate as much as possible any chance of drafts in the foot area. As you can see in the photo, there is actually an ample 12" of distance from the zipper end to the end of the bag. I have not noticed any drafts in the foot area, but again, I haven't pushed this bag to its rating, either.
Notice the shape... it's not round, it's not square, it's not even rectangular. It's trapezoidal!
Why, you ask?
Well, lay down on your back and relax. Now look at your feet. What shape do they most closely resemble? That's right, a "V".
A trapezoid is the absolute perfect shape for a foot box, in order to match the position that feet naturally fall into when laying on your back!
I love this foot box, and find that I have almost too much room for my feet. But that's probably because we have all gotten used to the slightly confining round or square shapes of most other bags.
There is actually enough room inside the foot end of this bag to put things that I want to keep warm at night- without having to use my "Long" version of this bag. (Sadly, that defeats the purpose of my buying the "long" version.)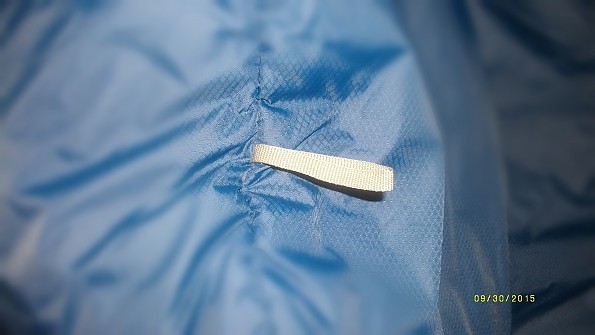 And here you see the foot end hang loop for storage. Again, NEVER store a sleeping bag compressed!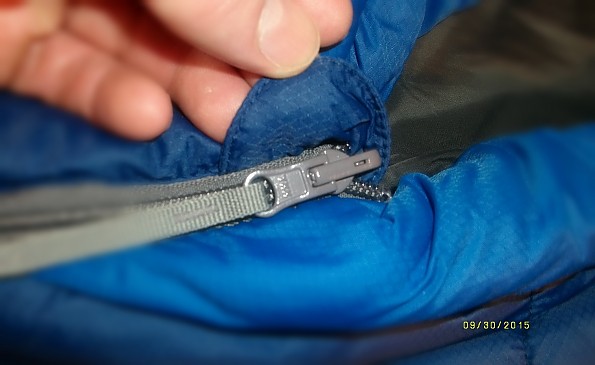 Here you see the "zipper garage" in the open position. It's just a little flap of material that covers the zipper, and you barely even notice it. But trust me—you would notice if it wasn't there!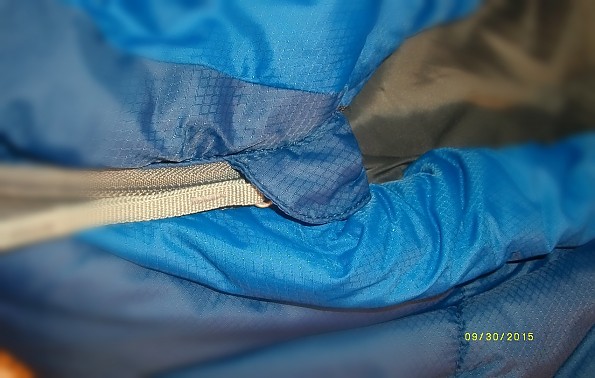 And here you see it in the closed position. This is almost identical to the flaps over zippers that you find on most outerwear (jackets) these days. They are typically referred to as "chin protectors" on outerwear, as they keep the zipper from rubbing your chin when fully zipped up. The concept is the same here—your face is protected from the zipper when you are in the bag with it fully zipped up. This is a simple must-have feature.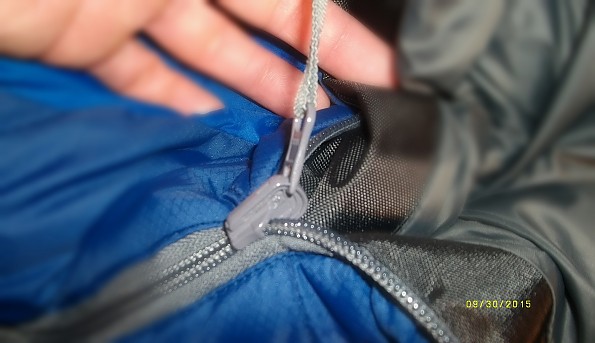 And speaking of zipper, check this one out!
Rather than using a reversible slider with 2 pull-tabs, REI instead opted for a single pull, autolock reversible zipper. Basically, the one pull-tab floats within a channel that goes around the slider.
I love this style of zipper. The extra "bulk" of it actually pushes fabric away from the "bite" of the slider, reducing the tendency to snag. It's a very nice feature, but so "low-key" that most people won't even notice it.
REI states that the shell fabric has been treated with a DWR finish. But, honestly, I haven't even noticed. I guess I would have noticed if it WASN'T treated, though, right? Lol.
Another feature on the exterior of this bag that I almost forgot to mention, and was quite unable to photograph, is the "ground-level seams". I could find no way of taking a picture of it to show you what it is, so I will have to try to explain it with words and the existing pictures.
Rather than the seams running down the sides of the bag, they are actually rolled lower toward the ground.
Refer again to this picture...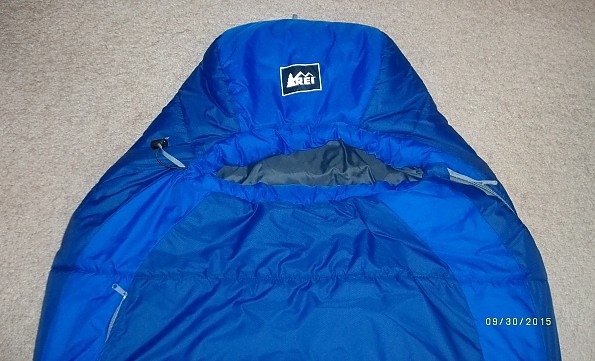 On the right side you will see the zipper. Notice how it disappears in the picture? That is because the zipper does not run along the SIDE of the bag, but rather, along the UNDERSIDE of it.
Everyone knows that cold air tends to fall, and warm air tends to rise.
If the seam/zipper are on the SIDE of the bag, there is a chance that a draft (cold air) can get in through the zipper and/or stitching, and "fall" into the bottom of the bag, and warm air escape by "rising" out through the zipper (even with a draft tube).
BUT, with ground-level seams/zippers, these bags considerably reduce that chance.
This is an excellent feature that adds to the warmth of this bag.
Interior
I can't comment on the "next-to-skin" feel of the inside material, as I never use a bag without a liner (nor should you!). I will say that the interior of the bag is Nylon taffeta, which, generally, has a smooth, "silky" feel to it.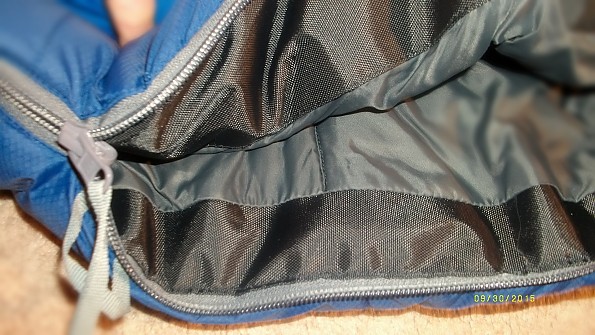 And this, boys and girls, is my absolute favorite feature (besides the warmth) found on this bag.
Anything with a zipper should have this feature!!
Tents, sleeping bags, clothing... you name it, they should put it on everything!
All of my REI bags have this. REI calls it "wide, antisnag binding tape". I call it genius!
What you are seeing is an extra piece of antisnag material running the full length of the zipper, on both the top and bottom of the zipper. This material measures 2 1/2" on top, 1 1/2" on the bottom.
You can literally grab the zipper pull, and quickly yank it back & forth, back & forth, and back and forth to your hearts content, and it does not snag!
I can't say enough about this feature! This is brilliant!
The only other notable feature on the inside of this bag is the pocket at the head end. And this "pocket" is more like a suitcase—it's huge!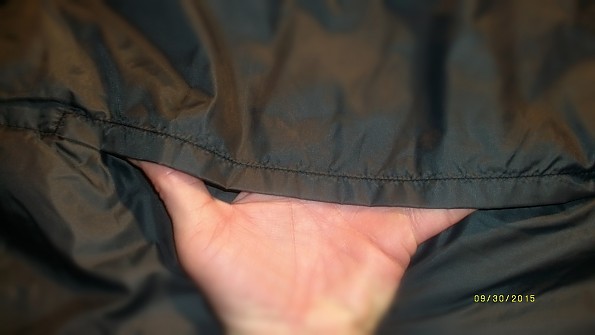 The position of the opening for this pocket is roughly where your neck/upper shoulders are when laying down. Now this is only the OPENING. The interior of this pocket actually spans the entire hood area of the bag.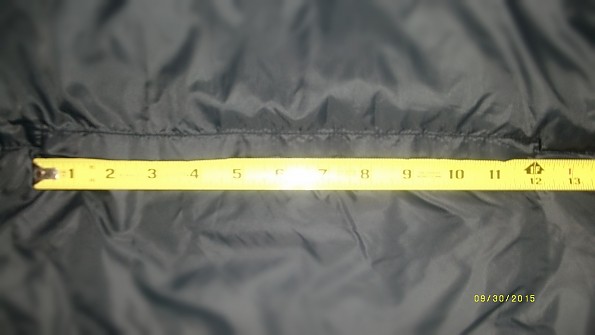 The opening is 12" wide...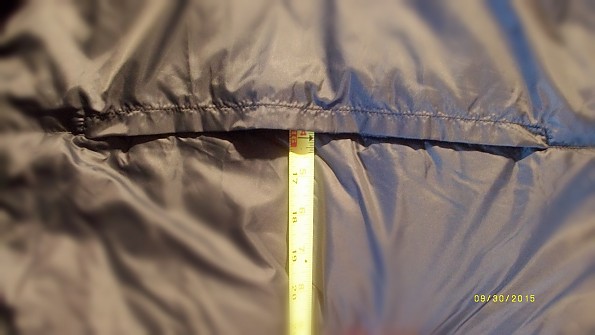 ... and 16" deep.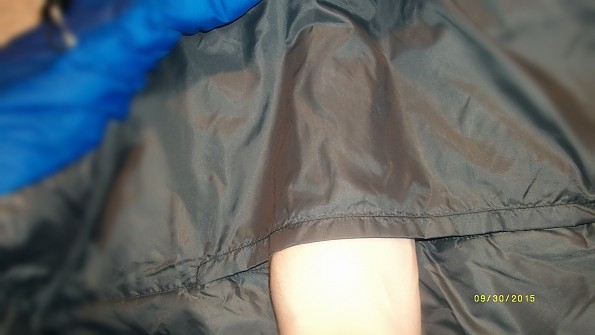 To give you a better idea of the size, You can see that my arm (with outstretched fingers) goes in as far as my upper forearm- almost to the elbow. This is a very big "pocket"! The intended purpose is for stuffing things into it to make a pillow. And there is MORE than enough room to stuff just about anything in there. No matter what size pillow you like to use, chances are that this "pocket" will accommodate it.
Accessories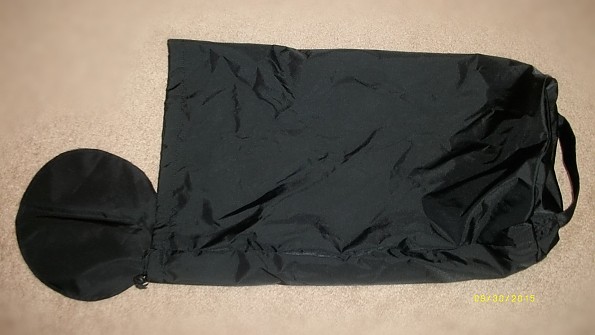 REI includes a standard, run-of-the-mill, NON-compression, stuff sack, that is actually too big for the bag. Sorry boys and girls, you will have to buy a compression sack for this bag.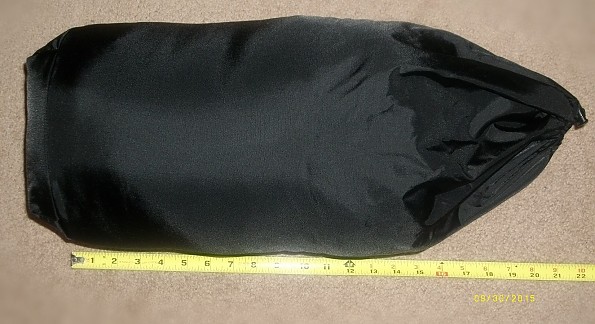 The sleeping bag inside its stuff sack. It measures approx. 9" x 21".
You may be able to tell in the picture that the stuff sack is much too large for the bag. You would be better off just leaving this at home, and buying a quality compression sack.
For me personally, instead of buying another, I just use the compression sack that came with one of my other bags.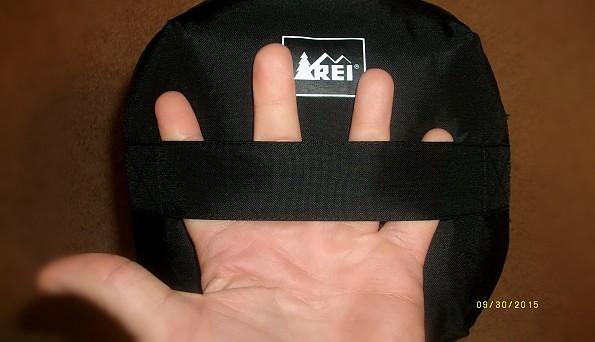 Here you see that REI included a handle in the end of the stuff sack, opposite the opening.
If you have ever tried to get a tent or sleeping bag out of its stuff sack WITHOUT having a handle to grab on to, then you will appreciate this little feature!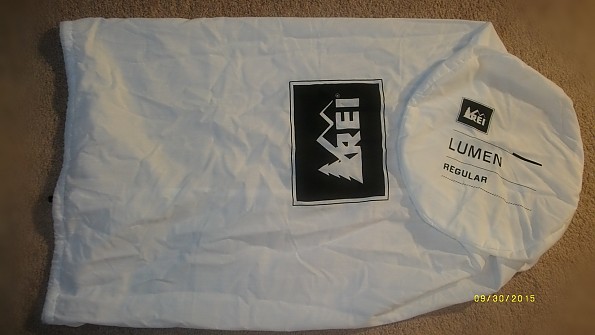 REI also includes a cotton storage bag. Notice the subtle advertising so common to REI. LOL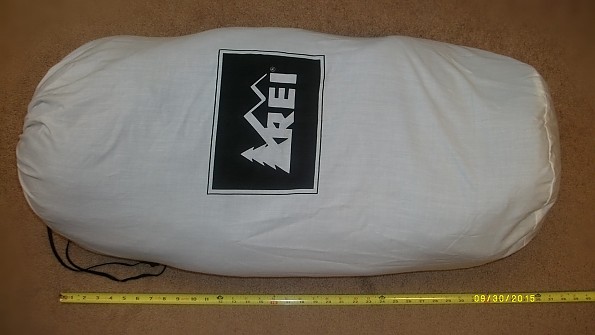 The sleeping bag stuffed into the cotton storage bag. It measures approx. 13" x 34".
While I must admit that this is a nice added-value feature to include with ANY sleeping bag, I also have to admit that I do not use it. While this is much better than storing the sleeping bag compressed (which you should NEVER do!), I am of the mind that a bag should not be compressed AT ALL. I store all of my sleeping bags laid out flat, fully lofted.
Yes, it takes up a lot of space in the house.
I tell people that my house "looks like a sporting-goods store threw up in it". LOL
But, anyway, that's just me- you do what you want.
Conclusion
So far, the REI Lumen +25 sleeping bag has been a great wet weather alternative to a down bag for me. This is a very warm bag with some well thought out features. I intend to get a lot of use out of this bag!
As mentioned, I have yet to push its temp rating, but, based on performance so far, I am confident that it will continue to perform as stated.
The price was right, the weight is acceptable for a synthetic bag of this temp rating (sub 3 lbs), and the feature set is perfect- not too many features, but ones that are useful.
Sadly, this style has been discontinued. But if you find one, don't hesitate to get it. I doubt that you will regret it!
Good luck, and get out there!
*UPDATE 10/09/15;
I stand corrected.
REI still offers the Lumen, but a newer version.
AND...
As of 2015 hrs on 10/09/15, this exact style (older model, like mine) sleeping bag in the 'regular' version/length is still available at REI Outlet, for the same price I paid- $109.73
Now you have no more excuses....
;-)
Source: bought it new
Price Paid: $109.73/regular, $83.73/long

Comfortable, long lasting three-season sleeping bag.
Pros
Comfortable
Affordable
Warm
Purchased in 2012 when I first got into backpacking. Wanted an affordable bag for backpacking. Packs down (with aid of a compression sack) to about the size of a basketball. Relatively heavy, but very warm and cozy. 
Have used a lot in five years and it's held up great. Eventually would like to upgrade to a lightweight down, but for the money, it's hard to beat this bag.
Source: bought it new
Price Paid: $150

Your Review
Where to Buy
Help support this site by making your next gear purchase through one of the links above. Click a link, buy what you need, and the seller will contribute a portion of the purchase price to support Trailspace's independent gear reviews.
You May Like
Specs
Men's
regular
long
Price
MSRP: $149.00
Historic Range: $63.73-$149.00
Reviewers Paid: $109.73-$150.00

Women's
regular
long
Price
MSRP: $149.00
Historic Range: $89.83-$94.83

Kids'
Price
MSRP: $99.50
Historic Range: $82.73-$88.93

Recently on Trailspace