REI Morph

The Morph has been discontinued. If you're looking for something new, check out the best 3-4 season convertible tents for 2021.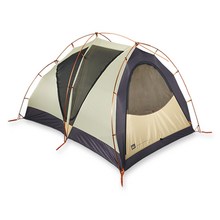 Specs
Price
Historic Range: $149.93
Reviewers Paid: $118.00-$180.00

Reviews
11

reviews

5-star:

3

4-star:

5

3-star:

1

2-star:

1

1-star:

1
Overall a good backpacking tent. My buddy complains it is small for two people, but it is exactly what it is supposed to be--just large enough to fit two people and be light enough to backpack with.
The pole that the vestibule drapes over broke. It is more difficult to put up than other tents because of its design. I compare it to tents that just have two poles and you just cross them. I suppose that the design allows the tent to be a little smaller for backpacking weight and at the same time be sturdy enough to stand up to the extreme elements (wind, rain, snow) as a 3-4 season tent. I only go backpacking/hiking in the winter so it always is in 4-season mode.
Design: four-season 2-person tent
Sleeps: 2
Ease of Setup: Not very easy compared to tents where you cross two different poles
Weight: Light enough to carry for a long distance

Poles pack weird and cross pole doesn't fit well in grommets.
Tent held up extremely well this winter in the Utah Wasatch this winter. Two feet of snow fell on us overnight and we were warm, dry, and stable.
If anything it is more of a winter tent and not a "convertible" due to the very heavy fly.
Design: three/four season convertible
Sleeps: 2
Ease of Setup: moderate
Weight: Heavy
Price Paid: $180

My husband and I purchased this tent when it first come out on the market. Boy was it a letdown. The main pole broke on us during a blizzard. During the 3 to 4 season conversion the inner zippers to the 4 season convert were so tight they broke.
I absolutely hate REI products. I have never been happy with the REI brand. This tent broke on us when we needed it the most. Thanks, REI, you suck!
Love it. It's great against wind and rain which is my main criteria. I've used it for 6 years backpacking mostly, and camping in Virginia/West Virginia, so the climate is mild even in winter.
Vestibule is roomy. Poles are tricky, need to be careful with them, not that hard to break. My poles snapped and I had to have them replaced; apparently there is a small size difference between year models of Morph, the set of Morph poles REI gave me (great warranty service!) stretch the tent precariously although they work. Bad QA on REI's part, I think.
Pros: durability, reliable water-proof, stable in weather, good ventilation/temperature control, easy set up. Weight (I'm not ultralight man, so it scores OK here). Good space with vestibule. Very easy to self-repair (design feature, I've not had to repair anything yet).
Cons: size without vestibule. It's a great one man backpack tent without vestibule (leave extra poles and vestibule home which makes an important weight difference)- but for two, well, it is a two man tent if the two are very intimate.
Poles - not the material which is fine - but the design, which will easily cause breakage if you don't pay attention to how you assemble/disassemble and fitting the ends exactly right. I've learned to just be careful and that doesn't bother me, but REI seems sometimes to wander off into pretty bizarre complicated designs.
Overall: I love the tent and am sure it will last a long time, but if I need parts I doubt I'll be able to get them for long into the future - REI is not very stable with its product lines, having discontinued the Morph. Well, I bought it on fire sale, so what did I expect?
Design: 3/4 season freestanding
Sleeps: 2
Ease of Setup: very easy
Weight: 4-7 depending on what you include.
Price Paid: $145

I've had this tent for several seasons now. I have been rained on several times and stayed nice and dry. The large vestibule was a life saver. It meant I didn't have to store my things in the Jeep and get wet getting that one little forgotten item.
But my real praise is for its wind stability. I camp in some of the windiest places you care to go. Panamint Valley California keeps a steady 35mph going with gusts up to 40 or 45mph common. This tent, oriented right and staked well, is quiet and stable. Even if the wind shifts, it will not move.
For one person it is perfect. You can even fit a twin sized air mattress in it if you are an oldster like me and need that extra comfort. You can even use it as a napping cabana on the beach if you use just the footprint and fly. I have gotten my money's worth and then some.
Design: 3/4 season freestanding dome
Sleeps: 2
Ease of Setup: Easy clip system; dry set up in the rain.

Great piece of equipment. Works well with or without fly. Have used in rain, wind and light snow. Really nice on cool summer nights without fly -- light colored panels allow for bright interior. Roomy vestibule keeps boots dry.
Sleeps: 2
Ease of Setup: Practice makes it easier...
Weight: up to 7 lbs with all poles, stakes and ground cloth
Price Paid: $149- overstock

I've used this tent for a few trips now. Of course I take good care of it. Yes, I agree that it is not a tent for a young scout, but the tent has served me quite well in harsh condtions and not so harsh. I spent a very cold night at 9500 feet in Sequoia National Park with a snow pack of 5-6 feet on a Panther Ridge without any problems.
Then in April I did three-night trip into Yosemite's Glacier Point. This was a very cold and wet time. It rained and snowed depending on the time of day. Again the tent was completely dry and the vestibule was great. I got sleet and wind and rain for 8-10 hours straight. Then I did an overnight camping trip in Palomar Mountain in San Diego County just to get a way but the evening turn sour and it rained all night long with snow at 5000 feet again the tent performed extremely well.
Good tent if you know how to set it up, and you are experienced.
Design: Morph
Sleeps: 2
Ease of Setup: good
Weight: 7.5 lb
Price Paid: $150

I really like this tent even though one of the poles broke on me. I used it on a 5-day solo trip and found it quite strong and wind worthy. I put a pole in the wrong way and broke it. But otherwise, I really like the tent, it is light and seems quite good.
Bad pole design. The poles have intersections that makes the poles hard to pack. The 3-4 season invert is bad too. The tent is hard to roll I'm just a tenderfoot scout at first class you can give me a hard time.
Design: 3-4 season
Sleeps: 2
Ease of Setup: yes it is
Weight: 7.5lbs
Price Paid: $149

This tent is billed as a 3-4 season tent. My experience is that it would be more suited to a 3 season-only tent and then only in a more temporate environment. My son practiced setting up the tent several times before actually taking the tent on a trip. It isn't the most intuitive tent to assemble but with a little practice it is adequate.
The biggest gripe was the fit and finish: not nearly what I would expect from REI. Our first test of the tent was in the Chugach Mountains this past January. The zipper that attaches the vestibule to the tent failed. Even a moderate breeze caused the zipper to part. Other complaints were that the fly didn't fit the tent well, the pole system had too many components, and the center, cross-axial, member doesn't anchor to the ridge pole. The support clips that suspend the tent in the frame seem poorly attached to the tent.
I returned the tent to REI. The price is pretty good if it is on sale, but it isn't worth the full price nor is it a 4-season tent. There are better tents on the market if you want a durable, three-season tent that can accomodate an early fall or late spring storm.
Design: 3-4 season (see review)
Sleeps: 2
Ease of Setup: moderate
Weight: 7 lbs m/l
Price Paid: $149 (close-out sale)

Purchased tent used on eBay. Camped three nights in NM Gila wilderness in late September. Weather was really nice so did not get to test tent in rough conditions. There was some wind one night and it performed well. It was cozy for two people; a couple of inches wider would make it better for two adults. The tent is really quite versatile. If I had known the weather would have been nice I could have got the pack weight down to around 4 lbs. The zip out roof panels worked out well as we used them because of the warm (in the 50s) nights. The vestibule pole stuck together where it bends. It worked fine but the ends stuck out of the tent sack a couple of inches. I emailed REI when I got home and they sent me a whole new set of tent poles as they said that they had some probelms with some breaking. REI has great service. All in all it is well designed tent and I look forward to getting some more experience with it.
Design: free standing
Sleeps: 2
Ease of Setup: Easy after first time
Weight: 6lb-1oz
Price Paid: $118 used

You May Like
Recently on Trailspace