REI Peak UL

The Peak UL has been discontinued. If you're looking for something new, check out the best rigid trekking poles for 2023.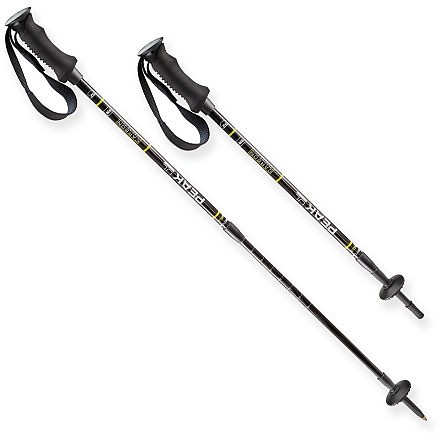 Strong and light - had some trouble at first in adjusting height - poles would not "catch" and slipped, but we figured out how to make them secure.
The biggest disappointment: each handle grip contained a small compass at the top - about 1/2" diameter, and these failed in about a year. I have been unable to find any replacements. If anyone knows where to get these, please email me!
Price Paid: don't remember

If you like trekking poles these can certainly fit the bill. Exceptionally light, no problems with slippage at the joints, and a comfortable grip.
They have a flaw and that is durability. My first two sets failed after just a few outings. The first incident was using the pole to catch me as I stumbled. My Leki Makalus have deftly caught me several times. The Peak UL pole shattered.
The second gear failure occurred on the first outing, the lower section on one of the poles separated from the nut. Duct tape held it in place so I was still able to use it.
The third set, both poles had the lower section separate from the nut. But this time after a couple years of good use.
Kudos to REI's guarantee. They replaced all three sets off the original purchase. This time however I was asked by the store manager to select a different brand/model.
In short, useful poles but they won't last long.

Price Paid: $130

I have owned these poles for a little over a year and have used them on multiple trips and over various terrain. The star tip design has held up very well and has exceptional grip on all types of rock and even ice. They are very lightweight and the hand grips fit perfect. The reason I rated them a 4 star is that occasionally the sections loosen and I have to re-tighten them (common problem with most 3 section poles). I highly recommend this product.
Price Paid: $130

I have enjoyed these poles for the past two weeks. They are so light I hardly know they are there. I am 6' tall and 210 lbs. and the poles do a pretty good job of handling my body weight. I use the hand straps in the recommended manner and I am putting quite a bit of weight onto those straps when moving up steep terrain. So far I have had no issues with strap comfort.
I love the hand grips, for me they are a perfect fit. But I dislike the top of the hand grips. The top of the grips are flat, uncomfortable, and poorly supported. (Sometimes when I am tired, I like to shorten the poles to near mimimum and "straight arm" my way down a steep hill with my body weight resting on the tops of the poles through the palms of my hands). You can't use these poles in that fashion. Outside of that one minor issue they are stable and sure footed and have always stayed locked.
I especially like the star design on the carbide tips, they grip granite extremely well. Better than the Leki and BlackDiamond designs, (at least when they are brand new, that could change as they age) I don't know how long that star design will last before it gets worn down. So far this week I have traveled six miles over granite fields and the tips still look brand new. The poles have a max length of 55" and fully extended they are not to terrible strong. At my body weight I am capable of snapping a pole set at 55" if I really leaned way out on it. (This is a harsh test and I am capable of breaking a lot of premium poles this way) With the poles set to 49 to 50 inches which is my primarry trekking height then they are quite strong and I have no fear of breakage.
All in all highly recommended. At the moment I also own the new Black Diamond Alpine CF and it's a toss up as to which one I will keep. The Alpine is the stongest and stiffest pole I have ever used and it's also a very heavy 18 oz. a pair. This pole does not even flex under my body weight. It's like a baseball bat. Sigh... On the other hand the REI pole is so lite that at times I have fogotten it was on my hand. There is something magical about picking up a pole that weighs no more than a bag of potato chips. The REI pole is a very light weight, attractive, seductive piece of equipment. It is so light that everyone who has handled it goes "owwwww...ahhhhh! Good luck in making up your mind.
Keith C.
Atlanta, GA
Price Paid: $109 15% off sale

Even though I'm on my second set, I believe they'll prove worthy of 4 stars.
My history with trekking poles began about 16 years ago. Back then, we just used what was called telescoping ski poles. I still have my original, durable set of aluminum Elderids I got at Marmot's home store in Bellevue, WA.
A year ago, I received some Leki Super Makalus for a birthday gift. They were fine, however the etched calibrations wore off. I figured for the price that was unacceptable. I returned them to REI, and as REI always has, cheerfully gave me a refund, or exchange option.

I was going to get another set of Super Makalus but a fellow consumer nearby said "check out these." They were the REI brand UL with air shocks.
They are so light, they almost fly. I discovered years ago when I purchased an expensive graphite kayak paddle, that over a day's use (lots of cycles back and forth) a little weight savings makes a big difference in the fatigue factor. Same with these.
However, on my first serious outing up nearby Mt. Defiance, the bushing on the upper telescoping section spun, and wouldn't lock properly. Oh Krap, not the place to lose a firm pole! It appeared the bonding cement between the graphite and plastic bushing failed. I made it down fine.
Just got another pair today, and I'll keep returning failed ones cause I love the light weight.
Price Paid: $150

Your Review
You May Like
Specs
(no Gender)
Price
Reviewers Paid: $130.00

Unisex
Price
Historic Range: $89.93-$130.00
Reviewers Paid: $109.00-$150.00

Women's
Price
Historic Range: $89.93

Recently on Trailspace